BEFORE YOU GO...
Check how Shufti Pro can verify your customers within seconds
Request Demo
No thanks
The first half of 2021 saw significant disruption in the financial world as traditional criminal activities continued to be replaced by sophisticated techniques and evolving methods for FinCrime. The opportunities created for perpetrators as a result of the COVID-19 pandemic only added to the challenges faced by the financial sector, where money laundering and terrorism financing are increasingly commonplace. Apart from banks, lawbreakers have also been targeting several other industries where they can easily penetrate the gaps in the monetary systems to carry out illicit crimes. Industries like real estate, antiquities, crypto exchanges, and insurance companies are now equally vulnerable to FinCrime.
That being said, policymakers are focusing their efforts to tackle money laundering and terrorism financing, encouraging organizations within different industries to implement sufficient anti-money laundering (AML) compliance measures to prevent becoming part of the Financial Action Task Force's (FATF) blacklist. According to the Global Organised Crime Index report, "The UK is a global financial center with an extremely open business environment." Although this open structure is ostensibly a strong point, the report also mentioned that "these strengths also leave the country vulnerable to financial secrecy, money laundering, and other forms of economic crime."
What is Financial Crime Compliance?
Financial crime compliance refers to the measures adopted by a business to adhere to AML/CFT regulations. These measures include Know Your Customer (KYC), AML screening, and transaction monitoring, and are aimed at filling in regulatory gaps which money launderers exploit. Failure to implement AML compliance measures can lead companies to get penalized with heavy fines.
The negative effect of COVID-19 on the economy has also opened doors for scams involving vaccination and financial assistance. These run-of-the-mill frauds take advantage of the desperation and urgency caused by the pandemic to manipulate individuals and companies into sharing bank account information, which is then used for the purpose of illicit criminal activities. Problems like compliance penalties and insufficient AML measures are typical of banks, but regulators are now setting their sights on non-banking industries as well. In 2019, multi-million dollar fines were issued to currency exchanges, casinos/gambling operators, and other designated non-financial businesses and professions (DNFBPs) such as real estate.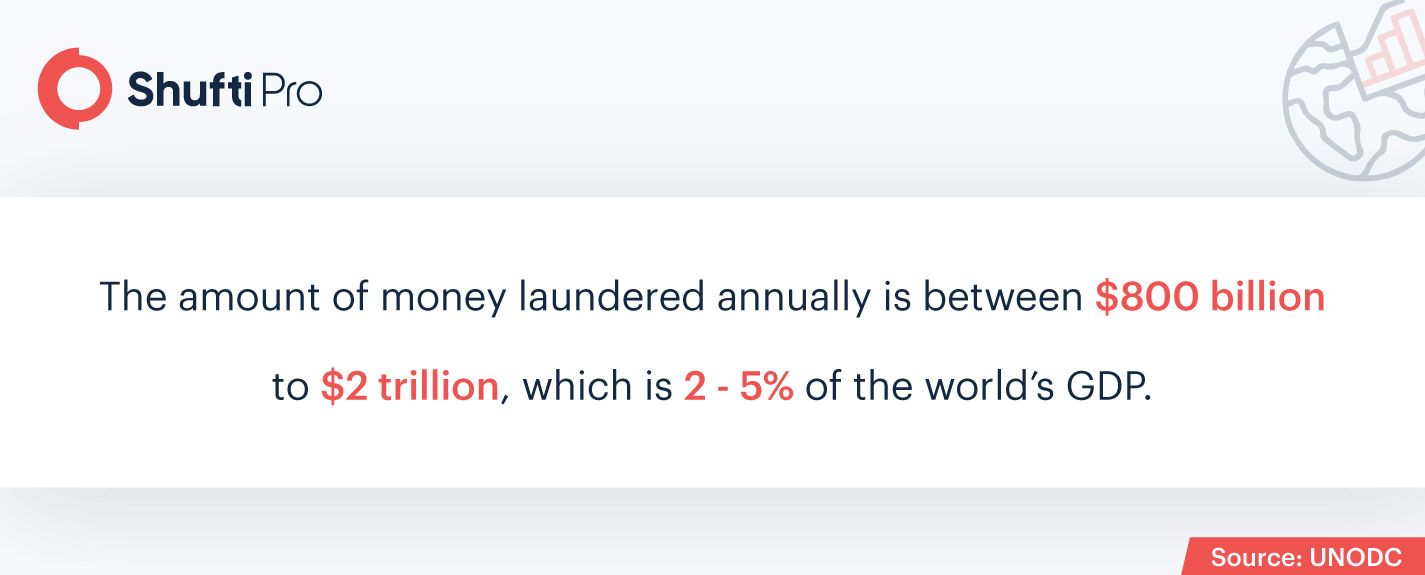 Real Estate
The real estate sector attracts money launderers looking to obscure the origins of their funds as large transactions are involved. Moreover, the property business doesn't take AML compliance procedures into consideration like banks and other financial institutions. As per the global watchdog FATF, one-third of the criminal money recovered globally between 2011 and 2013 was from real estate. The UK government issued its updated Estate agency business guidance for money laundering supervision in October 2020. However, the concerns of money laundering through real estate are not only faced by the UK, as offshore shell companies are formed and utilized by bad actors throughout the world to hide their identity and the source of their money. 
In 2017, a staggering $34 billion was laundered through Germany's real estate market, and hundreds of offshore companies that were listed in the recently leaked Pandora Papers were dealing with real estate as a means for money laundering. While making efforts to overcome financial crimes like money laundering through real estate, the Financial Crimes Enforcement Network (FinCEN) has set a cash-based purchase threshold of $300,000. This implies that real estate purchases of $300,000 or more may be subject to reporting.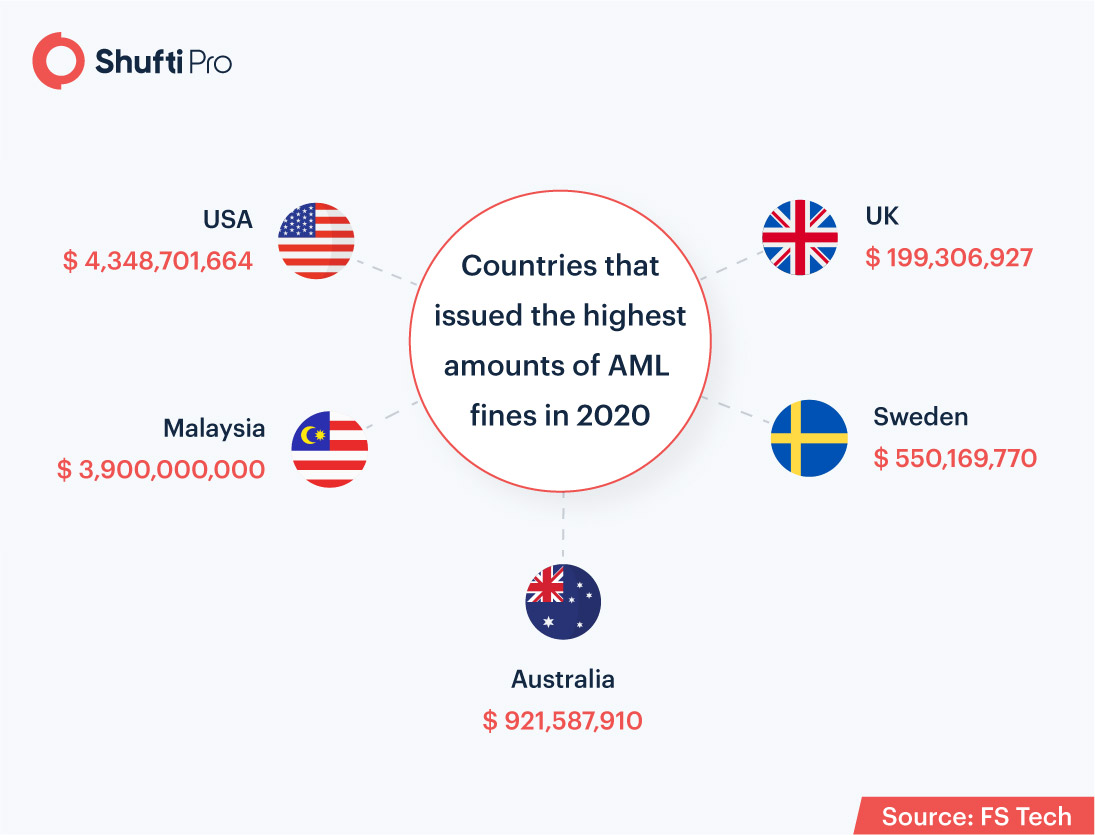 Crypto Exchanges and Fiat Currencies
The decentralized nature of blockchain technology has promoted investments and trading in cryptocurrency and digital assets. Backed by cryptographic algorithms, digital currencies continue to disrupt the traditional financial paradigm throughout the world. However, this dominance also clears the way for criminal misuse of digital assets for financial crimes. In 2019, a whopping amount of $2.8 billion was laundered in Bitcoin through crypto exchanges, a spike of almost $1.8 billion from 2018. Crypto laundering has cautioned regulatory bodies around the world to lay new grounds for AML/CFT laws that apply to digital asset trading platforms.
Due to the anonymity provided by cryptocurrencies, money launderers find it a favorable medium to obscure the origins of their illegally obtained funds. This past July, Hong Kong police arrested a crypto laundering scheme involving $155 million where the criminal group opened various local bank accounts and transacted through digital currency exchanges. Where criminals aiming to launder money through fiat currencies are stopped in their tracks due to the requirement of identity verification, cryptocurrency exchanges do not have this barrier in place. Crypto transactions simply require unique credentials of digital wallets and follow peer-to-peer architecture without involving banks.
Gambling Industry
Financial crimes in the gambling industry also arise due to the relatively vulnerable environment of online casinos. Money launderers place their proceeds of crime in large amounts on gambling platforms and then withdraw clean money to stay undetected. Although similar AML/CFT regulations apply, gambling operators often fail to comply and are forced to pay huge penalties when they assist illicit criminal activities. In the first quarter of 2020, the Gambling Commission issued record-breaking fines of up to £27 million to gambling operators. Moreover, ​​another casino was charged £450,000 after an investigation by the Gambling Commission revealed AML compliance failures. 
According to the Gambling Commission's Money Laundering Risk Assessment, organized financial crime costs up to tens of billions of pounds annually, which is why crackdowns on money launderers are becoming necessary. If left unchecked, illicit transactions in casinos contribute to permanently staining the reputations of casinos. AML compliance measures that can be implemented by gambling operators to prevent financial crimes include ongoing transaction monitoring, where patterns of customer transactions are analyzed to determine deviations in normal patterns. 
Art and Antiques
This year in March, The Art Newspaper labeled the art market to be at a high risk of money laundering while indicating the importance of AML regulations. Various high-profile money laundering cases involving art buyers have been reported where criminals sought to hide the sources of their illicit funds and bypass sanctions. In July 2020, rich Russian business leaders linked to president Vladimir Putin reportedly purchased artwork worth $18 million. The purchase was made through a shell company in order to prevent becoming part of US Sanctions.
Furthermore, the FinCEN leaks reported connections of almost $2 trillion with buyers of antiques in September 2020. A bill was passed for extension in the Bank Secrecy Act to cover the art market on January 1, 2021, where the target is to enhance anti-money laundering measures in the art and antique markets. Identification of ultimate beneficial owners (UBOs) is of particular significance as it stops money launderers looking to hide their sources of income.
Forex Platforms
Despite boasting high liquidity and trading volume, foreign exchanges are one of the industries most susceptible to financial crimes like money laundering. The anonymity factor makes forex platforms a target for money launderers to fulfill their illicit motives through a cash-based medium. This is because foreign exchanges struggle to find a balance between AML compliance and generating sufficient revenue. 
In September 2019, a forex bureau in west London was fined a record £7.8 million for breach of anti-money laundering laws. Foreign exchange platforms need to incorporate robust AML solutions to stay compliant with global AML regulations.
What Shufti Pro Offers
The use of artificial intelligence in enhanced due diligence and AML solutions has contributed to improving the efficiency and accuracy of risk analysis and fraud detection. Shufti Pro offers AI-based AML Screening solution to businesses in every sector and enables them to comply with AML regulations. By screening identities against 1700+ global watchlists, AML screening lets businesses identify high-risk entities in less than a second.
Want to learn more about AML compliance measures for your business?