BEFORE YOU GO...
Check how Shufti Pro can verify your customers within seconds
Request Demo
No thanks
Money laundering and terror financing through art and antiquities has been a concern of regulatory authorities for years. After the Pandora Papers biggest leak in October 2021, the attention of all financial watchdogs is on regulating the million-dollar worth market. According to the Financial Actions Task Force (FATF), antiquities are most vulnerable to money laundering and terror financing activities due to lack of rigid regulations. The global financial regulator's report, Risk-based Approach for Dealers in Precious Metals and Stones, said that a risk-based approach is mandatory to combat the illicit flow of money across jurisdictions through antiques, precious metals and stones.
What is the FATF's Risk-based Approach?
A risk-based approach, as defined by the FATF, is how countries, banks, DNFBPs, and other competent authorities identify, assess and address the risk posed on them. This allows businesses to efficiently use resources to mitigate the risk of money laundering, terror financing, proliferation financing, and other financial crimes.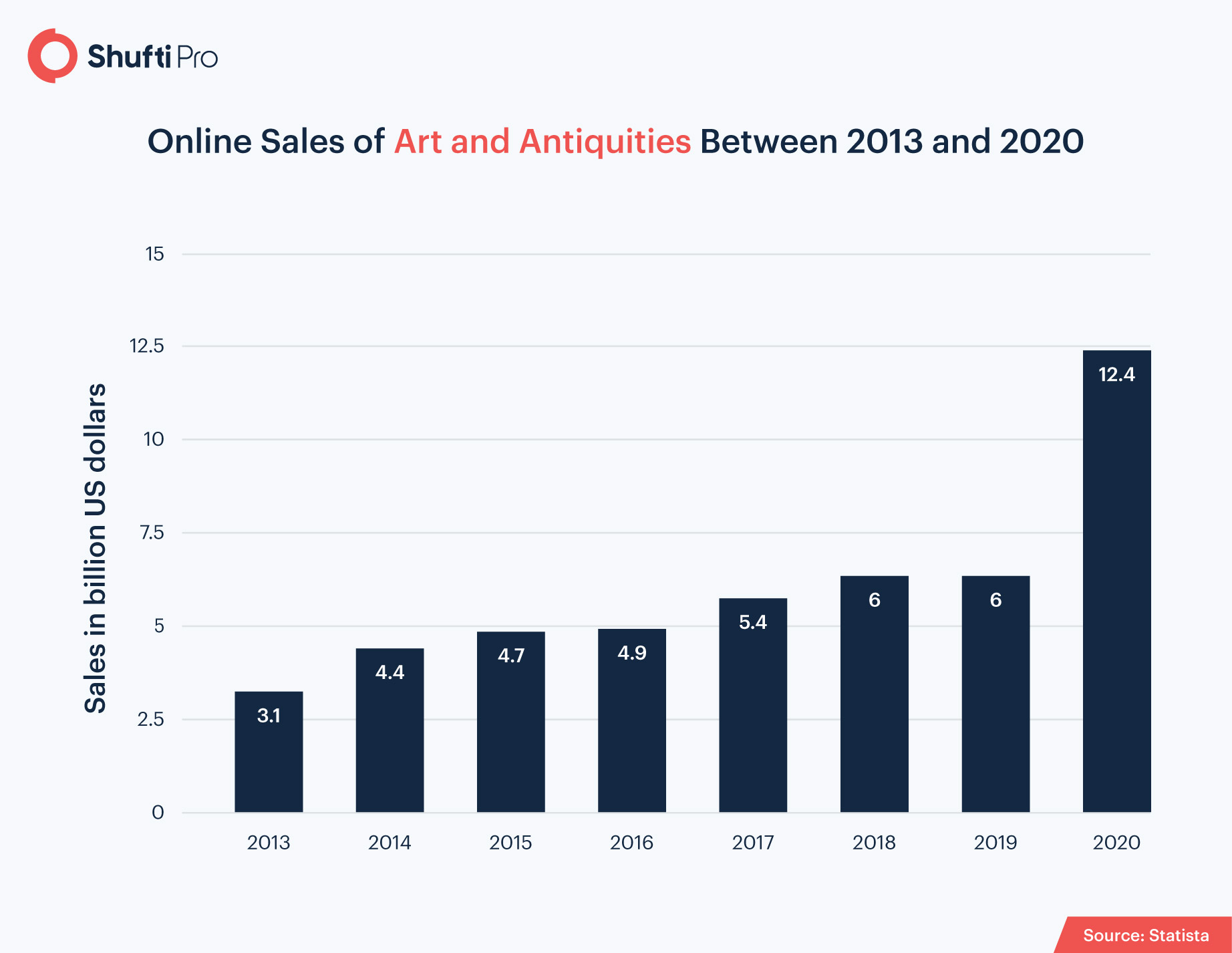 The 2020 Global Crackdown on Illegal Antiquities Trade 
Back in May 2020, Interpol, Europol and World Customs Organization (WCO) joined forces and the international crackdown resulted in the arrest of 101 suspects for art trafficking. The operation was conducted in 103 countries and recovered 19,000+ archaeological artefacts, ceramics, historical weapons, paintings, fossils, and other artworks. 
Interpol Secretary General, Jürgen Stock said, "The number of arrests and objects show the scale and global reach of the illicit trade in cultural artefacts, where every country with a rich heritage is a potential target." 
The Argentine police seized around 2,500 ancient coins in South America which is considered as one of the largest recoveries of this kind, whereas the Latvian police made the second largest recovery of 1,375 coins. On the other hand, Afghan customs seized 971 cultural artefacts at the Kabul airport before they could be shipped to Istanbul, Turkey.  
Suggested: Art Market in the Frame of Money Laundering 
Identifying Loopholes in the Antiquities Market
There are many loopholes in the antiquities market that facilitate the illegal use of artefacts. Here are some of the vulnerabilities that must be addressed: 
Lack of

Customer Due Diligence (CDD)

regulations for the dealers 

Cash transactions with no proof to trace them 

Anonymity of the buyer and seller  

Involvement of proxies or intermediaries 

Highly valuable with limited supply make the

FinCrime

pervasive 
The aforementioned five issues make this sector susceptible to financial crimes. That being said, regulatory bodies are on the verge of imposing KYC and AML laws like those on the banking sector. 
Regulating the Antiquities Market 
Due to mounting cases of money laundering and terror financing through art and antiquities, dealers have stepped up and demanded rigid CDD regulations to ensure legitimacy of the parties. FATF, FinCEN, and various others are in action to regulate the antiquities market. 
FinCEN's Notice on Antiquities  
In March 2021, the Financial Crimes Enforcement Network (FinCEN) warned the art and antiquities market to steer clear of financial crime. The regulatory body issued a "Blue Box Notice" to inform the users that antiquities traders have to incorporate the same reporting standards as of the finance sector. This means that all art and antiquities traders have to submit Suspicious Activity Reports (SARs). 
As per the Blue Box Notice, "Financial institutions with existing BSA obligations, including the reporting of suspicious activity, should be aware that illicit activity associated with the trade in antiquities and art may involve their institutions."
EU's AMLD6 for Antiquities Market 
The United Kingdom's art and antiquities market, according to the sixth anti-money laundering directive, has to perform identity verification and due diligence checks on every dealer with transactions equivalent or above €10,000 to prevent criminal activities. 
AML Screening – Putting an End to FinCrime 
Considering the global regulatory landscape for the antiquities market, there is a dire need for a fully automated Anti-Money Laundering (AML) screening solution that can verify the identity of every entity. Shufti Pro's state-of-the-art AML Screening Suite performs necessary background checks on individuals and in less than a second, verified individuals can be onboarded. Thousands of AI models are deployed to screen individuals against 1700+ global watchlists including Politically Exposed Persons (PEPs). 
In a Nutshell…
The antiquities market is one of the best options for financial criminals to hide their illegally earned money. Anonymity, lack of rigid regulations, and various other factors contribute to the rising cases of money laundering and terror financing activities in this sector. As identified by Interpol in the 2020 global crackdown, the market is susceptible to more cases of FinCrime unless rigid KYC/AML laws are implemented. Owing to this, FATF, FinCEN and other regulatory bodies are working on regulating the art and antiquities market to prevent perpetrators from executing their illicit plans. One way to deal with all this is to employ AI-backed Identity Verification and Anti-Money Laundering Screening solutions. 
Want to know more about the antiquities market and why AML screening is crucial? Talk to experts right away!