Blog
Why Do Freelancing Platforms Need KYC?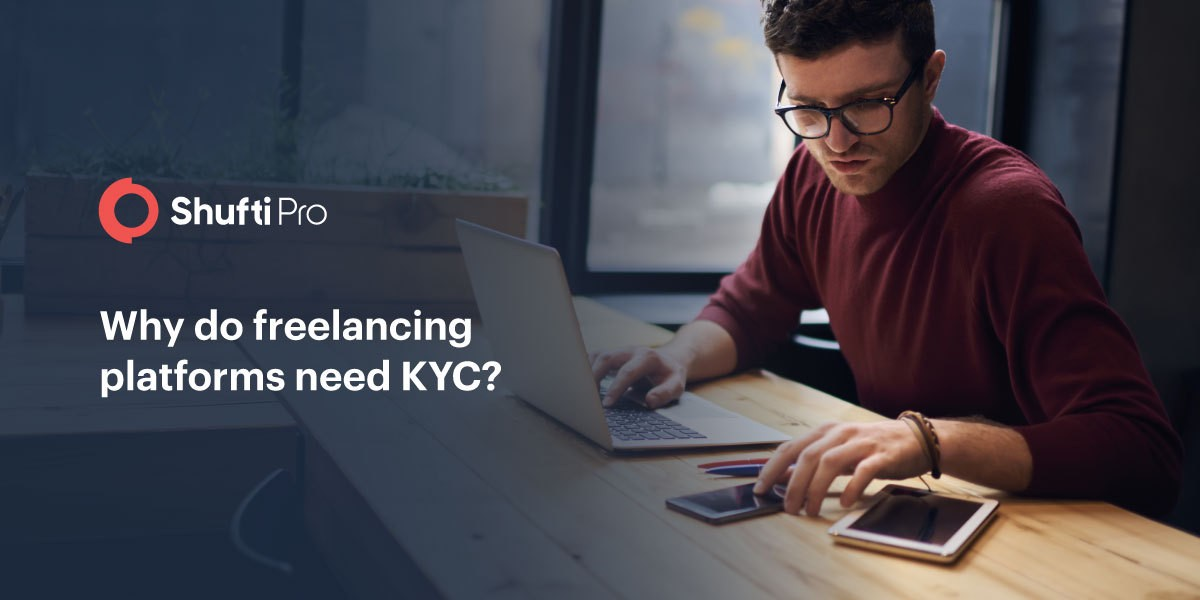 Technological advancements came with several betterments for humans. Where every industry is benefitting from the advanced technology, the businesses are also making tremendous progress. With the introduction of freelance jobs, people can now work from home and earn a handsome income through contractual jobs. 
Freelance workers have a variety of jobs every day, and the benefits of working in this industry are more than what one could expect. In the United Kingdom, almost two million people are working in the gig economy, and the majority of them pursue it as their main source of income. The rest of them have it as a secondary job. However, freelance platforms are facing some serious issues while catering to the needs of employers and employees. Some of these major problems include verification of employers and employees and forged documents for identity verification. Freelancing platforms can employ Know Your Customer (KYC) verification to avoid all these issues.
Are you wondering about the connection between KYC and the gig economy? Here's what you should know.    
What is KYC?
KYC means Know Your Customer, which is an efficient process of verifying your customers. Financial institutions and other businesses follow KYC to identify whether the applicants are authentic or not. Providing forged documents, edited images, and entering wrong information during verification are very common nowadays. Getting know your customer verification service can help you keep these issues away. 
How Does KYC Verification Work?
KYC is a regulatory obligation for all financial and non-financial firms. What is the process of this verification method? The freelance platforms are obliged to develop a verification process and fulfil the KYC requirements to identify all their customers. The fundamental process includes the following steps:
Collection of information from customers 

Collection of identity proof

Verification of the provided information
Read more about the KYC process: KYC Verification Process – 3 Steps to KYC compliance. 
What Is the Gig Economy?
If you are a freelance employer or employee, or someone willing to enter the freelance industry, you must have heard the term 'gig economy.' What is the gig economy? As alien as it sounds, it simply refers to the freelance community. The number of freelance workers and recruiters is continually rising, which is significantly contributing to a large proportion of the economy. These individuals and recruiters are now characterized in the gig economy. 
The UK gig economy statistics show that the freelance labour market is booming, the size has doubled in the last three years, and currently, there are 4.7 million freelance workers. 
Why is KYC Demand in the Gig Economy Rising?
The increasing number of cybercrimes is making it a problem for companies to function effectively. Hence, the demand for a robust verification is essential. Here's why KYC demand is rising in the gig economy.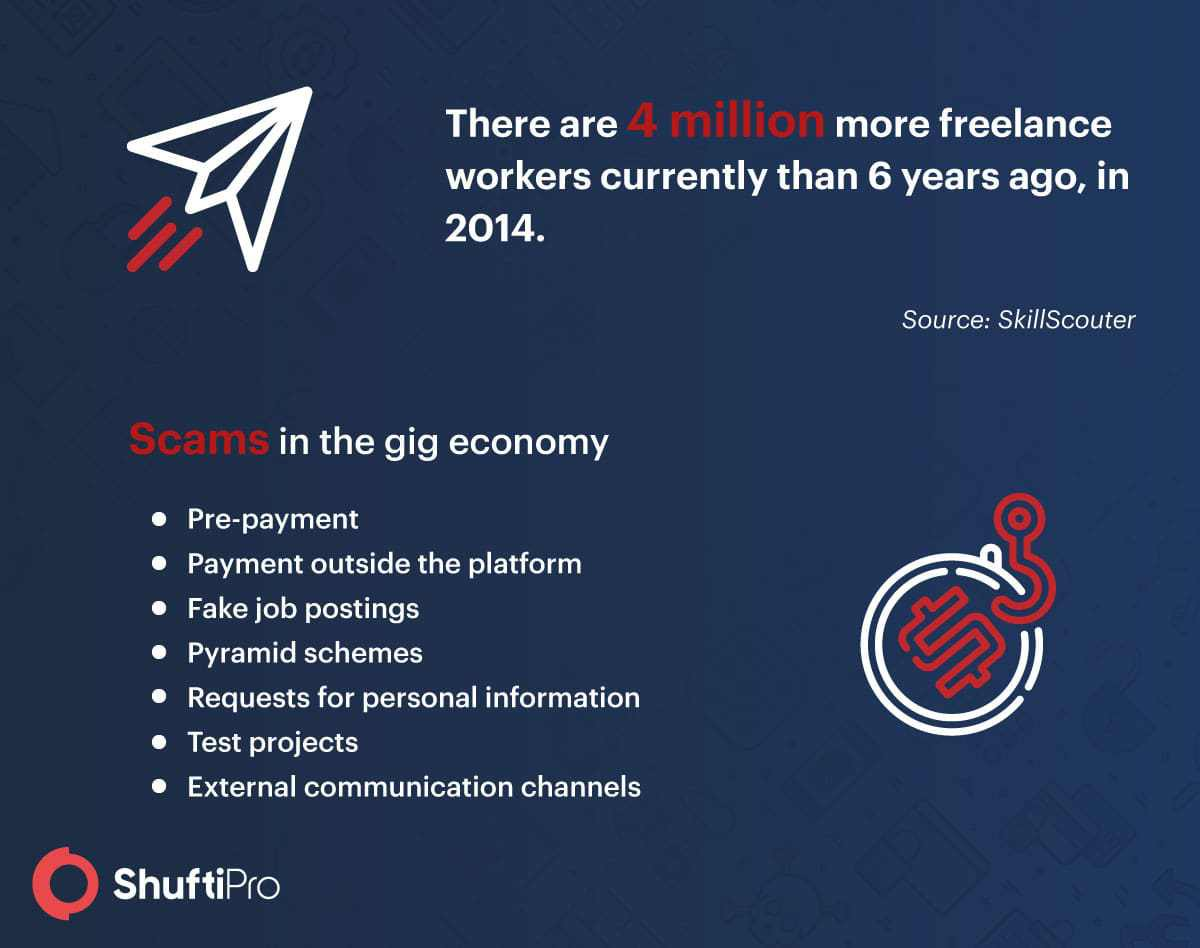 Getting the Right Customers Onboard 
None of the industries is free from scams, and the situation is no different for the gig or freelance workers. With rising scammers, it is getting difficult for the freelancing websites to get the right individuals on board. Many fraudsters use forged documents for verification, which results in identity theft, financial crimes, and many other issues. 
Know Your Customer verification makes it more convenient for these sites to get the right people on track. Otherwise, the freelance recruiter may cause problems, or the employee can be troublesome too. 
Avoiding Scams for Freelancers 
According to a survey, freelance workers can represent 80 percent of the workforce by 2030. Ensuring their safety is essential for freelancing platforms; therefore, KYC becomes vital. The number of scammers as freelance recruiters is rising, and usually, they are either unverified (which is visible on their profile). The budget of the jobs is exceptionally high, which compels most of the workers to bid and start working. However, they end up getting scammed with no money in their bank accounts. Onboarding thoroughly verified recruiters reduces the chances of scams targeted towards freelancers. Know Your Customer for freelancing platforms ensures that every hiring individual is authentic. 
Combating Employer Scams 
The majority of employers file complaints against freelancers regarding offsite payment of projects or prepayments. Freelancers also offer proprietary work, which is ethically unacceptable. How can a recruiter and a freelancing website stay safe from fraudsters like these? For the platforms, they must verify every worker through KYC. As for the recruiters, they should only hire workers with verified accounts and ask for legitimate samples of their work rather than copyrighted ones. 
Ensuring Financial Security 
Financial information is strictly confidential, and the majority of individuals avoid providing sensitive information. Sometimes workers and hiring authorities start with a remarkable profile, however, they can go off-track in no time. Moreover, it is easier for hiring bodies to post fake jobs to attract competent workers. Once the job is done, recruiters vanish into thin air leaving freelancers without any money. KYC verification can identify these fraudsters in the beginning and protect their platform as well as freelancers from the scams. 
Preventing Money Laundering Cases
Money laundering cases are on the edge of breaking records. The gig economy and all its service providers are not safe from money laundering threats as well. The free trade is now a new means of laundering money for traffickers. Recruiters, after successful completion of the job, ask freelancers to transfer some funds from one bank account to another. The freelancer becomes a third party making money laundering easier unintentionally. These individuals are known as money mules. 
Learn more about money mules: Jobs in the frame of money laundering.
Know Your Customer verification ensures that everybody on the platform is legitimate. Furthermore, it will help you monitor transactions effectively. This way, you can reduce money laundering cases from your platform in no time.  
Making Freelancing Platforms Credible 
Many employers and employees have trouble trusting an online platform for job purposes. Clients prefer sources that have robust verification processes, and adding KYC to your business means you are attracting more customers. It encourages recruiters to post more jobs, whereas employees are motivated to work. Both parties experience financial security, which generates positive word-of-mouth for the entire platform. In short, for everybody it's a win-win scenario.
Improving Customer Experience 
All companies focus on improving client experience and so do the freelancing platforms. The traditional process of client verification is time-consuming and requires effort, and eliminating human error is crucial for better verification. Digitally verifying identities is a better way of onboarding customers. It only takes a few seconds to verify and the chances of errors diminish, making the entire process effortless yet credible. If freelancing platforms add digital identity verification systems, they can enhance customer experience through a time-effective and instant process. 
Summing It Up
KYC compliance is an effective method of securing all information and profiles on a freelancing platform. The emerging gig economy needs extra security to gain customer trust and loyalty. The era of digitization is not free from scams, and we at Shufti Pro are here to assist your business.  
Shufti Pro is PCI-DSS and GDPR compliant solution for your platform. We provide a hybrid service that combines Human and Artificial Intelligence for achieving 98.67 per cent accuracy. Furthermore, liveness and face detection enables you to know every client to the fullest. With accurate results in 30-60 seconds.
Read more about Know your customer (KYC)
Find more relevant resources:
Why Do Freelancing Platforms Need KYC?
Have some questions? Get in touch with us.
Disclaimer:
No warranty is herein provided that the information contained in this document is accurate, up-to-date, and/or complete. In no circumstance(s), does such information constitute legal or any other advice. Any person who intends to use, rely, pass-on, or re-publish the information contained herein in any way is solely responsible for the same. We suggest to verify the information and/or obtain
expert advice
independently if required.