BEFORE YOU GO...
Check how Shufti Pro can verify your customers within seconds
Request Demo
No thanks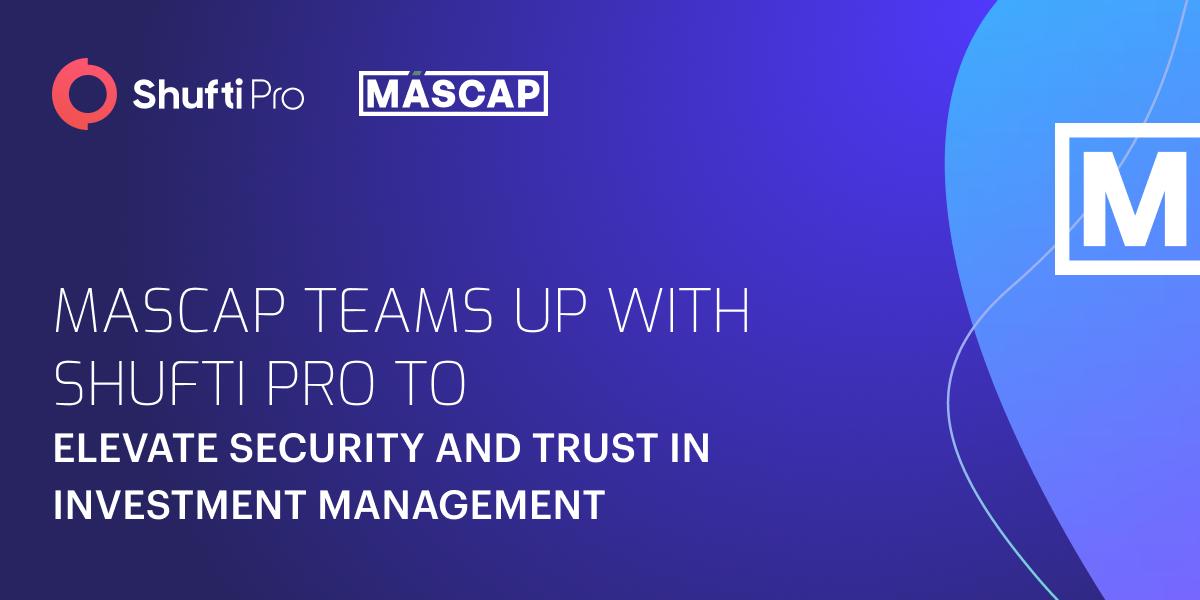 Mascap Teams Up with Shufti Pro to Elevate Security and Trust in Investment Management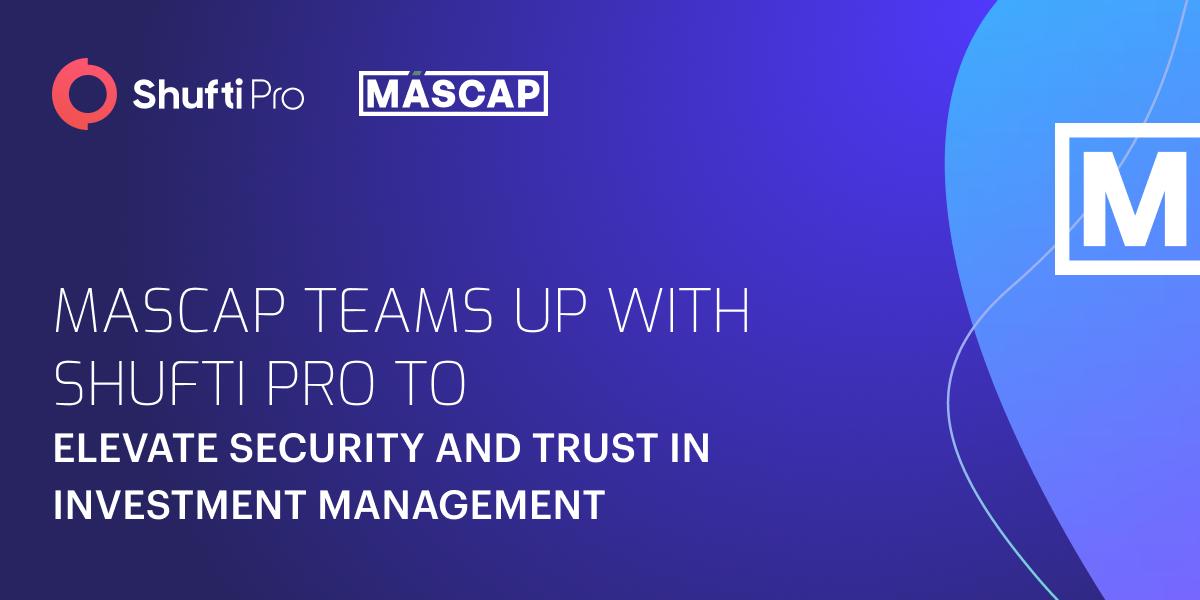 London, UK – September 22, 2023 – Shufti Pro, an award-winning ID verification service provider, has partnered up with Mascap, a leading investment management group operational in the UAE. This partnership enables Mascap to ensure a secure customer onboarding process, eliminating identity fraud from the financial sector. 
Mascap provides all kinds of investment management solutions to clients in the UAE. They enable customers to invest in the country's Web3, Real Estate, Healthcare and Forex industries online from anywhere in the world. Ranked among the UAE's largest asset management, they have helped millions of people in investing. However, operating an asset management company in this era of online fraud is challenging.
With the evolution of the digital landscape, it has become easier than ever for fraudsters to commit ID fraud whilst maintaining anonymity. An identity scam in this field can cause significant financial loss to both customers and businesses. Shufti Pro understands these challenges and offers a robust online fraud solution. Through state-of-the-art KYC/AML technology and AI-driven IDV solutions, the company helps businesses strengthen the fight against ID fraud and financial crime within the finance industry.
"Our Shufti Pro journey started with the desire to ringfence MASCAP's ability to identify risk and mitigate it at the first point of contact – onboarding. I truly believe this is the core of a good business, especially in the financial services industry, setting the tone for the entire business – client relationship for the foreseeable future. This served as the basis for choosing Shufti Pro with its ease of use, speed, and efficiency of returning results. A lack of false positives, and a user-friendly dashboard with useful insights help us manage and strategically direct MASCAP on the path to success. The ability to create and export clear reports as well as obtaining a bird's eye view of our database, turned Shufti Pro into one of our most valued tools," said Elza Iorga, Chief Compliance Officer, Mascap Group.
"Given the fact that 1.7 million ID theft reports occur every year, it's essential for an asset management company like Mascap to equip a secure identity verification solution, and Shufti Pro is there to help them fight against ID scams. With our robust and AI-driven solutions, Mascap can ensure a secure customer onboarding whilst eliminating all kinds of ID scams," said Victor Fredung, CEO of Shufti Pro.
This partnership will integrate Shufti Pro's award-winning KYC/AML solutions into Mascap's platform. The solution will authenticate Mascap clients through a variety of checks, including risk assessment, document and biometric verification, AML screening and other various KYC checks, enabling the company to comply with global compliance regulations and fostering trust among investors. Moreover, while the conventional verification method can be time-consuming and prone to human error, Shufti Pro's solutions are automated and boost the process from weeks or days into seconds, helping businesses implement fast and reliable verification measures.
About Mascap
Mascap Group is a leading investment management company that brings their clients years of experience and cutting-edge strategy. It was founded in Spain back in 2019 by Stuart Burling and a board deep with industry experience. The company's explosive growth, fuelled by industry leading front end platform and the timely identification of promising bio-medical science investment prospects, led to the rapid onboarding of 600+ clients during the organisation's first 18 months of existence. 
About Shufti Pro
Shufti Pro is a leading IDV service provider offering KYC, KYB, KYI, AML, biometric verification, and OCR solutions, accelerating trust worldwide. It has six international offices and has launched 17 complimentary IDV products and solutions since its inception in 2017. With the ability to automatically and securely verify over 10,000 ID documents in more than 150+ languages, Shufti Pro proudly serves customers in 230+ countries and territories.
Paul Keene
Snr. Digital Marketing Manager | Shufti Pro
[email protected]
+44 020 3435 6498
Market Pro
Marketing Partner | Shufti Pro
[email protected]