BEFORE YOU GO...
Check how Shufti Pro can verify your customers within seconds
Request Demo
No thanks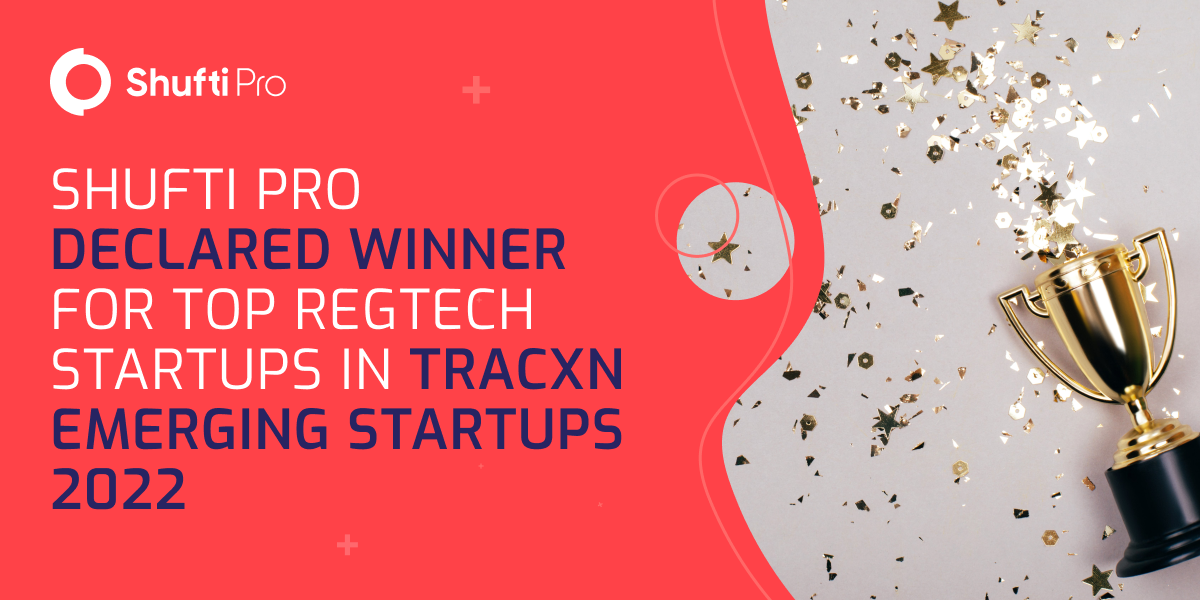 Shufti Pro Declared Winner for Top RegTech Startups in Tracxn Emerging Startups 2022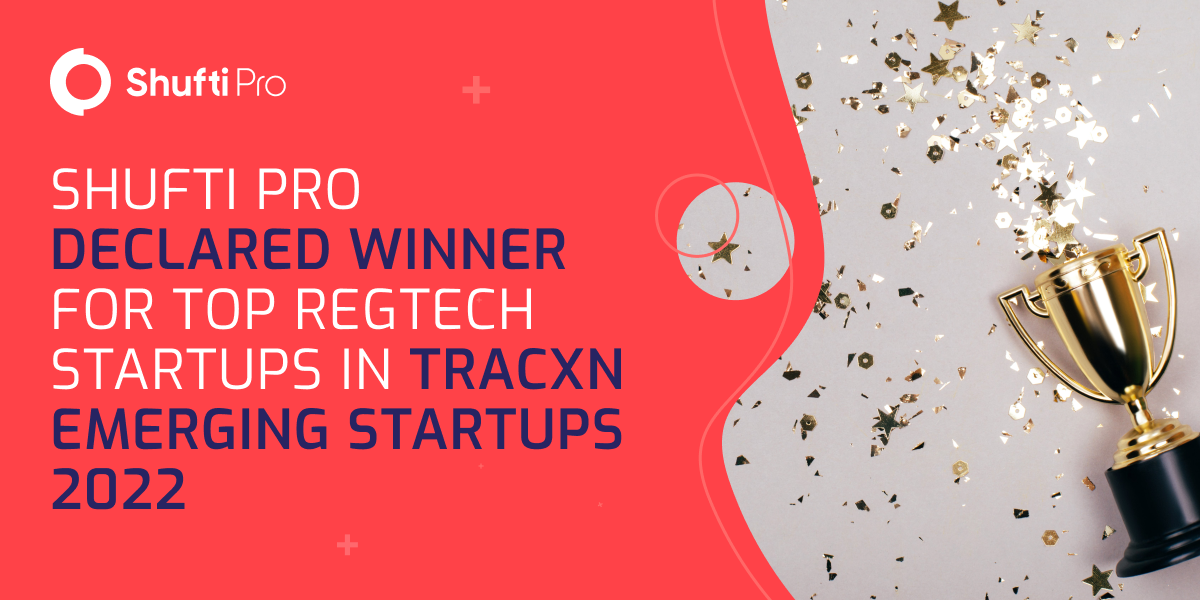 Originally Published on PR Log. 
London, UK – April 14, 2022 – An international platform for tracking innovative organizations, Tracxn, has declared Shufti Pro the winner of "Top RegTech Startups" under the category of "Emerging Startups 2022."
Established in 2013 by ex-Venture Capitalists, Tracxn is one of the world's biggest platforms for tracking startups and private businesses spread across 1800+feeds and multiple countries. Tracxn Emerging Startups provides a handpicked selection of high potential companies, that are making an impact in the new-age sectors. 
The awards are organized to honor the industry leaders and upcoming players in the financial, regulatory, and technological fields that positively impact the global financial sector by providing RegTech services. Shufti Pro, an AI-powered KYC/AML service provider, offers robust RegTech solutions with a higher accuracy rate. Leveraging AI-powered liveness detection and ID document verification checks, the company is globally recognised for its real-time IDV solutions. It incorporates ​​mobile ID verification and video KYC to facilitate seamless and secure customer onboarding.
Tracxn Emerging Awards are aimed at encouraging the most promising startups leading the RegTech industry, from across the globe. The shortlisting is based on a combination of multiple publicly available signals and a detailed analysis of the company by internal sector specialist teams. The companies that make the cut are the ones that show promising performance on multiple parameters such as market size, investment by marquee investors, execution excellence, and future growth prospects.
Victor Fredung, the CEO of shufti Pro commented, "We are glad to bag another award. In a world where online scams are skyrocketing and regulators are penalizing businesses for their lackluster defense against these scammers, providing automated and configurable RegTech solutions is a top priority of Shufti Pro. This win validates our efforts to deliver seamless IDV solutions to our global customers." 
Shufti Pro has recently won "Best Digital KYC/Onboarding Application UAE 2022" and "Best Digital KYC/Onboarding Application Europe 2022" at Global Business Reviews Magazine Awards. The company was named on the list of the World's 100 Most Innovative CyberTech Companies for Financial Services and also won two awards at the Global Banking and Finance Awards 2021. In addition, Shufti Pro bagged Global Excellence Award for outstanding KYC/AML products, last year. 
About Shufti Pro
Shufti Pro is an identity verification service provider offering KYC, KYB, and AML services to help global businesses onboard legitimate customers. The UK-based company has 5 regional offices and launched 17 different IDV products since its inception in 2017. With the ability to verify 1000s of ID documents in 150+ languages, Shufti Pro is serving customers in 230+ countries and territories. 
For more information, 
Damien Martin
Marketing Executive | Shufti Pro
[email protected]
+44 1225290329