BEFORE YOU GO...
Check how Shufti Pro can verify your customers within seconds
Request Demo
No thanks
Technology has definitely made life convenient but comes with a gazillion concerns from anyone who is introduced to it. Same is the case with facial recognition technology. Currently, misuse of face verification technology is one of the major concerns of businesses and public across the world. From mass surveillance to chip implants and AI, nobody thought facial recognition could be the top fear of people in the digital world. 
Are you searching for some answers too? Don't worry. Shufti Pro has got your back. We have gathered top five frequently asked questions about facial recognition technology. The questions are answered with valuable insights from Co-founder and CTO, Shahid Hanif and CEO, Victor Fredung.
What is Face Verification?
It is an advanced AI-backed technology that is helping many businesses to validate identities. It deploys thousands of artificial intelligence models to deliver results as accurately as possible in a minimal amount of time. Law enforcement bodies, the finance and travel sector are some of the areas where facial recognition is being employed.
The use of facial recognition technology is increasing and so is its market share. Here's what Statista has revealed: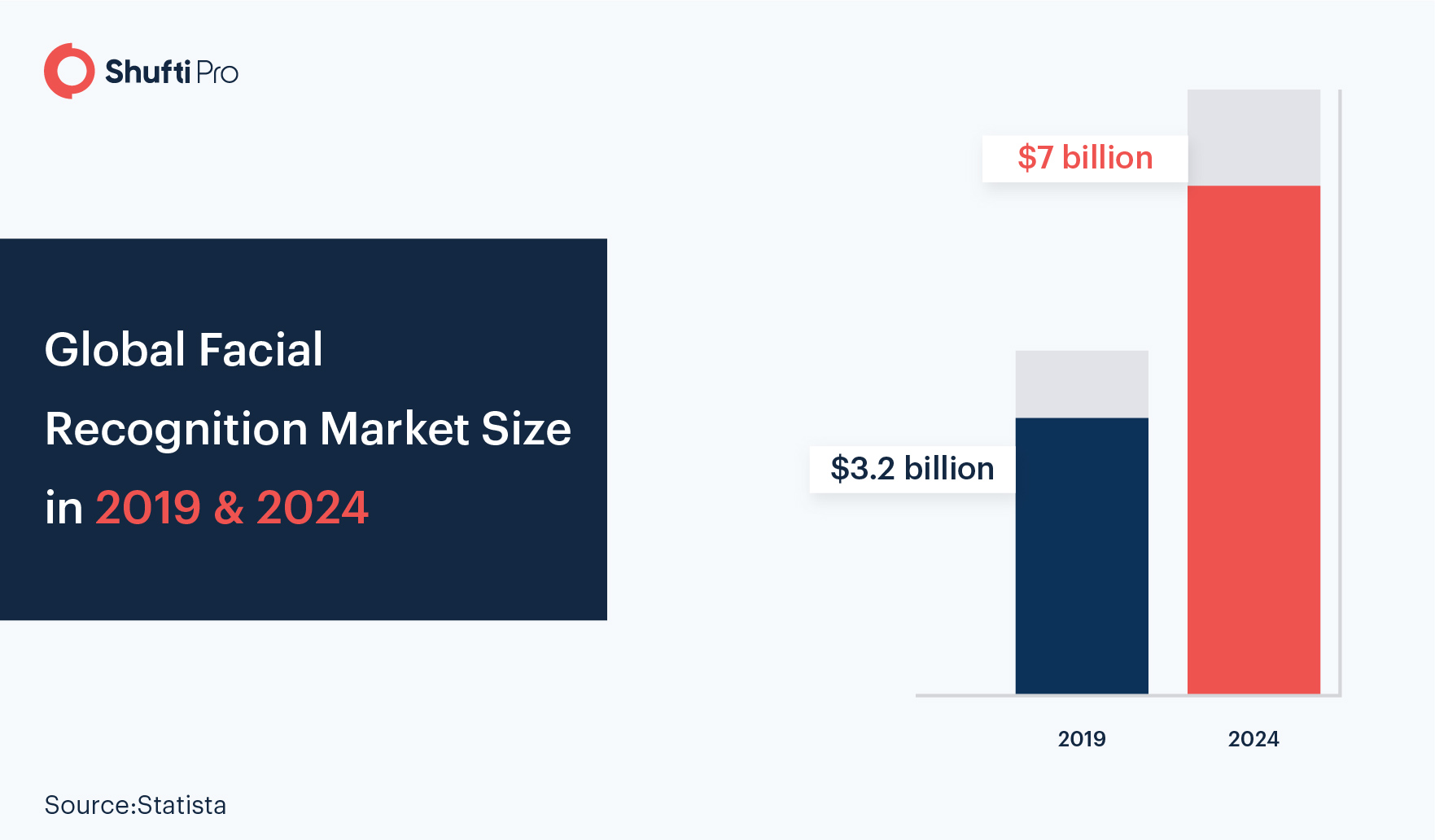 1. Is Facial Recognition Biased?
This has been a debate for a long time but with modern technology, the service providers have overcome the issue. Enhanced artificial intelligence models have increased the efficiency of face recognition. Ethnicity issues are no longer associated with the technology since AI models are self-trained and can verify any individual irrespective of race or ethnicity. 
Apart from training the artificial intelligence models, this issue has been catered by improving the quality of image that is captured during the process (discussed at the end of this dossier). According to research by the US Department of Homeland Security (DHS), the most accurate face verification algorithms have the most negligible effect of demography. 
2. Does Facial Recognition Ensure Enough Accuracy for Law Enforcement Agencies?
There may not be a definitive yes or no answer to this because it completely depends upon the software being used by law enforcement agencies. With face verification, it gets a lot easier for law enforcement bodies to cross-check criminals with the database. These verification systems vary in accuracy and reliability, so policymakers must consider all scenarios of deploying the solution and completely understand the risk that comes with an AI algorithm being used. The more reliable the face recognition technology is, the better it is for this sector to keep fraudsters behind the bars. 
However, every law enforcing body must keep data protection and privacy regulations in mind before employing this software. 
3. What are the Risks Associated with Face Verification in the Travel Sector?
According to Reservations.com, approximately 97% of the airports will employ face verification technology by the end of 2023. Why is that? It is a very accurate way of verifying passengers at airports, train stations and border crossings. This is a convenient process of onboarding customers and a survey from Delta Airlines at Atlanta Hartsfield Airport revealed that around 93% of the individuals find facial recognition a better way of boarding. The only risk associated with this is the way data is collected and stored during the process. 
Take a look at the industries employing facial reocgnitoon technology worldwide:
4. Does Facial Recognition Affect Privacy of the Consumers?
This has been debatable for years and people have protested against the use of facial recognition technology. (Surprisingly, the majority of these protesters use face verification to unlock their smartphones). For instance, a school in NYC took an initiative to introduce a face recognition system for the students. However, students, advocates and parents stepped up against this project and New York City has to put brakes until the system is tested and approved for data protection. 
The concern is valid and the only answer boils down to who uses, owns and manages the face verification system. If we talk about Shufti Pro, there is no chance that we use customers' data for other purposes. The data stays between the merchant and us only. 
5. What is the Difference Between Face Recognition and Face Characterisation?
Facial recognition technology (a subdomain of AI) creates a software that can verify identities through simple comparisons. For instance, face recognition for identity verification compares the image on the government-issued ID document with the selfie uploaded live during the process. 
It is also thought of as a method of validating certain claims. Two of these most common claims are:
Is the person really who they say to be?

Does the person exist in the database?
On the contrary, face characterisation (also known as face analysis) simply distinguishes people on the basis of gender, age, emotion or any other category. Moreover, there is no image comparison involved in face characterisation/analysis. Both technologies have different purposes, risks and uses. Often confused with face recognition, facial analysis can be incorporated with the verification algorithms to deliver more accurate identity verification results. 
3-Step Process of Face Verification by Shufti Pro
Shufti Pro is among the market leaders for providing the most accurate face verification service to many industries across the world. Our AI-driven system ensures 98.67% accuracy within 30 to 60 seconds. It is a simple 3-step process that streamlines the identity verification process and the customer onboarding gets easier for businesses. Here's a glimpse of Shufti Pro's face verification process:
The end-user uploads a government-issued ID document (ID card, passport or driver's license)

Then, they have to upload a selfie which is cross-matched with the image on the government-issued ID documents 

Verification results are delivered and stored in the back office
So you see how easy it is to perform AI-powered face verification with Shufti Pro? 
It All Narrows Down to…
Facial recognition technology is penetrating different sectors worldwide. From verifying identities to ensuring security at large-scale events, the use cases of face verification are hard to summarize in one go. However, the rapidly evolving technology is raising many concerns for consumers. Ethnicity issues, accuracy, privacy, and risk associated with it are some of these questions that we could gather here. To conclude all these answers, enhanced AI technology can significantly make a difference and solve all the problems that were previously raised. 
Curious to know more about face verification technology? Our experts are always there to help you.