BEFORE YOU GO...
Check how Shufti Pro can verify your customers within seconds
Request Demo
No thanks
Face verification technology has gained popularity over the past few years. A biometric authentication measure that is helping many sectors across the globe in different ways. Some sectors use it as an attendance marking system, whereas some countries use it for making digital banking convenient. However, there is one big benefit of face verification that every corner of the world enjoys i.e. identity verification. 
Face recognition technology came into existence during the 1960s. Ever since it has been used for many different purposes like employee management. During the last few years, face recognition became a face verification measure that is now considered as a robust mechanism for identifying fake identities and preventing spoof attacks. Biometric face verification is now backed by artificial intelligence that gives it a competitive edge over all other verification measures. Due to its robustness, the market size has increased and analysts are predicting a significant rise in the next few years. According to a report from Statista, the face recognition market size was USD 3.9 billion in 2019 which will go upto USD 7 billion by the end of 2024. On the other hand, there is another report from PRNewswire that estimated that the global facial recognition market has a projected value of USD 10.9 billion by the end of 2025 with a registered CAGR of 17.6 per cent between 2020 and 2025. Predicting the massive increase in this market, 2021 is expecting some astonishing trends and the benefits of face verification have to be explored too. Keep reading to find out. 
How Does Face Verification Work?
Face verification technology uses biometric authentication measures to identify facial features from any picture or video. The identified face is matched with the image on government-issued documents that your customers submit. It uses a combination of AI-powered techniques to ensure authenticity, like liveness detection, depth mapping, skin texture analysis, and 3D sensing.
Face verification now deploys a number of AI algorithms that have enhanced the efficacy of the software. Your business needs this verification to prevent a variety of frauds. Some of the common frauds that you can prevent include spoof attacks, deep fakes, fake identities, and identity theft. 
Face Verification Trends in 2021 
2020 brought many challenges for all the businesses due to the coronavirus pandemic. The majority of sectors are concerned about the post-COVID-19 scenarios of their enterprises. One thing is certain that fraudulent activities will increase. AI-powered face verification will definitely be an ideal solution for businesses in 2021. Let's dive deeper into the 2021 trends in the face verification market.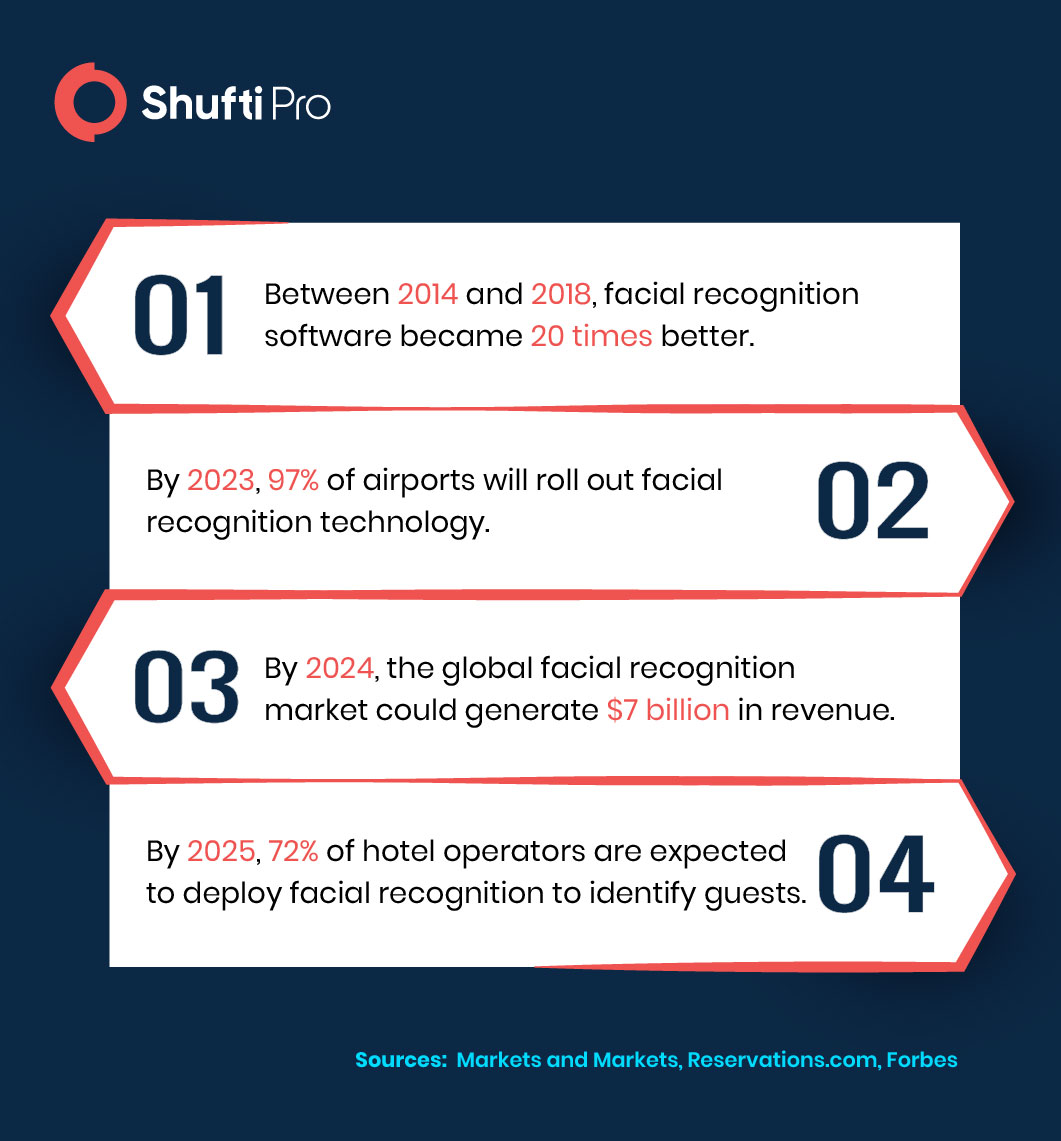 Face Recognition at Airports
Recently, Brazil announced that an enhanced face verification technology will be used at the airports that could identify passengers with their face masks. Currently, 18 airports in the US are using face verification systems, according to a report from Reservations. Face recognition and verification at airports have become common because criminals use forged identities to escape. Next year, this trend will gain more fame for not only preventing fraud but ensuring that all passengers have the right documents. Also, face recognition kiosks will be the new trend in 2021 that will allow airport authorities to verify passengers before giving them boarding passes. 
Secure Customer Onboarding at Hotels 
Hotel management will be using this technology for interacting with guests. This will help them identify minors who are using fake documents for their activities. Moreover, face verification will allow the hotel staff to identify criminals and report to the relevant departments on time. Amid other sectors, the hotel industry will be making the customer onboarding process secure as well. 
Banks will Fight Criminal Activities with Face Verification
The banking sector is the primary target of all criminals for their illegal gains. Money laundering activities have increased and reports from UNODC and Europol state that two to five per cent of the global GDP is consumed in money laundering. The staggering numbers are encouraging the banking sector to employ face verification. This will help them to identify criminals with fake identity documents or people who have been highlighted in different sanction lists. 
Chargeback Reduction in E-Commerce Platforms 
A report from Statista estimated that 49 per cent of the people agree that face verification must be employed by retailers to catch shoplifters. The retail sector also faces many issues, especially chargebacks and there are no competent solutions to solve them. With the help of face verification during transactions, businesses can anticipate fraudulent activities. Amazon is already using this technology for transactions, and many other eCommerce businesses will also use it in 2021. There will be a significant reduction in chargebacks and other financial crimes.
Learn more about chargebacks: What are chargeback frauds and what do they mean for businesses?
Benefits of Face Verification 
The growing face verification market has numerous benefits for different sectors, including retail, eCommerce, finance, insurance, and travel sector. Let's take a look at some of the most important advantages of this technology.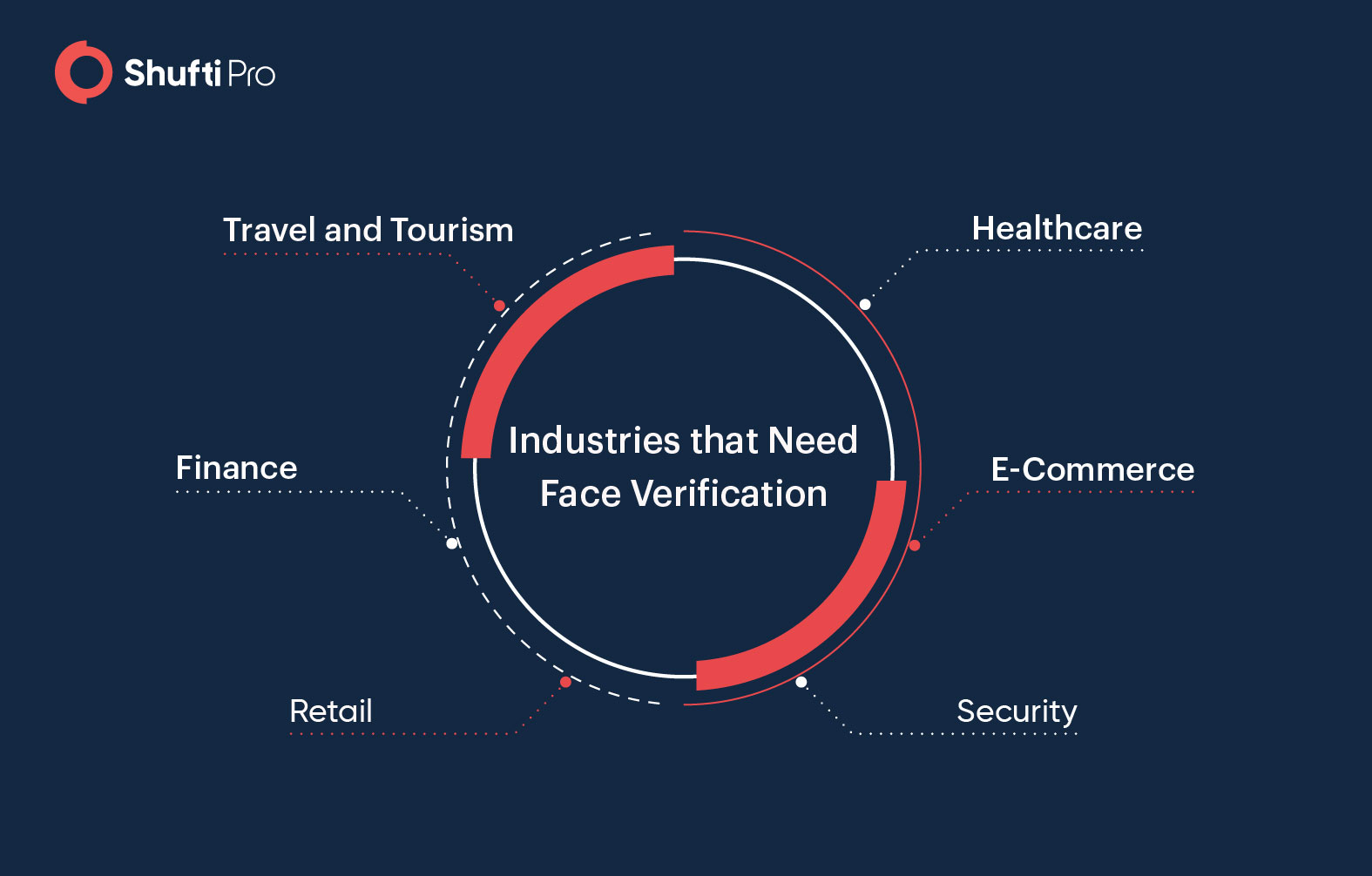 KYC/AML Compliance 
The FATF has enforced some laws on every sector to perform Know Your Customer (KYC) and Anti-Money Laundering (AML) checks during customer onboarding. The idea is to prevent fraudsters from entering businesses and causing troubles. With the help of face verification, you can identify spoof attacks and deep fakes in seconds; therefore, your KYC verification system becomes robust. It gets convenient to comply with the regulations. 
Fraud Detection and Prevention 
Face verification cross-checks the individual's photo with the image on the government-issued identity document submitted to the business. In case of forgery, the verification is declined and you can anticipate fraud before any damage. Ultimately, you can take necessary measures to prevent fraud in the future.
Secure Customer Onboarding 
All businesses want to make their platform credible and securing the onboarding process is one way of achieving this goal. Employing face verification checks make sure every individual is verified and fraudsters are filtered before they can cause any trouble, the entire onboarding process becomes secure and your customers will feel secure too. 
Key Takeaways 
The face verification market is booming and the years ahead are expecting a rapid growth as well. Different reports have estimated that the market will grow up to USD 7 billion by the end of 2025 with a CAGR of 17.6 per cent. The trends for 2021 include a rapid shift of the identity verification market toward face verification. With the assistance of artificial intelligence, the technology has become more efficient in fighting fraud. It can surely help companies in complying with the KYC/AML laws from the regulatory authorities. 
Shufti Pro's face verification is supported by artificial intelligence that can help your business develop a secure customer onboarding process. Our face verification solution results in 98.67 per cent accuracy and requires only 15 to 60 seconds for completing the process. 
Learn more about the real-time face verification service from our experts.