BEFORE YOU GO...
Check how Shufti Pro can verify your customers within seconds
Request Demo
No thanks

With technological advancement, businesses are finding new ways to leverage digital solutions for improved efficiency. In particular, character recognition technology is crucial in digitisation and automation efforts. Whether it's automating invoice processing or managing digital documents, the ability to recognise characters such as words and numbers becomes essential.
Initially, image capture technology enabled the recording of document images. Subsequently, advancements in image indexing and character recognition took this process to the next level by capturing the information within the documents. Optical Character Recognition (OCR) emerged as a powerful technology, transforming static images into searchable and editable documents. Whilst OCR simplified the digitisation and processing of digital documents, it faced challenges deciphering the handwritten text. This is where Intelligent Character Recognition (ICR) addresses the issue.
Diving Deeper into the Definition of ICR
ICR is specifically developed to extract handwritten text from image files. It represents an advanced evolution of OCR technology, leveraging machine learning algorithms and AI to effectively interpret data in forms and physical documents by recognising diverse styles and fonts.
The primary application of ICR technology involves scanning and extracting information from paper-based documents, subsequently storing the data digitally within the database. This data integration seamlessly aligns with business workflows and serves as valuable input for analytical reporting. Businesses utilise ICR technology to efficiently organise unstructured data and derive real-time insights from these generated reports.
ICR solutions allow users to rapidly read handwritten data on paper and convert it into digital format seamlessly. ICR engine works with OCR to automate capturing data from forms, eliminating the need for manual keystrokes during data entry. This approach ensures a remarkable level of accuracy, serving as a dependable means to save time when processing various document types. Not only does ICR save time, but it is also immensely cost-effective, as the total cost of traditional paper-based invoice processing is $2.7 trillion annually, and automation lowered this cost by at least 50% to 80%. 
Difference Between ICR and OCR
Businesses frequently receive a wide range of document formats via email, such as PDFs, JPEGs, and spreadsheets, presenting a challenge in processing this information. OCR technology is employed for intelligent automation to address this issue. Cognitive data capture solutions offer the ability to incorporate human interpretation into data and organise unstructured fields efficiently.
There are various reasons why businesses opt for ICR or OCR. However, the optimal approach involves leveraging both technologies, considering their key differences:
OCR

systems rely on templates and lack the utilisation of artificial intelligence neural networks for data extraction, unlike ICR.

Template-based OCR follows a specific format for data entry, whilst cognitive data capture solutions learn to recognise diverse formats.

OCR proves suitable for companies with standardised document structures, whereas ICR demonstrates adaptability and is trained to handle frequent invoice changes.

OCR software entails project administration fees, whereas ICR technology operates entirely automatedly.

OCR-based systems often require manual intervention and review, whereas ICR merely highlights anomalies and prompts users to check when necessary.

Creating templates is a manual process for

OCR

, whereas ICR does not necessitate templates.

OCR APIs are incompatible with custom data, and they are designed primarily with digital text. In contrast, ICR can process images, handwritten forms, documents from multiple vendors, and paper documents.

Once converted into PDFs, OCR files can not be searched in enterprise databases easily, whilst an ICR scanner stores read information, facilitating convenient data retrieval.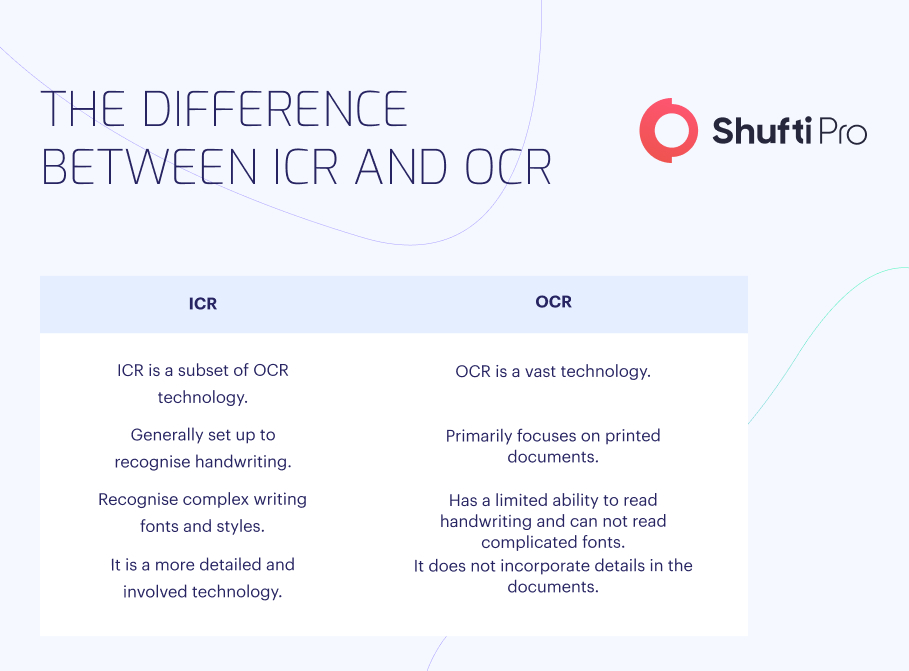 Applications of ICR
ICR is vital in capturing information from physical documents and intelligently converting it into electronic formats. Various industries utilise ICR for different purposes:
Banks, NBFCs, and financial institutions rely on ICR to read information from loan applications, checks, forms, and surveys, enabling efficient digital processing of customer data.

Schools and educational organisations utilise ICR to read handwritten notes, facilitating the entry of this information into grading systems.

Online businesses and e-commerce stores employ ICR to collect electronic signatures, logging them into databases for streamlined KYC documentation.

Property managers leverage ICR to verify ownership by scanning land documents, whilst landlords utilise ICR for electronic verification of rental agreements.

Insurance companies utilise ICR to digitise documents, particularly for filing claims. This improves transparency, facilitates online data verification, and simplifies customer policy renewals and complaint submissions.

The hospitality and logistics sectors use ICR technology to scan documents such as receipts, invoices, shipping and address proofs, streamlining their operational processes.
Benefits of ICR
ICR is an advanced technology that continually learns and improves its ability to transcribe information accurately into digital databases, adapting to new handwriting styles and fonts encountered over time. 
Its implementation brings several benefits to organisations:
ICR is highly beneficial for maintaining electronic archives of records, offering a scalable solution for efficient document management.

Enterprises are increasingly adopting ICR with transcription services, integrating it seamlessly with various document types.

By leveraging ICR services, organisations can enjoy robust data verification capabilities whilst eliminating the time-consuming manual data entry process. This allows employees to be more productive and efficient in their tasks.

With ICR solutions, uploading data to cloud storage becomes more secure, enabling organisations to safeguard information from unauthorised access and ensuring data protection.
How Can Shufti Pro Help?
Shufti Pro is a globally trusted ICR solution provider helping enterprises automate their operations. Not only our ICR solution automates the manual data entry process, but it also reduces human errors and optimises workflows.
Still confused about how ICR technology can automate your business?