BEFORE YOU GO...
Check how Shufti Pro can verify your customers within seconds
Request Demo
No thanks
The way we process and analyse written information has been entirely transformed by Optical Character Recognition (OCR). Physical documents like receipts, books, and invoices can be scanned, digitised, and converted into machine-readable text using OCR. Data entry, text analysis, and document management are just a few of the many uses of this technology.
The global market value of OCR was $10.63 billion in 2022, and it's expected to reach $36.73 billion by 2032. The rising demand for automated document processing and the increasing popularity of cloud-based OCR scanners are the main drivers of this expansion. 
Let's answer some of the most Frequently Asked Questions (FAQs) about OCR, including selecting the best OCR for your business.
FAQ#1: How Does OCR Work?
The OCR scanners convert handwritten or printed text into a digital format that can be searched, analysed, and edited on a computer.
Here's how it works:
Scanning:

The first step in the procedure is scanning the text. This is done using a smartphone camera, flatbed scanners, and another similar device that can capture images.

Preprocessing:

Then, the image is preprocessed to improve its quality. This may involve noise reduction, skew correction, and contrast adjustment.

Segmentation:

The image is broken into smaller sections to separate individual characters.

Feature Extraction:

The

OCR

scanners then examine every block to retrieve each character's distinctive characteristics, including size, shape, and orientation.

Pattern Matching:

The solution compares the extracted features to a database of recognised character patterns. As a result, it can identify every character and translate it into accurate digital text.

Post-processing:

To increase output accuracy, the OCR scanners perform post-processing, including formatting and spell-checking.
OCR scanners have advanced significantly over the past few years and can now read text from complicated documents. However, font type, image quality, and language complexity can still affect OCR output accuracy.
FAQ#2: What is OCR Used for?
OCR technology is used extensively for many different purposes in the digital era. The following are some typical uses for OCR:
Digitisation of Printed Documents:

OCR converts printed materials into digital formats that are simple to keep, search for, and share, including books, magazines, and newspapers.

Document Management:

Large-scale document indexing and handling are done automatically using OCR. This makes it simple for businesses to organise and retrieve complex information.

Data Entry and Forms Processing:

Data extraction from invoices, forms, and receipts using OCR eliminates the need for manual data entry. This decreases the probability of errors whilst saving time.

Accessibility:

Individuals with visual disabilities can access printed materials by using OCR. The scanners enable people to access and interpret written content by turning text into voice or braille.

Translation:

OCR is used to retrieve text from documents written in a foreign language, and after that, machine translation technology translates the text into many languages.

ID Verification:

OCR scanners extract and validate information on government-issued IDs, including driver's licences and passports. This helps to combat identity theft and streamline the verification procedure.
OCR scanners have many uses in several fields, including the legal, financial, healthcare, and government sectors. It is a valuable technology for individuals and organisations since it can digitise physical documents, retrieve data, and automate processes.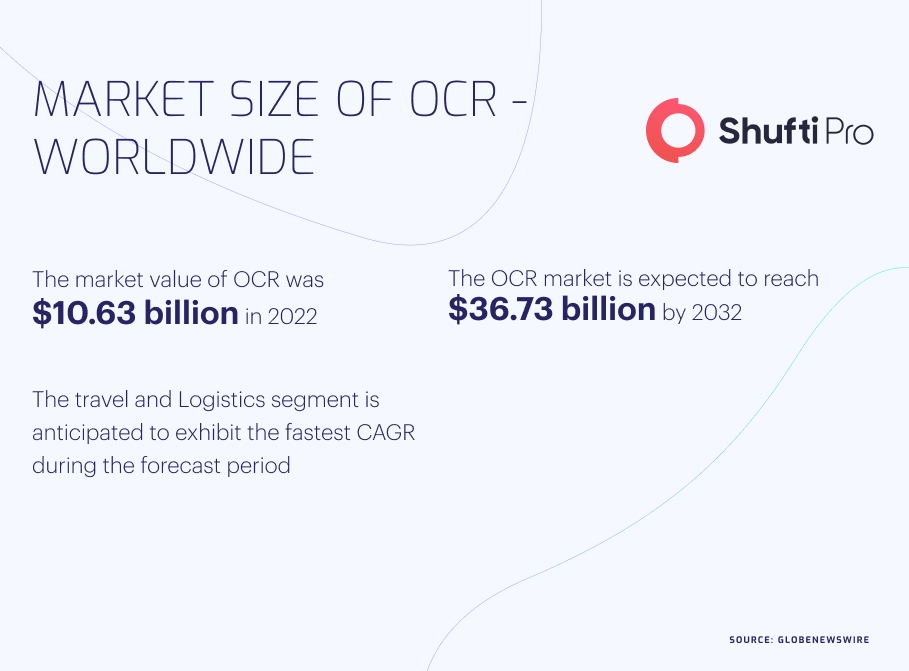 FAQ#3: What are the Limitations of OCR?
OCR scanners have advanced significantly in recent years, although it still has several limitations. The following are some common issues with OCR:
Image Quality:

OCR accuracy relies mainly on how well the image is scanned. An

OCR

technology may not accurately recognise the written content if the image is deformed, blurred, or contains shadows.

Font Type:

OCR scanners have difficulties recognising complicated or non-standard fonts, including handwritten fonts, cursive scripts, and complex typefaces. The OCR output may become inaccurate as a result of this.

Language Complexity:

Characters and symbols in languages with intricate scripts, like Chinese, Japanese, and Korean, can be challenging to recognise using the OCR scanners.

Layout and Formatting:

Text in complicated layouts and formatting, which includes multi-column texts, tables, and graphs, can be complex for the OCR scanners to recognise.

Handwriting Recognition:

Although handwriting recognition using OCR scanners has advanced significantly, it still has several drawbacks. It could have trouble with smeared or stylised writing.

Editing Errors:

The OCR output may have errors owing to improper character identification, misspelt words, or formatting mistakes.
OCR scanners have some drawbacks in general, and their precision can vary depending on several factors. These limitations must be kept in mind, and the reliability of the OCR output must be carefully checked.
FAQ#4: Does OCR Store Data?
OCR technology recognises and processes text to convert paper records into digital format. For example, in document management systems, the OCR scanners can save the written data it derives in a database which can be used for search and retrieval.
It's crucial to note that the OCR scanners store data that may contain sensitive information like names, ID numbers, and addresses. They are vital to ensure proper safeguarding to stop unauthorised access.
Additionally, specific OCR scanners may provide options to automatically delete sensitive information or remove the recorded data after a particular period. It is crucial to check the confidentiality and data retention policies of the OCR technology to make sure they abide by all relevant rules and legislation.
FAQ#5: How to Choose the Right OCR?
The OCR scanners' capabilities, budget, and unique needs all play a role in selecting the best OCR. When choosing an OCR technology, consider the following:
Accuracy:

An OCR technology's accuracy is among the most crucial things to consider. Look for OCR scanners that can recognise text from various sources, including handwritten documents, poor-quality scans, and unconventional fonts, with high recognition accuracy rates.

Language Support:

Make sure the OCR scanners can recognise the languages you need. Some OCRs only support a limited number of languages, whilst others might support hundreds. At Shufti Pro, our OCR solutions allow you to scan documents in 150+ languages – find out more

here

.

Integration:

Consider the compatibility and integration options provided by the OCR technology if you intend to integrate the

OCR

with other systems, such as document management.

Pricing

: The cost of OCR scanners can range greatly, from free open-source software to expensive enterprise-level options. Look for an OCR technology that balances cost and functionality whilst considering your budget and the required functions.

User Interface:

Consider the OCR scanners' functionality and user interface. Select a solution with a user-friendly interface and readily available documentation or support resources.

Security and Privacy:

Ensure the OCR scanners have sufficient security and privacy protections to safeguard the documents containing sensitive information.
How Can Shufti Pro Help?
Data extraction from documents has become easy with Shufti Pro's OCR for businesses. 
Here's what makes Shufti Pro's OCR for businesses stand out: 
Faster image-to-text data extraction

Scans for structured and unstructured documents

Global coverage for 150+ languages

Supports multilingual documents
Still confused about how OCR scanners can be a good investment in the digital age?