BEFORE YOU GO...
Check how Shufti Pro can verify your customers within seconds
Request Demo
No thanks
Started in 2017, Shufti Pro Ltd. has attained a lot of success. Within three years, we have onboarded more than 500 customers, won awards for best services and products and above all, we have achieved a 92% customer satisfaction rate from Crozdesk. Not just this, Shufti Pro also bagged the Best Consumer Service award by best in Biz last year. After years of hard work, the company has managed to acquire more than 100% YoY growth. While bad actors have become strategically stronger in their ill activities, Shufti Pro has enhanced its identity verification solutions to combat all types of identity fraud in 2021 and beyond. 
Still wondering why you should choose Shufti Pro? Don't worry. We have summed up the top 10 reasons that make us the better choice for the corporate sector across the globe. 
How to Choose the Right ID Verification Service Provider?
You can consider the following attributes to onboard the perfect identity verification service provider:
Global coverage 

Real-time identity verification

Geolocation tracking 

Globally compliant solution

Paperless process 

Reliable and accurate results 

Customised functionality  

API and documentation availability
Top 10 Reasons to Choose Shufti Pro
There are tons of reasons that make Shufti Pro the most feasible option for your company's KYC and AML compliance needs. Let's discuss the top 10 reasons here.
1. Market-Leading Accuracy Rate
Identity verification is a crucial step in the customer onboarding process. The results must be reliable and highly accurate and Shufti Pro offers businesses a market-leading accuracy rate of 98.67%. With our competitive precision, fighting identity fraud is no longer a challenge for businesses.  
2. Reliable Results Within Seconds 
Not just competitive accuracy rate but all our solutions take less than 30 seconds. Be it the Anti-Money Laundering screening solution or our identity verification system, you get verified users in less than a minute. That's not it. We are constantly working on decreasing the timeframe for verifications to milliseconds and increasing the accuracy rate to 100%. As our vision states,
"Our vision is to make IDV seamless and 100% accurate to fight multifaceted fraud. A future where fraud prevention is cost-effective, accessible to every big and small business and identity verification can be performed anywhere in the world in milliseconds."
3. Omni-Channel Solutions
Shufti Pro offers multiple integration options to the merchants. This makes it more convenient for businesses of any nature to verify all the end-users. It doesn't matter if your customer is using an iOS system or they are android fanatics. 
View our integration options here.
4. Customer-Centric Identity Verification Solutions
Since the beginning, we have followed a customer-centric approach. Our solutions are designed to make the process seamless for the end-users. Shufti Pro's UI is designed to make the process easy for your customers so that they can effortlessly get their identities verified and you can onboard legitimate people in the blink of an eye.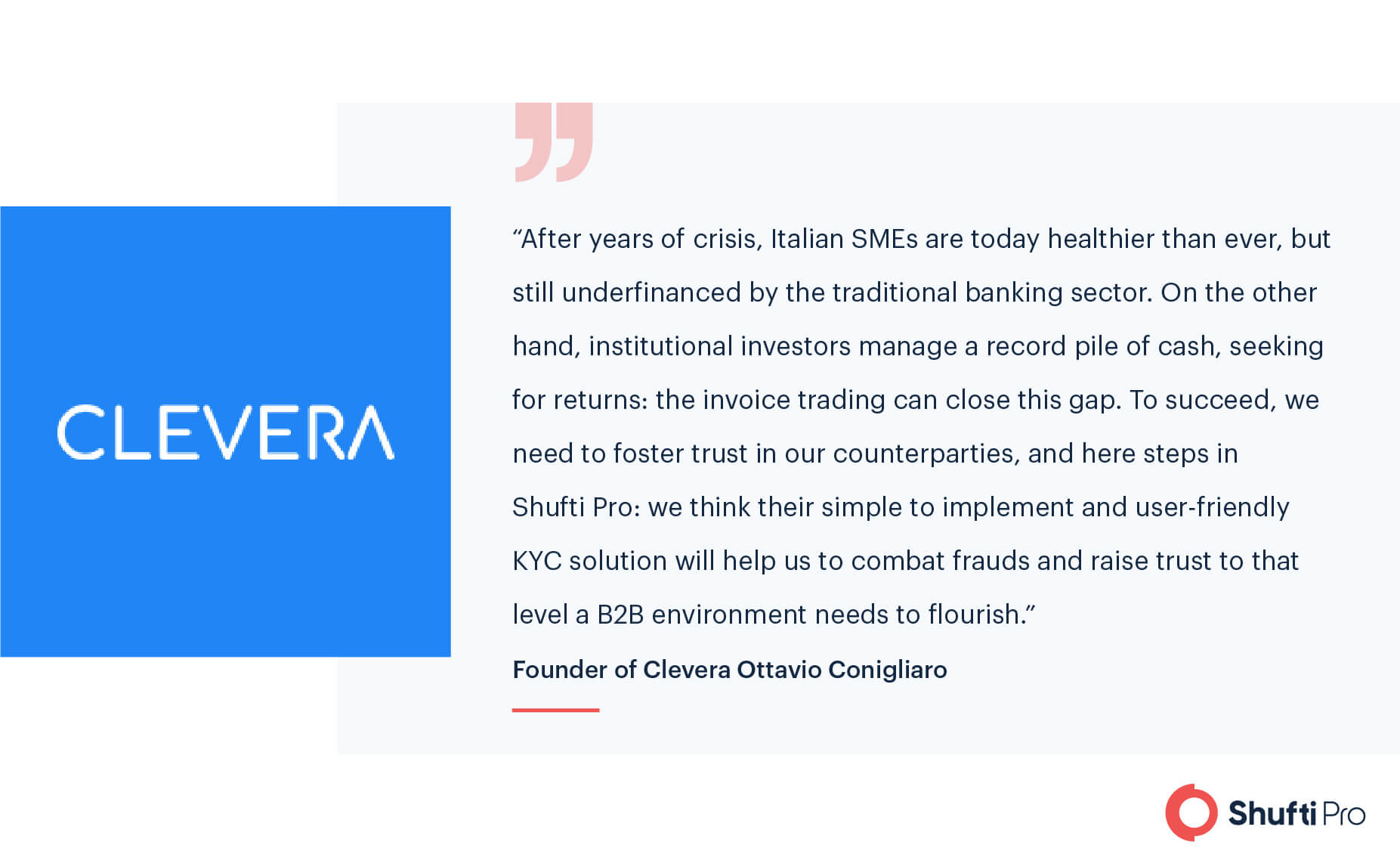 5. GDPR and PCI DSS Compliant Company 
Apart from all the innovative features of our offerings, Shufti Pro is a GDPR and PCI DSS compliant company. We not only help our clients stay KYC and AML compliant, but we also ensure effective compliance with the data protection laws to keep sensitive data secure. 
6. Flexible Pricing with Free Trial Option
All of Shufti Pro's products and services are unique and you can experience the uniqueness with our 7-day free trial option. Furthermore, our pricing plans are flexible enough to meet the identity verification needs of every business. If you are a startup or an MNC, we have plans for everyone, irrespective of the company size. 
7. Global Coverage and Enhanced Databases
Shufti Pro is a globally acclaimed company with clients across 230+ countries and territories. We offer services in more than 150 languages supporting 3000+ document types. We have access to databases of 160 countries to sustain the industry-leading accuracy rate. All the identity verification requests we receive are cross-matched against these databases to deliver the most accurate results in seconds. 
8. Geolocation Tracking 
As an additional layer of security, we also track the location of the end-users. This is how we detect fraud in real-time. If an imposter is trying to manipulate the system with spoof attacks or stolen identity, we can track the location and identify them as suspicious. Moreover, the geolocation data of end-users is provided in the back office for future audit and case building.
Suggested: Shufti Pro's Secret to Acquiring 92% End-User Satisfaction Rate 
9. Automated Data Extraction 
The trickiest part in an identity verification process is extracting data from government-issued ID documents. However, Shufti Pro has fully automated systems and our data extraction is done through AI-powered Optical Character Recognition (OCR). After successful extraction, the data is converted into a machine-readable language in no time. 
10. Multiple Solutions for One Problem 
The one major problem that every business has to face these days is the rapid increase in cybercrime, especially identity fraud. Shufti Pro offers multiple solutions to fight identity fraud in the most effective way possible. Be it synthetic identity fraud, account takeover fraud, new account fraud, replay attacks or any other type of ID fraud, we have a wide array of options that can fight any type of identity fraud in no time. Here are the solutions from us:

Facial Biometric Authentication

NFC Verification

Face Verification

Consent Verification 

Address Verification 

AML Screening Suite 

Ongoing KYC

Age Verification 

KYB (Corporate Verification)



To Sum Up…
Shufti Pro's identity verification solutions have numerous attributes that help us stand out in the market. Industry-leading accuracy, fastest identity verification solutions, multiple options to fight ID fraud, omnichannel solutions, customer-centric services, automated data extraction, GDPR and PCI DSS compliant company, globally acclaimed products and services, simple processes, flexible pricing, customisation and so many more that you can choose for your customers by employing our identity verification services. 
If you need further assistance on Shufti Pro's offerings,  get in touch with our experts.