BEFORE YOU GO...
Check how Shufti Pro can verify your customers within seconds
Request Demo
No thanks
Data is the nucleus of any business and how efficiently it is processed is the key to digital transformation. 
Organisations are producing piles of documents on a daily basis and are then spending billions on retrieving information from them manually. Optical Character Recognition (OCR), which has been present for a long time aids companies in data extraction but is a simplistic rule-based software. Businesses have to step up their data management efforts to thrive in this age of digitisation. This is where Intelligent Character Recognition (ICR) came as a ray of hope, helping firms process their data efficiently and accurately. It is estimated that the manual efforts to extract that would be reduced to half by 2024 due to the adoption of character recognition software.
Thus, it's high time to jump from conventional to automated data extraction methods. But what to choose: ICR or OCR? Before investing in them, it is good to thoroughly check both technologies to see the best fit for a business. 
ICR and OCR – A Quick Overview
ICR and OCR technology are used to recognise characters. Although scanning any document sounds simple and easy, that's only the case when the document doesn't need any edits. If it does, it's a great headache as one has to retype the sections that require editing. That's where character recognition software came to the rescue.
There are other software too such as Intelligent Word Recognition (IWR), Optical Mark Recognition (OMR), and Handwriting Recognition (HWR). However,  they are used for more "niche" purposes as their names indicate. Let's stick to ICR and OCR! 
ICR vs OCR – What's the Difference?
Two acronyms might mean the same: retrieving text from documents. But they both serve different purposes. 
OCR identifies the character and converts it into text format. It then compares the letters of the processed images with the large database. As OCR is an optical technology, it depends on the quality of the image that is processed. And as OCR matches images with the database, it is not suitable for custom fonts or handwritten text. However, if OCR is given a typewritten document, it would then convert the image to text form with great accuracy and speed. 
On the other hand, ICR is the advanced version of OCR technology that produces better results when it works with handwritten documents. The intelligent character recognition software uses context, data, and predefined user input to recognise the handwritten content. However, with enough context and great image quality, ICR can retrieve handwritten content from images more accurately and with greater efficiency.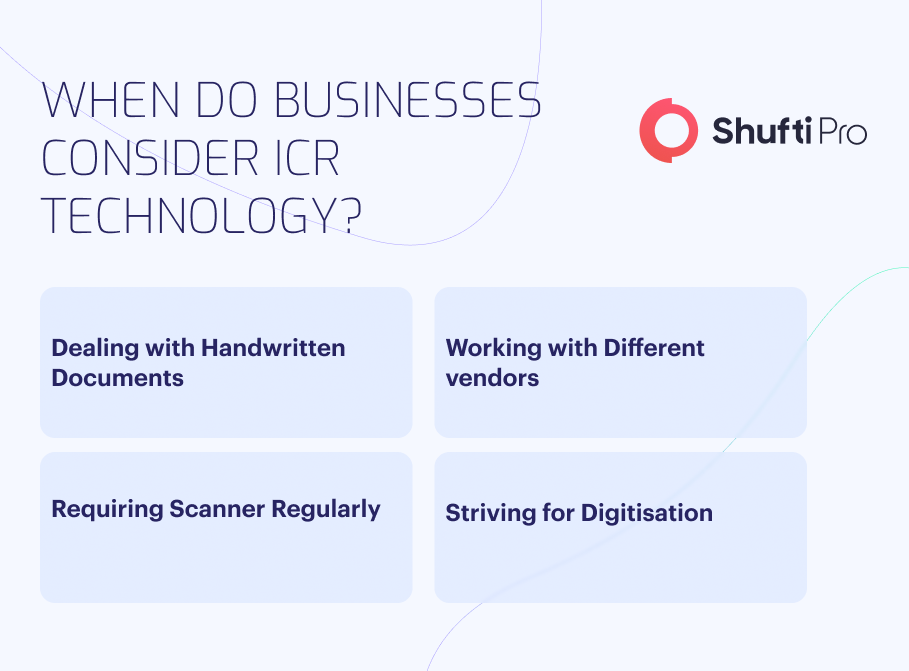 Document Verification – How ICR Make it Happen
ICR software is integrated into the system that gets input from handwritten documents. The software scans the data and extracts information from those documents. Let's look at how an ICR technology verifies documents.
The end-user is asked to display their identity card in the camera. Intelligent character recognition software first scans the document and then extracts details from the ID  such as name, Date of Birth (DoB), etc.

The end-user is also asked to provide handwritten consent too (according to the system's instructions). ICR software scans the consent text and extracts information from it too.

Both the retrieved information are then verified and the results are given to the end-user as well as stored in the back office for future use.
Perks of Using ICR Software
Intelligent Character Recognition is a self-learning software which means it understands, modifies, and transcribes information to digital databases every time it's exposed to various handwriting fonts and styles.
Here are the advantages of using ICR software:
ICR extracts data accurately and saves time by eliminating manual data entry. The workforce can perform with greater efficiency as a result of this.

The software is not only used for preserving records archives digitally but is also used for document management.

Cloud storage becomes more secure when the data is uploaded using

ICR solutions

, and businesses may protect the confidential data of their clients from unauthorised access.
Intelligent Character Recognition in Action
ICR is a remarkable breakthrough when it comes to retrieving data from physical documents and converting it to digital format more intelligently. 
Here are how ICR is being used in different sectors:
NBFCs, banks, and other financial firms are dealing with volumes of customer documents. This is where ICR fits in the puzzle,  reading data from loan applications, surveys, cheques, and forms to process them digitally.

ICR technology allows e-commerce stores and online enterprises to capture electronic signatures and save them in the database for

Know Your Customer

(KYC) documentation.

Many insurance companies file claims using ICR which increases transparency significantly. Clients can renew files and insurance complaints as the data is accessible digitally and can be checked easily.

Property managers use intelligent character recognition to verify ownership by scanning land documents. On the other hand, landlords use ICR software to verify rental agreements electronically.

Logistics and hospitality sectors are using ICR software in scanning receipts, address proofs, bills of lading, shipping records, invoices, and other documents.
How Shufti Pro Connects the Dots for Your Business
Leveraging the power of artificial intelligence, Shufti Pro transforms the way you do business by taking document processing to the next level.
Here is what Shufti Pro's ICR software brings to the table:
Unmatched accuracy of 90+ %

Document verification with support for 10,000+ ID types

Available in 230+ countries and territories 

Supporting 150+ languages 

Simple API integration

24/7/365 Support
Want to know more about how ICR can automate your business?