BEFORE YOU GO...
Check how Shufti Pro can verify your customers within seconds
Request Demo
No thanks
Just like other European countries, the Netherlands is also a notable financial center making it a likely ground for money laundering. The Netherlands is considered to have flawed Anti-money Laundering regulations due to the significant amount of money flowing through the country without proper oversight. According to the US state department, the Netherlands' main concern is to figure out money laundering and financial crimes, which represent around 90% of the country's total crime rate. 
To address this financial crisis, the Dutch government has initiated the implementation of noteworthy improvements in policies related to the labour market, electric powerhouses, and healthcare sector following close discussions with trade associations, civil society groups, and labour unions. The AMLD5 (Anti-money Laundering Directive) advanced in the European Union to permit the Dutch to qualify for its money laundering and terrorist financing prevention act (Wwft) in 2020. This proves that the crypto industry is no longer operating in the gray and buyers of digital assets must disclose personal details.
National Money Laundering Cases – The Netherlands Crime Report
The Netherlands is highly at risk for money laundering as a consequence of the huge trade-oriented economy, financial sectors that are internationally recognized, and a large number of financial crimes. 
Prison Sentence for Money Laundering via the Use of Intermediaries
In 2020, a man was sentenced to 4.5-year prison by OM (Operations Management) for money laundering. According to the OM, the man was involved in a EUR 4.2 billion money laundering case through the bank accounts of three different companies. The suspected man tried to escape the crime by involving intermediaries who were directors of private limited companies. These men had no basic knowledge of business and the criminal took advantage of this fact. MO further reported millions of euros were loaded into the bank account of these three companies and then transferred to other countries after two years. This money was suspected to be tied to drugs. 
Money Laundering Case via Wire Transfers
The Netherlands was charged EUR 775 million by the OM in the year 2018 for violating Wwft laws. Licensed banks were involved in the money laundering case as ING (International Netherland Group) failed to guard the financial system. Many of the bank accounts of ING customers were criminal in origin and were used to launder millions of euros between 2010 and 2016. Criminals may also take advantage of legal banks for cross-border payments. In that case, if the foreign bank does not follow customer screening, the Dutch bank may face a greater risk of criminal activity.
High-Value Service Dealers Money Laundering Case
A couple was charged for money laundering through expensive goods and services, laundering more than 750,000 euros, as they dealt in a business buying and selling expensive watches. The man was caught when he called for a large amount of cash transfer through his company with no peculiar data records present. 
Money Laundering through Cryptocurrency
Cryptocurrency is the most common method of payment on the darknet and is often a top choice by criminals looking to launder money. In 2018, the Financial Intelligence Unit in the Netherlands predicted double the number of reports than in 2017 regarding doubtful transactions with the subject of VA. A bitcoin trader was sentenced to a five-year prison in 2018 who had laundered about EUR 11.5 million in bitcoin within two years. According to the OM, this money was obtained with illegal trade in drugs and other forbidden goods.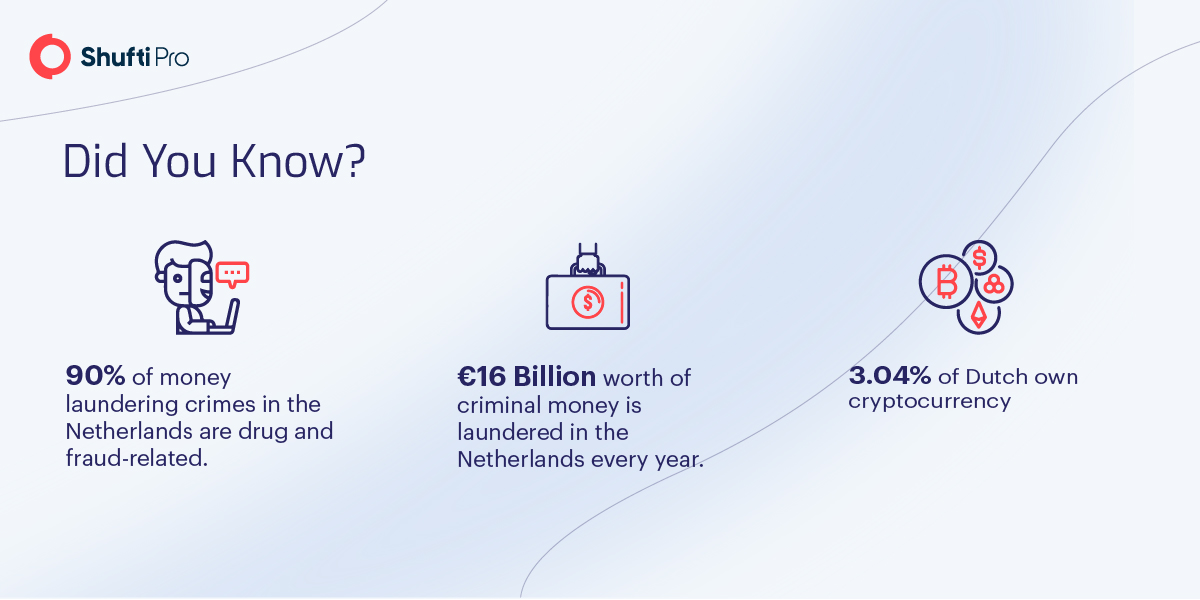 Union of Five Dutch Banks to Counter Money Laundering
A sequence of money laundering affairs in the Dutch organisations ensued strict governance measures to sustain customer trust in Dutch banking systems. Five of the largest and most well-known banks in the Netherlands are uniting to take an initiative to address alleged money laundering and terrorism financing head-on. ING and Triodos, along with three other banks are putting a team together to launch a new firm, TMNL (Transaction Monitoring Netherlands). This new entity will be responsible for collecting data from all of their combined transactions to pinpoint any atypical behaviour that is simple to identify from the entire dataset.
TMNL will not replace the data from banks they already own, which is to remain in place. Every bank must meet the increasing national and international regulations on how to prevent money laundering. The union of five banks put the Netherlands under high pressure to update its AML systems to keep the country away from becoming a crime hotspot. 
The skyrocketing sophistication of criminals is closely tied to the constantly evolving nature of threats. This evolution makes it challenging for transaction monitoring to catch the large number of risky transactions resulting in an increased crime rate going undetected. TMNL's launch took note of this reality and figured individual banks will continue with their individual systems, along with a collective approach, making it easier to identify suspicious ventures in the banking system throughout. 
Netherlands Crypto Regulations
Netherlands followed its law on the anticipation of money laundering and terrorist financing (Wwft) by rearranging the 4th European AML derivative into its authority. The law streamlined all the rights of every person in exposing money laundering and terrorist financing. After AMLD 4, the Dutch law now includes AMLD 5 which accommodates a number of provisions related to contributors of cryptocurrency. The following obligations must be adopted by the companies to regulate flaws in the crypto sector.
Providers need to register with the central bank of the Netherlands which will be responsible for further regulation of the crypto sector. 

A 6-month of intermediate arrangement to meet the enrollment objectives will be given to the providers. 

A request to the DNB will be submitted for the sake of registration so that they can decide whether the directors are suitable and reliable or not.

Financial sectors are required to report doubtful transactions to FIU and personal data must be shared.

Crypto providers must have suitable and efficient

AML & KYC processes

to identify customers, monitor transactions, cross-reference sanction lists, and provide the Netherlands authorities with essential information.
Final Thoughts
With the escalating amount of money laundering and financial crimes in the Netherlands, there is an urgent need for anti-money laundering regulations and solutions that can minimise possible money laundering risk.
Shufti Pro's ultra-modern solutions for money laundering are the most suitable choice for financial businesses. Shufti Pro's ideal AML screening services assist financial organisations to be persistent in complying with anti-money laundering regulations. Furthermore, the services provided by Shufti Pro enable screening customers against 1700+ financial monitoring lists worldwide with 98.67% accuracy, in seconds.
Want to learn more about Netherland's cryptocurrency regulation and how our solutions can help?