BEFORE YOU GO...
Check how Shufti Pro can verify your customers within seconds
Request Demo
No thanks
The world has become increasingly digital, making it easier to access age-restricted products, services, and content. Therefore, it is more critical than ever for businesses to comply with age verification regulations. With the increase in the number and complexity of modern needs, enterprises focus on age verification solutions to ensure minors cannot access adult material, products, or services.  
To safeguard minors online, governments and authorities around the world have enacted laws and regulations. This is accomplished by imposing rigorous rules, under which enterprises that fail to appropriately verify the ages of their users face serious legal consequences. Failure to protect minors from age-restricted content may either make or wreck a business, causing brand and reputation damage, including permanent exit from the corporate world. It is, therefore, pivotal to know which age verification regulation is required at which location. 
What is Age Verification?
The age verification process involves verifying a person's age before giving them access to age-restricted products, services, or materials. Age verification is increasingly vital in today's digital age, when more transactions occur online, particularly in sectors such as e-commerce, gambling, gaming, and alcohol/tobacco. Organisations that fail to check their customers' ages properly face the risk of breaking age-restriction legislation, risking legal action, and ruining their reputation, therefore, including permanent exit from the corporate world.
Why is Age Verification Important for Businesses?
As the name suggests, age verification is 'identity verification' for aged-restricted services, content, and goods. Customers must provide proof of age before being granted access to goods and services such as alcohol, drugs, or lottery tickets, in person or digitally. Its primary purpose is to keep under-age users away from inappropriate digital content and services, such as gambling, betting, gaming, and dating applications. Whilst the definition may appear simple, suppliers of age-restricted items have a legal and moral obligation to provide their goods and services solely to legally aged consumers. And if they don't and are 'found out' selling a product or service to a minor, the future of their company looks bleak.  
Age verification solutions can assist organisations in increasing client trust whilst also preventing identity theft. Furthermore, it contributes to a secure online environment by restricting teenagers to find age-appropriate content and engage in online activities such as downloading images and purchasing products or services. It also assists businesses in maintaining and updating their regulatory compliance, as well as limiting underage involvement in non-consenting activities. 
Behind the Scenes of Age Verification
To prohibit access to underage users, today's modern age verification technologies offer combinations of identity authentication, biometric authentication, document verification, face verification, e-IDV, and more. 
These automated, often AI-powered systems work together to verify that the ID provided is genuine and always belongs to the same individual attempting to access the site's products or services. Here are the three most common verification methods in use today: 
Identity Document Verification
Verifies the legitimacy of a document, such as a driver's licence, identification card, or passport, to collect, extract, and analyse ID data to validate government-issued identities and verify a person's age. 
Biometrics
To validate an individual's identity, biometric identification solution uses distinct physical attributes that are distinctive to them, such as face patterns, fingerprints, or voices.  
Database Verification
Check worldwide and country-specific databases to determine if the person has been associated with criminal activity to assess legal, regulation, or reputational risk.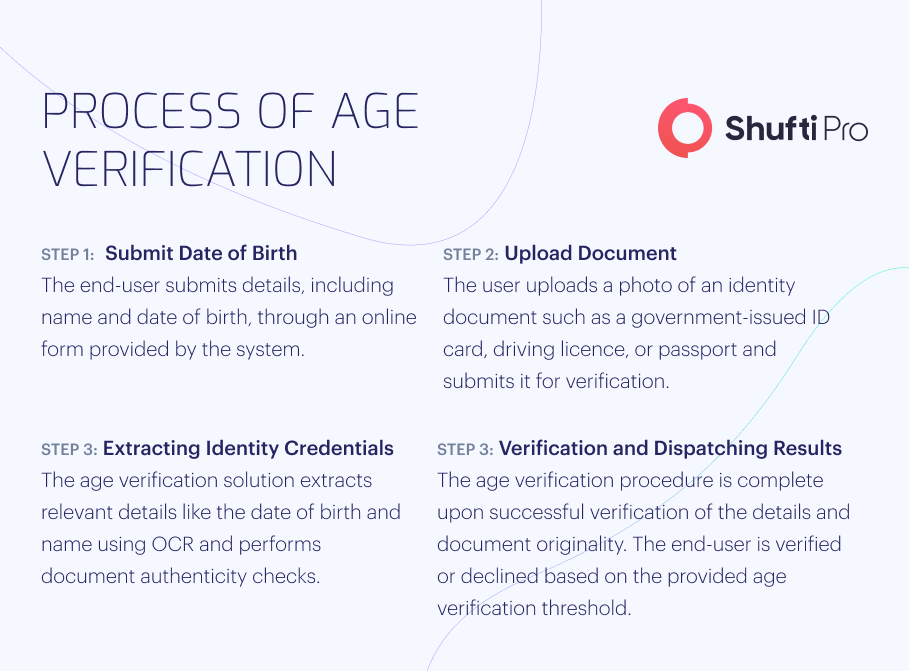 To ensure compliance with regulations, every business supplying age-restricted products, content, or services must install and update age verification regularly. Companies that do not fully comply face sanctions and reputational harm. Adding an robust age verification tool to an identity verification solution implies more privacy, increased consumer trust, and the preservation of age-appropriate sites away from the access and sight of minor users. 
What Age Verification Regulations Exist?
Whilst age verification requirements do exist, it is crucial to note that precise procedures and guidelines may not be consistently established or clear-cut at this time. However, businesses must implement efficient age verification processes to meet regulatory requirements whilst safeguarding people at risk. 
United States
In the United States, the primary regulation is the Children's Online Privacy Protection Act (COPPA). Before acquiring identifiable data from children under 13, COPPA obligates digital platforms to seek parental approval. This rule protects children's privacy by preventing them from accessing unsuitable materials or participating in potentially risky internet activities.
EU
The Digital Services Act (DSA) of the EU and the Online Safety Bill of the United Kingdom have implications regarding age verification regarding internet sites and operations. The Pan-European Games Information (PEGI) age classification scheme is another age verification regulation for the European gaming sector. It is endorsed by more than 200 organisations and is used by 20 of the EU's 27 member states. 
The DSA may require websites to develop effective age verification procedures to prevent minors from getting age-restricted material or services. The act emphasises the need to establish sufficient safeguards for children and attempts to guarantee that websites take the necessary steps to validate their users' age.
United Kingdom
Furthermore, the UK's Online Safety Bill acknowledges the need to safeguard kids and teens from inappropriate online content. It requires digital platforms to have robust age verification measures to prevent adolescents from accessing age-inappropriate material. The bill requires websites to incorporate age verification tools or employ age guarantee methods to check users' ages. 
Nevertheless, after years of delay, the United Kingdom has enacted an age verification measure to protect children from risky internet content. The House of Lords approved the legislation, becoming a new age verification policy in the United Kingdom. It includes mandatory age verification checks whilst attempting to visit adult websites, as well as web pages and forums. They also increased the penalties for sites that fail to comply with the age verification legislation. According to the measure, non-compliant sites could face a $35 million fine and a 10% charge based on their global yearly revenue.
Australia
Following the MA15+ and R18+ content classification standards, the Australian Communications and Media Authority (ACMA) announced new age verification guidelines in 2008 to ban access to protect minors from inappropriate content. These rules apply to everything broadcast by Australian media or broadcast on domestic television stations. The Broadcasting Services Act of 1992 was essential in creating this regulatory system. 
Denmark
Any selling drugs, narcotics, cigarettes, alcohol, etc to anybody under the age of 18 is illegal by Act No. 426 of May 18, 2016.
Germany
The Protection of Young Persons Act prohibits games, alcoholic beverages, tobacco, and age limits for several sub-parts.
Whilst these measures do not precisely describe the specific techniques and procedures for age verification, they establish a legal framework that motivates platforms to employ effective age verification mechanisms. The goal is to make the internet a safer place for kids, ensuring they do not have access to inappropriate content, products, or services for their age.
It is crucial to remember that the specifics of age verification may differ between countries and are susceptible to further recommendations or regulations. On the other hand, the primary purpose of the COPPA, the DSA, and the Online Safety Bill is to urge platforms to prioritise kids' protection and security through appropriate age verification systems.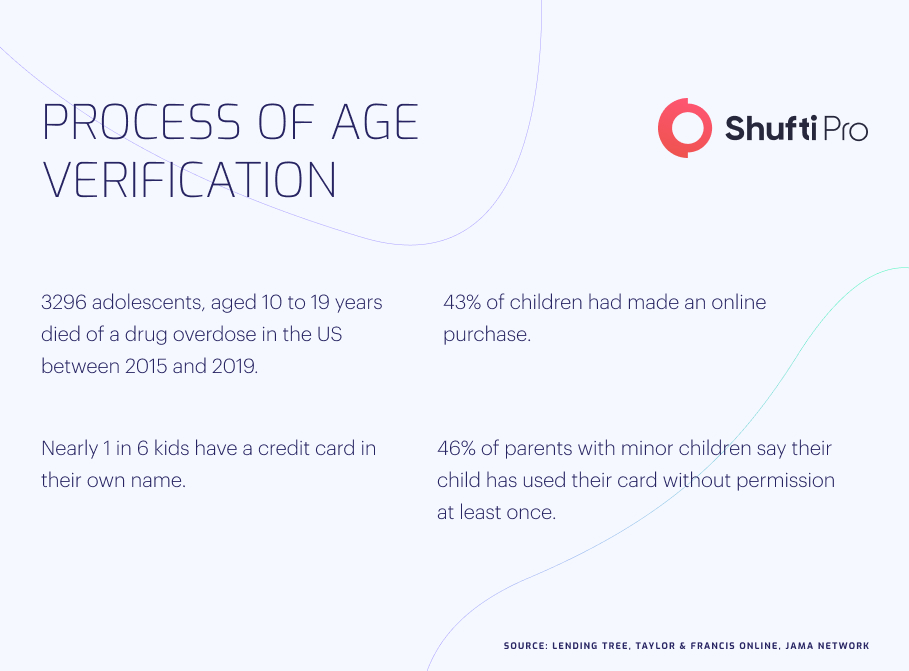 What are the Benefits of Complying with Age Verification Regulations?
Beyond simply complying with legislation, age verification provides various benefits to organisations. First and foremost, it improves security by ensuring that only authorised users have access to age-restricted material or services, lowering the risk of crime and identity theft. This increases customer trust, which may result in improved sales and client loyalty.
Second, age verification increases compliance, which can reduce the risk of fines, sanctions, and reputational damage. Businesses may be held accountable in some countries for the acts of individuals who access age-restricted content, products, or services. Organisations can limit the danger of these undesirable consequences by validating the age of their consumers.
Whilst some firms may be cautious about implementing age verification owing to worries about cost and implementation complexity, the benefits of age verification significantly outweigh the possible expenses. Many age verification solutions are inexpensive and simple to integrate into current systems, and some even include features like identity or document verification, biometric identification, and fraud prevention. Organisations may safeguard their brand, enhance customer trust, and promote growth by taking proactive measures to assure safety and compliance.
Choose Shufti Pro for Age Verification?
To summarise, age verification is critical for protecting minors from the negative impacts of age-restricted content, goods, and services. Businesses have a corporate ethical obligation to keep kids safe and limit their access. Online age verification is one of the most convenient and cost-effective ways to do that. 
Shufti Pro's age verification services facilitate user onboarding in various sectors, including online gambling, e-commerce, tobacco, gaming, gambling, casino, alcohol, and cannabis. We let merchants of age-restricted goods, services, and content access our solutions with a single API integration by providing minor safety in light of global standards. 
To give clients a first-hand experience of Shufti Pro, we offer a free 7-day time trial of our age verification services. These include identity verification, biometric authentication, face, and document verification. Our age verification system is powered by AI and double-checked by human specialists. In addition, our services assist online businesses in complying with worldwide age verification requirements such as the GDPR, COPPA, FDA, NVP, and the UK Gambling Act.     
Protect your business from hefty fines and penalties by implementing an age verification solution through single API integration into practice.