BEFORE YOU GO...
Check how Shufti Pro can verify your customers within seconds
Request Demo
No thanks
2019 brought a plethora of AML regulations for businesses and non-compliance is no more an option in 2020, it's an obligation. 
When AML compliance is inevitable, let's see how it can be performed smartly to get efficient results. This checklist will help businesses thinking about compliance and those who want to update their compliance operations in 2020. 
The amount of globally laundered money is about 2 – 5% of global GDP in one year (report of the United Nations). And the report of the Financial Conduct Authority (FCA) stated that at least £100bn was laundered through the UK. The need for an efficient and constructive AML compliance is inevitable for global business entities. 
What is Efficient AML compliance?

Efficient AML compliance is beyond just sticking to minimal AML compliance requirements. It is about taking concrete steps to eliminate fraud and financial crime from happening on your business platform through a data-centric approach.
Efficient AML compliance is practicing obligatory scrutiny on customers while adopting a data-centric approach in collecting and analyzing customer data to gain useful risk-management insights. The customers' data collected through automated due diligence solutions should be used to perform customized risk management and to assign customers a realistic risk rating. 
In short efficient AML compliance brings in several other benefits apart from eliminating non-compliance penalties. It helps businesses onboard secure clientele, develop transparent B2C and B2B relationships, improved brand reputation and market value.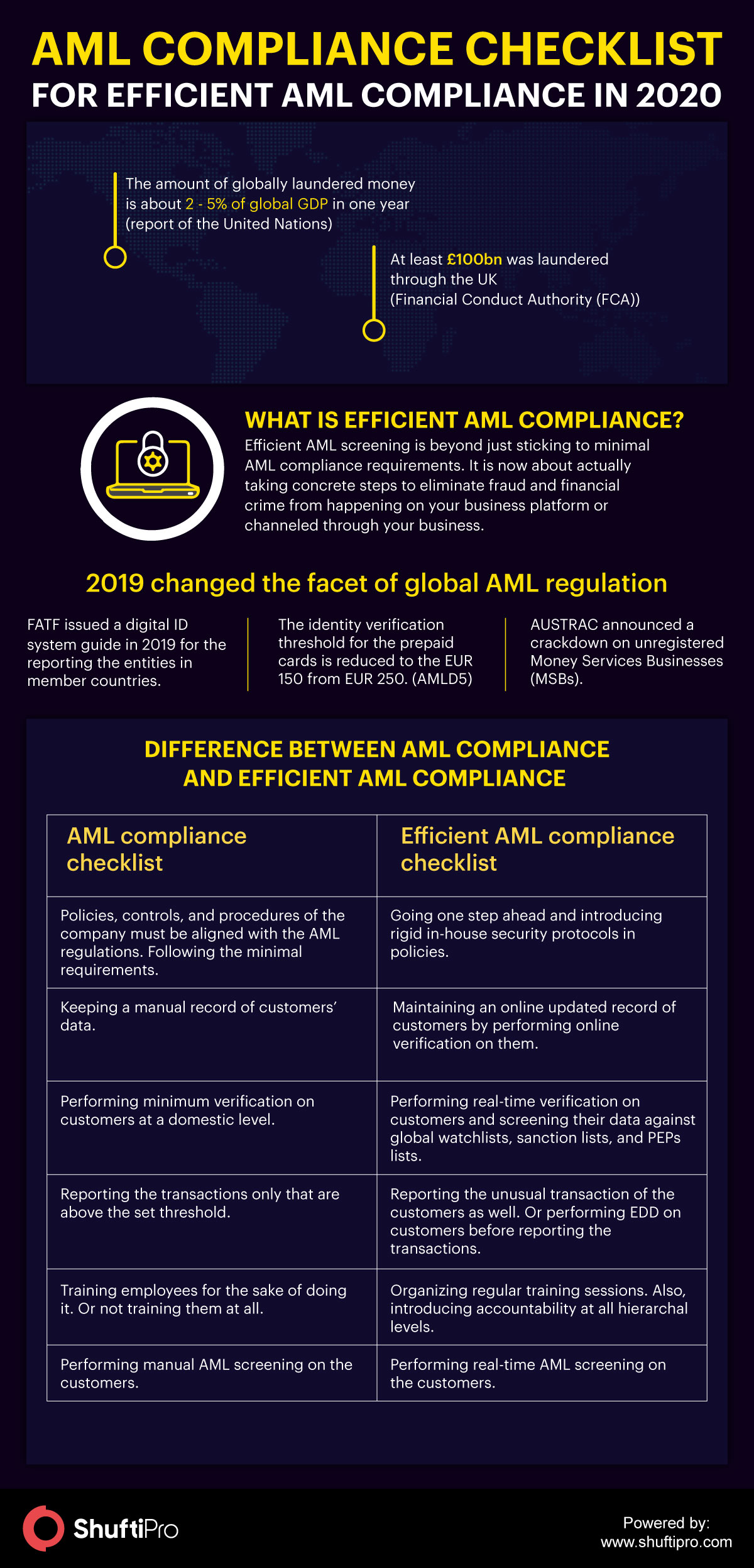 2019 changed the facet of Global AML Regulation
2019 was a very unpredictable year when it comes to AML/KYC regulations. The global regulatory authorities drafted some strict AML regulations and also increased the scope of those regulations. Several new industries were also added to the scope of global AML regulations. 
FATF took a revolutionary step and issued a digital ID systems guide for the reporting entities to utilize when performing digital identity screening on their customers. The draft of the digital ID system is issued for edits from the stakeholders and it is expected to motivate businesses to move towards automated AML screening of their customers.
On the other hand, the European Union (EU) amended the Fourth Anti-Money Laundering Directive (AMLD4) and published the AMLD5 in the official journal of the EU in June 2018. It increased the scope of the AML regulations to the virtual assets sector, prepaid cards, and real estate sector. The identity verification threshold for the prepaid cards is reduced to EUR 150 from EUR 250. Also, the identity verification threshold for remote payments is set at EUR 50. 
Also, AUSTRAC, the U.S treasury, and the UK regulatory authority introduced new regulations and expanded the scope of the current AML regulations. Read more about these changes in this blog.   
AML/KYC – how 2019 changed the landscape of global regimes? 
Although the regulations changed a lot, the primary compliance requirements are the same in global regulations and they are mentioned below. But these are just the requirements following which would just be compliance and following these regulations smartly will help in efficient and productive AML compliance in 2020. 
Five Components of AML Compliance
Below are the primary components in global AML/KYC regimes, implemented by authorities such as FATF, FinCEN, FINTRAC, FINMA, etc. 
Policies, Controls and Procedures
The policies, controls, and procedures of the company must be aligned with the AML regulations. Ensure that the due diligence, customer verification, record keeping, risk assessment, and reporting operations of the company are aligned with the regulations. The AML regulations changed a lot in 2019 and the businesses must align their compliance procedures with the changed regulations. 
Awareness and Traning of Employees
It is important to train the employees at all hierarchical levels to comply with AML regulations. Making compliance a habit of the employees is important. A sense of accountability must be maintained at all levels. The Danske bank scandal which shook the financial world also happened due to a lack of accountability at an executive level.  
For efficient AML compliance train your employees regarding the changes in the regulatory framework and how they should play their part in making the company fraud-free. As efficient compliance is possible with a team effort from all the employees. 
Record Keeping
A proper updated record of customer information and AML screening must be maintained in a secure manner. In some regulations, it is to be maintained for five years even after a relationship with a client is ceased. 
For efficient AML screening, this record must be used to predict the future prospects of the company and assign customized risk ratings to the customers. 
Customer Due Diligence (CDD) 
The most important part of AML regulations is the verification of the customers and business entities related to your business. For customer due diligence the basic identity verification along with AML screening must be practiced. The customers must be verified against watchlists, sanction lists, and PEPs lists. 
For efficient AML compliance, don't just verify the customer against domestic watchlists but practice global risk prevention and verify the customers against global watchlists. 
Reporting
Reporting is a crucial part of AML compliance. It includes reporting the unusual transaction that is above the predetermined threshold made by your customers. It helps in mitigating the unpredicted risk coming from businesses. It increases the credibility of a reporting entity. 
Devise efficient AML screening in-house protocols to keep an eye on the transaction of all customers and especially the high-risk entities. 
AML Compliance Checklist for efficient AML compliance 
Digital AML compliance solution helps in automated AML screening of prospects. And also shares the customer screening burden of the reporting entity. Below is the AML compliance checklist to experience efficient AML compliance in 2020 with the help of an AML screening solution. 
Practice global coverage in Customers Verification
In order to practice enhanced due diligence, the businesses must perform global AML screening on their customers. While onboarding a global clientele it becomes difficult for the businesses to practice AML screening on people coming from different corners of the world with ID cards in different languages. 
An AML screening solution helps in performing global AML screening on individuals. And on the businesses as well, so helps you stay one step ahead of fraudsters and also competitors who stick to minimum AML compliance requirements. 
Ongoing monitoring of customers
Performing customer due diligence is mandatory but it is required to be performed only at the time of onboarding a customer. On the other hand, efficient AML compliance is not limited to just minimum protocols so perform AML screening on your customers (especially the high-risk entities) at regular intervals. The risk status of a customer could change anytime. Ongoing AML screening of customers helps in identifying the in-house risk. 
Perform verifications but with Security
Not only money but the personal credentials of your customers are also an asset that needs to be protected from hackers. So be sure that the customer data is in safe hands. Also, AML regulations come with data protection laws. The GDPR (General Data Protection Regulation) in the EU and CCPA (California Consumer Privacy Act) in the U.S are some common data protection regulations imposed on businesses collecting the data of their customers. 
Using the AML screening solution that complies with the GDPR regulations also share the burden of data protection regulations. 
Proactive risk management through valuable risk insights about your prospects
The valuable insights about the prospects (individuals and businesses) help in crafting a proper risk management framework. For example, the nationality verification helps in deciding whether a customer should be verified under CDD or Enhanced Due Diligence (EDD). 
A customer could claim to be from a low-risk country, ID card screening and AML screening against global watchlists will ensure that the person is actually who he claims to be. 
Record keeping through Intuitive back office
Record keeping is important for reporting entities. A digital AML screening solution reduces the burden here as well with the help of an intuitive back office. The verification proof of real-time verification is stored in the back office and it can be used to practice efficient AML compliance on your platform. These proofs help businesses in proving that they actually performed verification on a certain customer.
The world is changing and businesses need to move towards automation to perform their compliance operations in a smart manner. Following the minimal regulations is no more enough. Businesses need to take voluntary steps towards AML screening of their customers to practice efficient AML compliance in 2020. Following the above-mentioned AML compliance checklist will help in proactive fraud prevention and unlocking more growth opportunities.