BEFORE YOU GO...
Check how Shufti Pro can verify your customers within seconds
Request Demo
No thanks
The proliferation of online stores has radically transformed how people shop and greatly affected the future of physical stores. Online stores have totally conquered retail stores with the advantages of access to a wide range of distributors, 24 hours of availability, drop shipping, and product accessibility. Customers can look online for the products they want from the comfort of their homes and decide to buy them from a store that provides the best service. The percentage of online store users is increasing uncontrollably every year. In the US alone, the number of online buyers in 2022 is expected to be 266.7 million. That's roughly 80% of the country's population. 
Online shopping platforms serve as a ground for vicious cybercriminals and scams. There are possible chances of identity theft where imposters can hack eCommerce stores and get access to users' ID and credit card details, which can then be used to make fraudulent purchases. As online shopping increases, the severity of crimes also shoots up. Around 86% of online shoppers have become victims of identity theft globally.
Assessing Risk and Applying a Risk-Based Approach – FATF
The prime concern of the risk-based approach is to convince the countries, banks, and other global authorities to recognize and understand the money laundering and terrorist financing probabilities to which they are exposed and adapt the required measures in order to mitigate the high extent of criminal attacks. According to FATF recommendations, the flexibility of a risk-based approach authorizes the use of system resources to exempt risk according to its severity. As a result, one can avoid the repercussions of inappropriate elimination of financial crime.
Furthermore, countries should also be vitally involved in the development of DNFBPs (Designated Non-Financial Businesses and Professions) to recognize, assess, and take effective action to alleviate their money laundering and terrorist financing, and proliferation of financing threats. Global states ought to consider Anti-Money Laundering (AML) policies where money laundering and finance terrorism risks are regularly viewed and exempted. The FIU (Financial Intelligence Unit) and other law-making authorities should also be on the go to ensure efficacious mechanisms to cooperate and exchange information at the national level to combat money laundering and terrorist financing.
Evaluation of Scams in Online Shopping
The increasing exposure of people to eCommerce stores is closely linked with a rise in fraudulent activities. A large increase in online shopping occurred due to the Covid-19 pandemic. Online retailers have experienced a number of scams, including
Friendly Fraud: This type of fraud is hard to identify because the imposter here tries to be friendly while shopping. Clients buy goods and pay for them at the time, but later they claim that the sale did not occur and demand to have their funds back. 
E-Skimming: FBI has been recently alarmed by this latest terrible type of fraud. Fraudsters hack an online store, install a "cryptovirus" on the website, and forage customers' financial data like ID, address, nationality, and credit card number. Later, criminals use this information to make illicit purchases online. 
Return Frauds: This is another commonly encountered scam that can be carried out by any customer. The client orders ample products to activate the award scheme. After using that affiliate scheme, the imposter then returns the products for a full refund. The NRF (National Retail Federation) reports that for every $100 in sales, retailers lose up to $10.30 due to fraud. 
Card Testing Fraud: This happens when a criminal obtains access to stolen credit cards and visits an online store to buy a few products to test the card to see if the card can be used to make substantial transactions. Once they are sure the card is valid, they start making high-priced purchases. An estimated 22% of adults have fallen victim to Card Testing Fraud fraud. 
Account Takeover Fraud: Such trickery occurs when an imposter gets illegal access to an eCommerce store user account, either by purchasing stolen passwords or personal details. Once they acquire access to the account, they make certain changes to its details, such as the shipping address, and continue with their fraudulent activities.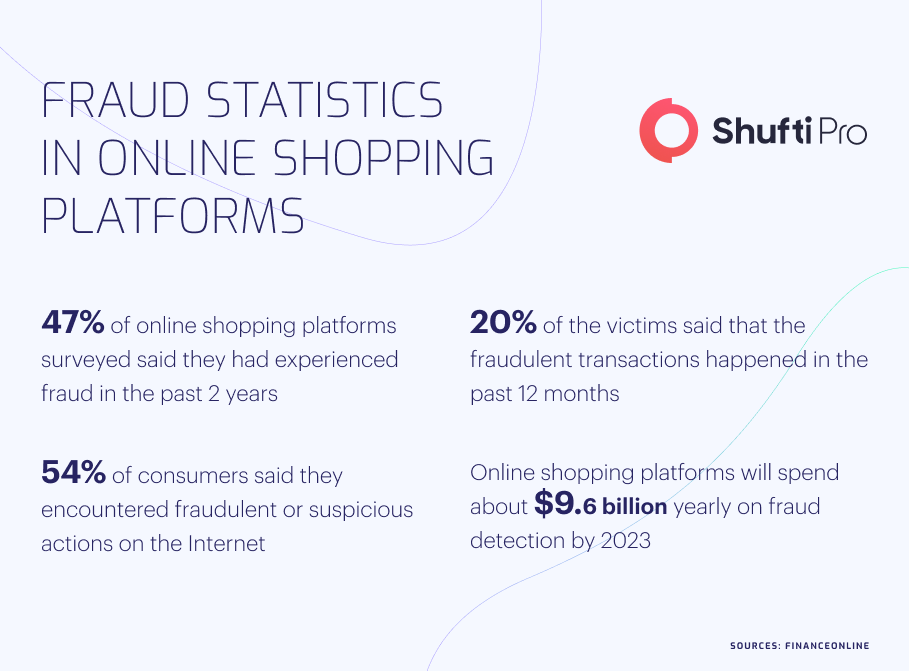 Protection Laws and Regulations in Online Shopping
There is a lot to worry about when running an online store. With the growth of eCommerce, laws, and regulations are evolving over time. Online sellers need to strictly comply with these laws to secure their stores from crimes and fraud. The two key laws that apply to online sellers are Consumer Contracts Regulations and EC Directive Regulations. Online sellers should clearly mention their service with a good description. To regulate return fraud, sellers need to make it clear to shoppers that the return cost must be paid by the customer. 
If a seller collects data and personal details of the customer when they place an order, the seller needs to register under the Data Protection Act. The online store owner needs to ensure authentic measures to protect customer data against any illegitimate use or fraud. The data must not be provided to other online stores or any other 3rd party unless the customer requests to do so. All of the laws and regulations must be in compliance with the high-grade identity verification services to keep the fraudsters at a distance from potentially scamming online stores.  
Benefits of KYC in Online Retailers
An extensive KYC service can shield all eCommerce platforms from financial crimes like identity theft, fraud, and money laundering. Knowing your customer becomes mandatory for the sake of identifying your customer while making online purchases. The process involves confirmation of clients' details like name, address, and date of birth by examining the documents that they provide, such as an ID card. This helps online businesses to know who they are dealing with to proactively prevent crime. Online sellers can build trust to make sure the customer makes a legitimate transaction. 
Improves Reputation: Incorporation of KYC services elevates the company's reputation, which is healthy for any business. The customer must get a feeling of security without any thought of being tricked whenever they buy from any online store.
Enhances Customer Experience: Online sellers are utilizing digital workflows to ensure a smooth onboarding customer experience. With the lack of any paperwork, the online buying process allows customers spontaneous access to the product of their choice offered by online retailers. 
Protection from Fraud: Identity verification is an essential process in any online transaction to avoid fraudulent risks and crimes. Online shopping companies often check such threats through risk-based approaches to verify clients' identities before disclosing any sensitive information. 
What Shufti Pro Offers 
To combat the aggressive growth of cybercrime in online stores, an efficient KYC process must be incorporated to check customers' identities and backgrounds. Shufti Pro's state-of-the-art solutions are an ultimate service that makes it possible to verify a customer's ID to mitigate identity theft and other financial scams. Powered by artificial intelligence, Shufti Pro's KYC solution will screen the customer's details against their documents and deliver results within a few seconds with a 98.67% accuracy rate.
Want to learn more about our identity verification solution for your business?