BEFORE YOU GO...
Check how Shufti Pro can verify your customers within seconds
Request Demo
No thanks
KYC requirements for financial institutions throughout the world come with a basic need for implementing robust and effective identity verification systems. Banks and other financial institutions normally have an in-house department for managing their compliance needs, while processes like AML Screening and biometric verification are outsourced. 
As AML Screening and automated verification require access to larger datasets from authorities and sanction lists from around the world, businesses find it more convenient to outsource these procedures. However, the preferences vary from company to company, depending on the business size and how quickly they scale.
In-house KYC Measures
Global AML regulations like those set forth by the Paris-based financial watchdog FATF (Financial Action Task Force) require corporations to implement and oversee effective policies and measures in their AML regime. These measures are incorporated to identify and mitigate the risks of financial crimes like money laundering and terrorist financing. 
As these risks usually arise due to the lack of proper identity verification, companies create and oversee their customers' activities with in-house KYC measures. The process includes customer due diligence, with document verification checks as well as AML screening against global sanction lists, watchlists, and PEP lists. The in-house KYC mechanism allows financial institutions to perform risk analyses, monitor their customers' ongoing transactions to identify anomalies and report suspicious activities to the relevant authorities. 
Apart from implementing an effective AML program, businesses that fall under the scope of AML regulations must also hire a Money Laundering Reporting Officer (MLRO) in the case of in-house systems. The duty of the MLRO is to ensure that the company's processes are compliant with the Anti-Money Laundering (AML) regulations. 
Outsourcing KYC Procedures
On the other hand, firms that are too big to implement their own KYC procedures to process large chunks of customer data prefer to outsource their KYC processes to third parties. Considering their specific requirements, businesses decide which, if not all of their KYC processes should they outsource. The most common operations that businesses outsource are those that require repetitive tasks to be performed manually and are labour intensive. Simultaneously, firms assign research and development tasks to in-house teams so that they can ensure maximum dedication.
That being said, businesses should always maintain their control even when their KYC operations are outsourced. For instance, businesses that are overseen by financial regulators need to continuously submit activity reports and need to know what exactly is going on in the company. There are several factors to consider when finding the balance between in-house and outsourced KYC processes, including the business size, its requirements, whether or not it is regulated by financial authorities, and its recognition in the international market.
In case a business isn't regulated like banks and insurance companies, it does not have the same requirements for AML compliance, Enhanced Due Diligence (EDD), and PEP screening. Furthermore, businesses that do not fall under the scope of AML regulations also do not incorporate identity verification measures, which means there is no need to worry about outsourcing. They should still consider a robust identity verification solution to avoid reputational damages and financial losses.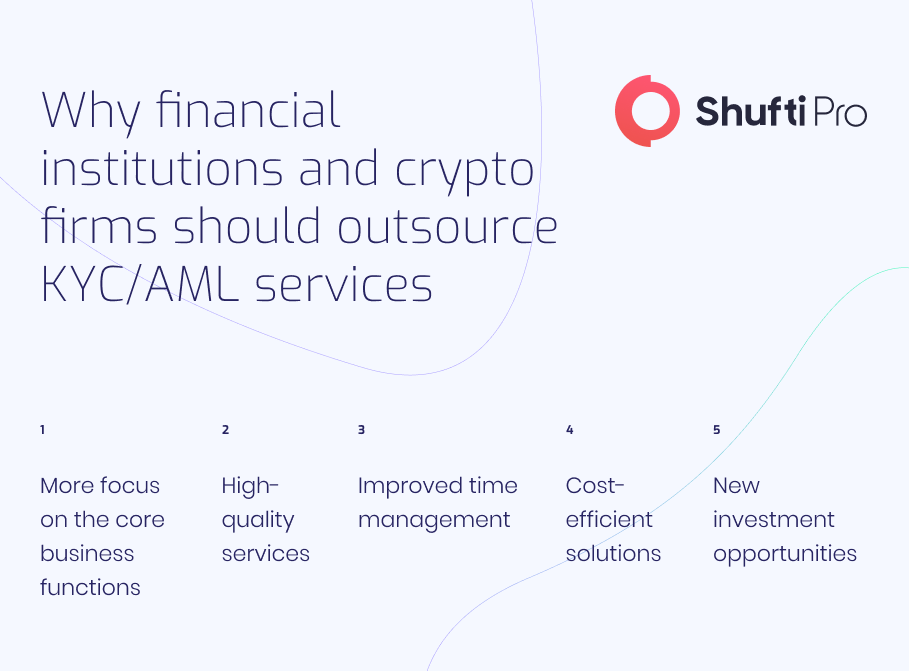 Issues with In-house KYC Processes
According to studies, manual identity verification checks consume over 10 minutes on average. This is the first and most obvious disadvantage of in-house KYC measures, which require quite a lot of labour-intensive work. Moreover, hiring and overseeing teams of KYC professionals requires effective internal procedures, which add to the money spent by the company. Even when companies go for automated solutions, in-house processes require the establishment of a complete IT mechanism that is capable of handling data privacy and cybersecurity concerns. 
In-house teams also tend to make more mistakes if they do not rely on automated systems. Even the smallest loophole in financial processes can open doors for criminals. This means that the systems can be manipulated by criminals to successfully carry out their illicit motives, causing irreversible harm to the business. 
Why KYC Outsourcing is the Solution
When businesses outsource their KYC procedures, they can significantly cut down on time spent on verification while improving their relationships with customers. Indeed, adhering to the stringent KYC/AML requirements issued by financial regulators is not an easy task. The majority of the companies look to increase their customer base and make more revenue by offering new services. That being said, sudden growth puts pressure on in-house teams that are assigned for KYC processes. If the same processes are being handled by a third-party service provider, companies can streamline both KYC compliance and the rest of their operations. 
Furthermore, in-house KYC processes divert the attention of teams from the more important tasks that can take the business forward. KYC outsourcing allows companies to direct their efforts towards progress by ensuring that the information and accounts of their customers are secured. The complex AML requirements of today are not easy to explain to new customers who find it difficult to share their information without knowing the reason behind such checks. The time spent in providing such information can be used in productive work if the company opts for KYC outsourcing. 
Then, there are the issues raised by new regions when companies open their offices in foreign countries. Initially, it is difficult to fully understand what the financial regulators in that region require, and how to establish a KYC compliance team accordingly. In this case, KYC outsourcing provides the ideal solution, as third-party service providers have expertise and access to databases from countries throughout the world.
What Shufti Pro Offers
Establishing a KYC compliance regime requires businesses to analyse the potential risks and consider the requirements of different financial regulators. While finding the balance between in-house KYC and outsourced solutions is tough, businesses need to play smart in order to stay compliant with AML regulations.
More firms are outsourcing their KYC processes now than ever, which means they are saving valuable time and allowing their employees to handle more productive tasks. Shufti Pro's KYC and AML screening ensures that all the high-risk customers are identified on time so that you can keep your business secure. Furthermore, our KYC services are specially designed to streamline the customer onboarding process. 
For more information about KYC verification in businesses, get in touch!