BEFORE YOU GO...
Check how Shufti Pro can verify your customers within seconds
Request Demo
No thanks
Verifying documents is critical to regulatory compliance, risk assessment, and many organisations need to authenticate employees adequately. As a result, security is compromised, organisations are at risk for service abuse, financial crimes, and the user experience suffers. Above all, there are serious financial repercussions for non-compliance, and as regulatory bodies become more strict, the fines for such failures have increased drastically.
Whether it's a regulatory mandate or a precautionary measure, it makes sense to implement KYC procedures. It's also the only way to prevent your account from being used for illegal activities like money laundering or fraud.
Online document verification for digital onboarding is the most secure, foolproof, and time-efficient method of identity authentication available. The World Bank found that using AI to verify documents cut the average cost of client verification from $23 to $0.50, with zero additional overhead, compared to the five to seven days required when doing so manually. Since verifying the legitimacy of customers only on apparent honesty isn't a sustainable practice, various documents are needed for KYC checks.
KYC Regulations and Legal Foundation
The following legislation in Europe, the United Kingdom, and the United States underpins KYC checks and verifications:
 Third EU Money Laundering Directive

 

Fourth EU Money Laundering Directive

 

Fifth EU Money Laundering Directive in tandem with eIDAS

 

Sixth EU Anti-Money-Laundering Directive

 

Bribery Act of Great Britain

 

As part of the USA Patriot Act, the Customer Identification Program (CIP)
In Europe and the UK, know your customer initiatives are governed by a legislative framework composed of EU directives and Financial Action Task Force laws.
The most fundamental part of know your customer is the customer acceptance policy, which specifies the relationship parameters between the business and the client. The policy outlines the prerequisites and any other paperwork the client must furnish. IDs, proof of address, photographs, and any other forms the organisation requires will suffice.
Document Verification vs Digital Identity Verification
Digital identity and document verification are sometimes used interchangeably but relate to two separate procedures.
Verifying documents is crucial to digital identity verification. Clients submit identifying documents for validation by the company's compliance specialist or KYC software, which may include passport or driver's license copies. A client's records should be verified to ensure they are not fakes or stolen goods.
However, businesses must institute stringent measures to verify the identities of their clients. Customer due diligence, which includes verifying an individual's identity, is the overarching term for this process.
Additional verifications are performed at this stage, including proof of address, PEP, etc. The most significant aspect of identity verification is using biometric data to ensure clients are who they claim to be. Since document authentication alone cannot prevent fraud, regulators often demand identity verification.
How Do Customer Onboarding and Document Verification Relate?
Since compliance helps complete client onboarding properly and by regulations that seek to reduce money laundering and other crimes such as terrorism, funding and document verification is an integral part of the onboarding process. Because the onboarding process is the first step in building a connection with a new client, it must adhere to regulations and AML and KYC best practices. Essential goals and functions of compliance in a client onboarding procedure include:
Validate the currency and completeness of customer information

Share information openly regarding regulations

Create customer onboarding procedures that are straightforward and consistent

Before concluding a sale, make sure the customer has read and understood the service agreement

Maintain an audit and review schedule to keep tabs on your customers' compliance status

Keep an eye on the actions of new clients to forestall any fraudulent or unlawful behaviour

Respect all local, state, and federal requirements regarding new client signups

Make sure credit card details are safely kept

During the onboarding process, sensitive customer information is disclosed

Implement safe practices for storing private user information
Recent data shows that over a third of respondents (35%) say it takes more than two months, and 10% say it takes more than four months to onboard a new client. As a result, relationships with clients suffer, reputation takes a hit, and revenue growth slows as some clients give up and go elsewhere. More rapid online document-checking processes enhance all these.
Onboarding Challenges and Document Verification Service Solutions
In today's business world, onboarding issues and document verification service solutions are crucial, especially in financial, healthcare, e-commerce, and others. New customers are "onboarded" into your system, and documentation is "verified" to make sure they are who they say they are. The problems and possible solutions are outlined below:
Onboarding Challenges
User Experience: Users may only accept registration forms that are simple enough.
Regulations and Observance: Compliance with many laws and regulations businesses must follow can complicate onboarding.
Fraud Prevention: It is essential to identify and stop fraudulent onboarding practices.
Data Integrity: Trust can only be earned if users' information is kept safe throughout and after onboarding.
Cross-Border Onboarding: International user onboarding necessitates adapting to various linguistic, legal, and documentation differences.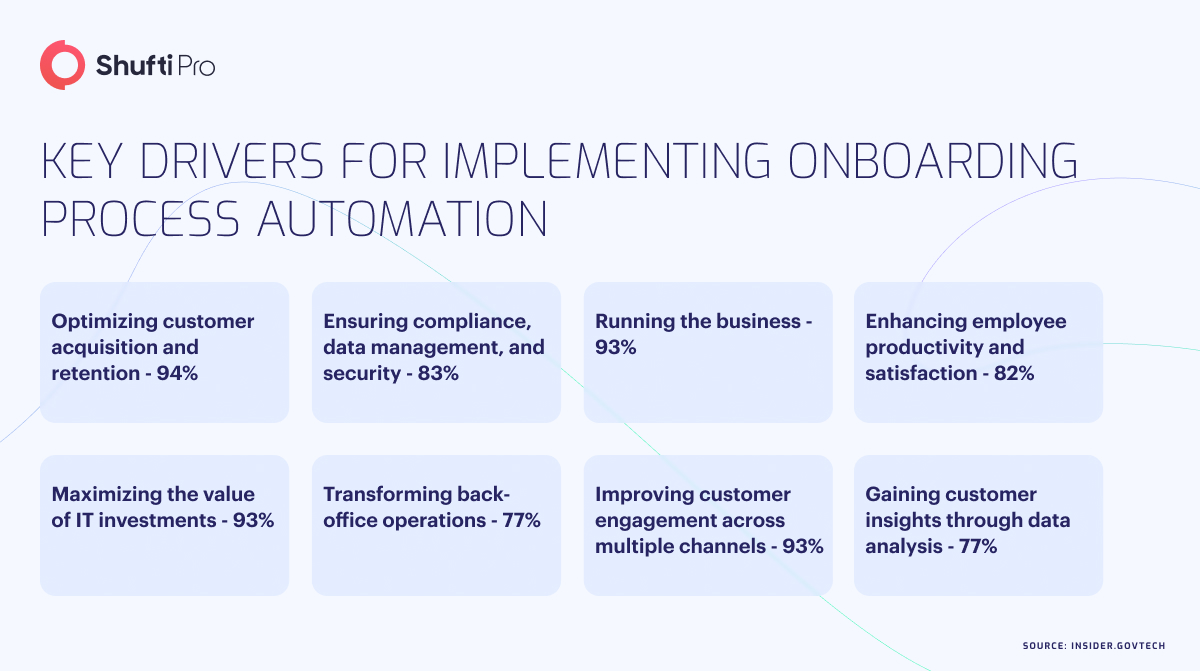 Document Verification Service Solutions
Document Recognition and Scanning Automation: Optical Character Recognition (OCR) software can scan documents automatically and extract useful information, negating the need for human data entry.
Authentication via Biometrics: Make sure the person presenting the documents is the same person pictured in them using biometric authentication methods like face recognition and fingerprint scanning.
Machine Learning and AI: Use document anomaly detection and pattern recognition algorithms built on machine learning to combat fraud.
Compliance APIs: Add third-party compliance services that automatically check user information against many regulatory databases.
Real-Time Authentication: Reduce waiting times during user onboarding by providing instantaneous verification results.
Every prospect who drops out of the banking onboarding process is worth $45,600 in lost revenue, and 68% of customers who begin the process online will not complete it.
In 2021, the Federal Trade Commission estimates that fraud will cost businesses $7.3 billion. That's millions of people impacted worldwide and a price tag in the trillions of dollars. When choosing a bank, 26% of consumers say that how simple it is to open an account is the most critical factor.
Many businesses may boost client satisfaction by streamlining the onboarding process with an online document verification service, especially useful for the proof of identification step.
Can Businesses Meet KYC Requirements with Document Verification?
Companies need a dependable document verification approach to meet KYC regulations. By verifying the names of its clients, know your customer regulations attempt to cut down on fraudulent financial transactions. Confirming the legitimacy of government-issued identification documents through document verification helps lower the potential for fraud and impersonation. Businesses may efficiently collect and validate required papers under compliance rules in each applicable jurisdiction by automating and streamlining the document verification process. This helps make the onboarding process easier for legitimate consumers while lowering the risks.
Verifying documents helps with exhaustive risk analyses and due diligence. Businesses can classify the risk of each customer and transaction by validating the documentation given by the customer. Individuals and organisations deemed at a higher risk, such as Politically Exposed Persons (PEPs) or those from sanctioned zones, can now have risk management methods tailored specifically to them. By verifying documents, businesses may protect themselves from fraud and other security breaches, keep track of transactions, and show compliance during regulatory audits.
Businesses can only comply with know your customer laws after verifying identity documents. It guarantees that customers' identities are confirmed, genuine documents, and regulations are met. Incorporating document verification solutions allows organisations to find a happy medium between meeting regulatory requirements and improving the user experience, which helps them better protect themselves from financial crimes and gain clients' trust.
Maintaining regulations in different parts of the world takes time and effort. Ensuring Know Your Customer (KYC)  and Anti-Money Laundering (AML) compliance in a dynamic, global regulatory environment can be particularly daunting for businesses operating in regulated sectors like financial services. Sadly, that's not going to get any simpler. According to recent studies, 78% of company compliance officers worldwide anticipate increased reporting regulations.
Industries Relying on Document Verification Services
Industry after industry has turned to document verification services to check the legitimacy of paperwork, confirm the identity of its employees, and meet stringent legal standards. Document verification services are often used in the following sectors:
Financial Services
Document verification is crucial in the financial services industry for meeting know your customer and anti-money laundering requirements. Thanks to cutting-edge algorithms and machine learning, passports, ID cards, and utility bills may all be checked and validated by document verification platforms. Data from these documents is extracted using Optical Character Recognition (OCR) technology and checked against databases for accuracy. Facial recognition algorithms are also used to compare a customer's photo ID with their face, adding an extra layer of security. This multi-factor strategy prevents financial and identity theft by verifying the authenticity of consumer names, addresses, and other identifying information.
Fintech and Online Payments
Advanced data processing and biometric methods are essential for document verification in the financial technology industry. Document verification services use OCR techniques to extract information from IDs, which are validated against external databases to ensure accuracy. Facial recognition software and fingerprint scanners built into mobile devices are two examples of biometric technologies used to verify the user's identity in real-time. Fintech platforms can reduce the likelihood of unwanted access and fraudulent activity by integrating APIs from these verification providers, which guarantees secure user onboarding and transactional integrity.
E-commerce
Online marketplaces use document verification to increase trustworthiness and prevent fraud. To detect forgeries, sophisticated computers examine document patterns for discrepancies and modifications. Fraudsters cannot upload fake or changed identification documents because sophisticated image analysis identifies digital changes, and machine learning models evaluate images' structural integrity. When used together, picture forensics and pattern recognition significantly improve the integrity of seller identities, reducing the prevalence of fake listings and fraudulent purchases.
Real Estate
The real estate industry verifies documents using a multi-stage process that includes data extraction, validation, and comparison. For example, information from leases and ID cards can be extracted by OCR engines. The authenticity of this information is then checked against third-party sources and public records. The submitted property information is verified for accuracy using address validation software. Together, these measures amount to a thorough verification process that protects tenants from online fraud, phoney ads, and falsified paperwork.
Onboarding and Human Resources
Human resources and recruitment process document verification mechanisms use machine learning and data validation approaches. OCR is used to scour documents like diplomas and resumes for helpful information. To verify the integrity of credentials, these records are checked against institutional repositories. To help in a foolproof verification procedure, natural language processing models examine the content of resumes for uniformity and possible irregularities. Businesses may be assured that candidates' credentials are legitimate using this technical balancing act.
Identity Verification Future: Creating Trust via Reliable Document Verification
Building trust through trustworthy document verification is crucial in today's digitally connected world. All effective interactions are built on a foundation of faith, and businesses know this. Organisations are changing the verification environment by employing cutting-edge technology like artificial intelligence, biometrics, and blockchain. This revamp places a premium on precision and user-friendliness, with the end goal of producing frictionless interactions and document authenticity. Modern enterprises are paving the way for a future where security and consumer confidence are both bolstered by verification processes thanks to the integration of robust algorithms for pattern recognition and biometric verification.
The integration of state-of-the-art tools with intuitive interfaces is crucial to the development of modern verification methods. Machine learning algorithms that parse the nuances of a document in search of abnormalities and authentic information continue to fuel this laser-like concentration on precision. Facial recognition and other biometric systems improve safety by instantly authenticating users' identities. By combining AI and biometrics, we can make verification in the future as accurate as possible, which will help curb identity theft and improve security.
How Can Shufti Pro Help With Verifying Documents?
Shufti Pro is an all-inclusive document verification service that uses cutting-edge technology to bolster traditional methods of verifying people's identities. Using Optical Character Recognition (OCR), it speedily and accurately extracts information from paper documents. The service uses AI-powered algorithms to examine document characteristics like holograms and patterns to determine if they have been tampered with. Increased security against identity theft is provided by biometric verification methods such as real-time facial recognition. Shufti Pro validates and increases the credibility of the extracted data by cross-referencing it with external databases. The service's global reach and adaptability make it ideal for many businesses and help them comply with relevant regulations. 
Want to discuss more about document verification.