BEFORE YOU GO...
Check how Shufti Pro can verify your customers within seconds
Request Demo
No thanks
With a surge in identity document forgery, the likelihood of onboarding a criminal has grown substantially; it's becoming increasingly difficult to spot this due to sophisticated forgery techniques. Such an upturn is evident within the financial sector, as ID forgery facilitates criminals in laundering dirty money through legitimate channels. Other changing components include digitisation, widespread remote working, evolving client expectations and AML/KYC regulatory compliance, which has led to increased demand for fully automated solutions.
This new digital environment has rendered manual identity verification methods obsolete, due to their outdated nature of delayed transactions, lengthy onboarding and poor user experience. Failure to adhere to digitisation exposes financial institutes to a plethora of risks and has the capability to cause irreparable reputational damage- e-IDV (Electronic Identity Verification) service providers have remedied this. Leveraging artificial intelligence, machine learning, biometric and OCR technology, this automated solution provides a robust, secure and entirely digital alternative to on-site onboarding.
Let's dive into e-IDV and how it's better than conventional ways of verifying customer identities.
What is Customer Identity Verification?
A quick recap on know your customer is helpful before getting into the details of electronic KYC. It's the process of determining and authenticating the real identity of customers. KYC is all about trusting and determining a client's risk level along with their financial transactions. This approach helps secure financial firms, their customers and other stakeholders from becoming victims of money launderers and terrorist financing groups.
The Future of Identity Verification: e-IDV
Global digitisation has caused disruption to most industries, abandoning outdated procedures and embracing digital transformation; banking and wider finance have been at the forefront of this movement.
In general, e-IDV refers to the digitised and fully-automated variant of the traditional know your customer process. It's the modern way of verifying and onboarding customers globally – automated, online and paperless.
Electronic ID verification is a way of validating customers' personally identifiable information to confirm their identity while screening them against government databases, sanction lists and watchlists.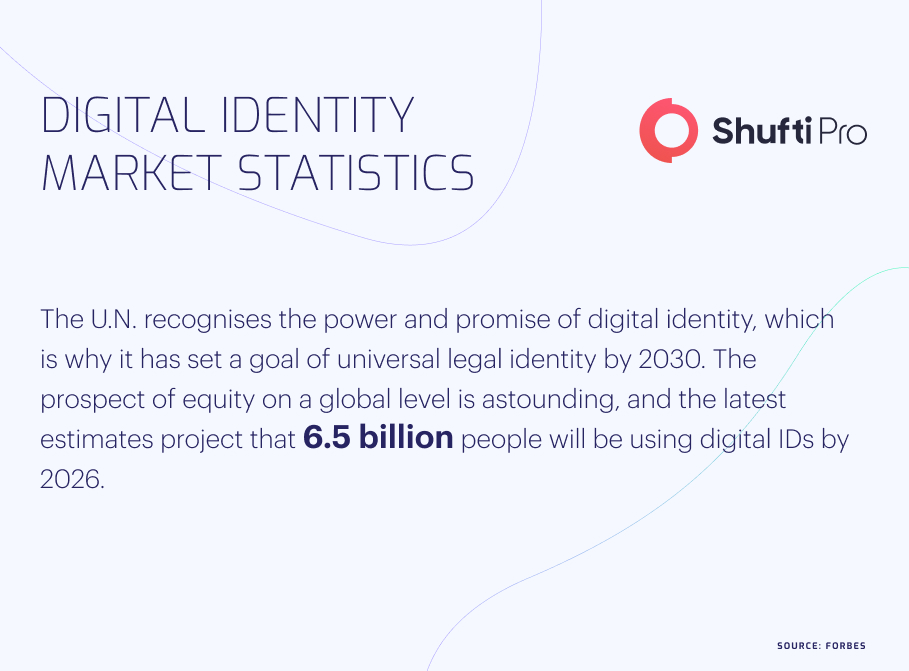 Thus, customers will only need to provide information like name, ID number, address, and date of birth. The e-IDV system will automatically fetch the information from different sources, including the government directories for verifying a customer. This happens in a matter of seconds with the utmost precision.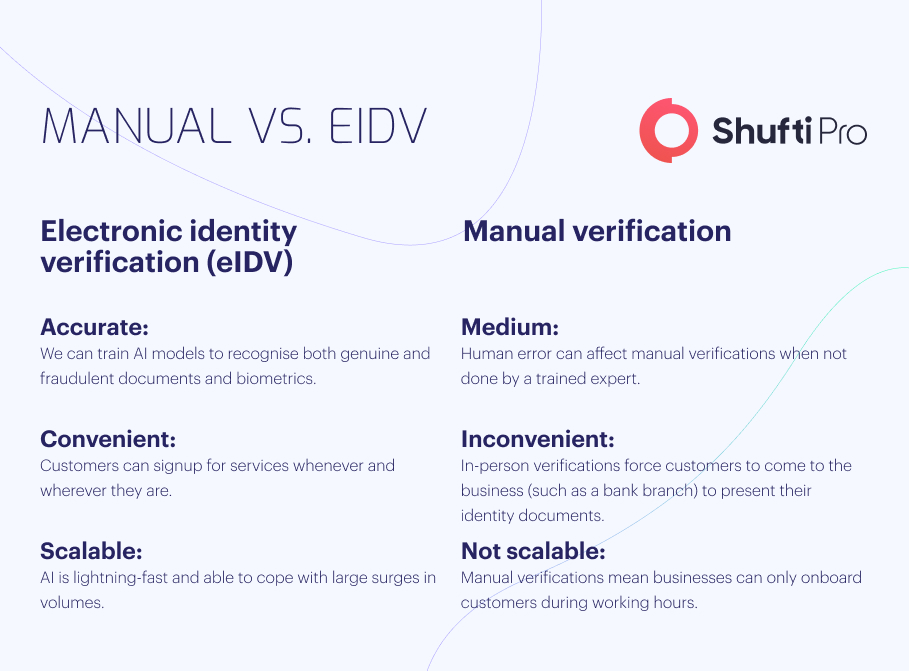 The Different Types of e-IDV
Businesses can use several types of electronic identity verification to verify customer identities. 
Document verification
Customers can take a photo of their government-issued identity documents using a smartphone or webcam. However, if customers use an NFC-backed smartphone and a chipped document, they just need to tap them together to enable an additional security feature. Shufti Pro NFC technology automates the document verification process by authenticating electronic documents' visual, data and metadata components in a matter of seconds.
Biometric verification
Following ID document verification, clients take a photo or video of their faces to fulfil the criteria of facial biometric authentication. Highly advanced artificial intelligence algorithms match the facial imprints with the image placed on the ID documents whilst ensuring liveness checks to determine any kind of spoofing or manipulation.
Database lookups
The e-IDV process includes searching individuals and businesses through credit bureaus, voter registers and financial crime databases to compare customers' information with the information placed in the databases.
Watchlists Screening
To comply with Anti-Money Laundering Screening obligations, companies must conduct watchlist checks across online sanction lists, adverse media listings and Politically Exploit Persons (PEPs) lists. This is processed in the background as a part of an electronic identity verification program.
SSN Checks (US)
Social security number checks help businesses prevent the risk of synthetic identity fraud. Clients simply input details on businesses' online portals from where the e-IDV system can verify the SSN, name and date of birth from social security administration databases.
Proof of Address (PoA)
Companies must gather documents as proof of address to fulfil Customer Due Diligence (CDD) requirements. Clients take a photo of supporting documents, for instance, bank statements or utility bills, while the e-IDV system determines its authenticity.
Ongoing Monitoring 
As a part of the ongoing customer monitoring process, companies must regularly practise watchlists, PEPs and financial crime database checks in cases where the customers' provided information has changed.
Leveraging Digital ID Systems – Global Overview 
Estonia is the leading country across the globe in eID developments. The country has had digital ID capabilities on national identity cards since 2001. The eID is embeddable in mobile sim cards, enabling remote customer identification.
Estonia
The e-Estonia initiative prides itself as stated on its official website; as it is the first country to conduct entirely digitised operations, from filing taxes to obtaining a visa.
The entirely paperless process sees citizens administered an Estonian Personal Identification Code (eID Code), consisting of 11 unique digits which will remain the same for the user's entire lifetime.
Estonian citizens can use their eID for around 600 government services, including healthcare, tax-paying, voting, civil rights and much more. The eID also provides Estonians with full legal status for any interaction with the country borders that mandates identity verification, such as bank account opening, signing contracts or making online transactions on e-commerce sites.
The benefits of eID continue as businesses are offered a wider array of advantages, such as more than 2,400 government e-services used to take days and even weeks to process but now have become possible in minutes. For example, opening a business in Estonia requires only 18 minutes.
eIDAS
Under the regime of the European Union, the Electronic Identification, Authentication and Trust Services (eIDAS) framework is intended to unify the eID structure for all EU Member states. The ultimate goal is to create a robust and streamlined ID framework that performs electronic identification and ensures secure online transactions.
In the current framework, the member states must develop their own rules and notify others, which must accept the eID framework when providing public services. In addition to eID, the European Union has also emerged with European Digital Identity Wallet, which is designed to enable digital customer onboarding for availing services outside EU borders.
BankID
Sweden and Norway both use a BankID system, which provides a unique identification code to its residents, citizens, and businesses for opening up bank accounts, issuing a new SIM, and/or dealing with several government/private services. It was established around 2 decades back and has since seen a high 94% adoption rate in Sweden, matched with a similar success rate in Norway.
UK Digital Identity and Attributes Trust Framework
Digital identities are an easy way to help citizens to prove their identity without presenting or carrying physical documents. To do so, the UK government is working to develop a digital identity framework, aiming to curb the need for identity cards. The alpha version of the UK's digital identity and attributes trust framework was published in august 2021. However, as technology and requirements have evolved, the government devised the beta version of the trust framework and have set out its aims, detailing legislation/regulations governing the future use of digital identities. 
This beta version has been published in response to the feedback on the alpha version, and the trust framework is the government's wider plan to provide a swift and unified way of verifying customer identities using emerging technologies. The framework Aims to be as trusted as conventional paper ID forms, such as ID cards or passports
Pan Canadian Trust Framework
Like other countries, Canada is also tirelessly working to develop a framework that can fulfil the criteria of establishing digital identities. Today, nearly half of the daily transactions are being shifted online, whereas digital trust is becoming more crucial than ever before. Developing digital ID and verification standards is crucial for establishing the unparalleled trust required to empower the future generation economy and all the competitive advantages it entails. However, the Digital ID and Authentication Council of Canada (DIACC) launched the Pan-Canadian Trust Framework (PCTF). This framework is loaded with a set of laws and tools designed to assist companies and governments in developing services that enable information to be authenticated regarding specific or set transactions. 
India's Aadhaar
Like Estonia's eID framework, India's Aadhaar system is one of the most established and used, with more than 1.29 billion registered people. Aadhaar-backed e-IDV enables banks and financial service providers to verify citizens remotely, effectively reducing lengthy paperwork and expanding on physical availability. In addition to this, the World Bank has also cited that eKYC through Aadhaar can reduce the cost of authenticating clients from approximately $23 to $0.15. It is now expected that verification will be completed in seconds with e-IDV, as opposed to five to seven days when done manually.
The Promising Numbers of Digital ID Verification
In-depth research on digital ID verification reveals promising numbers, which go on to show that if implemented correctly,  will be impactful on a country's output.
The McKinsey Digital Institute conducted research on 7 countries and found that e-ID verification results in economic and social gains, and has the potential to unlock up to 13% of additional economic output by 2030. Here are some other statistics:
Out of 7.6 billion people, 1 billion lack a

legal form of ID verification

.

3.4 billion people have no digital ID.

Brazil could see the highest additional economic output of 13% by implementing eID.
The Bill and Melinda Foundation has also pledged $200 million to improve digital ID and infrastructure as a part of its complete $1.27 billion development package.
Research conducted by Juniper concluded that by 2026, the number of users with global ID could exceed 6.5 billion. The adoption of digital IDs has been expedited by the COVID-19 pandemic, as we continue to face new challenges to ensure seamless running of public and private services across all sectors.
Top 6 Reasons for Businesses to Use Electronic Identity Verification
e-IDV solutions are life savers for global businesses prioritising compliance with know your customer, anti-money laundering and counter-financing terrorism regulations, whilst aiming to prevent financial crimes and identity theft. Electronic identity verification is widely being used within regulated countries and industries to ensure customer due diligence requirements are practised effectively.
Using automated identity verification services reduces the potential risk of crimes, onboarding criminals, financial sanctions and reputational damages, which may occur practising manual means of verifying clients.
Here are the top six reasons companies need to integrate e-IDV solutions;
1. Meet Compliance
Meeting know your customer, anti-money laundering and counter-terrorism financing rules is a regulatory obligation upon global businesses to comply with. Notably, there are severe consequences if enterprises fail to meet KYC and AML compliance or have inadequate identity verification systems.
2. Fraud Prevention
Reduce the risk of identity theft and financial fraud by ensuring that the clients getting onboard have original government-generated ID documents. In addition to this, risk assessment also helps businesses to authenticate that the customers providing identity documents really exist, rather than just having an appearance only on paper.
3. Reduce Abandonment Rate
Lowering abandonment rates while increasing customer conversion rates by enabling remote, swift, automated customer identification. This will allow clients to get themselves verified from their homes at any time.
4. Legal Support
Electronic identity verification services are legal and backed by global regulations, including the EU's Anti-Money Laundering Directives and the US Bank Secrecy Act. However, the Financial Action Task Force (FATF) also recommends financial institutions integrate e-IDV.
5. Digital-first compliance and eKYC
Electronic KYC is the evolution of the customer identification process in the digital age. Clients need to escape the hassles of meeting in person to authenticate identities and open new accounts. e-IDV enables customers to onboard and create accounts remotely.
6. Increasing Customer Acquisition
Meeting client expectations increases the chances of companies getting more customers. Providing them with a streamlined and frictionless remote onboarding procedure powered by an electronic identity verification solution can enhance conversions and acquisition rates, ultimately boosting companies' revenue. e-IDV also provides companies greater visibility over the onboarding process and analytics.
How Shufti Pro Can Help Global Businesses
According to Gartner research, "By 2024, at least a third of national governments and half of U.S. states will offer citizens mobile-based identity wallets. Only a minority will be interoperable across sectors and jurisdictions."
Digital identity verification has developed and evolved greatly compared to a decade ago. Coronavirus's effects fueled the progress rate and transformed online identity verification into mainstream use.  However, almost 8 out of 10 businesses have now recognised the competitive advantages of the digital-first approach and have integrated e-KYC solutions.

Shufti Pro's e-IDV service is a viable option for the global industry as it can help verify customers and businesses through the most advanced and fool-proof KYC & AML checks. Powered by AI algorithms, Shufti Pro's e-IDV completes verification in 5 seconds with a 99.3% accuracy.
Want to know more about the Shufti Pro's e-IDV solution?