BEFORE YOU GO...
Check how Shufti Pro can verify your customers within seconds
Request Demo
No thanks
Individuals and business owners often face significant time constraints when visiting banks physically, preferring the convenience of online interactions with their financial institutions. The biggest challenge for traditional banks and FinTech companies involves verifying documents to prevent fraudulent activities during the client onboarding process. This challenge is pervasive across various financial sectors, such as mortgages, auto lending, or launching a new business venture.
Customers who work night shifts often need more support due to the limited operating hours of banks and other financial entities. For instance, if one needs to execute a document but is constrained by the typical bank hours, this situation poses a real challenge. Moreover, loan approval entails multiple stages, and the process is delayed whilst awaiting customer signatures. These delays can result in the loss of clients for banks and financial institutions, rendering the entire procedure inefficient. Alternatively, if financial institutions can conduct online verifications, it can significantly benefit customers, particularly in cross-border transactions. However, e-IDV reduces customers' need to travel long distances solely for document provision. customers just have to provide their unique ID number online and they are good to go.
Understanding Electronic Identity Verification (e-IDV)
e-IDV leverages both publicly accessible information and private databases to check the authenticity of an individual's identity. This validation process requires customers' unique ID numbers to cross-match their information with government databases to ensure legitimacy. The outcome of an e-IDV process confirms the claimed identity, a partial identity match, or the detection of a counterfeit or stolen identity.
The financial sector routinely employs e-IDV as a robust measure to mitigate the risk of financial fraud and to ensure compliance with Know Your Customer (KYC), Anti-Money Laundering (AML), and Countering Terrorism Financing (CTF) regulations. Furthermore, numerous other sectors have also adopted electronic identity verification practices, including government agencies, insurance companies, online gaming platforms, legal professionals, recruitment agencies, and real estate agents These diverse industries recognise the pivotal role of e-IDV in improving security and fostering trust in their operations.
Steps of e-IDV
Electronic identity verification takes 4 steps to complete, offering customers a seamless experience. Here's how an e-IDV process is performed:
The customer is required to enter their document number

Face detection and liveness check is performed on them

Customer data is matched against official government databases

The results are shown and are kept in the office for future use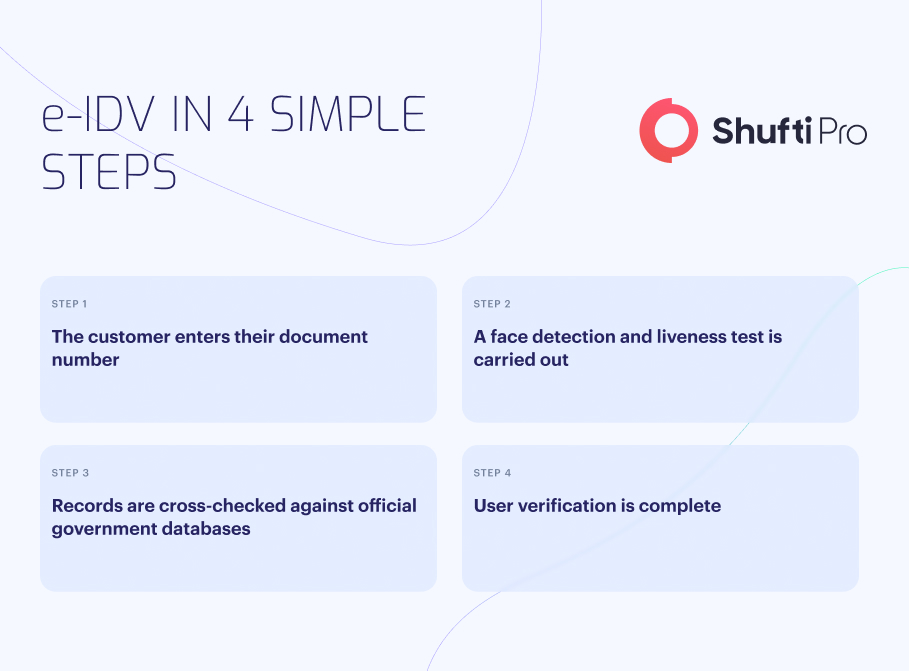 How is e-IDV Benefitting Banks and FinTech?
Electronic identity verification services offer a multitude of advantages. In the past, banks, financial institutions, and FinTech companies used significant time and financial resources to verify identities and documents manually. The advent of technology has brought a transformation, enabling financial institutions to switch from the traditional practice of collecting Proof of Identity (POI) documents. Instead, they can opt for electronic identity verification, which involves cross-referencing the information provided by customers during the onboarding process. There is a handsome cost associated with authenticating an individual's identity. In the long term, it is often a far more cost-effective approach to mitigate the risk of engaging with individuals who employ counterfeit or stolen documentation.
Fraud Prevention
e-IDV is a crucial tool in preventing fraud by scrutinising customer-provided passports, thereby confirming the legitimacy of their identity. Additionally, e-IDV validates potential customers against different lists. This includes cross-referencing them against international watchlists, lists of Politically Exposed Persons (PEPs), or other lists that might signify a potential risk to banks and other financial institutions. Electronic identity verification extends its use beyond document and customer identity validation; it can also be employed to maintain current and accurate records of existing customers.
Fast Customer Onboarding
Electronic identity verification is pivotal in enhancing the client onboarding process for banks and FinTechs. One of its key advantages is the efficiency it brings to the process. By automating identity verification and cross-referencing customer-provided information with various databases, e-IDV significantly reduces the time and resources required compared to manual methods. This speeds up customer onboarding and ensures greater accuracy, as it helps confirm the authenticity of customer identities and reduces the risk of errors and fraudulent activities. Streamlined onboarding processes make it more convenient for customers to open accounts or access financial services online, leading to higher customer satisfaction and retention rates.
Reduced Operational Risk
Another significant benefit of electronic identity verification for banks and FinTechs is reduced operational risk. e-IDV minimises the chances of human error in the customer onboarding process. Automating identity verification and cross-checking data against multiple databases ensures that the information collected is accurate and consistent. This reduces the risk of relying on incorrect or outdated customer data, which can lead to financial and reputational losses. By reducing operational risk, e-IDV helps financial institutions maintain the integrity and stability of their operations, ultimately contributing to their long-term success and resilience in a highly competitive industry.
How Can Shufti Pro Help?
Shufti Pro offers an e-IDV solution that authenticates customers remotely using centralised e-IDs, verified via official government databases. Our e-IDV solution offers a paperless journey as it does not require the customer to provide documents to verify themselves, only their unique IDs, and they are good to go. We do active and passive verification within seconds with an accuracy rate of more than 99%. Our e-IDV solution offers simple integration that increases conversion and customer satisfaction rates. Not only does our e-IDV solution help banks and fintech firms keep scammers away, but it also makes them compliant with KYC and AML regulations to avoid heavy fines
Still trying to understand how our e-IDV solution helps improve client onboarding for banks and fintech across the globe?