BEFORE YOU GO...
Check how Shufti Pro can verify your customers within seconds
Request Demo
No thanks

Demand for efficient AML and KYC solutions increases as criminals develop more complex methods of committing fraud, laundering money, and funding terrorist operations. Since financial crime is a global problem, financial institutions everywhere must have reliable procedures to perform electronic verification to ensure their customers' legitimacy.
Increased fraud attempts in the financial services and cryptocurrency sectors are highlighted in the 2023 Identity Fraud Report, which also reveals that the United States experienced the highest rate of fraud in the world. Compared to 2021, the research shows that global fraudulent activity has increased by over 18%, with identity fraud accounting for almost half of that total. Moreover, the statistics emphasise that repeat fraud cases across industries increased by 46.62% from the previous year. 
Electonic Identity Verification (e-IDV) helps businesses in the financial sector verify the identity of customers in a streamlined and efficient manner. Customers who are identified incorrectly or not adequately identified can more easily evade AML controls and exploit financial products for criminal purposes. Making the practice of customer identity verification, known in the financial context as Know Your Customer (KYC), an essential AML obligation. 
Standards and Regulations for Identity Verification 
International regulations govern the implementation of digital identity verification solutions. European Union member states can look for direction to initiatives like AMLD5 and eIDAS. EIDAS governs electronic signature and other fundamental elements of digital ID verification, whilst AMLD5 concentrates on combating money laundering and terrorism funding.
The Customer Identification Programme (CIP) in the United States mandates that banks have reasonable suspicion that each customer who opens an account is who they say they are. The Bank Secrecy Act, as amended by the Patriot Act, included this provision. In 2003, the Patriot Act made CIP mandatory for banks and other financial institutions.
Market Analysis of Electronic Identity Verification 
The market for electronic identifiers has expanded steadily in recent years, which is expected to continue into the anticipated period (2021–2028). Several factors, such as an emphasis on providing a better customer service experience, rising consumer preferences for digitalisation, increased awareness of the significance of maintaining regulatory compliance, and growing security concerns within organisations, have contributed to the market's expansion. The Global Electronic Identification Market Analysis research is an all-encompassing market analysis. The study thoroughly examines the market's essential subsegments, current trends, competitive landscape, and influencing factors.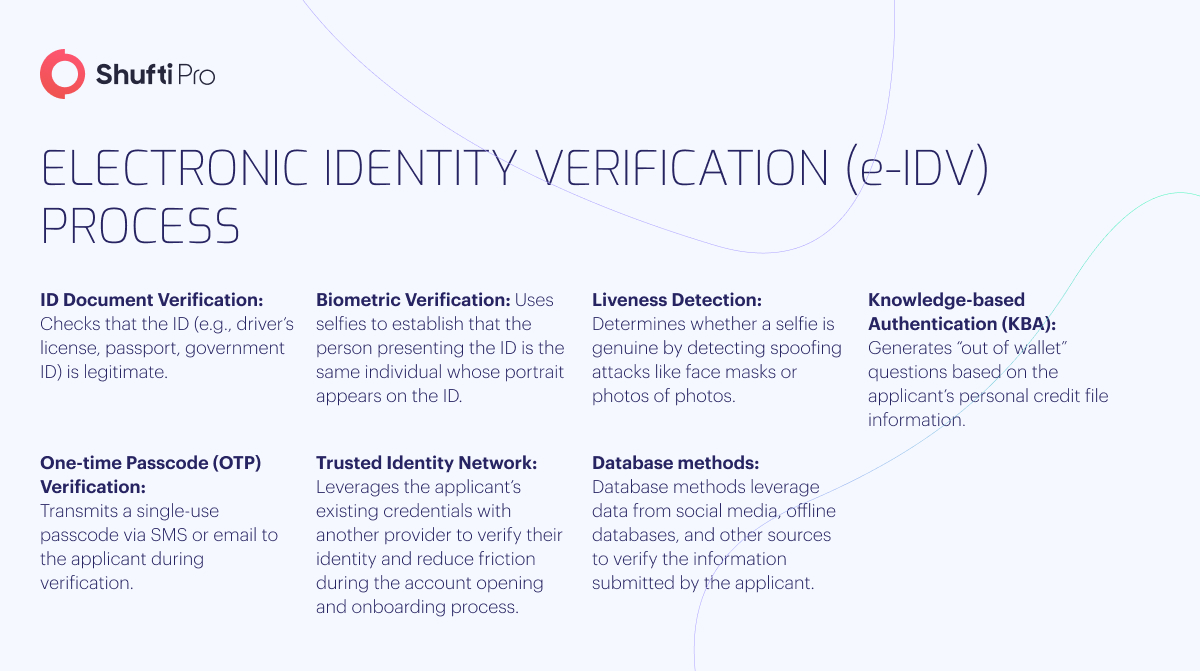 Electronic Identity Verification Market Segmentation 
The global Electronic Identity Verification Market may be broken down into several submarkets defined by factors, including product type, application, company size, and solutions. 
e-IDV Market Segmentation by Product Type
Radiofrequency card

IC card

Others
The market is broken down into submarkets for radio frequency cards, IC Cards, and others based on the many products available. During the estimated time frame, the highest share of the market will be held by radio frequency. A tiny transmitter, radio transponder, and receiver are embedded in a radio frequency card. Material management, tool tracking, logistics and supply chain visibility, access control, etc., are possible uses. An IC card, short for "integrated circuit card," is a convenient way to pay for rides on public transport and purchases at a wide variety of retailers, cafes and restaurants.
e-IDV Market Segmentation by Application
Transportation

Identification

Contactless bank cards

Others
Transport, identity, contactless bank cards, and others comprise the market's Application subsegment. More than a quarter of the global market was held by the transport sector in 2019, and this proportion is expected to hold steady in terms of revenue through 2026. Since Radio-Frequency Identification (RFID) is a technology that allows for encrypted data transfer at extremely high throughput rates, it is ideal for this purpose. Together with the chip, it ensures safe data transfer, allowing us to rely on reliable information transmission.
e-IDV Market Segmentation by Organisation Size
The market has been broken down into micro, small, medium, and big enterprises. When it comes to adopting cutting-edge technologies, large corporations are often held up as market leaders. As pioneers in the industry, they have a deep bench of talent for setting up and maintaining networks. Additional capabilities, such as detecting access risks, excess risks, and risk outliers, will likely increase significant companies' use of digital identity solutions.
e-IDV Market Segmentation by Solution
The Electronic Identification (EID) Market is split between biometric and non-biometric solutions. The biometric market is far more significant than the non-biometric market. Instead of using a password, businesses should use a biometric solution. These methods use a lock-and-capture mechanism to verify the user's identity before granting access to the requested resource.
Identity Verification Market Trends 
Experts have identified the following as the most significant market trends in the Identity Verification Market:
Know Your Customer (KYC) regulations

place stringent identifier and personal data requirements on financial service providers like banks, pension funds, and insurance companies. Several of these traits must be obtained and validated for a firm's risk-based assessment and legal requirements, such as when opening a bank account, moving accounts, applying for life insurance, or gaining access to pension information. 

Online identity theft is expected to cost over a trillion dollars annually, making financial records among the most sensitive data kept in cyberspace. As a result, financial institutions allocate a significant portion of their security budgets towards authentication systems, with annual expenditures topping USD 1 billion. Customers typically use FinTech products because creating an account and verifying their identity is simple.

The market's rapid growth can also be attributed to the increasing number of collaborations within the financial sector. For example, in February 2022,

FYNXT

, a company that provides digital solutions, announced that it would add the services of Shufti Pro, which uses AI to verify people's identities, to its client manager and site. Brokers using FYNXT's platform have seamless integration with Shufti Pro e-IDV. FYNXT is a financial technology platform that provides low-cost, easy-to-use, and transparent payment solutions in remittance, Forex, multi-asset, and wealth management. 
Future of Electronic Identity Verification Services 
Businesses in the United Kingdom, the United States, and elsewhere can lose clients if they don't win their trust. Unfortunately, fraudsters quickly take advantage of weak ID verification services, which damages their reputation and-lose business. To prevent financial crimes, businesses need multi-factor authentication and analytics solutions that use machine learning to distinguish between legitimate customers and fraudsters at every stage of the customer lifecycle, from opening an account to closing an account and every transaction. 
How Can Shufti Pro Help?
The synergy between technology and regulations redefines electronic identification, offering enhanced convenience and security. This evolving landscape signifies a pivotal shift towards a digitally empowered future. The continuous interplay between these factors is poised to reshape electronic identification's scope, balancing innovation with privacy.
Innovative e-IDV solutions from Shufti Pro can help you verify users more quickly and accurately. Get rid of cumbersome paperwork and outdated KYC processes by switching to an online verification system. Verifying customers remotely is quick and safe using centralised e-IDs checked against government databases. Shufti Pro places a premium on privacy and uses cutting-edge security features to protect user information. Discover the future of identity verification, where speed, accuracy, and strong security all come together to revolutionise the authentication of remote customers. 
Are you prepared to completely revamp your verification strategy? Get in touch with us immediately to access a wide range of reliable, rapid, and hassle-free identity solutions.