BEFORE YOU GO...
Check how Shufti Pro can verify your customers within seconds
Request Demo
No thanks
eCommerce in today's world involves utilizing evolving technologies to ensure convenience for customers. In this modern era, where buying and selling have become friendlier than ever before, there are still questions that remain regarding security and fraud. eCommerce serves as a command center for merchants and consumers, allowing them to control trades, payments, and marketing. A large number of physical outlets (especially the bigger ones)  have shifted to eCommerce to supplement their store sales with new online orders, reaching a bigger audience. The convenience that comes with eCommerce has made it a core business operation for retailers.
With the ever-increasing growth in eCommerce globally, there are breaches observed in online transactions which have led retailers to worry about business security. Higher product sales now come with higher numbers of imposters. That being said, there are proven solutions to encountering imposter threats via identity verification. A vital tool for businesses and financial firms, IDV can significantly reduce cybercrime attack vectors.
Businesses in eCommerce dealing with huge amounts of fund transfers, trip the bad actors to think about various ways of breaching the transaction process through fraudulent techniques. When a customer becomes a victim of fraud in an online store, it doesn't just affect their bank accounts but also the company's reputation.
Prevailing Fraud in
the
eCommerce Sector
The best way to nib a fraud is to detect it before it affects the system. There are countless methods through which fraudsters can reach consumer accounts and the percentage is climbing day by day. A study reported a 178% increase in malicious eCommerce fraud attempts on websites from October to December of 2021. The bad news is that the tricksters are only getting more advanced and fraud prevention methodology has modernized in the past years, resulting in an increase in fraudulent activity. Merchants can consider themselves advised to be careful about the increasing fraud trends in the coming years.
Account Takeover Fraud
During the pandemic, the world saw a 282% increase in ATO fraud. Account takeover is not as easy as it sounds, as imposters take over complete control of customers' logged credentials and use them for their personal purchases and chargeback demands. 
Classic Fraud
One of the most common types of eCom fraud is one that's typically executed by naive fraudsters. They find their way to a dark website and purchase or steal an existing credit card. These cards are then used to purchase unauthorized goods. These types of fraud typically take place using internet proxies.
Triangulation Fraud
Triangulation fraud attacks will cost businesses around the world roughly $130 Billion by the end of 2023. Consisting of a group of three, triangulation fraud involves the fraudster, of course, an eCommerce store, and an unsuspecting shopper. The imposter here creates an online store and offers high-demand goods at extremely low prices. When customers provide their credit card data, they steal the information and use it for unauthorized malicious purchases.
Credit Card Fraud
Credit card fraud was the most habitual type of identity theft (20.33%). Here the  fraudsters hunt for credit card expiration dates. They intend to check the validity of the credit card and plan to utilize the credentials at another website once verified.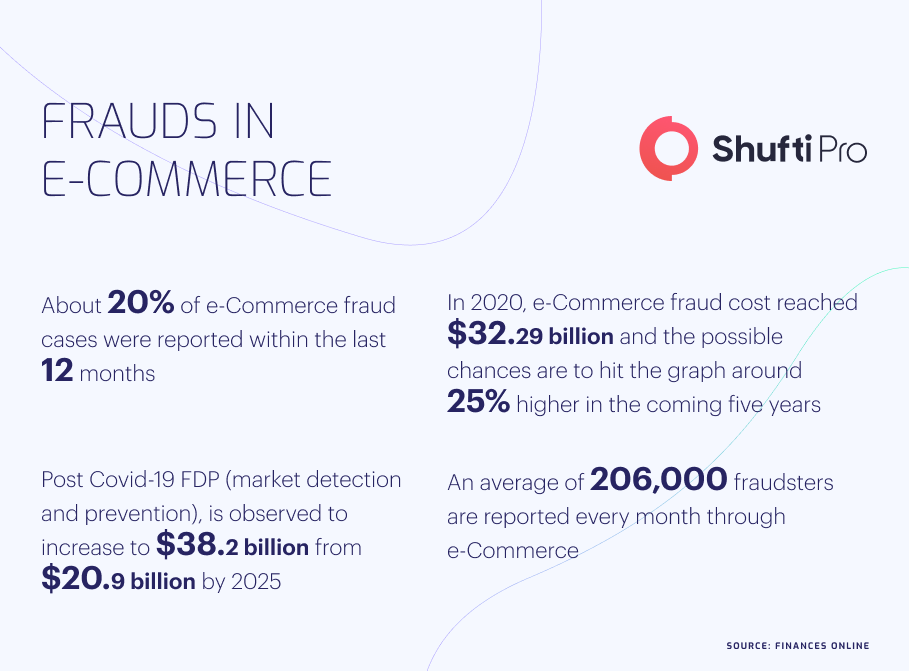 The Importance of Trust in eCommerce
When it comes to eCommerce, trust is key. There should be mutual confidence between the buyer and the seller to ensure smooth business operations. A good reputation is essential on both sides of the business to encourage positive growth in online marketing. There are certain ways to increase trust in eCommerce like:
Transparency
One of the keys to securing trust between the two parties is to keep maximum transparency in terms of identity. The consumers need to provide proof of identity which can prove the customer's honesty and the same applies to the seller. The customer can provide transparency to the seller in many ways. A few of which are:
1. Face Verification:

To build trust, businesses should provide the seller with face verification to ensure user experience and his interest in the purchase.
2. Document Verification:

Another transparency method is to provide real-time proof of your personal genuine documentation such as; name, id card, date of birth, etc.
3. Address Verification:

Let your dealer know your address like country, city, and house number to gain his confidence. 
Authenticity
Never let a merchant wonder about customer authenticity. Verifying someone's identity is a key factor to build trust on eCommerce platforms. Both customers and sellers must be real in who they are in order to ensure mutual trust. 
Confidentiality
All the shared data between the customer and seller should be confidential to avoid any breach by a third party or an unauthorized person.
Creating A More Secure Digital Economy with IDV Solutions
The global pandemic gave a massive and sudden surge to all forms of online activity. Hence, the ratio of eCommerce increased dramatically. As traders invest their quality time to boost their businesses, imposters, on the contrary, infuse their heads in exploiting the new openings for their fraudulent activities. Digital providers need a vivid picture of who their buyers are through various identity verification techniques. IDV solutions are clearly making a secure channel for executing online deals. Identity Verification Services will ensure the marked growth of electronic trading now and in the future. 
Thousands of businesses became victims of digital identity theft in the pandemic era. Verifying customer identity is essential in putting a full stop to ever-increasing fraud attempts. Fear of losing customers due to onboarding violations and the likelihood of farming customers' identities to a third party are great reasons to start investing in IDV solutions. To avoid identity theft and battle other online crimes, there is a constant rise in  demand for investing in IDV solutions to secure your future sales. Furthermore, IDV solutions certify customer loyalty and experience.  
How
Shufti Pro Helps eCommerce Platforms
When it comes to verifying customer addresses, and identities and screening for fraudulent activity, Shufti Pro has you covered.  Online firms can get to know their customers in no time at all, and confidently conduct various modes of verification. Shufti Pro's identity verification solution cover 3000+ documents in 150 languages with ~99% precision.
Ready to learn more about our AI-powered KYC solutions for eCommerce platforms?