BEFORE YOU GO...
Check how Shufti Pro can verify your customers within seconds
Request Demo
No thanks
With growing digitization, emerging technologies, and increased use of online transactions, a huge amount of users' data is shared on the internet posing risks of identity theft. By using several fraudulent techniques, criminals get access to Personally Identifiable Information (PII), particularly names, social security numbers, and birthdays, further using these details to carry out several scams like money laundering. It has become imperative for all digital businesses to counter criminals using stringent identity verification services.
In the US alone, consumers lost $56 billion to identity fraud in 2021, which highlights risks posed to the online system. With the continued rise of cybercrime, companies are adopting sophisticated identity authentication methods to eliminate bad actors and ensure security for users. The online service providers are also focusing on verification services, including video and image proof, to keep a record of the whole validation system establishing a transparent structure.
Impact of Identity Fraud on Global Businesses [2022 Overview]
Identity theft is not a new threat; with every passing day, criminals are adopting advanced methods to cheat online businesses. The fraudulent attempts are causing identity losses and financial damages as well, aggravating the whole situation. Once criminals get successful in stealing identities, they can create fake bank accounts, make false insurance claims or hack users' identities to carry out different scams. To keep bad actors away, businesses are spending billions to counter identity thieves.
The identity verification market was $5.52 billion in 2018 and is expected to rise by $18.12 billion in 2027. All the institutions, particularly banks, healthcare, social security, and telecommunication, are prone to high risks of identity theft. The only viable solution for businesses is to implement strict Know Your Customer (KYC) checks to verify users' true identities while onboarding. In the US alone, there are 79% more identity crimes in 2021 compared to the previous year, raising the need for efficient measures to counter criminals.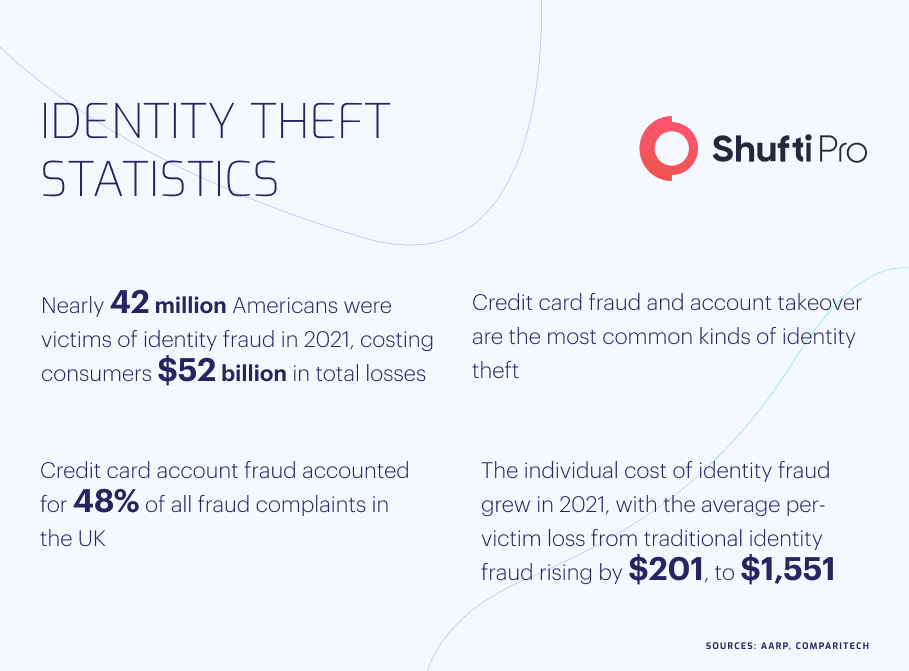 High
Profile Cases of Identity Theft
Due to the huge number of users and lack of identity verification measures, it has become a hard task for law enforcement authorities to counter criminals. All the global authorities are working to eliminate this menace through crackdowns and legislation, but scammers are making their way to steal identities. In the recent past, several cases have surfaced, encouraging regulatory authorities to form a framework against fraudsters.
Interpol's Crackdown on Cybercrime Gang
In 2021, Interpol conducted a massive crackdown on a gang involved in several crimes, particularly identity theft and money laundering. The law enforcement agencies of 20 other countries also participated in raids and arrested more than 1000 criminals. It was established in investigation that criminals were exploiting various online platforms to steal identities of users in bulk and further using the data to carry out various financial crimes, mainly money laundering and terror financing. Police have registered more than 1600 cases against the culprits and recovered $27 million of black money. The case is still ongoing, and criminals are yet to be penalized.
European Police Identified Global Cybercrime Gang
European Police have conducted a raid in Ukraine and Switzerland on a gang involved in a large number of cybercrimes. The criminals were using fraudulent techniques to manipulate users, stealing their identities and further using users' data to carry out bank fraud. More than 1800 people in 71 countries were affected by scams, and Police have stated that they conducted the raid after investigating the matter for two years. The criminals have not yet been arrested, and law enforcement agencies are conducting operations to bring them under law.
Global Regulations against Identity Theft
The global regulatory authorities, mainly Financial Action Task Force (FATF), Interpol, and European Union (EU), have termed identity theft as a prime reason behind money laundering. All the member states have been instructed to legislate strict regulations curbing identity theft and ensuring transparency for online service users.
Australia
Online Safety Act 2021 is the most updated law in Australia responsible for monitoring all types of cybercrimes, including identity theft. As per the law, stealing users' identities using any means, which can further result in hefty fines and even imprisonment. The act expands its authority over all online services, mainly banks, insurance companies, e-commerce, and other financial institutions.
Germany
Germany is one of the countries which has the most stringent laws against cybercrime, including hacking, phishing, and identity theft. German Criminal Code is the most comprehensive act which regulates penalties for cybercriminals. Section 263A of the code terms identity stealing as a severe offense that is punishable with five years of imprisonment or a heavy fine. Moreover, storing or modifying users' data fetched through unfair means is also termed an illegal act resulting in penalties for culprits.
Proof of Verification Services
The growing cases of cybercrime have increased the importance of identity verification services. It is also a proven fact that these measures are the most viable solution against prevailing scams. The criminals manipulate their documents to disguise personal details, mainly name, address, and age, while getting involved in a variety of scams. It has become quite crucial for online service providers to implement robust pre- and post-verification systems that can identify criminals and keep a record of their authentication.
Document Verification
Documents are considered the most effective way to verify true identities of consumers. This is why criminals use fake records to onboard digital systems and exploit loopholes to steal identities of sophisticated users. Shufti Pro is offering the most viable document verification services which will extract original information using Optical Character Recognition (OCR) and authenticates a customer's identity within a second with 98.67% accuracy. 
Address Verification
In order to ensure real-time reporting and prompt action, proof of verification services must include address authentication of users. The bad actors try to manipulate address details, disguising their original information and further committing crimes like identity theft. With Shufti Pro's solution, businesses can verify the residential, business, and legal addresses of their users through their documents while keeping a record of the whole verification process.
Age Verification
There are several online services where age verification matters, particularly digital gambling, e-learning portals, and dating apps. Shufti Pro's screening system is efficient enough to verify the true age of consumers by comparing it with different documents and recording all the data for future use in less than a second.
Final Thoughts
All digital services like telecommunication, banking, insurance, gambling, and e-commerce have immense importance in the current world. Combating prevailing crimes, particularly identity theft, is crucial for the system's survival and it is the right time for companies to invest in pre and post-verification services. By implementing an efficient solution, digital companies will not only be securing their users' identities but also curb several financial crimes particularly money laundering and terrorist financing.
Want to get more information about proof of verification services?