BEFORE YOU GO...
Check how Shufti Pro can verify your customers within seconds
Request Demo
No thanks
Summary: Sixth Anti-Money Laundering Directive (AMLD6) highlights a stringent framework to combat money laundering and terrorist financing. It extends the scope of criminal liabilities and entities with an updated list of predicate offenses. AMLD6 came up with tougher penalties and widens the criminal liability to legal persons. 
The European Commission affirmed action plans to tighten the reins on mounting money laundering and terrorist financing. On 26 June 2017, the 4th Anti-Money Laundering Directive (AMLD4) came into force contributing to the same idea of combating bad money flow. It stated the regulations for information exchange and its operation among financial institutions. After this, EU co-legislators identified the need for amendments in AMLD4 which were declared in AMLD5. These changes are expected to come into effect by the 10th of January 2020 and state sectors which need to strengthen the standard operations to deter the risks of money laundering. Also, it asserts that the sectors facilitating criminal activity will be subjected to harsh regulatory penalties. Recently, the EU Commission came up with Sixth Anti-Money Laundering Directive(AMLD6) published in the EU's Official Journal. AMLD6 introduces a harmonized authoritarian framework for the elimination of money laundering. 
AMLD6 strengthens the existing norms of anti-money laundering. It establishes minimal criminal liability rules for money laundering by setting it's clear definition and stating predicate offences, enforces minimal sanctions and extends criminal liability to legal professionals. It reinforces the framework with the police cooperation point of view. Furthermore, the Directive sets specific requirements regarding information records and requests, sensitive data processing, and restrictions to rights. 
AMLD6 – New Measures and Amendments
EU Commission proposed new measures to fight against terrorist financing and money laundering activities. Commission believes that existing models are neither comprehensive nor consistent. It suggests that definitions should be cleared at the national level and scope should be widened that covers the industries with a broader perspective. It further elaborates that criminal proceedings are innovative enough to exploit the parliamentary discrepancies. These weaknesses become the source of opportunities for money launderers to convert their ill-gotten gains to good money. 
The draft provided by EU legislation is obliged to send it to Parliament as well as Council. The trialogue of three bodies will reproduce an agreed document that would be accepted as a new EU law. Denmark will not be affected by this law due to its legal agreements and the UK government may be opted out of the adoption of AMLD6 notwithstanding Brexit agreement. The fundamental component of AMLD6 is the list of 22 predicate offences. AMLD6 defines these predicate offences explicitly which will definitely impose obligations on the firms. Companies would have to take in place monitoring systems to detect direct and indirect links facilitating predicate offences. 
Following are the key elements of AMLD6 that incorporate criminal legislation:
Harmonized list of Predicate Offences
The scope of 22 predicate offences has extended. Now it includes the emerging threats of environmental crimes and cybercrimes in the EU. Environmental crimes refer to those that set out in legal acts of the Union. Similarly, cybercrimes are declared as predicate offence that was not catered in the FATF recommendations. Tax crimes are also in the scope of AMLD6, the crimes that directly and directly committed due to tax commutation. To avoid the ruinous circumstances, firms should familiarize themselves with the expanse of 22 predicate offences. 
Aiding and Abetting, Inciting and Attempting
The money laundering scope is extended in AMLD6. Now, aiding and abetting, and inciting and attempting lies under the premises of money laundering perspectives. By including these entities that are called 'enablers', money laundering tracking can become easier. These entities are considered the facilitators of the money laundering process. Therefore, AMLD6 extends its boundaries for money launderers to combat the risks of embezzling funds transfer.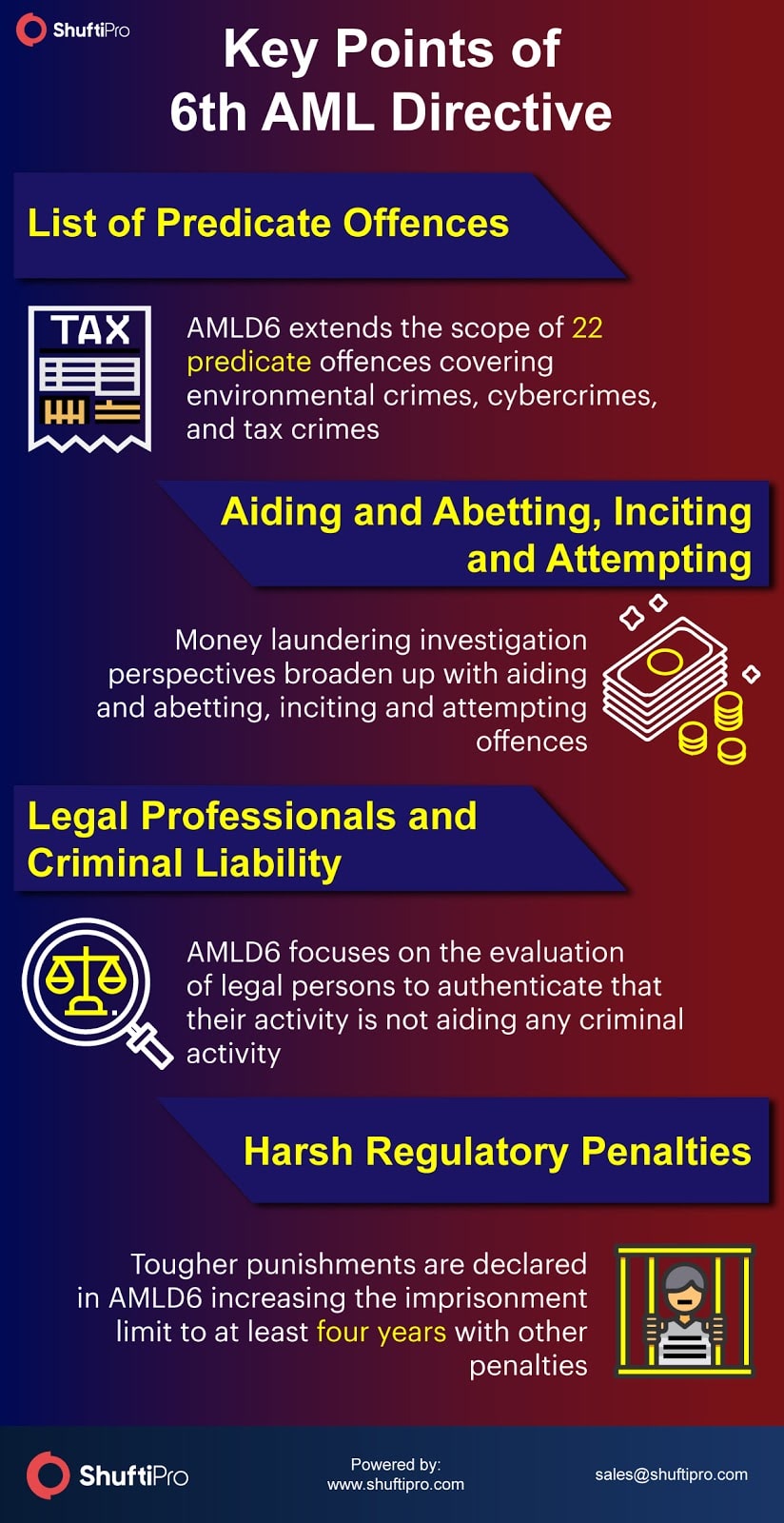 Criminal liability extension to Legal Professionals
Recalling AMLD5 in which legal professionals were spotlighted to undergo client identity verification and keep accurate information about them. AMLD6 focuses on the evaluation of legal professionals. According to which, criminal liability is extended to legal professionals i.e. partnerships and companies. It is applicable to those who facilitate money laundering through their businesses directly or indirectly for the sake of their own benefit. Legal professionals would be answerable if Individuals who caught transferring illicit funds is not identified. 
In addition to this, the representatives, executives, supervisors, and decision-makers who lack proper individual authentication or supervision would be accountable for facilitating criminal activity.
Tougher Regulatory Penalties
One of the most important area covered in AMLD6. The Directive says that all Member States are supposed to set the imprisonment of at least four years to deter money laundering. The business that caught facilitating money laundering would be temporarily or permanently banned. Also, there would be the closure of business units and operations, exclusion from public funding access, halted grants and concessions through which predicate offence is committed. Wise companies are in the race of complying with the regulatory norms to avoid harsh fines and reputational loss of a company. 
The rising exposure to money laundering is alarming for industries and businesses. Any entity that facilitates money laundering or terrorist financing actions will be sentenced with heavy penalties. Companies are seeking innovative solutions to tackle money laundering and to perform efficient monitoring of bad money flow through Artificial Intelligence and Machine Learning techniques. 
Data Protection and Privacy
This initiative facilitates competent authorities to take in place stringent mechanisms through which personal and sensitive data is collected and processed. The fundamental rights of the subjects should not be compromised in any way. The directive focuses on data protection and privacy rights, the information collection should be minimal and should not include any financial information, for example, financial transactions or credit in bank accounts. Although a limited set of information includes personal data i.e. subject's name, bank account number, date of birth, etc. Information on the total number of bank accounts of the subject is necessary for the purpose of investigation.
Sixth Anti-Money Laundering Directive (AMLD6) will be formally published and adopted in the EU's Official Journal and at least after 26 months of coming into force, firms would have to comply with the directive. Member States have to follow the regulatory provisions and laws to take into account the associated predicate offences that could be promoted in the premises of legitimate business in any way.