BEFORE YOU GO...
Check how Shufti Pro can verify your customers within seconds
Request Demo
No thanks
What are some common e-commerce frauds and how can you prevent them? Is the buyer on your site an authentic individual? 
Preventing e-commerce business from fraudsters requires proper awareness of potential frauds, best practices and the right tools to combat con-artists. 
The blog covers potential types of e-commerce fraud followed by tips to prevent them. 
"Stay home, stay safe" – the common phrase that we have become accustomed to these days. The fear of Coronavirus has confined people to their homes and forced organisations to operate remotely. In all this crucial time, there is one industry that seems to be striking higher sales contrary to previous years, and that is e-commerce. Over the last few years, the e-commerce market is booming and will continue to grow even more this year,  and so is the e-commerce fraud.
What is e-commerce fraud?
Ecommerce fraud is generally known as the fraudulent attempt to carry out retail transactions. It usually happens when a criminal uses the stolen payment information or gets unauthorised access to the customer's bank or credit card account and leverages it to purchase online without the account owner's knowledge.
E-commerce market hitting new records
According to the Signal Science Research report, online sales are expected to reach over $630 billion this year. The businesses that were previously operating as a store-first, have now shifted to e-commerce stores, with online becoming the fundamental channel. Going back to a brick-to-mortar framework is not even an option. 
Businesses need a digital transformation in order to survive this new wave of online shopping. Earlier this year, Forter released a report, indicating the steady increases in volumes of online consumer purchasing and the impact on the businesses to readjust to their business strategies.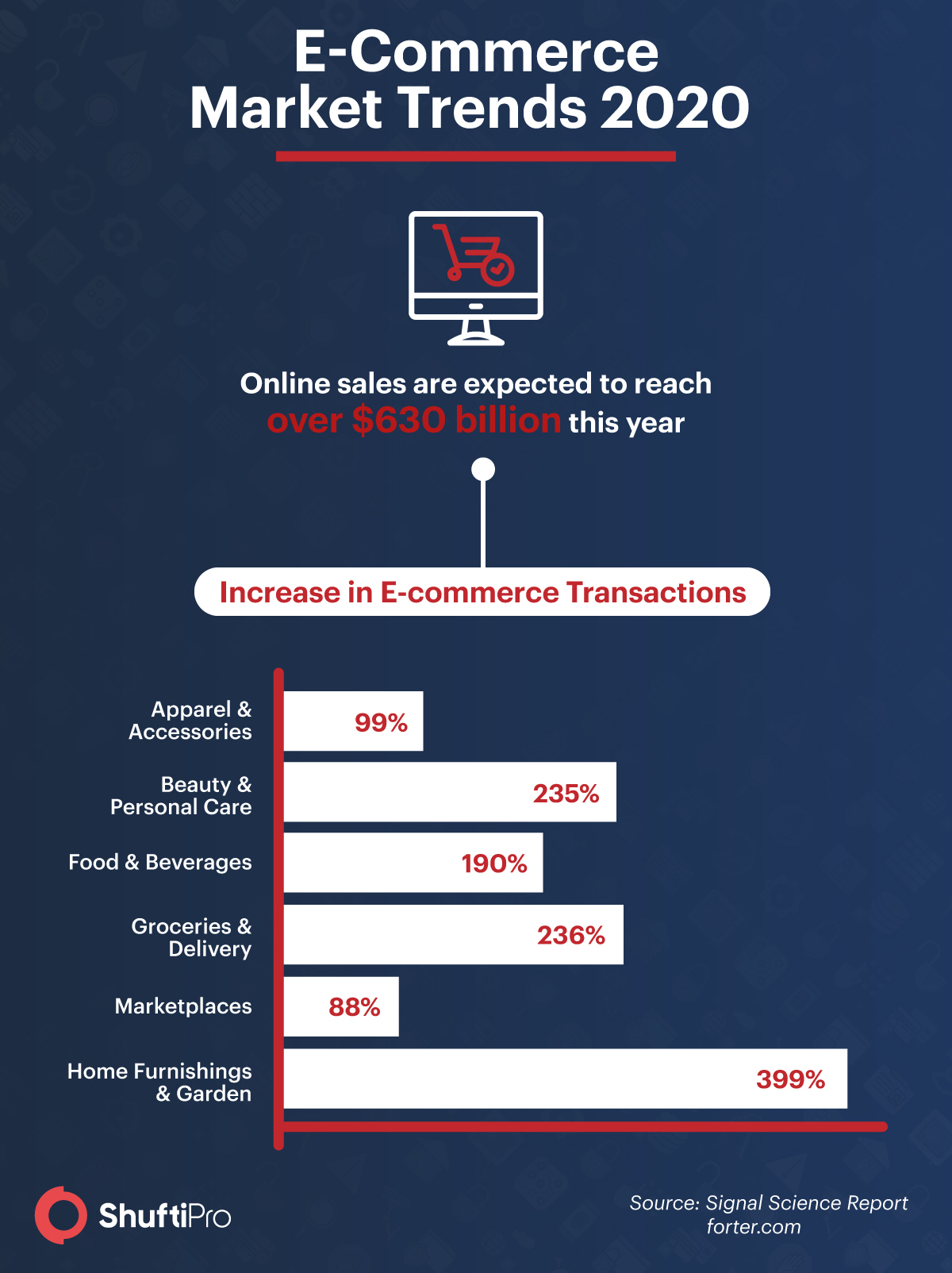 With the excitement of retailers for higher projected sales comes the threat of cyberattacks and retail fraud. Online retailers are more prone to sophisticated attacks and cybercriminal activities due to the lack of adequate identity verification checks and strategic framework for fraud detection and prevention. According to Signal Science report 2019, it is expected that the con-artists will cause loss of more than $12 billion in the U.S. alone by the end of 2020.
These direct financial losses are not the only part of a picture. The bad customer experiences and damage that come with these losses further destroys the brand reputation.
Common e-commerce fraud types
Fraudsters may use countless methods to get to consumers accounts and fulfil their malicious intents. These methods are not limited to a few numbers, it's all up to their imagination. However, there are some techniques that these perpetrators of financial crimes commonly follow, that includes 
Classic/True fraud:
It is the simplest kind of online fraud where the fraudsters purchase or steal a victim's personal and credit card details from the dark web. This information is further used to make an unauthorised purchase from the site that leads to a purchase dispute from the customer's side. This method is usually followed by newbies. 
Triangulation fraud:
As the name represents, it involves three parties in the fraud, an E-commerce business, a fraudster and a legitimate shopper. The fraudster sets up an online e-commerce store that sells high-demand products at low prices. When the customers place an order on their site, they use their credit card details to purchase products from a legitimate e-commerce site.
Interception fraud:
In this fraud, criminals make an order using a legitimate credit card where the billing and shipping address match the information associated with the card. Later, they try to intercept the order by various methods. For instance, by asking the customer service to change the shipping address.
Chargeback fraud:
This type of fraud usually happens after the product is delivered. A customer places an online order but then claims for a chargeback stating their card was stolen. It is the most common fraud and difficult to detect because sometimes the legitimate customers are involved in it.
Account takeover and fraudulent chargebacks
E-commerce frauds and scams are rising amid COVID-19 pandemic. Fraudsters are becoming smarter in their tactics to separate you from your money. These frauds used to be common around the holiday period but now are occurring all year round. Only in 2020, Forter analysed 179% increase in 'Account Takeover (ATO) attempts; but this isn't the only scam. 
Read more: Account takeover frauds – Impact, causes and prevention
Sometimes you might encounter identity thieves on your site that would seem the legitimate consumers, but if not detected timely can cause you a fortune tainting the brand reputation
Living in the digital world, account takeover isn't a difficult task. Imposters are becoming successful in tricking users to disclose their account credentials through phishing and social engineering tactics. Once the fraudsters get account details, they can easily make purchases which result in chargebacks.
Chargeback frauds are usually categorised into two major types:
False/Friendly chargeback – It happens when an authorised consumer makes an order and after receiving the order claims chargeback stating various reasons, for example, they didn't make a purchase someone else did through their credit card and their credit card was stolen. Customers usually do this to enjoy free products.
Fraudulent chargeback – It happens when an imposter uses the stolen accounts to make orders and the legitimate owner of the card claims chargeback.
Whatever the case is, e-commerce business has to suffer the loss. 
How to prevent e-commerce frauds?
Now that we are clear about various types of eCommerce frauds, what should be done to prevent them? From the discussion above, one thing is clear that all these frauds are a result of inefficient identity checks. 
Here are a few ways to protect your e-commerce business from fraudsters.
Integrate Identity verification services
Identity verification is spiking in demand due to an increasing trend of online frauds and the e-commerce sector is no exception. The e-commerce industry is one of the most targeted industries by fraudsters. Identity verification solutions facilitate business owners to deter scammers and fraudsters. Through document verification, the business can have evidence of the real identity of the customer during the account opening process.
In addition, the AI-powered ID verification mitigates card-not-present (CNP) and chargeback frauds ensuring that only authorised customers are able to process the order.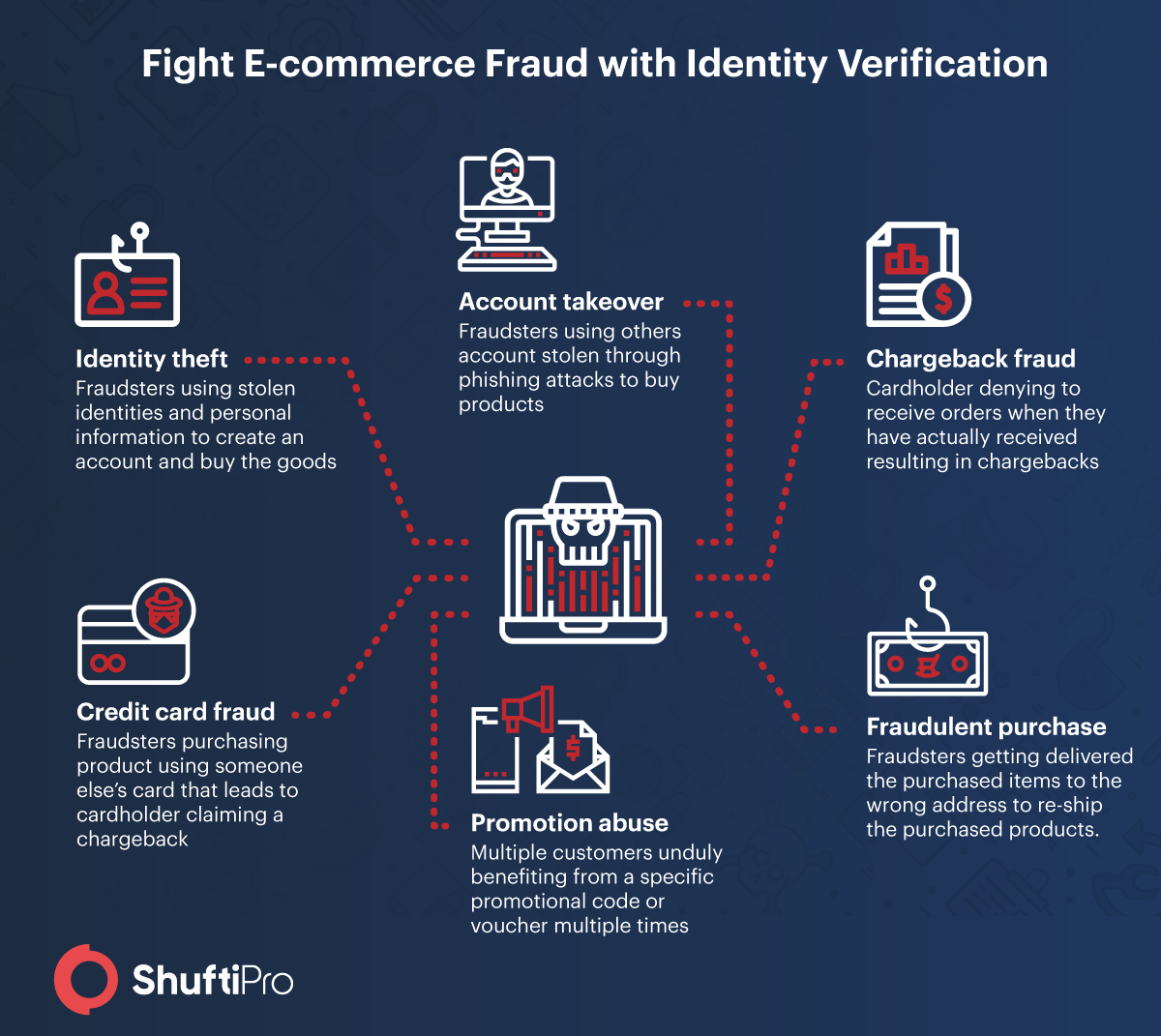 Implement biometric authentication
Unauthorised access to the platform is the foundation of eCommerce frauds. Traditional checks – username and passwords – have failed to adequately authenticate the customers. You know the credentials you are in. How will you ensure that your customers are who they say they are? Biometric authentication is the answer. Biometrics are the distinct human traits that can't be stolen or forged. 
Biometric technology, especially face verification is the secure and efficient method of customer authentication. With the features like liveness detection and 3D-depth analysis, the remote presence of authorised user can be ensured at the time of authentication. This eliminates the risk of account takeover fraud and identity theft.