BEFORE YOU GO...
Check how Shufti Pro can verify your customers within seconds
Request Demo
No thanks
With online services picking up pace, cybercriminals are ramping up their  digital attacks and using all means necessary to exploit loopholes in the financial system. Over the past three decades,  digitization has greatly encouraged financial organizations and businesses to shift their operations, fully catering to the online world. When using any remote service, users have to input their sensitive details like name, address, ID number, and social security on a variety of  platforms across the board, which makes them highly vulnerable to fraudulent activities.
Identity theft cost users $52 billion in 2021 alone, which is an alarmingly high number for global law enforcement agencies. The criminals mostly steal the identities of users from various online platforms and make fake documents using their names, which are then used for various illegal activities, particularly opening bank accounts, insurance claims, and applying for fraudulent immigration cases. Hence, it is quite crucial to implement a robust document verification system for remote services, which never lets fraudsters onboard company systems using fake identities.
Forensic Document Forgery Analysis – A Key Step to Halt Crimes
All major financial organizations and eCommerce giants like Paypal, Payoneer, Walmart, and Amazon verify the identities of their users through document examination. Although they all utilize rigorous systems, fraudsters still manage to onboard the system to pull off multiple scams. The primary reason behind a high crime ratio is the lack of effectiveness of the screening system. Forensic document forgery analysis could be the ideal solution in such a situation as it examines a user's ID documents through scientific checks and leaves no space for criminals. This process is so authentic that the world's legal system relies on the forensic verification of documents, and no record is admissible in the court unless it is forensically authenticated first.
Forensic forgery analysis is a complete scientific process performed by experts in the field. There are a large number of universities across the globe which are offering specialized courses in forensic document examination. The verification of documents is usually performed in dedicated labs using multiple techniques like handwriting identification, infrared imaging devices, and photography. Once the documents are verified forensically, there remains no doubt in their authenticity, and this is the exact reason that all online businesses can greatly benefit from this same system to counter criminals.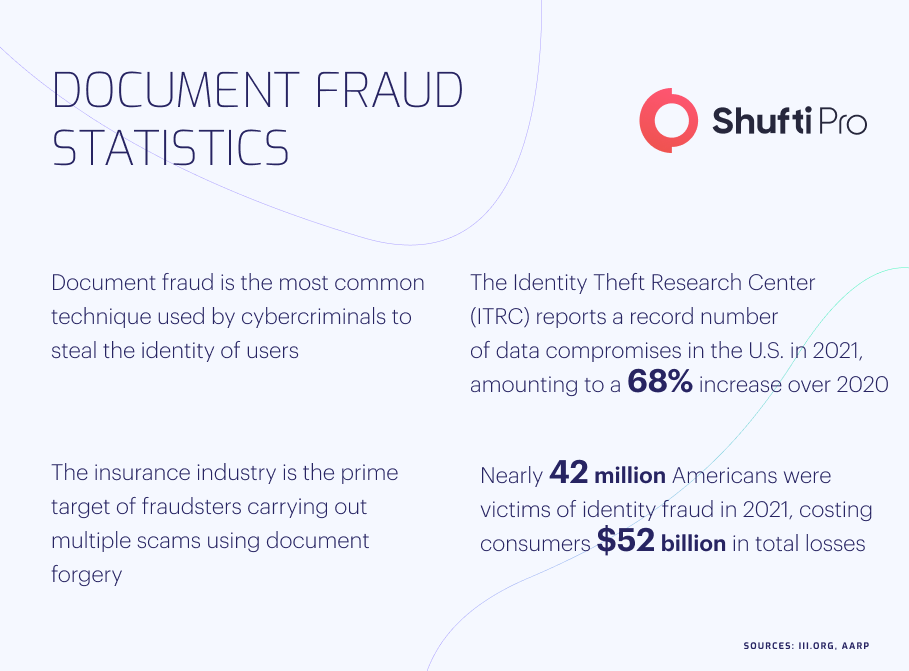 How Law Enforcement Authorities are Working to Fight Document Fraud
Identity theft through document manipulation has become quite common in the digital world, and traditional methods of record verification are no longer as effective in countering criminals as they once were. Law enforcement agencies from all major jurisdictions are taking drastic steps to regularize the digital financial industry while curbing document fraud and bringing criminals under the law.
Interpol Dismantled South African Fraud Gang
In April 2022, Interpol conducted a raid in South Africa and arrested a criminal gang that was involved in defrauding US companies with some €455,000. Seven people were arrested in this operation, and the cases are still going on in court to decide their penalties. The investigations have found that criminals were stealing the identities of users to make fake documents with their names, further using those records to defraud financial organizations. In their press release, Interpol stated that some gang members have been suspected to be in some other African countries, and they are working to arrest them as well.
11-Member Gang Charged with Multi-Million Dollar Scam
US Police cracked down on a criminal gang that was involved in multiple scams, including fake insurance claims, document forgery, as well as bank account manipulation. During the raid, a large number of machines were confiscated, which were being used by criminals to make illicit documents. Police have stated that fraudsters managed to make $4.3 million through several fraud techniques. All of the criminals have been charged in court, with several more on the run, as the case continues.
Curbing Fraud Through Document Forgery Analysis
Document forgery analysis is one of the most optimum ways of identifying criminals involved in fraudulent activities. Almost all major departments which are involved in running online operations can benefit from this advanced method. Here are some of the top sectors which are under a high threat of fraud, where digital forensic document examination techniques can help in making their platforms a secure place for sophisticated users.
Educational Institutions
It is estimated that in 2021 alone, 1.4 million cases of document fraud were reported in educational institutions. Criminals submitted fake documents to get admitted to international universities, damaging that specific organization's reputation. Document fraud in the education sector is not only affecting the credibility of the whole education system but is also depriving deserving students of their rights. So, a system incorporating the principles of digital document forensics can help universities identify fake documents while preventing fraudsters from getting admissions.
Immigration Departments
Immigration fraud is another major scam that is quite prevalent in many countries, particularly the US, UK, and Canada. A large number of criminal gangs have been arrested in all these countries which were involved in document forgery, preparing fake passports and other records to apply for visas illegitimately. Incorporating digital forensic verification in this arena can really help authorities counter criminals and hold them accountable for their actions.
National and International Courts
In the course of history, courts have always remained crucial in ensuring justice in societies, yet they are also prone to high risks of fraudulent activities. Criminals forge fake documents and present them to the courts to avoid or lower punishment. There are a large number of cases across the globe where criminals were found to be involved in document forgery in legal cases. Although the majority of the courts are using forensic practices to authenticate documents, there are still many jurisdictions that are relying on traditional methods which are old and outdated. Implementing an efficient document forgery analysis system can altogether curb criminal activities from the judicial system and ensure transparency.
Ensuring Compliance with Robust Document Checks
At a time when digitization has become the new world standard, and all day-to-day business operations are being shifted to the internet, the risks of fraud have also increased by a large extent. Documents are considered to be the most crucial tool to authenticate peoples' identities  and verify other relevant credentials. By committing document forgery, criminals succeed in their illicit motives, defrauding companies and sophisticated users. Forensic document verification is the most optimum solution, as it authenticates the record using scientific principles while leaving no space for fraudsters.
Key Takeaways
Shufti Pro's digital document verification services are the most ideal option for all online platforms to verify the true identities of their users through their ID documents. A thorough forensic document examination will not only prevent identity fraud but will also secure customers from undue financial losses. Powered by an AI algorithm that is getting smarter over time by design, Shufti Pro's digital forensic verification services along with the Optical Character Recognition (OCR) technology, will authenticate the originality of the documents in seconds with a 98.67% accuracy.
Would you like to know more about digital forensic document examination services for your business?