BEFORE YOU GO...
Check how Shufti Pro can verify your customers within seconds
Request Demo
No thanks
With emerging technologies, the demand for online services and products is skyrocketing, raising the need for businesses to implement identity verification measures. Identity documents are the most crucial source of authenticating details of users, and all organizations have implemented various methods for online verification of consumers. It is crucial for businesses that regularly deal with financial transactions, particularly banks, insurance companies, crypto firms, and ride-hailing platforms, to enforce a robust document verification system.
Despite all the efforts made by companies to verify true identities of users, document fraud is increasing and leading to several crimes, particularly identity theft, money laundering, terrorist financing, etc. In 2021 alone, the UK lost £2.5 billion in fraud with a surge of 22% in cybercrime cases as compared to previous year. It has become imperative for businesses to implement stringent online verification methods, particularly Optical Character Recognition (OCR) and forensic document examination.
Overview of Forensic Document Verification
Since the start of civilization, humans have remained involved in forgeries particularly changing seals, handwriting, and signatures. All these fraudulent practices led the law enforcement authorities to find solutions in order to restrict criminals from carrying out such illicit activities. The initial cases of document examination had been reported in the 3rd century in Roman Empire. During that time, Romans were famous for forgery, and in order to eliminate crimes, laws for forensic documents examination were introduced to verify their authenticity. In 539 AD, Roman Emperor Justinian established the "Justinian Code," which set the base for forensic examination of documents while mandating for judges to hire experts who could examine forgeries.
Incorporating scientific laws in investigating evidence is forensic document examination, which is widely used across the globe, helping businesses to ensure safety. Due to increasing crimes, all organizations appoint document analysis experts who use various techniques to verify the authenticity of the information. Specialists use handwriting identification techniques, photography, and infrared imaging devices to counter fraudulent practices.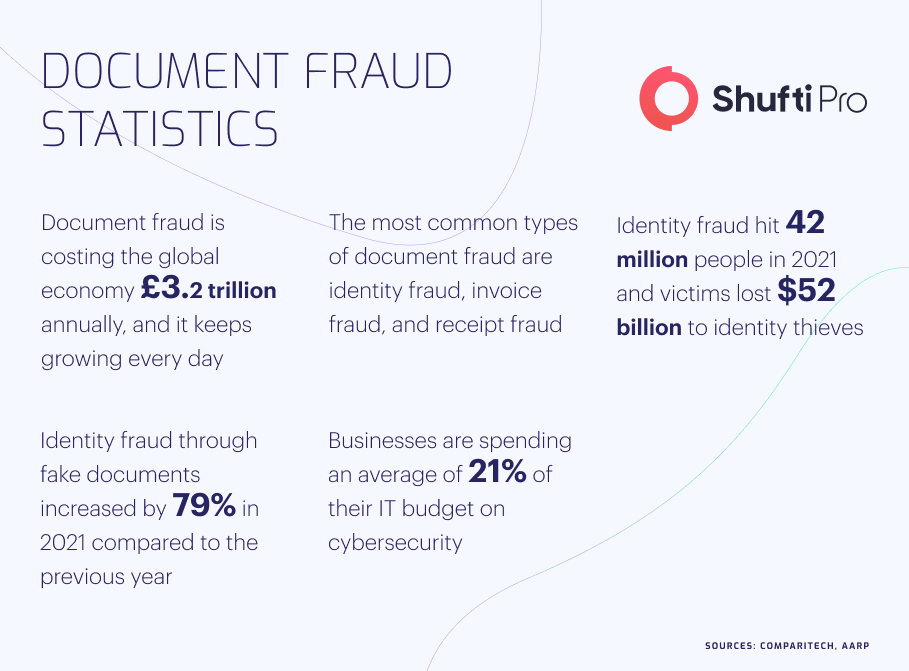 High Profile Document Fraud Cases
Document fraud has become quite prevalent, affecting all organizations and businesses across the world, particularly financial companies, immigration departments, educational institutions, etc. Several cases have surfaced globally where criminals tried to exploit the system using various forgery techniques costing users billions of dollars. Global financial regulatory organizations, particularly EU, Interpol, and FTC, are working tirelessly to highlight the need for forensic document analysis for all jurisdictions.
Visa Fraud Cases Raising Concerns for Australian Authorities
Australia's Immigration department has raised concerns about fraudulent visa applications submitted by students through different agents. The law enforcement authorities have highlighted that a large number of university candidates are using fake and forged documents to get admission in universities. In the wake of rising scams, the International Education Association of Australia has been instructed to cash a forensic lens over all documents for student applications. More than 600 such cases have been detected so far, urging educational institutions to have forensic document verification before granting admissions.
FIRs Registered by German Authorities for Document Forgery
German law enforcement authorities have revealed that 35 individuals, mainly from India, have been found to be running a visa scam. As per the initial investigations, criminals have submitted illicit tax returns, invitations, and other agreements to the German consulate. Forensic document analysis team has found that applicants were applying for tourist visas by forging invitation letters for some German exhibitions. FIRs have been registered against the criminals, and authorities have placed a ban on all culprits from entering Germany.
How Forensic Document Analysis can Halt Crimes
Forensic document analysis involves various techniques by experts that can eliminate criminals and prevent identity fraud and other financial scams. In the US alone, there were 68% more cases of document scams in 2021 as compared to previous year. Securing businesses using forensic forgery verification services is imperative, ensuring customers' smooth onboarding. Let's look at several organizations that can safeguard their consumers' identities using stringent document authentication measures.
Banking Fraud
Banks are the top financial institutions affected by document fraud, including fake cheques, credit card fraud, and account takeovers. In the US alone, more than half a million cheque scams are reported yearly, resulting in huge financial losses. The criminals use forged signature techniques to manipulate the banking system and successfully take funds out of others' accounts.
Moreover, the hackers steal identities of customers through different phishing attempts and carry out credit card scams. Forensic document services are the most viable solution in curbing all these financial scams, and banks should incorporate stringent verification measures securing identities of their customers.
Insurance Fraud
Insurance companies are a soft target for criminals, providing them with options for submitting fake medical or accident bills claiming huge amounts. It is estimated that in the US alone, $80 billion is lost through fraudulent claims. Forensic document examination is the most optimum solution for insurance companies to scrutinize submitted receipts by consumers. Incorporating scientific principles in document verification methods can help keep bad actors away and safeguard the confidential information of sophisticated users.
Immigration Fraud
The use of forged and fake documents for immigration is on the rise, resulting in many cases in several countries, mainly the UK, US, and Canada. The scammers try to manipulate the loopholes by submitting illicit tax returns, invitation letters, and educational certificates. Forensic document testing measures can help the immigration departments of all these countries in eliminating visa scams and penalizing criminals.
Global Regulatory Authorities Monitoring Document Forgeries
The global regulatory authorities, including Financial Action Task Force (FATF), European Union (EU), and Interpol, have highlighted forensic document examination as an important tool to curb money laundering, terrorist financing, and other financial scams. In the wake of this, several countries have legislated stringent regulations discouraging criminals and halting document fraud.
US
Title 18, Section 471 of the United States code terms document fraud as a federal crime. It has been highlighted that "Anyone, with intent to defraud, who falsely makes, forges, counterfeits, or alters any obligation or other security of the United States is guilty of a federal offense." Any violation could result in hefty fines and imprisonment depending upon the nature of crime.
UK
The United Kingdom has implemented "Forgery and Counterfeiting Act," which terms document scams as a criminal act and proposes severe penalties for culprits. The act by the UK government covers all sectors, including education, insurance, online businesses, immigration, and banking.
KYC Compliance Using Forensic Document Authentication
All online businesses are struggling to fight identity theft, further deteriorating the user experience and resulting in financial losses. The whole system needs an effective Customer Due Diligence (CDD) approach to onboard customers after verifying their true identities. Document verification is the most important part of Know Your Customer (KYC) measures, and confirming legitimacy of ID papers of customers through forensic analysis can help businesses, combating increasing fraud and meeting global regulations.
What Shufti Pro Offers?
Shufti Pro's state-of-the-art document verification services are the most viable option for online businesses to securely verify new clients. Powered by thousands of AI algorithms, Shufti Pro's forensic document examination will prevent identity fraud, saving customers from fraudulent losses. The KYC services are specially designed to streamline customer onboarding using advanced techniques, particularly OCR and forensic document analysis, to authenticate users' identities. Shufti Pro's KYC solution is efficient enough to generate results in less than a second with 98.67% accuracy.
Want to know more about forensic forgery verification of documents?