BEFORE YOU GO...
Check how Shufti Pro can verify your customers within seconds
Request Demo
No thanks
Identity fraud has become quite prevalent in digital businesses which is not only affecting operations but also raising concerns about money laundering and other financial crimes. While using any online service, users have to input their confidential details mainly name, ID number, address, and social security which elevates the risks of cybercrime. On the other hand, it has also become a huge challenge for digital service providers to verify all their customers and keep their information secure. The criminals use a variety of sophisticated techniques, particularly document forgery to disguise their identities and get involved in financial crimes.
Although all digital businesses are working tirelessly to eliminate the chances of document fraud, it is still prevalent and numbers are rising every year. In the US alone, there was a 68% increase in the cases of data compromises compared to the previous year with insurance companies as the main target of scammers. Documents are the most crucial sources of verifying the identities of users and it is important for online service providers to implement an advanced system of record checkings like Optical Character Recognition (OCR) and forensic document authentication.
Forensic Document Verification – A New Standard
The emerging technologies have not only helped businesses to secure their operations but also encouraged fraudsters to use more advanced techniques of exploiting loopholes in systems. The majority of digital service providers like Payoneer, Paypal, Amazon, Walmart, and many others have implemented stringent regulations to verify the documents of their users but traditional methods are not serving the purpose of authenticating the true identities of customers. In the UK alone, consumers lost £1.3 billion in 2021 which is 27% more compared to the previous year. Undoubtedly, it can be established that prevailing document verification measures are not efficient enough to curb sophisticated fraud methods used by criminals. The whole system is in dire need of forensic authentication which is more advanced and has all capacity to counter scammers.
All the digital service providers particularly financial companies, educational institutions, and immigration departments are at high risk of document fraud. The criminals use forged documents to claim funds, admissions to universities, or entry to foreign countries. By implementing standards of forensic forgery detection, all online businesses can secure their onboarding system with very less risks of scams. The forensic authentication of documents involves scientific techniques to verify the identities of users leaving no room for criminals.
How Forensic Document Verification is Carried Out?
Forensic document verification involves incorporation of scientific rules in examining the authenticity of records. There are experts in this field who carry out all the operations using specialized methods. Nowadays, the use of forensics is rising, especially in courts where no document is accepted without authentication. By using several techniques like handwriting identification, ultraviolet light sources, microscopes, photography, and infrared imaging in the laboratories, a document is verified. All the major jurisdictions have formed dedicated institutions which overlook the process of document verification. The American Board of Forensic Document Examiners (ABFDE) is the primary authoritative body responsible for monitoring forensic operations in the US, and any person carrying out these activities anywhere in the country must be a member of this board.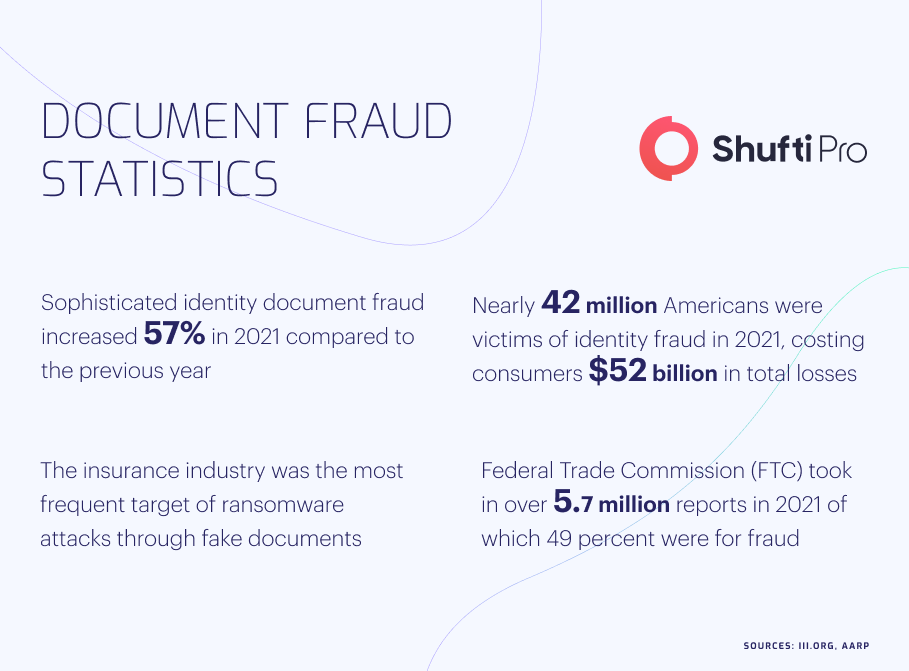 High-Profile Crime Cases of Document Fraud
The prevailing traditional methods of document verification have encouraged criminals to exploit loopholes in systems inflicting financial losses on users. In the recent past, several cases have surfaced where scammers try to manipulate documents resulting in credit card fraud, illegal immigration, fake admissions to international universities, and many others. Let's have a look at some of the high-profile cases of document fraud in different countries.
Gang Arrested for Printing Fake Documents in Greece
European Police conducted a raid this year dismantling a criminal network involved in forgery and dissemination of counterfeit documents. The gang was using fake identities and helping people to apply for immigration in several European countries. The Police have seized 362 forged documents including ID cards, residence permits, passports, and asylum papers which were used in carrying out illicit activities. The law enforcement authorities have stated that criminals had support from other countries and investigations are still going on to catch all culprits.
Criminal Network Busted for Distributing Fake Documents
French law enforcement agencies along with Spanish Police cracked down on a gang that was involved in the distribution of forged ID and travel documents in several countries including France, Germany, Italy, and Spain. The raid resulted in 17 arrests and the seizure of a large number of fake identity records. It has further been stated by Police that criminals were involved in the smuggling of migrants to the US, UK, and Ireland while carrying out drug trafficking as well. The investigative authorities are still working to find more proof against criminals to penalize them as per law.
Regulatory Authorities Monitoring Document Fraud
The Financial Action Task Force (FATF), the primary body working against money laundering, has also highlighted the importance of effective document verification measures in curbing monetary crimes. In the wake of this, several countries across the globe have legislated and implemented stringent solutions to verify the true identities of users while onboarding.
Canada
Canada is among those countries that have pretty rigid approaches toward document fraud. Section 366, 367, and 368 of the Criminal Code of Canada terms record forgery as a criminal offense. The maximum penalty for this crime is 14 years imprisonment including heft fines. The law-enforcement authorities in Canada have charged several criminals under this act and set an example for fraudsters.
Australia
Section 83A of Crimes Act Australia states "A person must not make a false document with the intention that he or she, or another person, shall use it to induce another person to accept it as genuine, and by reason of so accepting it to do or not to do some act to that other person's, or to another person's prejudice." The maximum penalty for any crime related to document forgery is 10 years imprisonment which can vary depending on the nature of crime.
Document Forgery Forensic Authentication – Ensuring KYC Compliance
Documents are considered the foremost source of verifying the identity of any person. Any type of fraud related to official records can inflict serious consequences on individuals and businesses. It is crucial for online service providers to implement stringent measures to ensure Know Your Customer (KYC) compliance for their users. By implementing document forensic technology, the legitimacy of documents can be checked using advanced ways of securing digital businesses. It will not only help in countering criminals but also ensure global compliance.
What Shufti Pro Offers?
Shufti Pro's state-of-the-art identity verification services can help online businesses implement a robust solution against document fraud. Combating financial crimes through efficient record authentication will secure the identities of users and ensure compliance with global regulatory standards. Powered by thousands of AI algorithms Shufti Pro's KYC solution uses advanced techniques like OCR and forensic document examination to verify documents in real-time. It generates output in less than a second with 98.67% accuracy.
Want to know more about forensic forgery analysis of documents for digital businesses?