BEFORE YOU GO...
Check how Shufti Pro can verify your customers within seconds
Request Demo
No thanks
With booming technology and rapid digitization, a large number of businesses are adopting the digital model. Especially after the COVID-19 pandemic, the usage of online services increased to a large extent, and users are now exploring remote options for their routine transactions. Although it has eased a lot of operations for customers and businesses, it is also accompanied by high risks of crimes, particularly identity theft, money laundering, and terrorist financing. So it has become crucial to counter the prevailing crimes and make digital services a secure option for users.
In 2021 alone, Americans lost $56 billion due to identity theft which was 20% more than the amount compared to the previous year. A large number of financial institutions like banks, insurance companies, and the crypto industry have implemented stringent regulations to curb identity fraud, but many others are still lagging here. Identity theft gives rise to several crimes, including bank account fraud, account takeover, hacking, and many other cybercrimes. It is the need of the hour to find a perfect solution to this menace and ensure security for the customers.
Insights Into Identity Theft – A Burning Issue
Identity theft is when someone steals your personal data like name, social security, identity number, or birthdate to impersonate you. It is a growing problem in the whole world, and financial regulatory authorities have raised serious concerns while instructing all the member-states to find screening solutions to this issue. In order to use any online service, users have to input their personal details into the system and this is why the internet accounts for huge users' data. All this confidential information is exposed to threats of identity theft as the majority of digital service providers do not implement strict regulations encouraging criminals to exploit loopholes.
The Federal Trade Commission (FTC) in the USA has indicated that every year they are receiving more complaints related to identity fraud and it is costing users billions of dollars. There are a large number of frauds associated with identity theft, particularly credit card scams, fake investment accounts, medical insurance claims, and illicit tax refunds. Identity theft is not only limited to these scams; fraudsters also get involved in money laundering and terrorist financing, which ultimately lead to a myriad of global issues. The only viable solution to counter identity theft is Know Your Customer (KYC) measures which can verify the true identities of the users and maintain a record of it.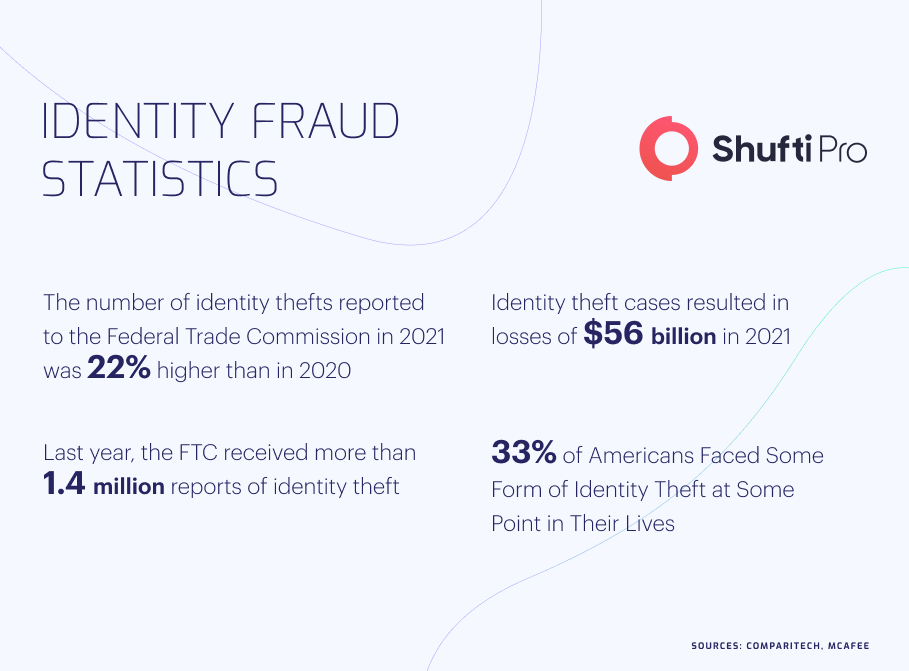 Losses Due to Identity Theft and the Role of Law Enforcement Authorities
Almost all countries are facing threats of identity fraud in some way, and in the recent past, several cases have surfaced highlighting the need for identity verification measures. The majority of the states have legislated and implemented stringent regulations to counter cybercriminals and bring them under the law. Let's study some of the high-profile cases where scammers were arrested and presented in the courts:
Gang Members Charged with Identity Theft Crimes in the USA
Law enforcement agencies in the USA have arrested a criminal gang that was involved in identity theft and money laundering. As per the investigations, the scammers were hacking the websites of banks and insurance companies and stealing the identities of the users. They were further using the stolen details to register fake accounts against the customers, ultimately costing them financial losses. It was found during the investigation that criminals stole $300,000 and laundered these illicit funds to other countries. The Police are still working to trace all the financial transactions linked to this case.
Criminal Gangs Arrested for Using Stolen Identities in Sydney
Sydney Police warned all internet users to take care of their credentials while using any online service due to increased cyber crimes. In the wake of this, law enforcement authorities conducted several raids and arrested a gang that was also involved in money laundering. The scammers were actually using the stolen details to register illegal cars under different names and sell them in the city. The investigations are still going on to collect more proof against the whole gang.
Global Regulatory Authorities Fighting Identity Theft
Identity fraud is a quite sensitive crime that further leads to myriad financial irregularities. This is the primary reason that almost all the major jurisdictions are legislating and implementing strict laws against all those involved in these illegal activities. The Financial Action Task Force and other financial watchdogs have also guided the member states to counter prevailing crimes through effective legislation and solutions.
USA
In the wake of the sharp rise in identity theft cases across the United States, Congress passed "Identity Theft and Deterrence Act". According to this law, it is a criminal offense to knowingly commit, attempt to commit, or aid in committing identity fraud. Credit card fraud, social security scams, computer hacking, and wire fraud have all been termed as acts of crime, and involvement in any such crime could lead to imprisonment along with hefty fines.
UK
The UK government has legislated the "Fraud Act," according to which it is illegal to commit identity fraud of any sort. The law enforcement authorities have instructed all digital service providers to report to them in case of any violation or suspicious activity. English laws are quite strict towards identity theft, and several criminals have been penalized in the recent past for failing to abide by the rules.
Canada
The criminal code of Canada clearly states identity theft as a crime and suggests imprisonment of 5 years for the culprits. The law has further instructed that anyone knowingly committing any illegal activity of stealing the identities of users with intent to gain advantage for themselves should be tried under the law.
Battling Identity Fraud Through KYC Solutions
Identity fraud has become a global concern, and almost all jurisdictions are facing this daunting challenge. Although a large number of rules and regulations have been legislated, there is still a long way to counter criminals. The most prominent solution for online service providers is available in the form of Know Your Customer (KYC) measures which can verify the true identities of the users by comparing data with the ones on documents. KYC involves different services, including facial recognition, thumb impressions, and document verification, through which the details of the customers can be authenticated in the most efficient way.
How Shufti Pro Can Help
Countering identity fraud is quite crucial for all online service providers, which can produce long-term benefits for businesses. Digitization is the future of the world, and it is in the interest of businesses to find solutions to crimes while countering scammers.
Shufti Pro's state-of-the-art identity verification services are the most viable option for online service providers to stay compliant with global standards and report any suspicious activity. With support for 3000+ document types, Shufti Pro's IDV solution provides results in less than a second with ~99% accuracy.
Want to know more about KYC solutions for digital businesses?