BEFORE YOU GO...
Check how Shufti Pro can verify your customers within seconds
Request Demo
No thanks

The vast majority of frauds either go undetected, or remain largely unreported. Many businesses do not want to report fraud to stay away from the negative PR and limelight of the media.
However, there has to be a way for companies to conduct risk assessment for their end users. Let's shed some light on fraud assessment and how businesses can minimise their risk with their potentially new customers.
What is Risk Assessment?
Risk assessment is a method through which companies, businesses, and individuals measure and understand exposure to fraud, the risks and the strength of internal controls.
Due to the high risk of money laundering and fraudulent activities, your business needs to take important steps to avoid hefty AML fines. Adoption of KYC, CDD, and risk-based approaches are some of the measures your company can take to mitigate these risks.
AML Risk Assessment ensures your business has a bigger picture of clients likely to attempt terrorist financing or money laundering.
Once you harden your AML Compliance programs, you will exponentially reduce your risks that come with inherent exposure to your potential companies. 
In short, it is a process through which you determine how likely you are to suffer from fraud and the associated financial or non-financial damages that come with it.
For example, a student inherently has a higher risk of fraud than an employed and/or self-employed. This is, however, only possible after developing a risk score, which is a risk score assigned to an end user after calculating a number that reflects the level of risk in the presence of some risk factors.
Why Do You Need Fraud Risk Assessment?
Today's competitive landscape is filled with risks. From cybersecurity to bribery and corruption, fraud and ID theft is everywhere. To stay away from money laundering and fraud, your business continuously needs to assess the risk.
US lawmakers are now stressing businesses to enforce risk assessment measures to understand the clients you are serving.
Risk Assessment will also help you in identifying any loopholes in your current strategy, fixing weaknesses, and improving the processes. Here is why AML risk assessment is important for your business:
Reduce the risk of terrorist financing, money laundering, and subsequent fines/penalties as a result of non-compliance

Detect, prevent, and mitigate fraudulent financial and non-financial activities

Get a clarity of the risk that customers bring to the company
What is a Risk Score?
A risk score is a range that you set for the end user according to their risk levels. For example, a score between 0-30 is low risk. Something in between 31-70 is medium risk, whereas anything above 70 is a high risk.
Some businesses may consider a salaried end user having the lowest risk, and a self-employed as medium risk, and vice versa. It all depends upon how your business views a self-employed vs. a salaried.
What is The Risk Assessment Process?
It all starts by setting the risk ranges for each client with a linear scale range setting. Businesses set up a custom questionnaire and risk ranges for each question as per their requirements. Every time someone signs up, the end user has to follow a set of questions and get a risk score assigned.
Take an example of a bank that offers credit cards. Banks usually demand no less than the previous 6-month statement as a proof of income.
But other than the internal processes, banks also have to follow the KYC and AML protocols to prevent ID theft and minimise the chances of money laundering, respectively.
When signing up for a credit card, the potential customer typically answers a questionnaire about their employment status and monthly income among other things. The bank will then determine how likely it is for the end user to obtain a credit card without missing timely payments.
Banks aren't just concerned about timely payments. They also want to ensure that their client does not end up defrauding the system in the long run.
Some banks prefer salaried clients, having a fixed monthly income credited to their account at a given date, more than self-employed or retired. For financial institutions, someone with a regular monthly earnings has a lower risk of default than one who doesn't have a predictable source of income.
With a risk score, banks are able to verify potential customers based on the personal information provided while signing up and filling a questionnaire.
It enables businesses with numerous checks to prevent fraud, create customised risk questionnaires, and configure journeys for consumers with Low, Medium, High, and Prohibited risk levels.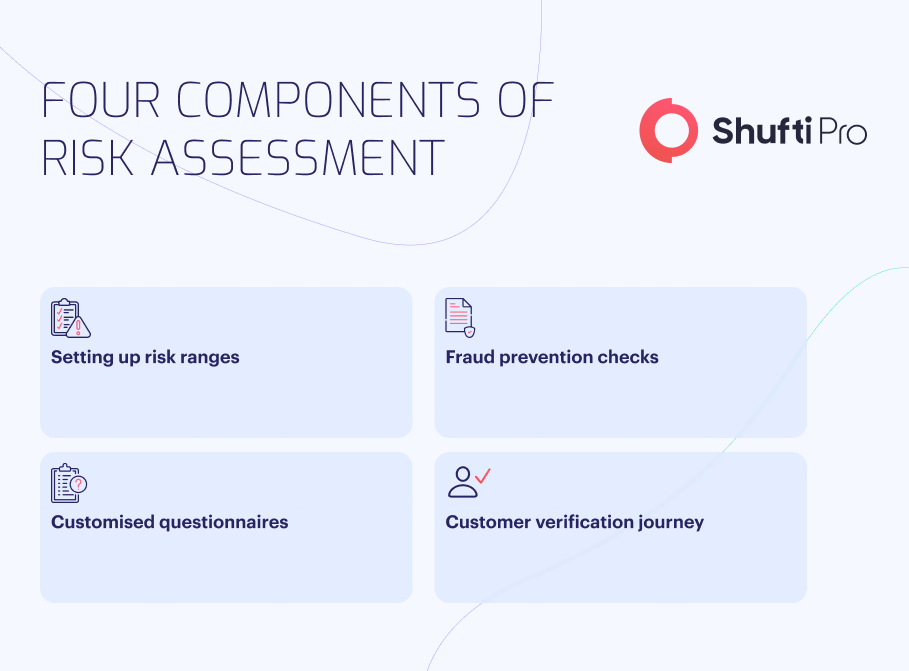 How to Assess High-Risk Activities?
National Risk Assessment (NRA), is the Uk Government's official body on assessing risks associated with money laundering and terrorist financing. Each year, it releases a new set of guidelines that become a yardstick for businesses to comply with and reduce their risks.
NRA's 2020 report highlights the following as high risk activities:
Conveyancing

Client Account Services

Company and Business formation

Fintechs

Transactions involving high usage of cash and/or cryptocurrency whilst remaining anonymous
At the same time, organisations must pay close attention to the warning signs of money laundering and adjust their policies, controls, and procedures accordingly. This is especially true when dealing with customers and transactions that involve jurisdictions classified as high-risk by the Financial Action Task Force (FATF).
Components of Risk Assessment
Questionnaires have been a risk assessment tool that businesses utilise to comply with AML and KYC laws. However, these questions can be customised to match business requirements for risk assessment.
To accurately assess risk, every company has a unique criteria based on their industry laws and company regulations.
Following are the four components of risk assessment:
Setting up risk ranges

Fraud prevention checks

Customised questionnaires

Setting up the customised verification journey
After setting risk ranges, businesses can set the parametres of Fraud Prevention with multiple questions pertaining to Email, Phone No, IP/TOR, etc.
With the help of this questionnaire, companies can generate a report, and get access to a risk score.
Here are the typical steps any company would follow for risk assessment:
Setup the risk assessment title and risk ranges according to your business requirements.

Select the checks from the fraud prevention – data points section to avoid fraud by checking the customer's PhoneNo, IP, Email, and behavioural risk.

Create multiple customised risk questionnaires with several answer types by adding scores against each answer option.

Configure KYC journeys for consumers with Low, Medium, High, and Prohibited risk levels based on the defined risk ranges and requirements.
What are Risk Assessment Levels?
You wouldn't go into business with just anyone, and nowadays, you cannot decide between a high risk and a low risk client without implementing some measures in place. By implementing a risk assessment system, you can better mitigate any fraudulent attempts that could lead to severe consequences such as penalties and fines on non-compliance with AML and KYC.
Onboarding a high-risk client is your decision. You can go ahead and start conducting business with this client, however, your internal protocols and risk assessment procedures should be strong enough to detect and block any fraudulent attempts.
There are 4 brackets in which customer risk levels are divided. For a better understanding, here are these:
Low

: Customers having no problems with ID verification, and posing low risk of illegal activity and money laundering.

Medium

: Customers having some problems in ID verification, and may showing previous signs of fraud attempts.

High:

Customers having a track record of poor business practices, and hence strong

due diligence

needs to be conducted.

Prohibited

: Not an ideal client portfolio you want to work with. It is better to avoid a customer with a proven track record of fraud and illegal activity.
How to Determine Vulnerabilities in Risk Assessment?
Risk assessments help your business in identifying vulnerabilities whilst implementing AML risk assessment. Risk assessment varies based on your business size, the clients you deal with, and the type of services you offer.
A few questions you can ask are:
Who are the customers you serve?

What is your customers' main source of income?

What are the geographical locations of your customers?

What type of activities do your clients often perform?

How do customers find your company?

What financial risks do your company take?

What are the origins of funds for your clients?
Getting answers to these questions is critical, as they will determine the path your company needs to take to tackle corruption, money laundering, bribery, and terrorist financing.
What Are The Red Flags of Money-Laundering?
Your systems should be in place to detect any unusual or suspicious activity. Here are some common red flags.
Electronic Payments
Accepting electronic payments increases fraud risks by manifolds. This helps cybercriminals to launder money to different channels as legitimate.
Cash Transactions
Cash, inherently, is impossible to trace. Hands down, the biggest cartels in the world use cash to launder their money. As electronic systems get advanced, cash is a safe haven for money launderers. Casinos, restaurants, and even media houses like news channels, could be a lucrative source of terrorist financing.
If your clients are more engaged in cash transactions, this could be a red alert that they are hiding away their dirty money and only showing verifiable funds as legitimate source of income.
Politicians and Celebrities
Celebrities are often used by politicians to launder large sums of cash outside their native country to safe havens. Since politicians have influential power, they can stop any investigation through bribing officials. This gives them a clean passage to transfer dirty money without getting compromised.
Dealing with Offshore and Foreign Companies
Offshore companies have been historically formed and used for the sole purpose of laundering funds without having a trace. British Virgin Islands, Panama, Grenada and other island nations are home to some of the world's most infamous offshore firms..
Geographic Location
Without any prejudice or bias, unfortunately, some countries have become synonymous to money laundering due to their past track record. Basel AML Index lists countries with the highest rate of financial crimes, drug trafficking, and money laundering cases. 
If your clients are from the countries on the Basel AML index with a high red score, this could cause a serious challenge for your company to continue working with them.
What is a Fraud Control Plan and Why Develop It?
A fraud control plan is a document that assesses your company's exposure to and strategies for countering fraud. Given the high global fraud rate, it is imperative your business build a control plan to catch fraud and minimise its impact.
Here are essential elements of a fraud control plan:
Mission and/or vision statement on zero tolerance of fraud

Key staff members and responsibilities for controlling fraud

Key strategies summarising the importance of controlling fraud

Outline of risk assessment and vulnerabilities

Outline of known fraud types linked with your industry and their possible impacts on your company

Outline of strategies for mitigating fraud

A timeline on actions to implement strategies

Detailed plan outlining steps to perform when fraud is detected

SOPs on reporting frauds to law enforcement authorities
This was a generic framework, and may vary based on your company and its operations. It is vital you consult a local attorney and anti-fraud experts to build a tailored strategy that fits your company.
Unfortunately, employers are also faced with insider threats, which means a disgruntled company employee can avenge a company's policy decision at any time.
This mostly happens when the employee is often in the final days of leaving the company. For example, in 2017, Trump's account was deactivated and remained undetected for 11 minutes till the company fixed the problem. It was later discovered that a rogue Twitter employee deactivated the account before leaving the company.
Risk Assessment during Customer Onboarding
Risk assessment is an essential process of the customer onboarding process, which is imperative for businesses to detect and mitigate any fraudulent activity from day one. Without a thorough risk assessment process, there will always remain a high risk of working with corporations and individuals prone to fraudulent attempts down the road.
Screening new customers against the sanctions list is vital to minimise any chances of an unpleasant event in the long run.
But risk assessment isn't and shouldn't be limited to the onboarding process. In fact, it should be a continuous process to monitor clients should they conduct activities that do not match with their risk profiles.
For example, if a customer suddenly moves to transactions involving high amounts of cash, avoiding bank transfers for payments, and/or using offshore companies to transfer funds. This could be a potential red flag that should alert your business for a potentially incoming fraud.
Minimise Fraud Risks with Shufti Pro
Compliance with anti-money laundering laws is no easy feat. The dynamics of the industry are fast changing and keeping up with them takes time, effort, and a step in the right direction.
But we understand that keeping up with the pace of ever-evolving threats is challenging for businesses. That's where our AML and KYC compliance solutions help you keep in line with the industry's standards, and ensure every customer you onboard goes through a thorough risk assessment procedure.
Our AML screening helps you to screen every client, whether individual or company, against 1,700+ watchlists to reduce your chances of getting compromised. For you, it isn't just the finances, but business reputation that also matters equally.
Let Shufti Pro's intelligent and smart, AI-based AML checks help you remain compliant with AML laws.