BEFORE YOU GO...
Check how Shufti Pro can verify your customers within seconds
Request Demo
No thanks
OCR, also known as Optical Character Recognition, isn't a new technology. However, it's use in fighting financial crimes, and helping companies in remaining compliant with AML, is an interesting yet overlooked aspect.
Who knew a simple task of scanning a document, extracting its contents, and converting it into structured data could make business operations efficient and easier? Let's dig into understanding what the OCR technology is and how it can expedite the process of KYC for your company.
Data Breaches and Cybersecurity
Ransomware, malware attacks and data breaches, have wreaked havoc on businesses. Hence, opting for safe and secure verification systems is no more a luxury, but a necessity. One such technology in KYC, is the use of OCR to help onboard only legitimate customers.
But no other sector is hit as hard as the banking industry. Not only do banks and financial institutions have to comply with ever-evolving AML guidelines, they also have to remain vigilant of their customers' suspicious activity. Banks have historically been a goldmine for cybercriminals and fraudsters. Money laundering and terrorist financing is mostly conducted through banks.
For extracting data and verifying it with the customer databases, businesses are now using OCR technology to speed up the KYC verification process and help them in remaining compliant with AML.
What is Optical Character Recognition (OCR)?
Optical Character Recognition (OCR) is an old, yet revolutionary technology that scans and converts raw data into beautifully organised, and well-structured digital formats. With KYC software from Shufti Pro, OCR is built-in, with no need to install any additional plugins or buy expensive memberships.
For KYC verification and AML compliance, OCR has become the industry standard.
How Does OCR Work?
Extracting and converting data is a tedious process requiring hours of manual, repetitive work. OCR does that all with an accuracy rate of 95%. The 3-step process of OCR is:
Pre-screening

Data Extraction

Post-screening
How OCR Helps in Combatting Financial Crimes?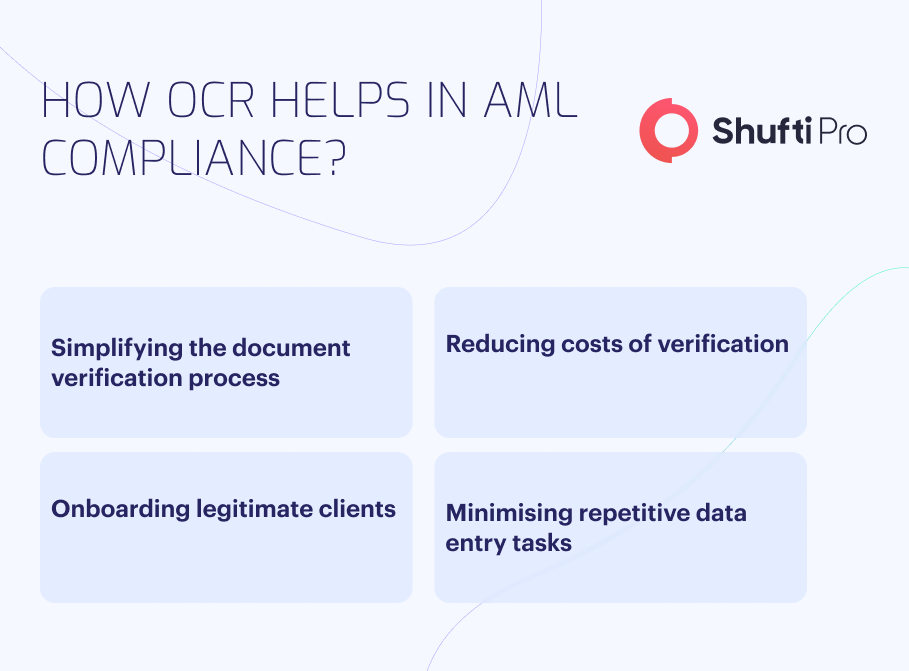 There are numerous benefits of using OCR technology in any sector. The checks that OCR runs, helps businesses like yours to ensure only legitimate customers are onboarded.
Conveniently Verify Customers
OCR-based AI KYC verification process is a convenient method to verify customers. Employees that used to spend countless hours in manual data extraction, can now dedicate that time toward more productive tasks.
GDPR Compliant
OCR-based KYC solutions that are compliant with GDPR, ensure that your business remains safe from heavy penalties and fines. However, not all KYC solutions are GDPR-compliant. It is imperative you confirm GDPR-compliance when selecting the right KYC vendor for your business.
Save Countless Hours
Manual data extraction and verification can take as much as up to 5 business days. This is costly for companies that want to onboard legitimate customers and remain competitive in the industry. Every document is checked manually with the customer database. But with an OCR-based KYC solution, all of those hours can be saved.
Imaging cutting the times of KYC verification from days to less than a minute, all while remaining compliant with AML and KYC regulations.
Reduce Verification Costs
Remaining competitive is vital for long-term survival, however, not all businesses can continue competing with others because of skyrocketing verification costs. When verification time increases, so does the cost of onboarding new customers.
However, with AI-based OCR technology, your business can now cut costs of hiring a dedicated team for the sole purpose of verifying new customers. For businesses, KYC can cost as high as up to $20 without OCR, but this cost can decrease to as low as $5. This is a huge reduction in costs, but the actual expenses will vary based on the verifications conducted, and the industry.
Onboard only Legitimate Customers
You never know who your next customer will be; a convicted fraudster, or a legitimate business. Forged documentation, deepfakes, unmatched social security numbers, all add up to the problems of KYC verification.
Using an AI-based OCR solution helps you onboard only legitimate customers. Manual verification of documents is not enough to identify forgery. OCR can detect forged documents within seconds which ensures any criminal is caught beforehand during the onboarding process, before any ruckus is caused down the road.
Prevent Fraud Easily
When forged documents and fake identities are caught in an instant, it will help in preventing fraud easily, as compared to manual processes.
From account takeovers to money laundering, and tax evasions, it is not possible to remain safe with the ever-evolving crime landscape.
Banks across Europe, the US, and the UK have been shutting down their branches, and moving to digital banking. And criminals are taking advantage of this opportunity to get online and conduct frauds.
Thanks to AI-based OCR technology, it is easy to prevent frauds today as compared to five years ago.
Wrapping It Up
Law enforcement authorities across the world are inching closer to implementing some of the most stringent KYC/AML regulations. But complying with these regulations is no easy feat. You need an AI-based, strong KYC verification system that ensures compliance with all laws. That's where Shufti Pro's AI-based OCR for Business comes in.
With access to over 3,000+ ID templates, support in 230+ languages, and scanning against 1,700+ AML sanctions lists, our dedicated compliance experts will help you get up and running in no time.
Regardless of your industry, frauds will continue evolving with the passage of time. What works today, may not work tomorrow, which is why you always need to keep tabs and remain vigilant of fraudulent attempts. Whether it is ID theft, impersonation scam, or a banking fraud, a robust verification system always got you covered.
Want to know how Shufti Pro's AI-based OCR technology can help you remain compliant? Then go ahead and talk to one of our compliance experts, for a free demo.