BEFORE YOU GO...
Check how Shufti Pro can verify your customers within seconds
Request Demo
No thanks
OCR text recognition is similar to how humans process and store information through reading. The distinguishing factor is that individuals have to think about it, while OCR software automatically converts it to written format.
Keeping notes and setting up a room or two for safekeeping are long gone.
Technology has advanced significantly with OCR, one of the most recent breakthroughs that proved to be the game-changer. It is anticipated that the OCR market will be valued at $13.38 billion by 2025.
What is OCR? – A Brief Overview
OCR—Optical Character Recognition—allows the conversion of scanned documents with both printed and hand-written text into machine-encoded content.
A typical OCR system functions in three steps: image pre-processing, character recognition, and post-processing.
OCR can tackle any real-world scenario requiring text detection and transformation, for example, scanning of receipts, the identification of traffic signs, recognising licence plates, etc.
OCR – How is it Benefiting Businesses?
OCR's benefits can give any company a significant edge in the market. You become much more productive and cost-effective as soon as documents are recorded and converted to digital format. This is how OCR helps the firms: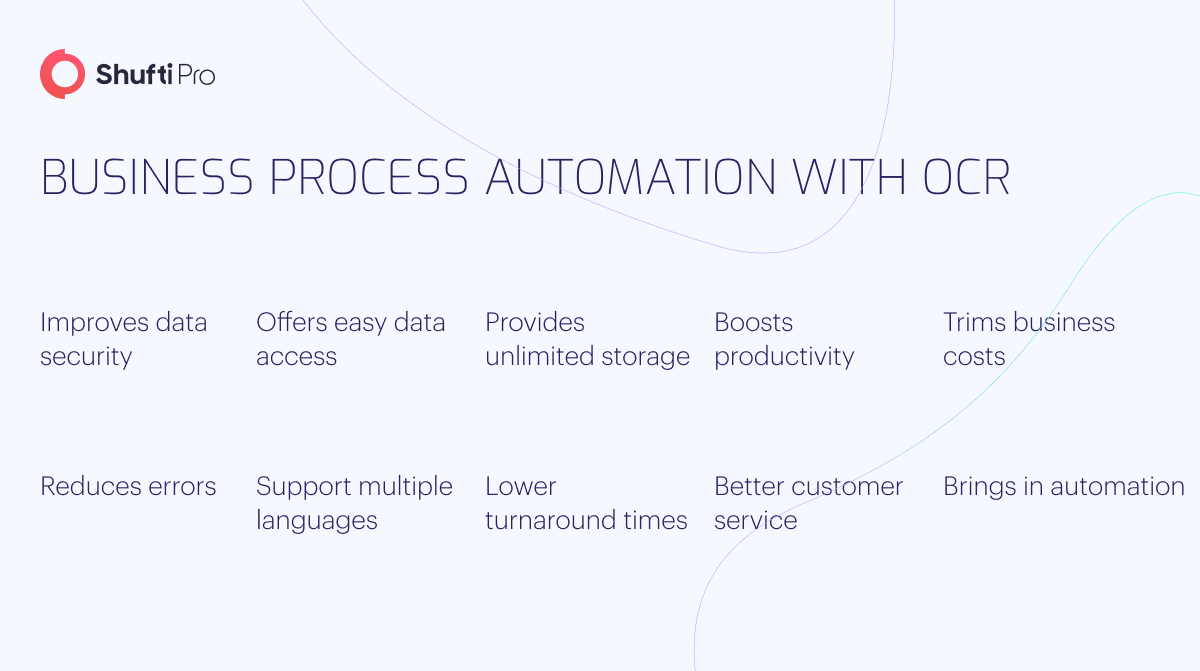 1. Improves Data Security
Paper documents have an extremely low shelf life. Additionally, they cannot be found once tangible copies are lost.
But, OCR technology aids in meeting compliance requirements and removing risks that could harm the company. 
Almost 15 million customer records were exposed through data breaches during the third quarter of 2022 which is alarming. With OCR, the possibility of theft and document tampering or manipulation is eliminated.
2. Offers Easy Data Access
Searching through a pile of papers can be a daunting experience. What if you could type in your search query and find the exact document you needed within seconds? That's the power of OCR. Regardless of your database size, OCR helps you access content without obstacles.
No matter where a person is, they can quickly look up phone numbers, locations, names, and other details with OCR's assistance.
3. Scale as You Grow
Saving the company's sensitive information in paper documents is worthless because they are more likely to be stolen, lost, or damaged. Other than this, paper documents require a lot of space, which is expensive.
OCR eliminates the problem of limited storage by converting and storing documents in an easy-to-accessible digital format.
4. Boosts Productivity
Data input by hand is monotonous. It frequently has an impact on both overall performance and well-being.
However, OCR, which allows automation, can take the place of these taxing manual procedures.
Investment in an OCR system unquestionably improves attention and productivity at work, mainly if the task involves managing hundreds of paper documents every day.
5. Trims Business Cost
OCR eases the financial strain on your business. For instance, if the company is just getting off the ground, it will only need to hire part-time staff to handle the backlog of paperwork.
Scanned documents eliminate the need for paper, reducing the cost of copying, printing, and sharing files.
6. Reduces Errors
Anyone can make errors, forget to include important information, and file documents incorrectly. OCR software, though, spares the business from such tribulations.
OCR translates all papers accurately rather than manually labelling and indexing each one. Employees spend a lot less time on paperwork, which allows them to concentrate on other tasks.
7. Supports Multiple Languages
Although English remains the most popular language for communication, other languages have gradually gained momentum. As of this date, there are over 17% of Spanish speakers in the US alone.
Adding to this, Dutch, French and other European languages are now making their way to the internet as more and more content is produced locally. OCR now supports multiple languages, making it easy for companies to retain their clients.
OCR detects text in photographs, determines the language, and then translates in accordance with user preferences.
8. Lower Turnaround Times
A lot of the data that is frequently used repeatedly is really bothersome because the worker has to type the same information again and again.
They can save time using automation-OCR.
With the help of this innovative data capture system, businesses can automate all everyday document management, do away with manual operations, and save up to 80% of their time.
A further benefit of OCR is that it makes form-filling a breeze. OCR finds data in documents and preserves it, allowing the workforce to complete forms or send an email in the future quickly.
9. Better Customer Service
OCR allows companies to swiftly access and retrieve consumer information in order to respond to their questions right away. Customers will wait for less, which will eventually result in a pleasant customer experience.
10. Brings in Automation
The primary benefit of OCR is automation; it does the overdue data entry jobs automatically, thus removing the possibility of human error.
These seemingly insignificant mistakes could have significant repercussions, particularly for procedures and organisations handling sensitive data or those that face severe fines for errors, such as the financial services and pharmaceutical industries.
The risk associated with the human entry is eliminated, and workflows become far more effective and scalable when AI-powered OCR is incorporated.
OCR- Use Cases in Different Sectors
Financial Sector:

Banks and other financial firms rely on OCR to reduce

fraud

and increase accuracy. Moreover, the technology simplifies data management, boosts security, and enhances client satisfaction.
Legal Industry:

Legal and government sectors are tasked with managing the records of millions of people, so they need an OCR scanner directly. OCR technology is facilitating simpler data searches, registrations, and voting.
Travel Sector:

Many hotels and airports count on OCR software for security reasons. The technology improves efficiency and guarantees that consumers quickly get their passports checked. It stands out because it does away with human error.
Food Industry:

OCR technology is also changing how the food industry operates. It benefits the sector in various ways, including enhancing production, accelerating reaction times, and streamlining products.
Healthcare Sector:

OCR technology contributes to the rapid evolution of the healthcare sector. Medical staff, including doctors, nurses, and certain other healthcare practitioners, can now access the data, make recommendations, and write prescriptions.
Want to Automate Your Business? Let Shufti Pro Do the Job!
Is your firm planning to do away with paper and become fully automated? Well, Shufti Pro's OCR technology can do business for you.
Businesses and organisations can make use of Shufti Pro's OCR data scanner if they intend to stop using paper documents. Shufti Pro helps firms automate their data extraction with quick real-time results.
The banking sector, e-commerce, digital payment systems, and others can employ OCR technology to extract customer data from any sort of document in under a second.
Still confused? Contact our specialists to discover everything about OCR for business.