BEFORE YOU GO...
Check how Shufti Pro can verify your customers within seconds
Request Demo
No thanks
In the last thirteen years, the crypto industry has redefined the financial sector. At the same time, they have also completely transformed money laundering. Despite the anonymity factor and high volatility across global markets, millions of customers are still accessing digital currencies. As a result, governments, regulatory authorities, and financial institutions are exploring ways to centralise the exchanges into the legal, financial ecosystem. This movement has created a rigid set of customer verification and transaction monitoring laws that are becoming essential for crypto exchanges.
According to the FTC, since 2021, approximately 46,000 victims have reported losing over a billion dollars worth of cryptocurrencies to fraudsters through various criminal activities. This is because cryptocurrencies are based on cryptography and secured on blockchains, transactions remain anonymous and usually take place within seconds, facilitating money launderers and terrorist financiers to evade conventional regulatory controls. 
As the cryptocurrency industry is experiencing an increased risk of crimes, it is now more important for the exchanges to meet compliance and fulfil social responsibility. Remaining compliant with regulations is the only yet best solution to secure the crypto industry.
KYC Checks for the Cryptocurrency Industry | Explained
The intent of KYC compliance is to assess, limit, and deter the risk of identity fraud along with an array of other crimes. KYC assists crypto exchanges in collecting and verifying customers' personally identifiable information whilst screening and monitoring their activities on a daily basis. KYC Verification is mandatory in multiple cases, including new account openings, making investments, onboarding, and much more. These measures include different types of due diligence to gather or request customers for proof of identity, such as government-issued verification documents.
However, this implies that crypto regulations parallel that of banking – which is not the case currently, some of the exchanges have a stand against the rules, arguing that the data collection may impact the fundamental principle of cryptocurrencies – decentralisation. Shifting focus to the other side of the debate, there lies compliant exchanges that require customers to provide identity verification documents and additional necessary information when creating accounts but allows them to initiate trading or transaction before verifying their true identities –  KYC checks are only practised when something suspicious occurs.
However, despite many attempts to circumvent KYC checks for crypto, the growing demand for digital currencies and more mainstream appeal guarantee that KYC compliance for crypto will not only expand but also increase regulatory enforcement.
Suggested Read: https://shuftipro.com/blog/crypto-kyc-a-growing-need-for-industry-regulation/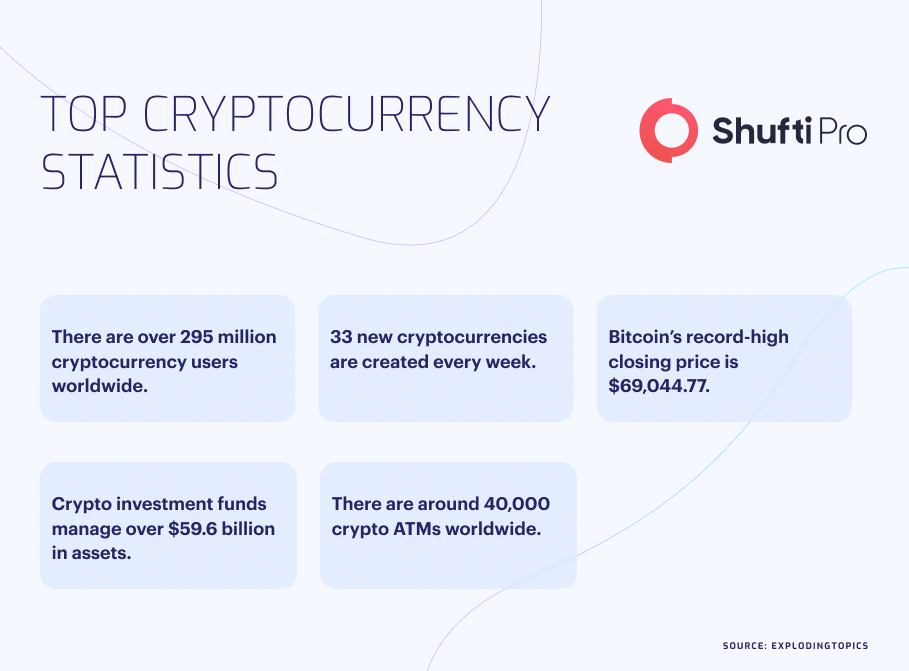 Crypto KYC Checks Online and Liberty Reserve: A Nightmare
Know Your Customer (KYC) compliance and the fall of Liberty Reserve are closely tied together. The firm enabled customers to transfer funds with minimal or no KYC checks and oversight, due to which the company became popular amongst criminals and money launderers looking to exploit in-house KYC controls to launder money.
In 2013, the US government formed a  task force that investigated and shut down Liberty Reserve's operations as the company was found to launder $6 billion in proceeds of crimes.  Later, in 2016, the founder of Liberty Reserve pleaded guilty to setting up and running a money laundering firm through which another $250 million was laundered. This high-profile money laundering case involving crypto exchange highlighted the dire need for KYC checks in the crypto space,  whilst putting the industry under increased scrutiny and regulatory oversight.
The Geography of Crypto Operations and Regulations
In many countries and jurisdictions, it's not legal for cryptocurrency exchanges to operate without KYC compliance. For instance, European Member countries and the United States are prominent hubs for cryptocurrencies but, at the same time, are significantly regulated. 
The United States has been actively developing a cryptocurrency regulatory framework. According to the framework, cryptocurrency exchanges operating in the US need to comply with the BSA obligations whilst registering them with FinCEN.
To meet compliance and overcome the risk of crimes, businesses must verify their customers' identities. Besides these, the IRS is also one of the key authorities enforcing verification in the country's crypto industry, mandating them to report clients' crypto earnings exceeding $600 as income. 
Other than this, the Securities and Exchange Commission (SEC) has also increased crackdowns and investigations of initial coin offerings (ICOs), aiming to regulate the token under securities regulations. The Office of the Comptroller of the Currency (OCC) has also authorised local banks to offer customers digital currency custody services whilst the regulatory authorities continue to work to classify further and monitor cryptocurrency activities.
Similarly, the EU has also taken significant steps to standardise crypto regulations across its member states. The EU developed multiple directives, including the Fifth and Sixth Money Laundering Directives, mandating cryptocurrency exchanges to comply with anti-money laundering and know your customer compliance. Further, the proposed Markets in Crypto-Assets Regulation (MiCA) also seeks to provide exchanges with a comprehensive fraud prevention framework for digital currencies, aiming to secure the crypto ecosystem. In addition to this, regulatory authorities devised two new provisions in June 2022, including, the travel rule mandates cryptocurrency exchanges and service providers to conduct proper due diligence to gather personally identifiable information about the customers and the beneficiaries to ensure traceability.
Asia, having various approaches to regulating the crypto industry, is becoming a hub of crypto activities. Asian countries, like Japan and Singapore, have put rigid KYC and AML frameworks for the crypto sector that encourage operations whilst securing the interest of both customers and exchanges. Besides this, China has enforced strict regulations, including bans on ICOs and crypto exchanges, yet at the same time exploring ways to come up with central bank digital currencies (CBDCs)
The United Arab Emirates (UAE) is one of the fastest-growing crypto markets worldwide, with a crypto-friendly regulatory regime. The country's Securities and Commodities Authority is reportedly in the final stages of finalising the crypto regulation whilst also preparing for federal licenses. The Emirate of Dubai is one of the early adopters that have established the Virtual Assets Regulatory Authority (VARA), which has already legislated its version – Virtual Assets and Related Activities Regulations 2023.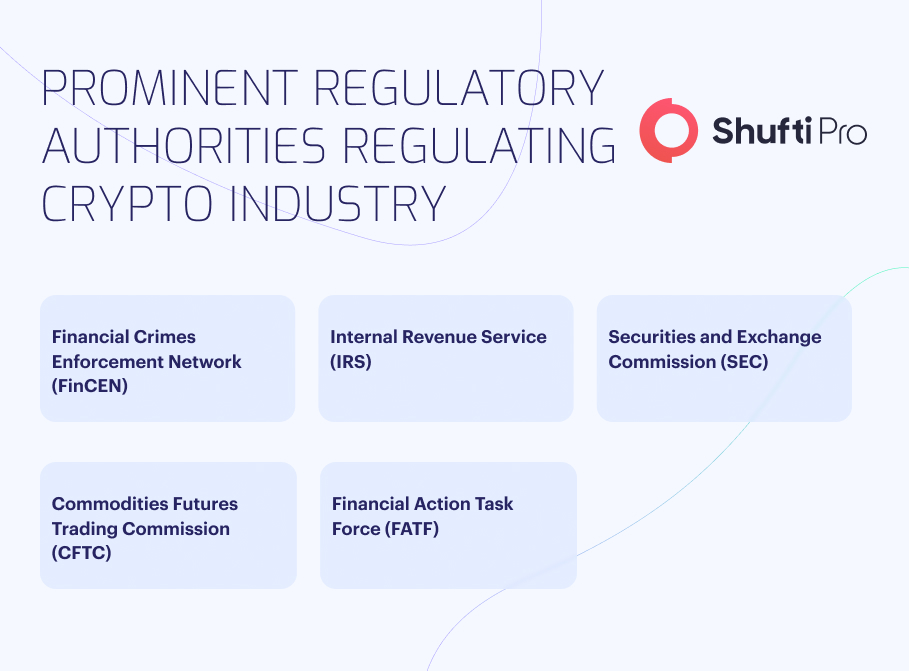 Building a Secure Crypto Ecosystem with Shufti Pro
Know your customer requires crypto exchanges to develop a risk-based approach to collect, analyse, and manage customers' information as well as maintain records of their digital transactions. To accomplish regulatory excellence, crypto exchanges, and platforms need to integrate automated KYC solutions that can help them fast-track onboarding and due diligence processes whilst eliminating the risk of crimes.
Shufti Pro, a pioneer in providing robust, fool-proof, and automated KYC screening service providers, offers tailored services for cryptocurrencies, helping them meet compliance, onboarding legitimate customers, enhancing customer experience, and avoiding sanctions. The company offers coverage across 240+ countries and territories with the support of 10,000+ identity document types in more than 150 languages. With Shufti Pro, crypto exchanges can seamlessly screen customers against 1700+ watchlists with 99.77% accuracy within seconds.
Struggling to ensure secure crypto operations, avoid non-compliance fines, and enhance customer experience? Look no further,  Shufti Pro is here for you!