BEFORE YOU GO...
Check how Shufti Pro can verify your customers within seconds
Request Demo
No thanks
Moving documents and files from one format to another is necessary during transactions and business deals. Occasionally, PNG, JPEG, or PDF formats are quite practical for mailing and saving written content, but how is it processed, read, and edited through machine programs?
As businesses are moving to a paper-free world, digitising handwritten content is essential to store the data and make it available when needed. Traditionally, it was done through transcription which was a time-consuming and high-budget task. 
This is where Optical Character Recognition (OCR) steps in, facilitating businesses and individuals in scanning images of handwritten, typed, or printed text and converting it into editable form. It is projected that the global market value of OCR will reach $39,655 million by 2030. 
Benefits of Using Optical Character Recognition 
OCR technology, a step towards digitisation, has many immediate and long-term benefits. Here are six ways in which an OCR enhance the efficiency of businesses in this modern age: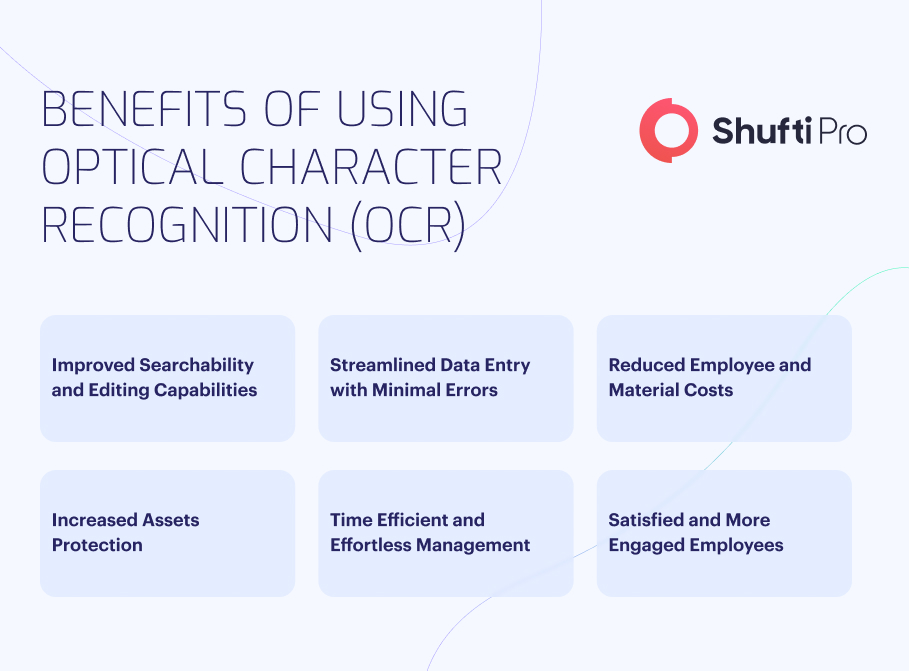 1. Improved Searchability and Editing Capabilities
Searchability is essential when working with piles of data files. One might have an archived report of thousands of pages that contain all the details about the performance of customers or businesses. Finding the details manually and checking every page may take forever. Optical character recognition helps to search the relevant information from those pages using keywords. Gone are the days when people used to transcribe documents as OCR now helps to convert files into HTML, Word, or Excel formats quickly. Then, one can copy-paste data or edit any typos easily. 
2. Streamlined Data Entry with Minimal Errors
Retrieving information from documents manually is time-consuming and prone to human errors. Using OCR software, businesses can cut down costs as they are not required to hire a workforce to fix those mistakes manually, rather saving time for workers to do urgent tasks that need more attention. Furthermore, the probability of making any error is also reduced with OCR. 
3. Reduced Employee and Material Costs
OCR software helps businesses reduce costs in a significant way. As there is less paperwork means fewer employees and fewer training costs. Secondly, as the files are stored in digital versions, there is no need to buy expensive cabinets to store these files.
4. Increased Assets Protection
Natural disasters like theft and fires can destroy the data stored in files or documents. However, saving them in digital format protects customers and businesses from these risks. This is where an OCR solution proves to be a promising solution, protecting companies from different types of malicious attempts and cyberattacks.
5. Time Efficient and Effortless Management
OCR not only facilitates enterprises in converting text into editable form but also helps automate workflows. For example, Document Management System (DMS) is instructed on identifying documents and directing them to respective individuals for processing. This minimises any delay in daily business operations.
6. Satisfied and More Engaged Employees
Data entry is a repetitive and boring task that challenges an employee in an unproductive way. Such tasks not only result in misfiled data but also impact workers' sanity. OCR software does these tasks and as a result, businesses have more satisfied employees who can focus on other projects that require their attention. Moreover, satisfied employees portray the brand's positive image in the market and take it to greater heights.   
Use Cases of OCR
From extracting information from documents to automating business workflows, OCR is helping companies in their daily operations. Here is how:
Number Plate Recognition:

Optical character recognition software analyses number plates and retrieves information like state names and registration numbers from them.

Barcode Scanning:

Computers can scan barcodes on items/products and extract data from them using OCR.

Verification Purposes:

OCR

is used to check the authenticity of visas, passports, and other travel documents. It also checks that the legal documents like contracts and agreements are accurate and legible before sending them to clients.

Recognising Store Labels:

OCR is a great bet for different stores as it reads their product labels automatically and compares them with the catalogues of that item to check out-of-stock items, products that are currently on shelves, or stockroom errors.

Data Entry Automation:

OCR helps businesses automate data entry into databases.

Reading Traffic Lights:

OCR software is also used to read what colours are on the traffic light colours.

Insurance Claims Processing:

OCR machine learning scans paperwork and authenticates signatures, addresses, dates, and other details of customers who have filed complaints for the damage done by disasters like fires or theft.

Reading Utility Metres:

Utility stores or businesses use OCR software to read gas, electric, and water metres so that they can charge customers with valid bill amounts.

Medical Drug Labels:

Pharmacies use OCR checks to extract meaningful details from medical drug labels to help computer systems study and process them.

Social Media Monitoring:

Businesses use an OCR solution to identify and categorise mentions of their brand in different tweets, social media posts, and even Facebook updates.
Where Shufti Pro Steps in
For businesses who want to go paper-free and contribute to a sustainable future with minimal investment, Shufti Pro is their go-to option. 
Here is what Shufti Pro's OCR solution brings to the table:
Simple API integration 

Instant image-to-text data extraction

Scanning for structured and unstructured documents

Global coverage for 150+ languages

Unbeatable accuracy of 99+%
Want to automate your data extraction process?