BEFORE YOU GO...
Check how Shufti Pro can verify your customers within seconds
Request Demo
No thanks
Document verification is the most important stage when it comes to doing online business, getting admission to educational institutions, or applying for immigration. All these sectors use various techniques to verify their customers' identities through intelligent document processing while keeping a record of them. Especially after the introduction of digital services, online document verification has taken considerable importance, urging businesses to find compatible authentication solutions. Although emerging technologies have provided the most innovative methods of checking identity documents, criminals are also using smart techniques to defraud institutions by submitting fake records of verification.
The criminals steal the identities of sophisticated users using confidential details to forge various documents and use them for fraudulent purposes. In the US alone, the losses incurred by scammers grew from $1.2 billion in 2020 to $2.3 billion in 2021. Document fraud is the most prominent reason behind all these increasing crime percentages, and it has become quite crucial to implement stringent regulations countering criminals. Optical Character Recognition (OCR) is one of the advanced techniques through which the document verification process can be made transparent while ensuring users' safety.
Document Fraud and Optical Character Recognition
All financial organizations, particularly banks, insurance companies, and crypto exchanges, are verifying the documents of their users online. Although they have incorporated strict measures, criminals manage to bypass document checks by submitting forged records, further getting involved in corrupt practices. Digital platforms like Walmart, Amazon, Payoneer, and Alibaba also verify the documents of their consumers through traditional document verification services, which is not serving the purpose of halting fraudulent actors. The system is highly in need of some effective solution that cannot only verify the true identities of users and report those who try to manipulate the system.
OCR technology presents the most efficient solution to the issue of document fraud as it carries out ID document verification in the most advanced way. OCR services authenticate the document by instant converting the images into text hence eradicating the chances of passing any forged document. The use of OCR document verification solutions is increasing globally. It is expected that its market will reach $39.6 billion by 2030 which shows that digital companies are investing in it to make their platforms secure for consumers. The business OCR not only authenticates the documents but is also a quick process replacing the traditional and manual methods, which take a lot of time.
The Use of OCR Technology for Businesses
With rapid digitization, the majority of operations are getting shifted to the internet like banking, insurance claims, crypto transactions, and shopping which has further created a lot of need for verification documents processes. Customer onboarding, customer relationship management, compliance, and sales are some prominent operations that are eased by OCR text recognition services. The customers/clients upload their documents on the portal, and the OCR solutions powered by AI algorithms verify the whole record in a matter of a few seconds without leaving no space for fraudsters. So it can be said that the OCR document scanner is playing a crucial role in ensuring Know Your Customer (KYC) compliance for online businesses.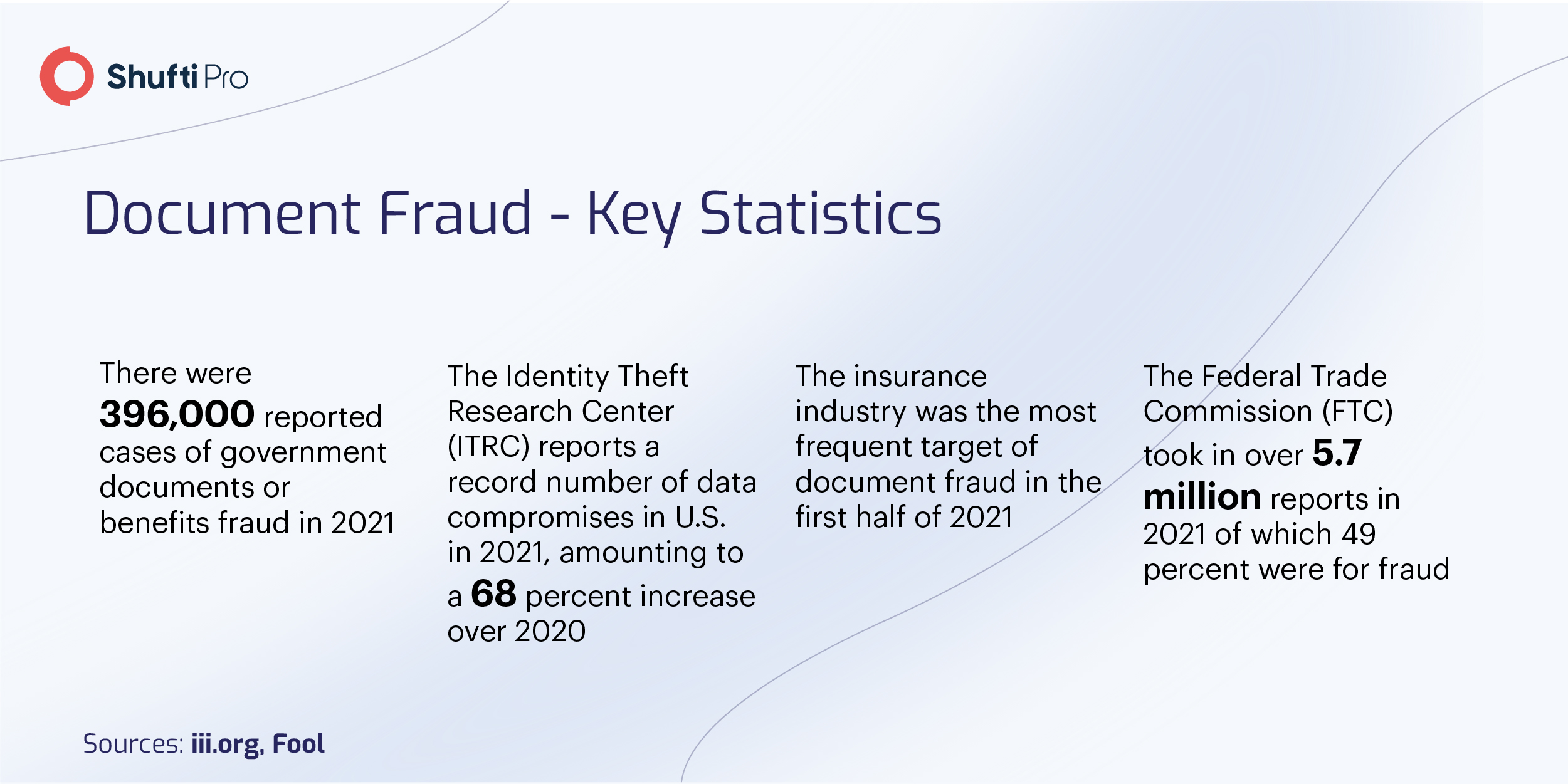 How Law Enforcement Authorities are Working to Fight Document Fraud
All countries are facing the issue of document fraud in some ways, like fake educational records, immigration fraud, and digital fraudulent activities. This is the primary reason that the majority of jurisdictions are legislating stringent laws to curb document forgery and counter criminals to put them behind bars.
Here are some of the high-profile cases which have surfaced in the recent past:
UK Man Jailed for Submitting False Documents to High Court
Law enforcement authorities in the UK arrested a person who was involved in submitting fake documents to High Court to claim the property of his mother. The fraudster makes fake checks and submits them in court to claim £340,248. The court ordered the forensic verification of the document which showed that it is an illicit check with no bank authorization. The criminal has been sentenced to six years in prison and a heft fine has also been imposed on him.
Pennsylvania Man Arrested for Immigration Document Fraud
United States Police have arrested a man in Pennsylvania who was found to be involved in making fake immigration documents and helping illegal migrants to come to the US using illicit records. During the raid, a large number of passports and other electronic devices to make fake documents were captured. Police have mentioned that investigations are going to collect more pieces of evidence against the culprit.

Ensuring KYC Compliance Using OCR Technology
In the highly digitized world, global organizations have almost made it mandatory for the whole digital sector to implement KYC measures to verify the true identities of their users. The KYC documents authentication is the most important part of the screening measures as it gives general information about the customers. Moreover, the OCR text scanner has further eased the operation of document verification as it converts the images into text through advanced features and compares the details of users with the ones in real time. The digital OCR is efficient enough to read the document in multiple languages and provides output in a very short time, reducing the dependence on traditional authentication methods. Currently, there are multiple character recognition apps available which have further provided a lot of ease to the companies. Online OCR is undoubtedly the most efficient and advanced method for record verification, ensuring compliance for digital businesses.
Key Takeaways
Combating identity theft and other financial crimes through an OCR reader is crucial for ensuring verification system transparency. Companies can grow their revenues and secure their reputation by implementing this advanced technology.
Shufti Pro's state-of-the-art OCR technology supports documents in more than 150 languages while extracting text data from the images. The Shufti Pro's document verification solution is efficient enough to authenticate records in a matter of seconds with a ~99% accuracy.
Are you ready to explore more about document verification OCR technology for the digital sector?