BEFORE YOU GO...
Check how Shufti Pro can verify your customers within seconds
Request Demo
No thanks
Financial institutions need to have reliable and efficient data management. With such a system, these businesses can easily organise all customer-relevant information, thus, being able to provide better services. Efficient data management also impacts other sectors and practices, such as ameliorating the more comprehensive identity verification journey.
Many companies are using technologies that provide scanned images of documents. These images lack all the metadata, such as names, dates, and invoice amounts, within the document. These details are then added manually, which consumes a lot of precious time, thus, affecting productivity and customer service. But with the emergence of OCR and ICR technologies, financial firms are now becoming more efficient in servicing customers. However, before a firm invests in implementing these technologies, it's pertinent to understand how they work and how best they can implement them in their existing data management ecosystem. 
What are OCR and ICR?
Optical Character Recognition (OCR) technology was introduced in 1931 when it was used to create a text-to-telegraph device. OCR converts documents into electronic files. The optical character recognition technology works by scanning text images and then translating them into encoded text. 
Intelligent Character Recognition (ICR) emerged in the 1990s as a more intelligent version of OCR. ICR is a specific type of OCR that translates different fonts, including handwritten texts. It is used for retrieving type documents that can be categorised and searched. Meanwhile, ICR is used for recognising handwritten texts that are more complicated for OCR to manage. Apart from this, ICR is a self-learning technology; it can recognise new patterns of handwriting and can also improve data capturing from scanned documents. 
The Benefits of OCR and ICR
Although OCR and ICR technologies have been around for decades, firms still rely on humans for data entry which can result in data errors. According to research from Gartner, companies spend billions of dollars on rekeying data because of a lack of benchmarks that can measure accuracy-effort trade-offs. 
Thus, businesses aren't aware of what benefits they can enjoy by implementing ICR and OCR technologies. Here are a few benefits of both these technologies: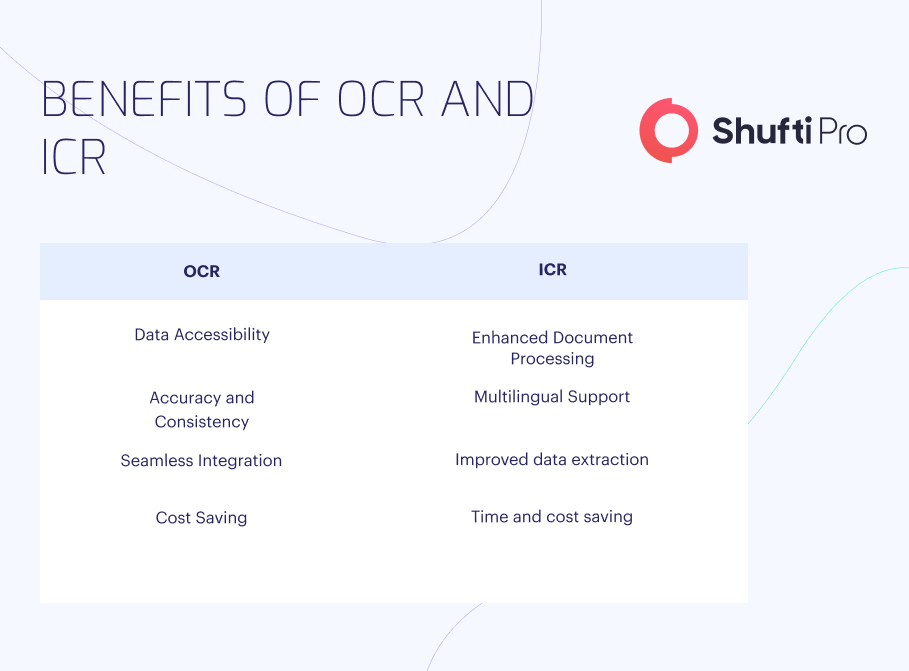 1. OCR
Data Accessibility:

OCR allows for digitising printed and typewritten documents, making the text searchable, editable, and retrievable. This improves data accessibility and enables efficient information retrieval and analysis. For example, Organisations that process recurring invoices can scan these invoices to expedite the process.
 

Accuracy and Consistency:

OCR systems can considerably improve accuracy and consistency compared to manual data entry. Due to this, businesses can minimise errors and ensure the availability of high-quality data. 
Seamless Integration:

OCR technology can seamlessly integrate with existing Document Management Systems (DMS) and other applications, allowing

streamlined workflows

and automated data processing.

Cost Saving: By implementing OCR technology, companies can reduce manual labour and save associated costs with data entry personnel, storage space, and physical document handling.


2. ICR
Enhanced Document Processing:

ICR technology considerably

improves the speed and accuracy

of handwritten text recognition. This way, organisations can process a large volume of handwritten texts without worrying about errors which are far more common in manual data entry. Moreover, ICR is beneficial in industries such as banking and healthcare. Also, government institutions can gain immensely by implementing ICR, where handwritten forms are far more common. 
Multilingual Support:

ICR systems are designed to scan and

convert texts in multiple languages

. Also, they can accommodate various handwriting styles, thus, improving the accessibility of multilingual documents.
Improved Data Extraction:

ICR systems can

extract data

and other elements such as check boxes, tick marks, shapes, and other structured data from handwritten documents. 
Time and Cost Saving:

Compared to OCR, ICR is not required for most companies. However, those businesses that emphasise time and speed of service delivery can significantly reduce their costs and improve their service delivery timing.
Best Practices for Implementing OCR and ICR
When deciding to implement OCR and ICR, it is critical to keep in mind the needs of your business. Businesses must precisely know why they want to use these technologies and what benefits they will get out of them. 
3. Use a High-Quality Data Set
You can only see the benefits of OCR and ICR materialise when you train them using high-quality data. The reason for using a high-quality data set is that handwritten texts are complicated. Therefore, to get the best possible results,  development teams must train OCR and ICR models using deep learning algorithms and computer-vision engines alongside a high-quality data set.
4. Leveraging AI
OCR and ICR capabilities can be truly enhanced by incorporating an AI solution. As AI models can process and analyse vast amounts of data, this can help both models to work efficiently.
5. High-Quality Images Can Make a Difference
Images with unreadable texts can distort the output of both OCR and ICR. Therefore, ensure that you use high-quality legible text. Moreover, you can employ image normalisation techniques, such as applying filters, reducing blur, and properly aligning the document.
How Can Shufti Pro Help?
Shufti Pro's OCR solution leverages AI, machine learning algorithms, and computer vision to extract data even from the most poor quality images and illegible texts. Business owners can streamline their operations and increase productivity with our OCR solution.
Here's why our OCR scanner is for you:
Data Security:

Shufti Pro is a

General Data Protection Regulation

(

GDPR) compliant entity and offers top-notch data security.

Unbeatable Accuracy:

Our OCR technology helps businesses achieve unmatched accuracy of 99.3%.

Data Access:

Businesses can

access and download the retrieved data in pdf, doc, and other formats with our OCR scanner. 

Multiple Document Types:

Our OCR scanner extracts data from various documents, such as passports, utility bills, driving licenses, ID cards, etc.

Effortless Integration: Our OCR scanner offers

simple API integration and supports desktop/web, android and iOS platforms.

Optimised Management:

With our OCR scanner, businesses can automate their daily operations from client registration to invoicing.
Still confused about whether to invest in ICR or OCR technology?