BEFORE YOU GO...
Check how Shufti Pro can verify your customers within seconds
Request Demo
No thanks
Evolving technologies have created a competitive market where every business strives to optimize its operations to the maximum. Digital business platforms face the challenges of dealing with increasing customer demands while meeting regulatory obligations. In the digital space, there is an influx of personal and sensitive data that needs to be secured using technological solutions.
As identity verification is a fundamental part of the Know Your Customer (KYC) compliance measures implemented by banks and financial institutions. In the old days, customers were required to reach out to offices along with their identity documents to get them verified. 
What the Future Holds for OCR
Optical Character Recognition (OCR) allows remote customer onboarding with much more accuracy and guarantees improved turnaround times. Advanced OCR technology not only helps streamline the process at the user end but also helps businesses save the cost and time of investing in manual data entry tasks. Be it the automated extraction of personal details from a scanned version of an identity document or translating a foreign language into English, optical character recognition (OCR) technology checks all the boxes. 
It is nothing short of a miracle that today's digital products are able to convert paper-based information into digital data within a matter of seconds. However, service providers still struggle to stay ahead of the competition with the most accurate solutions in the market. Despite the common perception that digital solutions do not provide the best-in-class efficiency, the latest developments in the form of ICR (Intelligent Character Recognition) prove that this is not the case. Here are some of the reasons why your business needs to incorporate OCR technology into its system.
Time-Efficient
OCR technology assists businesses in reducing manual data handling tasks and significantly cuts down on the chances of mishandling personal data due to human error. In the modern world, large chunks of business data need to be processed every hour of every day. Processing that much information manually is not only tiresome and time-consuming but also compromises the quality of services provided to the customers. OCR technology also enables companies to efficiently collect and verify personal identification information and improves the workflow.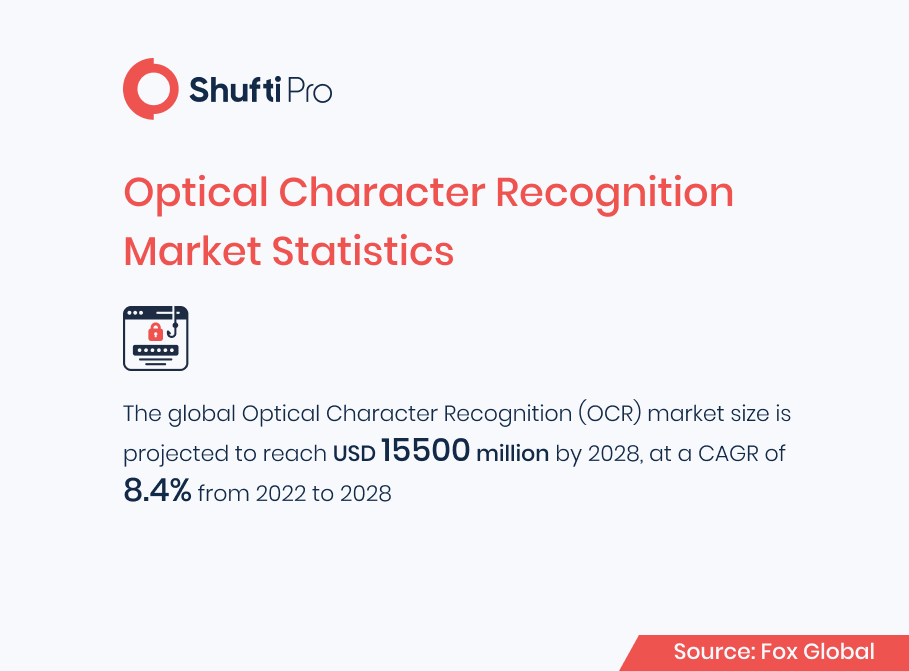 Improved Customer Service
Many companies still have not realized the potential of OCR technology, but it has the power to enhance clients'  experience that helps businesses to retain customers, and gain their loyalty. The customer service department can access their information and can process them in no time using OCR scanners. In addition to this, it also allows businesses to render accurate results from extracted data.
Efficient Translation
As businesses are operating in the digitized world, every one of them requires translation tools to facilitate international customers regardless of the language barrier. However, OCR software is capable of assisting businesses. It not only translates documents written in different languages but also automatedly extracts data and converts them into electronic data.
Improved Security
With the increase in digital services, the number of financial, identity and document frauds are rising immensely. Therefore, for every business, it is crucial to secure their databases and integrate rigid security measures to overcome illicit activities. Thus, state-of-the-art OCR technology-powered tools and software are viable for businesses as they help them to detect and fight fraud by seamlessly extracting data from documents and verifying them against legit templates.
The Future of OCR
As of today, OCR is evolving from the technology used to extract and match information to a technology that is driven by deep learning. The new phase of OCR involves the recognition of scanned text as well as developing an understanding of what it means. As a result, businesses that will implement the most powerful data extraction tools and OCR solutions driven by deep learning algorithms will be far ahead in the market. 
As each industry has its own requirements for document templates, structures, and materials, there is a margin for businesses in every niche to exceed the expectation of their specific clients. The customer-first approach enables businesses to re-evaluate their traditional document verification processes and upgrade their systems with OCR services. The latest advancements in OCR technology are now being used in the payments industry and significantly enhance the accuracy of payments. It is also essential for businesses to adopt technologies driven by artificial intelligence (AI) and scale their respective industries.
OCR Technology for ID Verification
Similar to other sectors, the Know Your Customer (KYC) industry is also benefitting from OCR technology to improve its verification processes. The AI-driven technology proves to be one of the bigger weapons in the identity verification arsenal thanks to a large number of pre-defined templates and machine learning algorithms. Using OCR technology, businesses are able to verify the smallest details like the name, date of birth, social security numbers, addresses, and other details particular to an individual. That's not all – the whole extraction and verification process with Shufti Pro's OCR for business takes less than a second. 
Apart from this, OCR also puts very little pressure on customers by providing the convenience of simply scanning and uploading images of their identity documents. As soon as the image is uploaded on the online platform, the process for verification begins. As there is very little human involvement, the chances of human errors are significantly lowered. 
It's safe to say that OCR technology is a revolutionary AI-enabled technology that is automating the identity verification process to a great extent as it provides the feature of auto-fill in a verification system.
UK-based Shufti Pro is one such provider that offers OCR technology as part of identity verification solutions for businesses. Our ID document verification system is coupled with OCR technology which enables it to extract, and auto-fill all the necessary information from an ID document such as name, document number, nationality, gender, etc. in less than a second. 
What Shufti Pro Offers
Data extraction and processing are part of the most important processes in enterprises throughout the globe. Processing customer data in huge volumes can often become a challenge for online businesses in the finance, banking, insurance, and healthcare sector. 
Shufti Pro's OCR for Business combines artificial intelligence to perform instant image-to-text conversion of paper-based documents into digital PDFs. The solution extracts information from a wide array of documents including handwritten, business records, official letters, invoices, etc. Shufti Pro's OCR has multilingual support of over 150 languages with global coverage. With a remarkable accuracy of more than 90%, online businesses can efficiently optimize their customer data.
Get in touch with our experts and know everything about optical character recognition (OCR) for businesses.