BEFORE YOU GO...
Check how Shufti Pro can verify your customers within seconds
Request Demo
No thanks
October 2022 marks Shufti Pro's 5th anniversary – five successful years of building trust globally with automated and secure customer onboarding solutions. In October 2017, Shahid Hanif, the founder & CTO of Shufti Pro, started with a vision for a fraud-free digital ecosystem in the future, establishing an IDV firm on the principles of authenticity, trust, and transparency. Fast forward five years, Shufti Pro's KYC & AML services have expanded across 230 countries and territories and helped over 700 businesses onboard millions of legitimate clients, preventing tens of thousands of potential fraud attempts, making Shufti Pro a globally trusted IDV platform. 
For the past five years, Shufti Pro has been providing market-leading identity verification services to address remote customer onboarding challenges. Despite various hurdles, we have come a long way to help a diverse set of industries, in particular financial institutions, with AI-native KYC & AML solutions. Aside from being recognised as the "Best Client Onboarding Solution 2022" along with a considerable number of awards in previous years, Shufti Pro has come a long way since its humble beginnings. Keeping the vision in mind, Team Shufti Pro has always been on track, developing innovative features to enhance its KYC suite.  The company has also witnessed 100% growth and expanded globally, launching offices in the US, UK, Sweden, UAE, Cyprus, Hong Kong, and Ukraine.  As increasing digitisation exposed businesses to major security risks, Shufti Pro stayed one step ahead, introducing value-add solutions for risk-scoring potential clients and business partners.
Five-Years of Excellence, Innovation, and Success
Five years ago, Shufti Pro was launched with the aim to build trust between businesses and their clients while empowering organisations to embrace digitisation. Since then, Shufti Pro has been serving the largest industries globally with award-winning KYC & AML solutions. Ensuring a frictionless onboarding experience while eliminating the risk of identity and financial fraud has helped us get global recognition as one of the pioneers in the identity verification industry.
2017 witnessed the launch of Shufti Pro with our fully automated customer onboarding solution. Over the years, well-renowned platforms have recognized our Know Your Customer (KYC) and Anti-Money Laundering (AML) services as the best client onboarding solutions available on the market.  Our CTO and CEO's vision to curb identity and financial fraud has fueled the urge to launch innovative tech-powered solutions in the form of on-premises IDV, Digital Covid Passport Verification, NFC Verification, and the list goes on.  Enjoying a constant presence on the global IDV stage, we are still determined to enhance customer experience, build trust in digital economies, and make online services foolproof with our newly introduced enhanced KYC features, Document Forgery Detection Analysis, Know Your Investor (KYI),  Customer Risk Assessment (CRA) and Customer Risk Scoring (CRS) solutions.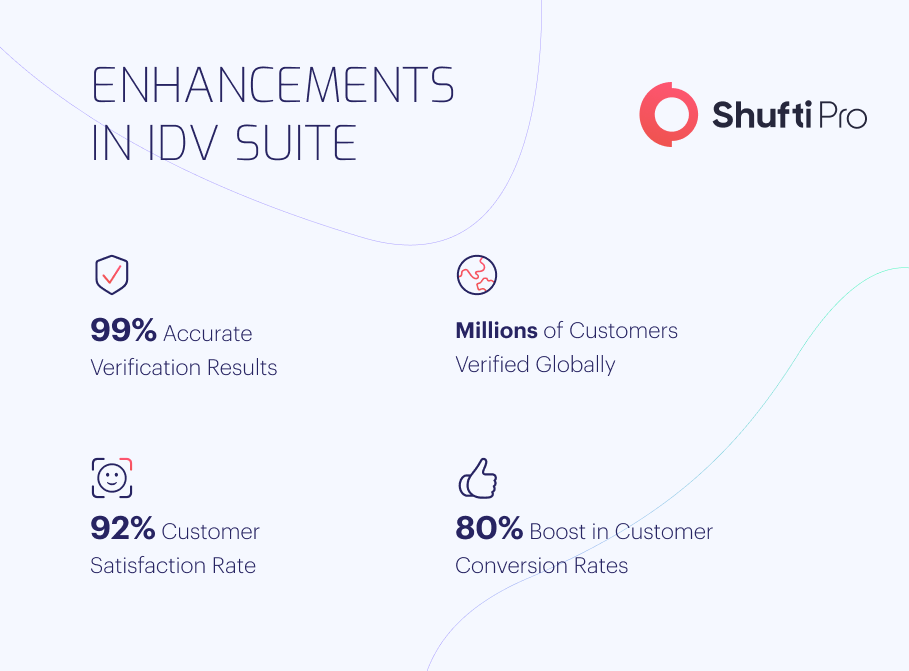 Combining just the right mix of artificial intelligence and human intelligence while enhancing the accuracy of our globally trusted identity verification services, we have empowered 700+ businesses with the state-of-the-art KYC & AML technology they need to eliminate prevailing crimes. We are proud to achieve a 92% customer satisfaction rate and secure the Happiest Customers 2021 award from Crozdesk.
Awards and Achievements 
Our  AI-native IDV suite leverages a hybrid verification model, one that is integrated with sophisticated technologies backed by human expertise, making KYC & AML solutions more robust than ever before. Despite the human intervention, our services are smart enough to provide verification results in a matter of seconds with market-leading accuracy of ~99% in the IDV industry. Due to these numbers, Shufti Pro was named among the World's 100 Most Innovative CyberTech Companies for financial services in 2021 by CyberTech100. 
Our award-winning solutions and technological innovations have enabled us to win a number of awards throughout our 5-year journey. Let's highlight a few of our achievements and awards.
Awards: 
Best Digital Identity Verification Solutions MENA 2022
Best Verification Services Provider MENA 2022
Best Client Onboarding Solution Award 2022
Best Financial Technology Provider UK 2022
New Office: 
Moved to a noteworthy location in the MENA region at the Dubai International Finance Centre
Funding
$20 Million Series A Funding led by Updata Partners
Humanitarian Support to Ukraine
Announced 10 Million Free Verifications to aid agencies in Ukraine 
US Gaming Board Licences
Louisiana Gaming Control Board and West Virginia Lottery Board awarded a Sports Wagering Service provider Licence to Shufti Pro, adding Louisiana and Virginia to our already impressive list of 14 other US states.
What's New in 2022
In our 5th year of innovation, we have launched two new solutions to enhance our KYC platform and ensure top-notch security for our clients.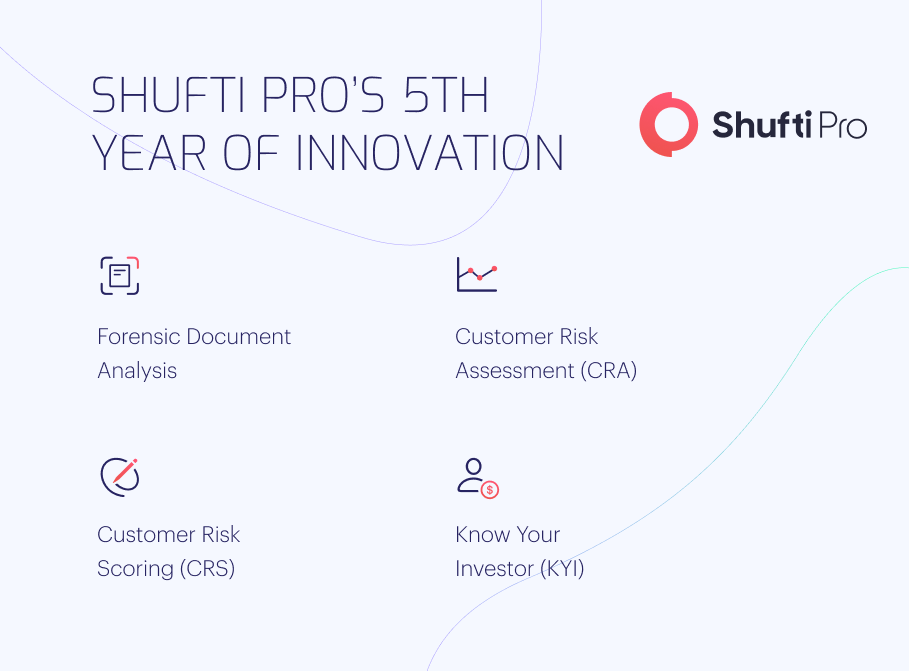 Forensic Document Verification
In this digitised world, data scraping and photo editing software are making it easier for fraudsters to forge government-issued documents to manipulate security systems. There were 1,862 data breaches in 2021, a 68% increase from 2020 and an all-time high, resulting in a loss of €1.3B EUR.  That's not all, document fraud costs businesses and customers billions of dollars annually, including regulatory fines and sanctions.
Keeping these severe consequences in mind, Shufti Pro has emerged with robust and foolproof document forgery detection services that are powered by a sophisticated AI model, loaded with innovative features including handwriting verifications, UV rays analysis, microscopic examinations, infrared imaging, and OCR to eliminate the risk of document forgery in a matter of seconds with ~99% accuracy.
Know Your Investor (KYI) Services
​​In the US alone, 2.8 million consumers filed reports of investment fraud in 2021, losing more than $5.8 billion. Another 1.4 million Americans complained of being the victim of identity theft on different investment platforms, raising further concerns for investors. Thus, investment firms have to deal with financial fraud and implement measures to counter serious crimes like money laundering using multiple investment schemes.
With Shufti Pro's Know Your Investor service, organizations can unveil the real identity of investors, verify their corporate documents, and pin-point associated potential financial risks. Businesses can onboard legitimate customers seamlessly while ensuring they don't regret the money obtained from investors. 
Customer Risk Assessment (CRA) and Customer Risk Scoring (CRS)
As criminals are getting smarter and using sophisticated technologies to defraud businesses, Shufti Pro has introduced Customer Risk Assessment (CRA) and Customer Risk Scoring (CRS) solutions that enable companies to conduct an in-depth risk analysis of potential customers before getting them on board.
By integrating our CRA and CRS services, businesses can run rigid IDV checks using various data points to determine high-risk entities. As a result, risk scoring has never been so comprehensive.  Shufti Pro offers customisable services that suit the interest of global industries while addressing every possible risk factor to safeguard businesses from financial crimes, regulatory sanctions, and reputational damages.
Our CRA and CRS solutions consist of:
Multiple Choice Questions

Short Questions 

Document Verification

Scoring Against Individual Data Points

Customisable Answer Types

Pre and Post-KYC Implementation
The Future is Bright with Shufti Pro
After successfully completing five years while building trust among global businesses, Shufti Pro is still delivering the best and most robust customer onboarding solutions to its clients.  Having said that, our journey has just begun – as we plan to expand our team across different countries and territories to reach out to every community facing the risk of financial or identity fraud.
Each year Shufti Pro's tech experts launch innovative and market-competitive solutions to address sophisticated crimes faced by individuals and businesses in the 21st century. We are not only determined to introduce cutting-edge technologies but also plan to launch new offices so we can serve more businesses than ever before.
Do you have KYC & AML questions that we can answer?