BEFORE YOU GO...
Check how Shufti Pro can verify your customers within seconds
Request Demo
No thanks
Facilitating customers to shop online, anytime and anywhere, eCommerce has revolutionised digital marketplaces according to user preferences. The covid pandemic has accelerated this trend, propelling many companies to start operating virtually to stay afloat. The e-commerce market was worth $14.30 trillion in 2021 globally and is expected to reach $58.74 trillion by 2028. However, the rapid growth comes with challenges including privacy issues, security concerns, and regulatory compliance.
5 Common Types of E-Commerce Fraud
Scammers are leaving no stone unturned to exploit online marketplace for their illicit objectives. With the advancement in technology, they are becoming smarter in perpetrating e-commerce fraud. Here are 5 ways how cybercriminals are committing fraud in the digital marketplace:
1. Payment Fraud
This is one of the most common types of fraud in online marketplaces. Scammers do not always require stolen credit card details to commit payment fraud. However, they also utilise user accounts, email accounts, names, locations, IP addresses, and personal devices to imitate a genuine client and conduct fraudulent transactions. In 2022, eCommerce lost $41 billion globally to digital payment scams and the figure is predicted to reach 4$8 billion by 2023.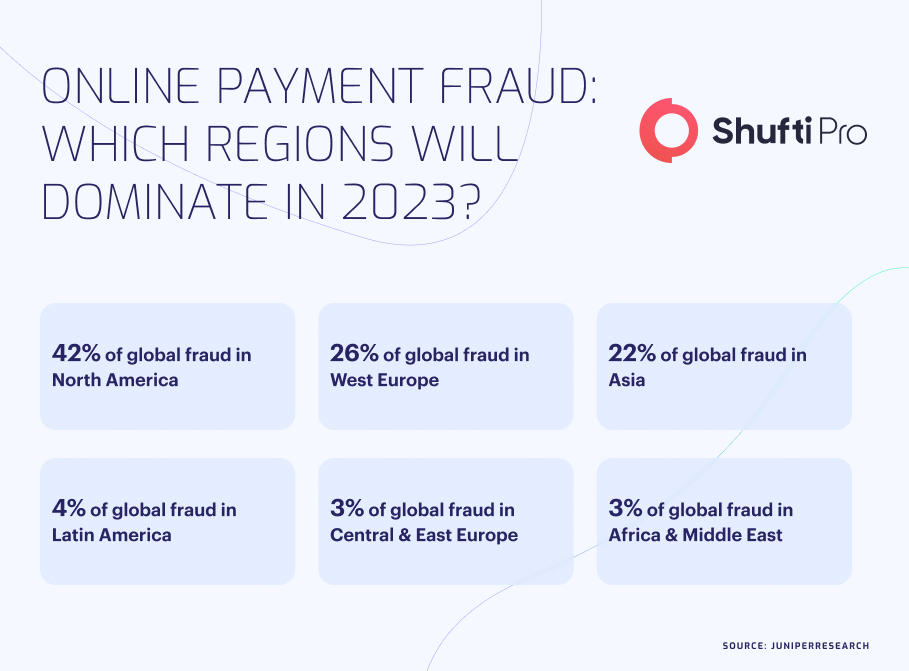 2. Friendly Fraud
In this scam, a client first buys any item from an e-commerce site and then asks their bank for a chargeback, despite getting the ordered service or product. Shoppers become successful in committing friendly fraud by falsely claiming that their goods weren't delivered or were not what they bought. Friendly fraud accounts for 39% of all worldwide scam assaults and is most common in Canada and Australia.
3. Affiliate Fraud
Cybercriminals generate traffic and influence sign-ups to make the digital marketplace believe they are attracting customers who do not exist. For instance, many firms manage or participate in an affiliate marketing program that generates revenue by only sharing content and links. Unfortunately, committing an affiliate scam is as simple as constantly reloading a webpage or flooding users' inboxes with unrequested emails to create a fake impression of considerable traffic.
4. Clean Fraud
This scam is rapidly rising and one of the most dangerous concerns e-commerce businesses are confronting these days. Clean fraud is when an imposter conducts fraudulent transactions that appear to be authorised. Scammers impersonate genuine cardholders using stolen card details. They obtain the information by making cardholders buy from a phoney site, secretly listening to conversations between different transaction participants, or even purchasing the information from the dark web. This scam is becoming problematic for traders as the transaction becomes difficult to recognise.
5. Triangulation Fraud
This fraud is a three-step strategy of attracting customers, compromising their details, and then using the data for a bigger scheme. Scammers make a fake website and attract clients with inexpensive items that either don't exist or are never delivered. When the client pays for the non-existent product, their banking details are exposed.
Red Flags to Watch Out for
How well one can protect their e-commerce business against criminals is determined by how quickly fraudulent efforts can be detected. In short, here are some common red flags to be aware of:
Anomalies in Data:

Watch out for any inconsistencies, such as the city and zip code not matching.

Unusual Shopping Behaviour:

When the cardholder is not a new customer, check their order history for any suspicious activity. For example, if the account holder places an order larger than their typical spending pattern, it's a red flag.

Back-to-back Transactions:

Although one customer can make several purchases, it is also much more likely that a scammer is conducting back-to-back

transactions

with stolen cards.

Unusual Location:

If it's a regular customer, check out their location. For instance, if a client always purchases from an IP address in Portugal but then buys from an IP address in Japan, it might be a scammer.

Repeated Shipping Addresses:

Be cautious if a customer makes multiple transactions with the same credit card and sends the goods to different addresses. In general, one must be suspicious if a client requests the items to be delivered to a different location from the billing address mentioned on the card.
The Need for Strong KYC Regulations in the E-commerce Industry
The surge in fraudulent activities makes KYC regulations a need of the hour in the e-commerce sector to prevent white-collar crimes before they occur. In particular, proper implementation of Know Your Customer (KYC) regulations prevent identity theft, clean fraud, triangulation scam, friendly fraud, affiliate fraud and other fraudulent activities. Not only this, but satisfying KYC regulations will also protect the sector from paying hefty non-compliance fines, boost customer experience, and build a positive brand image. 
Where Does Shufti Pro Step in?
Shufti Pro offers the world's most accurate and fast KYC solution, designed to mitigate the risk of fraudulent activities in e-commerce and other digital platforms. 
Shufti Pro is continuously innovating and enhancing its KYC solution for fraud deterrence. We have just added:
Duplicate account detection

Drag and drop KYC verification journey builder

Flexibility to select different formats of ID documents to be accepted

Tailored iFrame colours and logos for branding

Single Sign-on (SSO) for workers to securely access several corporate channels

Optimised verification journey with minimal clicks and screens

Data retention policy to satisfy data privacy regulations
Still confused about how a KYC solution can keep fraudsters at bay?