BEFORE YOU GO...
Check how Shufti Pro can verify your customers within seconds
Request Demo
No thanks
'Tis the season when the best deals of the year are attracting customers towards online shopping platforms. Simultaneously, scammers are actively looking for loopholes to exploit in order to succeed with their illicit motives.
Cybercriminals are aware that goodwill and distraction are at an all-time high as millions of individuals rush to get the ideal present—preferably at a big discount. Combining these factors makes it simpler to fool customers into falling for fraud.
According to recent data, each victim of an online shopping hoax lost an average of £1,000 at the same time last year.
It's crucial to be aware of frequent Christmas scams and how to avoid falling victim to them.
5 Scams to be Aware of This Holiday Season
It's time to celebrate! And sadly, also the time of year when scammers target victims' hard-earned money. The majority of consumers (54%) are worried about falling victim to fraud during the holiday season, an increase of 17% from the previous year.
Discover the most typical fraud occurring at this time of year, and practice caution to keep your money secure.
1. Gift Card Scams
This year, many shoppers are choosing gift cards over tangible objects as gifts due to supply chain issues.
"Scammers love gift cards because they are untraceable, and there's no way to recover the money once a scammer has the card details," says Jenny Grounds, CMO of Cybercrime Support Network.
Common gift card scams involve fraudsters posing as a relative or friend who requires the money for a certain retailer or convincing victims that they must make a payment with a gift card in order to avoid legal trouble.
According to the FTC, one important guideline is to avoid falling victim to scams if someone requests payment in the form of a gift card.
2. Charity Scams
As people try to give back or plan to save money on taxes during the holidays, charitable giving rises—and fraudsters are ready to profit from this.
Charity scams occurring on the internet and even over the telephone are a reality. The FTC claims that scammers would push consumers into giving money or defraud them by thanking them for a payment they had never made. They will also make vague and emotive promises while raising funds, but they won't explain exactly how they plan to use the money.
Never donate money through a gift card, cryptocurrency, or wire transfer. Always do thorough research on any organization before donating.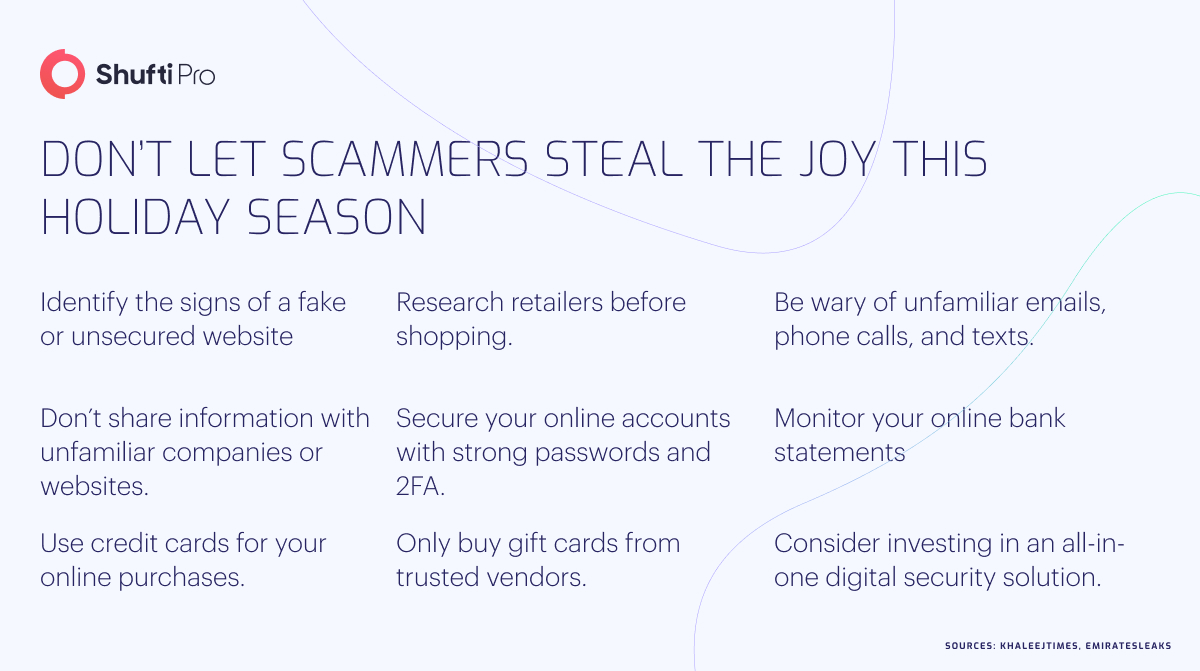 3. Package Delivery Scams
Millions of people have resorted to e-shopping during the Covid-19 pandemic. The majority of shoppers are accustomed to tracking their deliveries digitally or through texts and emails; scammers take advantage of this new practice.
The Federal Communications Commission (FCC) issues a warning about texts and calls posing as delivery notifications. These texts and phone calls have a phony tracking link and appear to be coming from the Postal Service or another reliable mail or package delivery service. 
The link will either direct you to a website where you must enter personal information, or it will download malware, software that allows hackers to access your phone or computer, onto your device. After that, the malware will start taking your data.
Scams involving package delivery could also be in the form of voicemails asking you to return the call in order to pick up your delivery; this call may incur hefty connection costs and exorbitant per-minute rates. Such scams may also demand payment in the form of taxes or customs fees in exchange for delivering an item.
Always proceed with caution if you get a communication concerning an unexpected shipment delivery or delivery delay. One can spot dangerous URLs by looking for words. If in doubt, get in touch with the courier immediately to find out the precise status of your deliveries.
4. Fake Gift Exchanges
Gift exchanges are common over the holidays, both at work and among friends and family. But if one does appear in the social media feeds, users should be aware that it's definitely a hoax.
Each holiday season, a new gift-exchanging trend on social media called "Secret Sister" emerges. By giving one gift, like a bottle of wine or a $10 gift purchased online, members are promised up to 36 gifts in return. It requests your name, location, and details of your friends in order for you to join.
Although giving presents to strangers and "paying it forward" may sound like fun, this is actually a disguised pyramid scheme.
Along with the likelihood that you won't get any presents in return, scammers may occasionally exploit the personal data you provided to add you to fraud lists or, god forbid, steal your identity. If someone notices any of these gift exchange-related social media posts in their newsfeed, they are asked to report them.
5. Temporary Holiday Jobs Scams
Most retailers recruit temporary labour to help during the holidays because it is their busiest season of the year. These jobs can be a terrific way to earn extra money, but fraudsters also target job seekers during the peak hiring season.
There are situations when a job posting will demand that a candidate cover training, application, or employment-related costs. Additionally, they'll guarantee high pay for mundane jobs like stuffing envelopes or taking phone calls. If something seems too wonderful to be true, it most likely is.
When looking for seasonal employment, another cautionary sign to be aware of is seeing job listings that demand free labour from potential employees. Before starting any job, one should always demand an official offer letter and written confirmation of the job's requirements and pay scale.
What Shufti Pro Offers
The holidays are indeed a time of joy and get-togethers. Don't let scammers ruin the festive period by committing fraud or stealing sensitive data. To stay secure during this season, learn how to recognise the red flags of typical holiday fraud.
Also, try Shufti Pro's identity verification solution for more security.
Prevents identity theft, cyber fraud, fake companies, and money laundering

Verify anytime, anywhere, in less than a second

Maintain full control over data and communications

Multi-layered authentication with a one-time installation
Are you willing to learn how Shufti Pro's KYC verification keeps fraudsters away?