BEFORE YOU GO...
Check how Shufti Pro can verify your customers within seconds
Request Demo
No thanks
The emergence of Non-Fungible Tokens (NFTs) has created new investment opportunities for business tycoons and wealthy politicians. It is an entirely new concept that has attracted the attention of all technology giants and is undoubtedly one of the most discussed topics. It all started when in March 2021, artist Mike Winklemann sold one of his art as a digital asset for $69 million. This landmark sale has given rise to a new trend of creating attractive NFTs and selling them into the market for millions of dollars. NFTs are blockchain cryptographic assets that have unique identification codes. Unlike cryptocurrencies, they cannot be traded at the same level, which is the prime reason behind the huge investments pouring into the sector.
The global NFT market in 2021 was valued at $11.3 billion and is expected to reach $231 billion by 2030. The statistics clearly show how fast the NFT marketplace is picking up, which has eventually encouraged criminals to take part in fraudulent activities, particularly money laundering and terrorist financing. It is not more than a decade since NFTs have come into the mainstream, and during this short time, the authorities have remained unable to regularise them properly. Implementing Anti-Money Laundering (AML) measures in the sector is crucial to counter criminals and make it a secure place for investors.
NFT Marketplaces and Money Laundering Concerns
Money laundering has always remained a sensitive issue for global financial watchdogs. Especially after 9/11, law enforcement authorities encountered myriad cases of terrorist involvement in financing their illicit activities through money laundering. Since then, regulatory agencies have tried to enforce AML laws in the financial industry. Banks, insurance companies, art & antiquities, and the real estate sector are the ones that have implemented stringent AML measures which have urged criminals to find alternative options. Although regulated, the NFT marketplace still has a lot of loopholes, making it an attractive option for money launderers. It is estimated that since 2017, over $8 million of illicit funds have been laundered through NFTs, with the numbers expected to rise exponentially in the coming years.
The criminals are using illicit funds to buy digital assets, and due to a lack of laws, companies never ask them about their sources which ultimately lets them convert their illegal money into legit cash. Moreover, the whole marketplace is highly volatile, further aiding the bad actors in manipulating the prices and disguising their original wealth under digital assets. The Financial Action Task Force (FATF) and European Union (EU) have also raised grave concerns about addressing prevailing money laundering, encouraging countries to legislate laws for this crucial sector.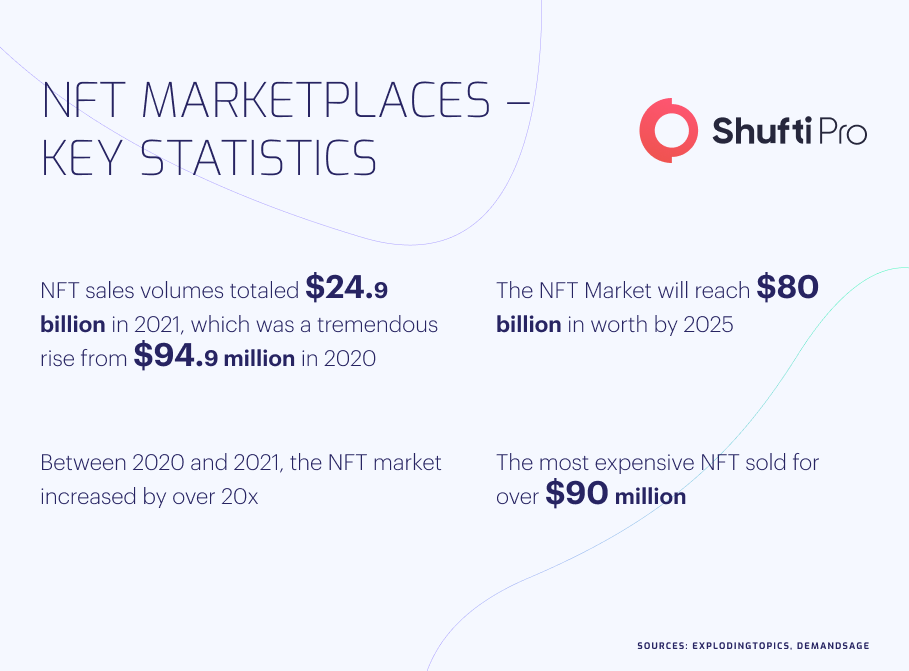 Money Laundering and Role of Law Enforcement in Securing NFTs
Due to the involvement of global financial watchdogs, all the major jurisdictions have taken drastic steps to curb money laundering in NFTs marketplaces. Not only the wealthy business tycoons but several gangs on a smaller scale are found to be involved in this heinous crime, and law enforcement authorities are working tirelessly to bring them under the law.
Here are some of the recent high-profile NFT crime cases observed in the United States:
NFT Sellers Charged in $1 Million Money Laundering Scheme
US law enforcement authorities have arrested two NFT sellers who were involved in selling fake digital assets to users and further laundering illegal money to other countries. Police have revealed that criminals were running a marketing campaign encouraging users to buy NFTs, and after a large number of sales, they shut down their website along with users' digital assets. They managed to collect $1.1 million dollars from their customers and were trying to launder this money through cryptocurrency. Both scammers have been charged in court and are yet to be penalised.
HMRC Seizes NFT in £1.4m Fraud Case
The UK tax authority HM Revenue and Customs (HMRC) has arrested three people for attempting to make a fraudulent transaction of £1.4 million through NFTs. The law enforcement authorities have seized an NFT, and it has been termed to be the first-ever seizure of non-fungible tokens by the UK Police. All the criminals have been charged in court, and investigations are still going on to trace more illicit transactions linked to the case.
Global Regulatory Authorities Monitoring NFT Marketplaces
While the crime percentage in the NFT market is increasing with every passing day, the global regulatory authorities have also started taking the right action against the culprits. The Financial Action Task Force (FATF) and European Union (EU) are the leading bodies which have made a clear stance against prevailing money laundering activities through the NFT marketplace.
FATF's Stance on Money Laundering Threats Posed to NFTs
Since 9/11, FATF is the primary regulatory organisation which has taken drastic steps to curb money laundering and terrorist financing in the economic system. FATF has highlighted the vulnerabilities of NFTs to financial crimes and guided all the Virtual Assets Service Providers (VASPs) to implement s security system based on Enhanced Due Diligence (EDD) measures. Moreover, it has also been made mandatory for the VASPs to get a license from the belonging country and track the financial activities of all their users. The guidance by the FATF is binding for all the member states, and failing to comply with them can even lead to their name being placed on sanctions lists.
The Role of European Union
Members of the European Parliament has vowed to fight money laundering by regulating NFTs, metaverse and the DeFi sector. The finance experts of the EU have asked all the member countries to track the transactions through blockchain and report to law enforcement authorities in case of any suspicious activity.
How NFT Sector can Ensure AML Compliance
Non-Fungible Tokens (NFTs) are actually working through the blockchain, which has a decentralised system, ultimately leaving the authorities to end up losing the criminals. The ideal way to counter the bad actors is through stringent measures during the onboarding. FATF and EU have formed sanctions lists having the record of a large number of money launderers and terrorist finances. The NFT sector should have a system where they can screen customers' data against these lists and identify the criminals while reporting them to law enforcement authorities. Many financial institutions like banks and insurance companies are following the same practice, which has successfully countered bad actors.
What Shufti Pro Offers?
Eradicating money laundering and terrorist financing from the NFT marketplaces is quite crucial, which must be done to secure the platform for sophisticated users. NFTs are here to stay, and steps in the right direction can help the service providers counter criminals.
Shufti Pro's AML screening solution is an ideal option for NFT marketplaces which can help them to meet global anti-money laundering compliance. Powered by an AI algorithm that is getting smarter over time, Shufti Pro's AML solution has access to 1700+ global sanctions lists, and while screening data against them, it generates results in seconds with a ~99% accuracy.
Would you like to explore more about AML solutions for NFT marketplaces?