BEFORE YOU GO...
Check how Shufti Pro can verify your customers within seconds
Request Demo
No thanks
Along with the rise in virtual and remote work, the number of cases of recruitment fraud is increasing at an unprecedented pace, urging authorities to take decisive action against criminals. Due to the pandemic, numerous companies around the world had to layoff employees, which caused setbacks and increased inflation.
Now that the pandemic's effects are diminishing, 97 million new job roles are to be expected by the next year, which will expedite fraudulent practices in the talent acquisition sector. Companies should have their guard up and implement a joint action plan to counter rising recruitment scams to secure their onboarding process.
How do Online Recruiting Scams Work?
The scammers fraudulently use an established company's name, logo and even the details of real employees working in human resource departments to post jobs on recruiting websites or other social media platforms.
Keeping their credentials almost identical to the official company's details, they send emails to job-seekers or post fake jobs. As soon as interested candidates apply, they conduct interviews to get sensitive information about candidates through phone or on-site interviews.
Through fake interviews and phony mobile/email conversations, criminals ask for sensitive personal information, particularly social security number, ID or Driver's License number and bank account details that job seekers often provide, paving the way for identity fraud.
In some cases, the scammers even seek money from the candidates in the name of background checks or certifications which directly cost them financial losses. In the US alone, users lost $86 million due to fake job opportunities posted on the internet.
Spotting the Signs of Recruitment Fraud
Recruitment fraud is the most unfortunate part of modern job hunting, where criminals prey upon candidates' eagerness to find work for their living by creating scam job opportunities.
Here are a few telling signs that can help job seekers spot fraudulent elements during the recruitment process:
Legitimate hiring managers and employers never ask applicants to make any financial transaction in their personal or company account. Always say no to any person or company who is asking you to send money for any recruitment purpose.

Although the majority of companies ask the candidates to provide their personal information, this step usually comes when the recruitment process is near completion. Any person asking for sensitive information like bank account details, social security number, date of birth or other private identity details could be a scammer who must be turned down.

The majority of companies recruit their employees using their official email accounts; rather than contacting the person through common numbers or free online email addresses like gmail. Any job offer/letter from such accounts could be a fake.

Legitimate recruiters always follow a comprehensive plan to get all the relevant information about the candidate. Any person offering you a job without following a standard hiring process should raise suspicions.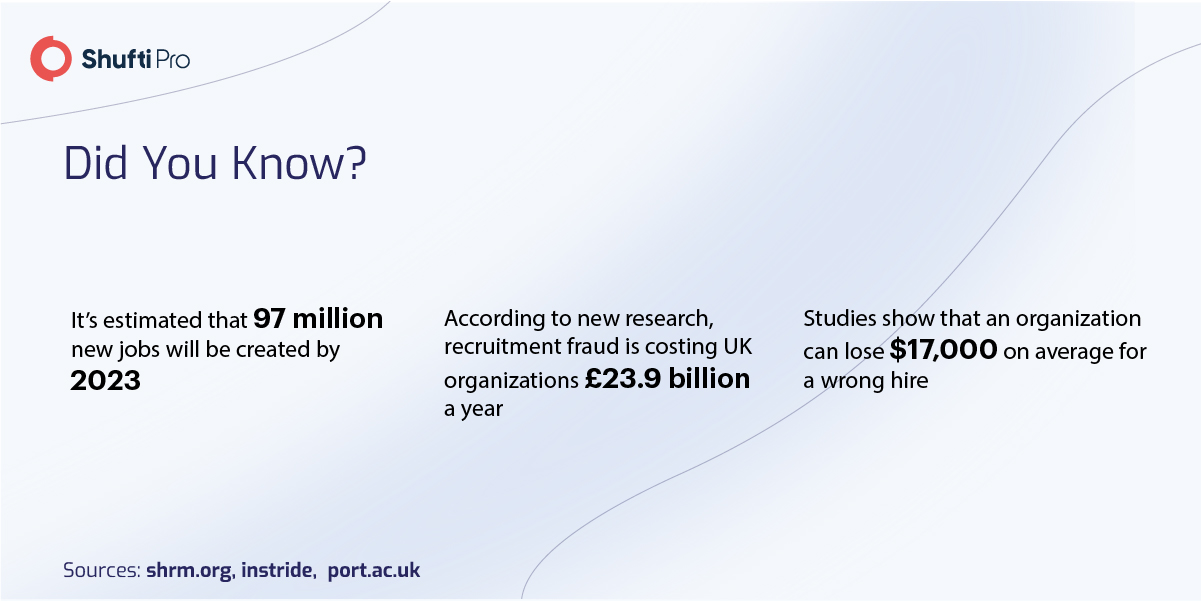 High Profile Criminal Cases of Recruitment Fraud
After the Russian invasion of Ukraine, gas prices ballooned worldwide, increasing inflation and the number of desperate job seekers. Through fake job postings, criminals exploit such individuals and get involved in recruitment fraud.
Several cases of talent acquisition fraud have been witnessed in the recent past encouraging local law enforcement authorities to take firm action against the perpetrators. Let's have a look at some of the high-profile cases:
1. Europol Arrested a Gang Involved in €20 Million Employment Fraud
In 2021, law enforcement authorities of the European Union dismantled a gang which was involved in an employment scam. The criminals were allegedly offering fake jobs in the construction sector to labourers while demanding an initial fee to pay.
It has been estimated that they illegally stole €20 million from people in a few years, urging authorities to take strict action against them after victims filed multiple complaints. The case is still being prosecuted and the penalties are yet to be decided.
2. Hampton Gang Member Convicted for Pandemic Employment Fraud
Law enforcement authorities in the US have arrested a criminal for his involvement in a pandemic-related employment fraud. The Police have also stated that the criminal had a whole gang behind him, and they are trying to prosecute more members connected to this case as well.
As per the investigation, the criminal was taking money from people to get jobs for them by submitting fake documents to various companies. The court has sentenced him to 27 months in jail and vowed to take down the entire gang working behind him.
Talent Acquisition Fraud and the Role of Law Enforcement Authorities
Due to the rising cases of recruitment scams across the globe resulting in financial losses of millions of dollars, law enforcement authorities of various jurisdictions are taking stringent action against criminals.
1. FBI Issued Instructions to Avoid Employment Scam
The Federal Bureau of Investigation (FBI) has warned people to beware of cyber criminals using fake job listings to target applicants' Personally Identifiable Information (PII).
The FBI has instructed citizens and residents to only apply for jobs through official company channels, ignoring any emails, phone calls or messages received through unofficial accounts.
Employment fraud has been termed as a potential crime by the FBI, costing US citizens $59 million in 2020. The authorities have also instructed citizens not to provide any sensitive personal details like bank account information, social security number, or state ID number to any job recruiter through emails or phone calls.
2. UK Government – Raising Awareness of Employment Scams
The UK government has also taken drastic steps to guide their citizens about employment scams and how to avoid them. It has been strongly recommended that people apply for jobs only through official portals or a company's website directly.
In their detailed guidance, the government has also instructed job seekers to verify any email, phone call or message through certain checks, including verifying all details from the company's website.
It has also been shared with employment seekers  not to proceed with any job application asking for money or any other personal details from you.
How Shufti Pro can Help
Through talent acquisition scams, criminals not only defraud job seekers but also damage the reputation of established companies. So it is in a company's best interest to find and implement a credible solution that efficiently mitigates the risks of stolen identity credentials.
Shufti Pro's identity verification solutions provide an ideal option to counter this problem through its advanced identification features such as document authentication, facial recognition and address verification.
Want to learn more about identity verification services for eliminating recruitment fraud?