BEFORE YOU GO...
Check how Shufti Pro can verify your customers within seconds
Request Demo
No thanks
The rise and evolution of social media have completely transformed the way people communicated and made social interactions. Prominent names like Facebook and Twitter are the key driving forces behind the revolutionary change to the way the internet was being used for both personal and business purposes. Social media platforms are the success story of this digital world as far as the number goes. There is no doubt to deny the effectiveness of such online platforms on people's lives, as well as businesses. However, every good thing comes up with some drawbacks and shortcomings, and it's suggested to be quite aware of those loopholes before getting victimized. 
Cybersecurity is one of the critical issues which is directly related to the good or bad impacts of social media networking. The manner that users' privacy was being exploited has also evolved due to phony employment fraud, online trolling, hate speech, cyberbullying and identity theft. Under these schemes, criminals target social media users to get their hands on their personal and financial information. Thus, social media platforms are in dire need of integrating identity verification services into their security systems.
Social Media Platforms – The Prime Targets of Cybercriminals 
Social media platforms are a dream coming true for cybercriminals. Three billion people out of the 40% of the global population are active users of these sites, with a million new users estimated to be onboard each day. However, this increased popularity has crafted new opportunities for criminals to victimize incredibly large numbers of people. However, social media sites are also enabling social engineering scams, providing criminals access to customer data that is then used to make fake profiles to target specific groups and customized fraudulent schemes to make them look more legit.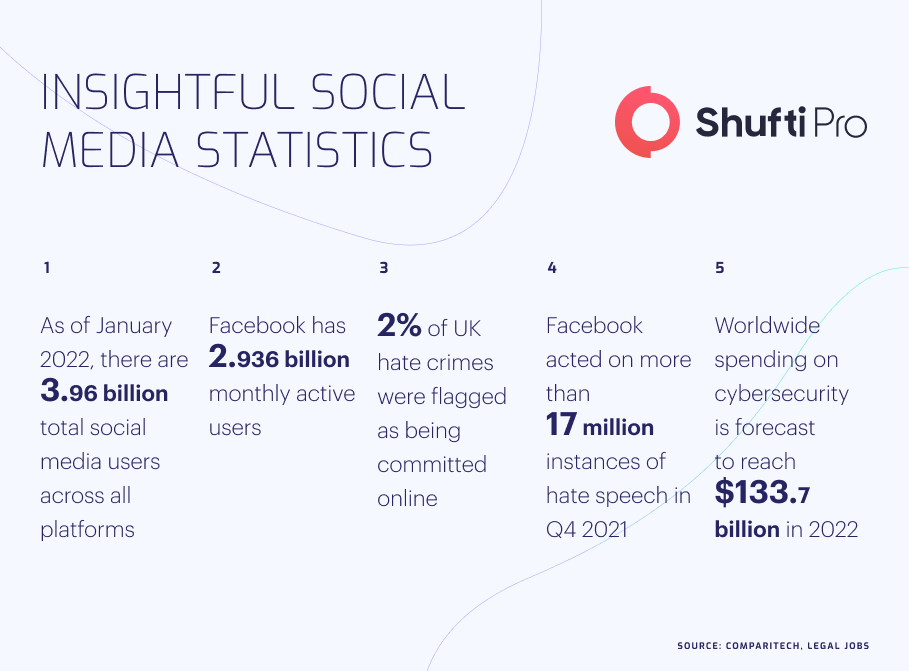 Recent crime studies reveal that identity theft is one of the most prominent ways of scamming people that nearly affects millions of victims a year, costing their money and countless hours in identity recovery or repair. However, the question arises, what causes this? Particularly its the combination of various factors, for example, insufficient customer knowledge regarding online identity rights, growing trust in social media platforms, using online sites to generate revenue, and most importantly lack of regulatory standards.
Additionally, as social media platforms are getting modernized, the working models are getting redefined and are becoming more business-centric. Today's social media platforms are assisting startups, small medium-sized businesses and large enterprises to generate revenue with personalized advertising campaigns, based on Personally Identifiable Information (PII). Additionally, such sites encourage users to provide every bit of PII that can help overcome the risk of identity theft. Yet with minimal regulatory oversight, compliance, privacy and identification measures, customers are exposed to every evolving series of digital crimes. However, social media platforms also have some confidential users onboard and are most likely more vulnerable to internal or external breaches or attacks.
Common Social Media Scams 
The key objective behind manipulating people to gain financial benefits or selling highly sensitive information over the internet. However, their approaches may vary. Most fraudulent schemes fall under three categories;
#1 E-Commerce Scam: Criminals make false business outlets with legit information to make them look genuine. Such online sellers are usually listed on social media platforms such as Facebook Marketplace. Legit customers pay for items, which then turn out to be scams e.g false gift vouchers, substandard goods and much more. In most cases, the promised items never arrive.
#2 Investment Scam: Fraudsters run advertising campaigns, marketing well to be true investment schemes. However, some of them are linked with legit news sources that appear to be a real opportunity. Users that get tempted end up emptying their pockets.
#3 Imposter Scam: in this scheme, criminals usually pose as genuine brands, family or friends in order to gain victims' trust. This further leads them to trick them out to purchase items, send money or intently click on links which contain malware viruses.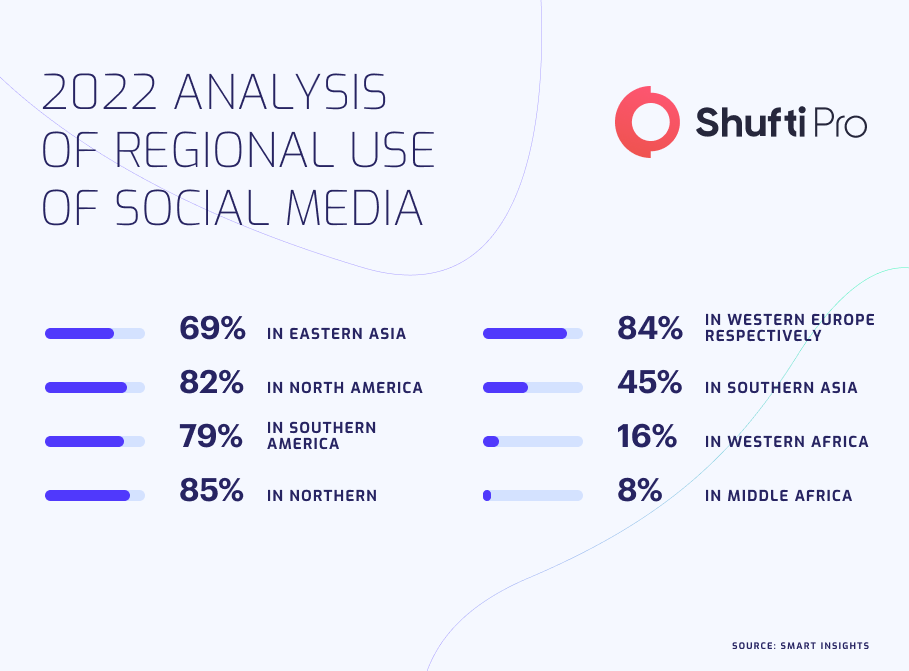 TikTok To Face Legal Challenges for Breaching Child Privacy Policy
Tiktok, the most trending social media platform is facing legal actions for being non-compliant with UK's children protection regulations. The application has been sued by a 12-year-old girl whose identity remains anonymous and is under the protection of England's commissioner for minor protection. However, the girl was provided special anonymity by the court in order to avoid cyberbullying by the users of the application.
The application usually collects sensitive information for advertisement purposes. According to The New York Times reports, this is not the first time Tiktik has been penalized for violating data protection policies. Back in 2019, FTC also imposed a fine of $5.7 million for violating the US minor privacy policy.
Fraudsters Victimizing Whatsapp Users  Under-35s 
Organized crime groups are targeting WhatsApp users under 35 as their prime targets to trick them into transferring money through social networking sites including WhatsApp. According to the sources, the people were particularly hit by scams that played on their trust. However, the UK government recently warned the public regarding the energy bull deal and tax scams that were becoming more common as the cost of living began to rise. Therefore, criminals are playing with this element, and are coming up with false schemes that look legit to make victims tempt. The research also stated that a series of impersonation scams are following over the application that makes victims provide sensitive personal as well as financial information. Additionally, UK Finance also added that con artists were targeting all age groups by exploiting "weaknesses outside of the banking system", through online and social media platforms.
How Shufti Pro Can Help 
Like the financial industry, social media has also become a prime target of cybercriminals. Due to this, users, as well as businesses, are struggling to fight bogus schemes and scams circulating over the internet. Therefore, it is the social platform's owners' social as well as regulatory responsibility to integrate identity verification solutions into their systems to secure their users' information from getting into bad hands.
Shufti Pro's robust identity verification solution is an ideal option for social media platforms as it allows them to comply with the regulatory regime. Powered by thousands of AI models it can also help to identify the true identities with 98.67% accuracy in less than a second, that's not all, Shufti Pro's robust AML background checks screen customers against 1700+ global watch lists.
Want to know more about IDV solutions for social media platforms?