BEFORE YOU GO...
Check how Shufti Pro can verify your customers within seconds
Request Demo
No thanks
The gaming sector has grown exponentially since the first arcade games of the 70s. Surpassing music and TV, the industry is the most profitable sector in the media landscape. The online gambling market is witnessing unprecedented growth worldwide, projected to double from 2016 to over  $94 billion by 2024. However, constant growth and fresh opportunities also open doors for scammers, making Know Your Customer (KYC) verification solutions necessary. 
Understanding KYC in Gaming
The Bank Secrecy Act (BSA), enacted in 1970, established the US's first Anti-Money Laundering (AML) regulations. Initially targetting traditional financial entities such as banks, lenders, insurers, and credit unions, the definition of financial firms has expanded over time. Casinos were included in this category in 1985, encompassing online gaming operators.
The BSA mandates online gaming operators to track user activity and file reports when they observe any unusual activity. This comprises filing Currency Transaction Reports (CTRs) for users making transactions of at least $10,000 in one working day and Suspicious Activity Reports (SARs) when their activities indicate financial crimes. Moreover, online gaming operators should conduct Customer Due Diligence (CDD) before allowing players to place bets.
Gaming firms can ensure their information is handled securely and appropriately by verifying users' personal data. This builds trust between the company and its users, giving a better gaming experience. Moreover, staying compliant with regulations prevents the firms from heavy non-compliance fines.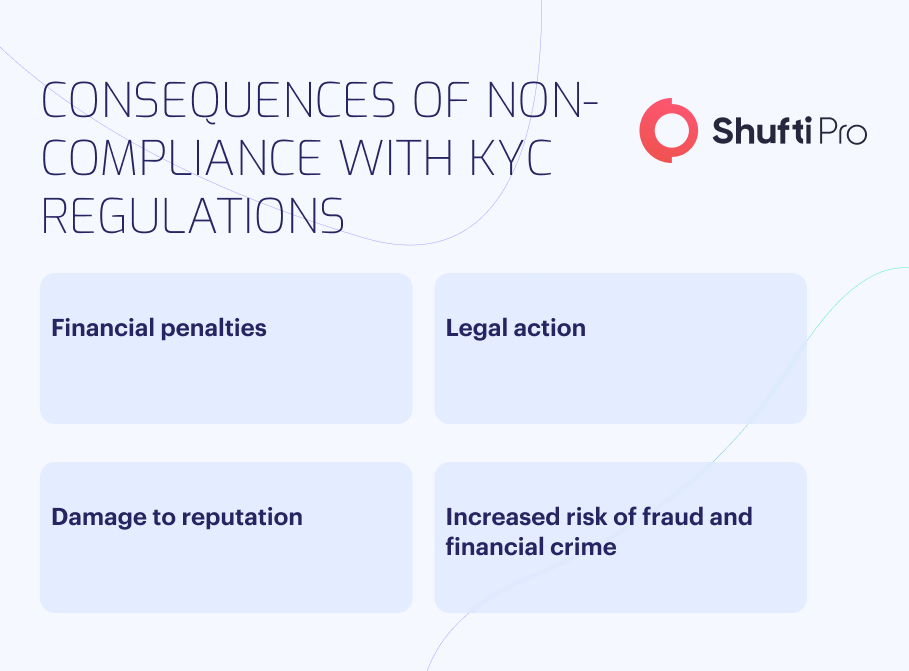 The Implications of Non-Compliance with KYC Regulations
Not abiding by KYC regulations may have significant consequences for companies. The risks of non-compliance include:
Financial Penalties:

Regulatory bodies impose heavy fines on firms that fail to adhere to KYC regulations. Such penalties badly impact a business's bottom line, causing significant monetary losses and even bankruptcy.    

Legal Action:

Firms not adhering to

KYC

regulations may face legal action. This leads to criminal charges or civil lawsuits based on how severe the violation is. Legal actions are costly and time-consuming and may result in additional monetary losses, imprisonment for those involved, and reputational damage.

Damage to Reputation:

Failure to abide by KYC regulations costs businesses fines and damages their reputation in the market. Customers and partners do not trust the firm with a negative image, leading to market share and revenue loss.

Increased Risk of Financial Crime and Fraud:

Businesses that do not have robust KYC processes are at a higher risk of being used for illicit activities. This includes identity theft, data breaches,

money laundering

, terrorist financing, etc. Fraudulent cases do not expose the firm to financial and legal risks, but they also damage the broader economic system and society as a whole.
How to Implement an Effective KYC Approach?
An efficient KYC process is critical for companies operating in different sectors, such as finance, banking, and online gaming. To implement a practical KYC approach, firms  should follow the best practices such as:
Make a Comprehensive KYC Policy:

A thorough KYC policy should outline the specific needs of a particular firm, client identification, verification, and risk assessment process. The policy should be reviewed regularly and updated to meet evolving regulations and changing business requirements. 

Conduct Customer Due Diligence:

Companies must perform thorough customer due diligence checks to identify and authenticate that their customers are who they claim to be. This includes collecting and verifying clients' personal data, such as name, Date of Birth (DoB), address, and other details.

CDD

must also validate the customers' funds' origin and check the legal entities' beneficial ownership.

Use Advanced Technology:

Firms should leverage sophisticated technology, like biometric verification, Machine Learning (ML), and

Artificial Intelligence

(AI), to enhance the efficiency of KYC processes. These technologies help companies automate processes, minimise human errors, and enhance the accuracy and speed of identification and authentication.

Establish Risk-Based Procedures:

With the passage of time, the risk level of a customer may also change. Know your customer procedures must be risk-based and tailored to the risk level of every client. High-risk customers must undergo more thorough verification than those clients who pose a low level of risk to the firm. Moreover, the frequency of ongoing monitoring must depend on the risk level that a client may pose.

Regularly Monitor Client Activity:

Firms should monitor customer activity continuously to identify suspicious behaviour and illegal activities such as money laundering. Firms should monitor transactions, conduct periodic reviews of client data, and perform

Enhanced Due Diligence

(EDD) on high-risk clients.

Provide Regular Staff Training:

Training the workforce involved in KYC procedures is crucial to ensure they are updated with recent laws, regulations, processes, and technologies. This helps enhance the quality of the KYC procedures and reduce the risk of financial penalties.
How Can Shufti Pro Help?
Shufti Pro is a globally recognised IDV solution provider, offering innovative KYC services to 230+ countries and territories and supporting 150+ languages. We conduct  KYC and CDD processes to restrict minors' access to gaming and gambling services illegally. Our KYC services leverage AI and ML technologies to verify identities within seconds with an accuracy rate of more than 99% to mitigate the risk of fraud.  Our KYC solutions offer a secure and friendly user experience, contributing to more than 98.44% end-user happiness and increasing your firm's retention rate. Deploying KYC solutions helps the gaming sector meet the changing regulatory requirements and avoid heavy non-compliance fines. Moreover, our tech team provides a tailored Hosted Verification Page (HVP) to address your firm's technical needs and streamline the implementation process. 
Want to get a customised KYC solution for your gaming business?