BEFORE YOU GO...
Check how Shufti Pro can verify your customers within seconds
Request Demo
No thanks
The travel industry is one of the worst-hit sectors from the coronavirus outbreak, which disturbed the industry's normal order. The traveling businesses faced millions and billions of dollars in financial losses and many individuals' jobs got endangered worldwide, resulting in impacting the global economy. However, once the Covid-19 pandemic situation is under control, it may take months or years for the traveling industry to get back on track.
To assist the industry, the World Travel and Tourism Council is making an effort to put governments and global regulatory authorities to remove traveling restrictions and legislate customer as well as industry-friendly regulations. In addition to this, SaaS companies and Fintechs are also working to emerge with technological innovations to help out travel business in order to revive and stand up again. The role of technology is quite crucial, as it holds significant power to back industry to stay put with regulatory obligations, making traveling journeys seamless, while keeping customers' lives secure. So, here are some of the technological trends that will reshape the traveling industry this year.
Top 10 Technology Trends That Will Reshape the Travel Industry  
1. Augmented Reality and Virtual Reality
The emerging concept of Augmented Reality (AR)  and Virtual Reality (VR) is now becoming mainstream in the travel industry. Many airline companies have tested or are testing VR technology as their premium in-flight entertainment offerings. However, to remain steadfast in the fast-moving market, businesses are hoping to add on more innovative entertainment experiences for customers, including VR games and movies to attract a mass audience. On the other hand, VR technology is now also being used to train cabin crew and provide the wholesome experience of flight for customers before they get onboards. 
First Airlines3 is a Japanese-based company that has created the world's first VR airline hub, which allows customers to put on VR headset and feel the flight experience, including in-flight meals, air hostess announcements, and sounds that mimic an actual flight. Additionally, clients can also experience a 360-degree virtual tour of cities on arrival.
Meanwhile, AR technology is also under consideration. It has been used to assist customers to ensure whether their hand-carrying luggage size is up to mark before they leave their houses and for the flight crew to robustly access customers' information regarding destination or allergies before they get on board on the flight. However, the traveling industry is quite satisfied with these technologies but is hopeful to utilize VR and AR later this year to provide customers with a seamless traveling journey.
2. Video KYC
Despite heaps of challenges, coronavirus came up with, cybercriminals activities like identity theft are also becoming a global concern for the travel industry. However, due to social distancing rules businesses are shifting towards digital spaces, thus online KYC services are now at the forefront to enroll legit customers in real-time while keeping and maintaining their records to overcome crimes. As the traveling industry is also experiencing digitization, adopting online video KYC will be fruitful and would be a helping hand to fight identity fraud and other financial crimes before they happen. 
Shufti Pro's state-of-the-art video KYC services aim to help the traveling industry to bring more convenience for passengers while enhancing user experience and cyber security measures. However, customers just need to follow the guidelines of the automated systems and KYC experts to get them verified before onboarding. In addition to this, the human expert now doesn't need to extract information manually, with OCR technology that requires data automatically extracted and is auto-filled into verification forms. Thus, with Shufti Pro's video KYC solution, traveling businesses can revive their operations seamlessly.
3. AI-Powered Identity Verification Solutions
Due to the rise in criminal activities, the travel industry has to experience lots of severe aftermath in case of data breaches, either financial loss or regulatory sanctions, totally depending on the severity of cybercrime. Other than this, the repute of the business is also badly affected. However, to keep ahead of the fraudsters and overcome any kind of suspicious activity, online identity verification services are considered an ideal solution.
Shufti Pro's automated digital identity verification allows the traveling industry to determine the true identities of passengers before onboarding them. AI-blocked ID verification solution in less than a second differentiate between legit clients and fraudsters, providing businesses peace of mind that their operations are secure.
4. Automating Actions with Voice & Robotics
Voice and robotics technologies are already helping out the traveling industry fight the coronavirus as well as regulatory challenges. Voice technology-powered smart gadgets in hotel rooms are enabling guests to automatically check road/weather conditions, nearby-places recommendations, and much more. For instance, at the Wynn hotel in Las Vegas, customers are allowed to call on Amazon's Alexa to place room-service orders or turn on the lights. In addition to this, airports and bus stations are also experimenting with various types of robots, including self-driving luggage trolleys, automated cleaners, and human-like robots to answer travelers' queries about departure timings and updates on flights.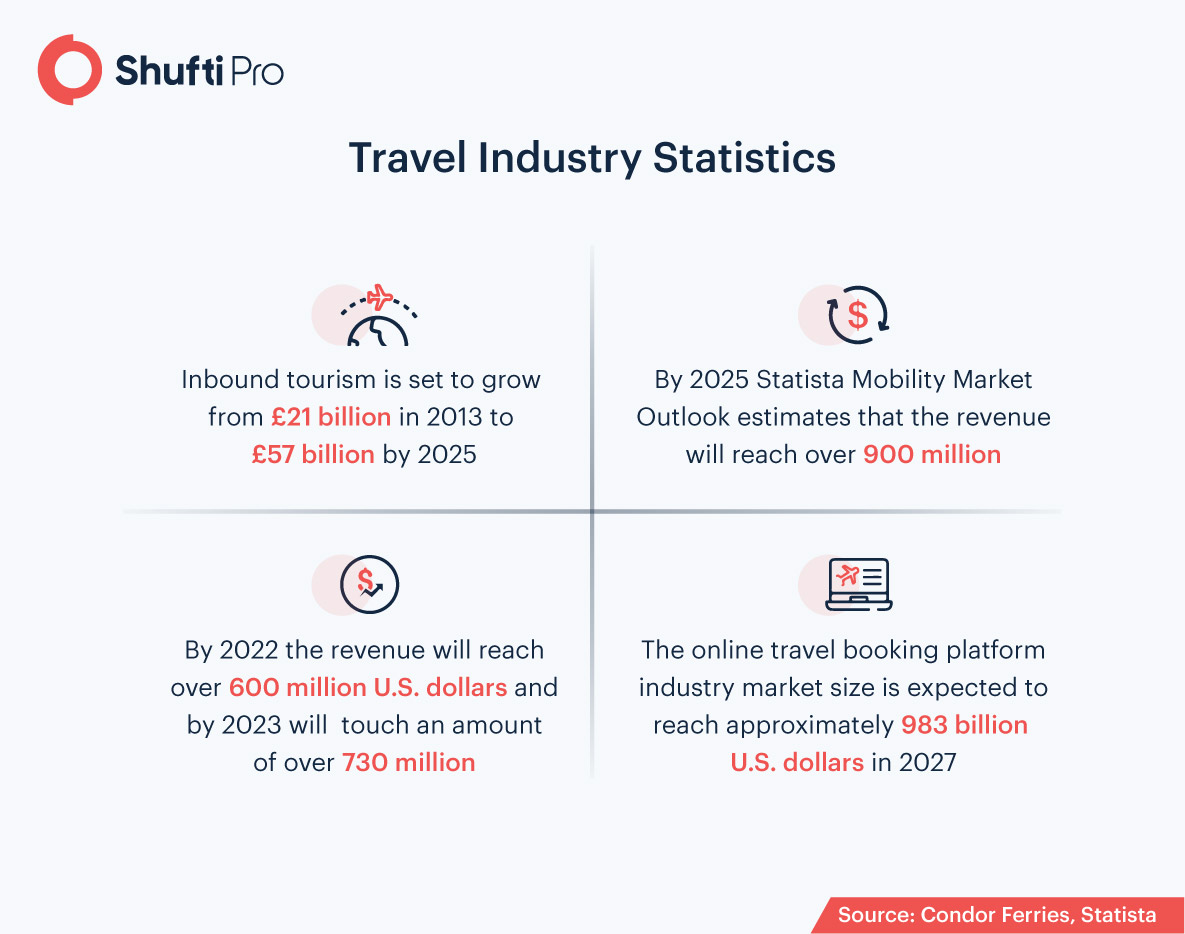 5. Contactless Payments and Self-Check-In
To revive the traveling industry, its dire need of fulfilling the post-covid laws and policies. As social distancing is becoming today's norm, the travel industry needs to come up with contactless payment and self-check services, aimed to secure customers from falling prey to coronavirus. However, these solutions will enable businesses to process transactions robustly and quickly, including in the cases when clients don't have access to paper-money, or their credit cards. It also reduces the verification time as well as enhances the customer experience. On another hand, self-check-in is also becoming mainstream. Without requiring authorization from the staff, passengers can easily gain access to the hotels, all they need to do is verify them from online portals and can just gain access to rooms through smartphones. This way, hotels can secure their employees as well as customers from becoming prone to viruses.
6. AI Chatbot
AI-based chatbots are one of the most crucial travel technology investments every business needs to go for. Through this, companies can provide a 24/7 communication channel for their customers, regardless of staff availability. This small effort can significantly boost the businesses' reliability concerns, as customer loyalty impacts a lot.
However, the current chatbots are developed and trained to answer common queries precisely. Yet, more advancements are in line, to enhance their productivity.
7. Big Data
The traveling industry is quite huge and thus needs to collect a large amount of customer information. However, the gathered data is used to analyze the customer's requirements to improve personalization to attract future clients. For instance, the airline company can compare the internal data like seat occupancy rates with the external data like holidays to forecast the customer flow and demand, this all is done with big data technology.
8. Hassle-free Experience Recognition Technology Systems
Facial, voice, fingerprint, and other types of biometric recognition technologies have been planted at airports and bus stations for security purposes. But now this technology is becoming mainstream in the traveling industry. Customers can now easily check-in into hotels and other tourism spots through just one scan which needs authorization from the designated staff of a key card. Other than the face recognition technology is making the customer experience seamless, holds the power to overcome identity theft cases, and allows companies to verify their customer's identities before getting them on board. Recognition technology-based systems come up with liveness detection and other key checks that make it a viable option for the traveling industry to improve its security measures and curb surging crimes.
9. Personalizing Passenger Journeys with Wearables & IoT
The technology development companies have emerged with heaps of wearables that are enabling customers to get their flights or traveling updates through it as well as utilize them as a boarding pass, making the whole journey seamless. For instance, Disney's MagicBand6 allows the customers to avail services and carry out transactions through the watch. Other than this, the role of IoT technology is also important to transforming the traveling industry. Several airports are now allowing luggage bags that are tagged with the IoT-based sensors, that are connected with the smart wearables, that alert them against their luggage whether someone is opening without consent or any other reasons. Airline cabin crew can also measure their passengers' heart rate and body temperature through IoT sensors to overcome health emergencies.
10. Making Security Seamless with Artificial Intelligence
The role of artificial intelligence in transforming industries and assisting businesses to embrace digitization is quite crucial. For years AI has been used to enhance customer experiences, improve chatbots and incorporate machine learning algorithms in devices to resolve queries robustly. But now this emerging technology is becoming more sophisticated and is integrating into cybersecurity systems as well.  Countries, as well as businesses, are investing millions and billions of dollars in AI  research as well as development programs to secure their operation and reduce the number of crimes in this digital world. 
Final Thoughts
As the coronavirus pandemic situation is getting under control and regulation obligations are becoming less rigid, the travel industry will continue to evolve, so there will be crucial changes this year. With the emergence of new technologies and the development of AI-based online identity verification solutions, the travel industry's operation will completely reshape in the near future. Other than this, the businesses need to closely work with the regulatory authorities to establish an improved set of standards and policies to make the whole traveling experience seamless and secure. Thus, a lot is to be experienced this year.
Want to know more about identity verification services for the travel industry? Get in touch with our experts.