BEFORE YOU GO...
Check how Shufti Pro can verify your customers within seconds
Request Demo
No thanks
Artificial intelligence is becoming a comprehensive and encyclopedic term to describe any innovation in the technology sector that has some sort of similarity with human intelligence. 
Considering it the need of the hour and to have better service delivery, different businesses are opting for AI-powered technologies. AI will completely modify the current business procedures and take them to a next level of operational sustainability and productivity . It is predicted that by 2030 AI will contribute USD 15.7 trillion to the global economy.
AI emerged from a buzzword to the tip of every tongue in recent years due to varying global perspectives on its attributes. In this blog, we will discuss how AI will modify the future of the five major sectors. 
1- Financial Service Providers
The financial industry has been the target of perpetrators for a long time. The worth of  Global losses from payment frauds was USD 32.39 billion in 2020. Bad actors tend to seek financial benefits to carry out malicious intents. They chose multiple ways to disrupt it, from identity theft to account takeover and hacking attacks to spyware. Financial service providers, in particular, have to maintain stringent security measures for protecting customers' data and funds. 
With high-end tools and technologies, criminals are able to replicate original documents using stolen data and synthetically generated information. Through this, they can impersonate someone else during the digital onboarding process. There are different cases where criminals were caught using fake and tampered documents to open accounts in banks. AI helps in combating these types of fraudulent attempts. 
The identity verification process or Know Your Customer now uses AI and ML (Machine Learning) to check the authenticity of government-issued identity documents and verifying the face of the person to combat spoof attacks. With the incorporation of AI and ML, identity thefts can be combated with almost 99% accuracy.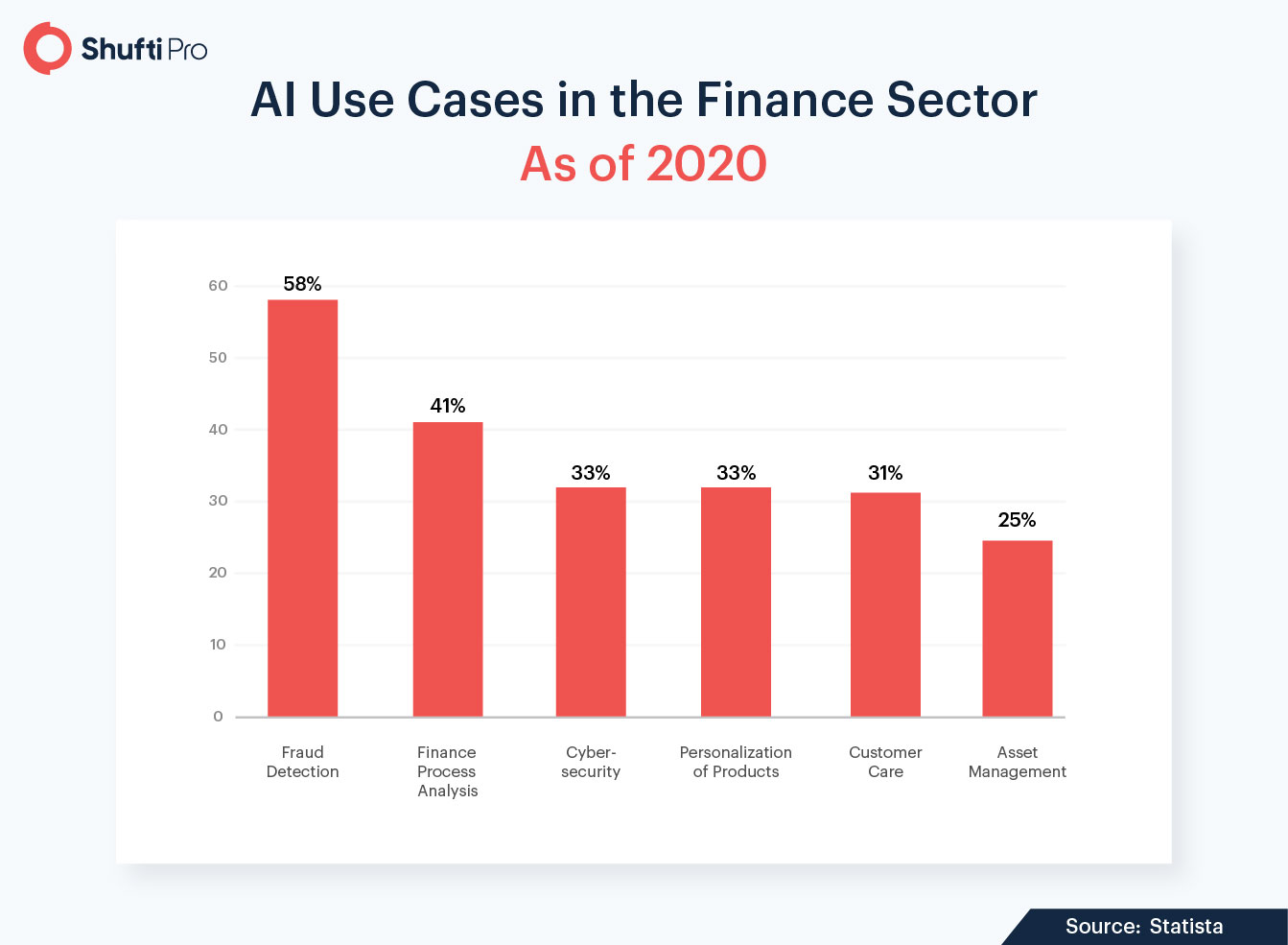 Anti-money laundering softwares use AI to makes the verification and screening process more streamlined;
Maintaining Customer Profiles
Performing KYC effectively assists in having authentic and updated customer data. Through this, businesses will be able to conduct CDD (Customer Due Diligence) efficiently. 
AML software screens the customer names against watchlists, sanction lists,  and PEPs (Politically Exposed Persons). Using these results, the risk level of customers can be analysed more precisely. The software collects data from a wide range of global databases to give the precise risk level for customers.
AML regulations direct businesses to monitor customers' all financial activities (deposits, transfers, and withdrawals). Money laundering transactions have a specific pattern that can't be detected by traditional AML software. On the contrary, AI-drive AML system will analyze the pattern and alert the business about any doubtful transaction. 
2- Ecommerce
It has to move towards artificially intelligent solutions for providing better customer services. It gained much importance during the pandemic as it was one of the sectors that flourished at that time.
The e-commerce industry is constantly facing the challenge of category management. They have to give a customised view for buyers based on interest and need. It is really tough to know what a specific customer wants. AI can help the e-commerce industry to manage the categories and products. AI can predict user interests by analyzing user search queries and social networking sites. Then the online shopping stores can margin their merchandise to the right target. For example, music lovers will not be interested in sports products, they should get a home page containing music players, earphones, and speakers.
The satisfaction level of customers drops when they face trouble searching for a particular product. The e-commerce platforms often sell thousands of products and the service availability is global. It is difficult to load the data from the database and show it. AI can help to predict the searches also known as autocomplete features. It limits the range of products the customer is searching for, ultimately making the data loading faster. AI can also autocorrect the misspelt words, giving ease to the customers while purchasing.
3- Health
Health sector can't be neglected after Covid-19 outbreak. Now, it needs technologically advanced solutions, AI-based essentially. Telemedicine, pharmaceuticals and hospitals are employing AI services, below are some examples.
Offline and physical clinical trials are a mess for the health industry. They are done without any automated solution and progress tracking. It becomes hard to gather data and have the exact information of trial results. Clinical trials done through AI will give the result of a trial without a physical experiment. It can also detect signs of disease and the intensity of pain. 
Pharmaceutical companies can leverage artificial intelligence for the discovery of medicines. It can identify new therapies by analysing databases and previous discovery and trial results. This could enhance the success rate of drug discovery and development and reduce the time of introducing new drugs in the market.
There are certain medicines that pharmacies can't sell without patient verification. AI-backed systems verify the patient information during on-site or online sales. 
4- Travel & Tourism
The travel sector is using artificial intelligence for improving administrative workflows. Deploying AI in their procedures will save time and money of the travel and tourism industry 
Data Processing and Analysis
Human behaviours' analysis is one of the interesting use cases of AI, different businesses use this to draw inclusions about the customers. AI processes and analyses the customers' data for this. Airlines and hotels can employ AI solutions to process the surveys, polls and feedback forms. They can have a picture of customers' opinions. 
Tourists face the problem of language (Vocal and Written) in foreign countries. While visiting restaurants, they might see a menu in an unknown language. AI-powered apps can translate every language into another. These apps use Optical Character Recognition for extracting information from images and papers, even in handwritten form.
5- Logistics
Logistics is more digitized today, but there are still some gaps. These can be filled using AI-driven approaches from supply chain to route planning, AI will completely transform the logistics sector.
Better Supply Chain Management 
The logistics sector has trouble in tracing and tracking parcels, but not any more. AI can keep an eye on numerous parcels 24/7 and also predict the time of delivery. 
AI can give the shortest route for the delivery by studying different maps, weather options and other real-world factors. It will also optimize the cost during selecting destination routes.
How Can Shufti Pro Help? 
Shufti Pro's AI-powered KYC checks the holograms, MRZ code and rainbow prints of the documents to verify their legitimacy. During facial recognition, it confirms the live presence and performs anti-spoof checks. Shufti Pro gives 98.67% accuracy in verifying customer identities and takes only 30 seconds to complete the process. 
AI is the main reason why businesses are investing in new technological solutions like IoT and Blockchain. It has given confidence to the businesses while going for something new. International Data Corporation predicts that investments in AI will be worth USD 110 billion in 2024. This means that businesses are ready to opt for AI in the coming years. 
For more information on AI-powered AML and KYC solutions, get in touch with us.