BEFORE YOU GO...
Check how Shufti Pro can verify your customers within seconds
Request Demo
No thanks
Here at the start of 2021, there is much uncertainty regarding the coronavirus situation, whether it will surge or find its way out. Virtual payments are becoming more common than ever since social distancing has become a need of the hour. Although banks and financial firms have a regulatory infrastructure for digital payments and exchanges, the virtual currency market has a long way to go. 
Since blockchain is widely used in crypto exchanges, it is a potential target for fraudsters due to its anonymous nature. This calls for better rules and regulations which can make the virtual assets market a safer place to perform a business. The FATF's Travel Rule emphasizes the importance of regulating data sharing standards in virtual currency exchanges.
What is the FATF Travel Rule?
The Travel Rule by FATF is an improvement to its recommendation 16, which requires parties in a digital transaction to exchange their identity information. It extends to Virtual Asset Service Providers (VASPs), and other financially obliged entities to ensure AML/CFT requirements are fulfilled properly.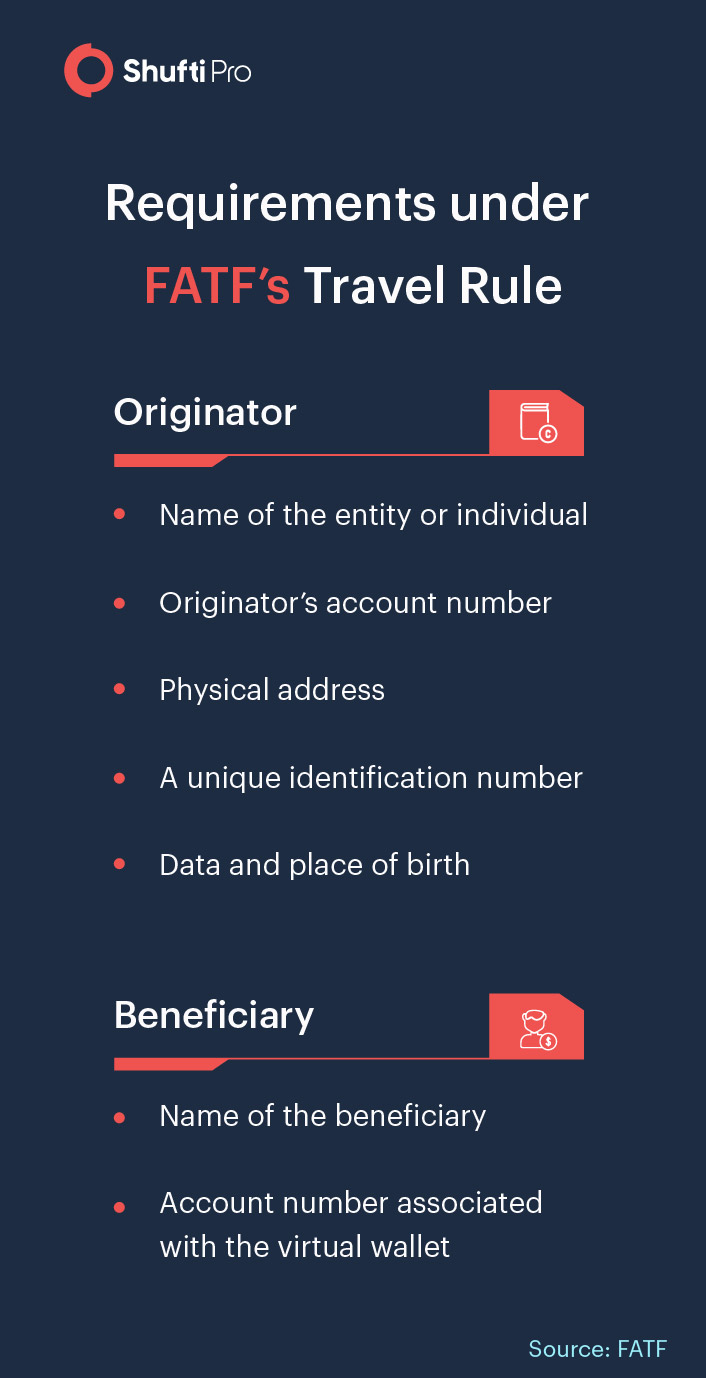 Travel Rule Reinforcing AML/CFT Efforts
Growth in cryptocurrency has given rise to regulatory inconsistency, which creates a greenfield opportunity for money launderers to conduct financial crimes. Virtual assets are created with technologies like blockchain which offers users to transact anonymously over the internet. In a standard crypto transfer, the beneficiary's identity remains confidential, while the VASP provides information like name and address etc. This does not guarantee whether the recipient is a real customer or a potential money launderer.
Before the change in FATF guidelines in July 2020, only banks were required to comply with the Travel Rule. The reciprocal exchange of information was already normal in banks and financial institutions operating under a central authority. After the new rule came into effect, virtual currency platforms are liable to the Financial Action Task Force. With the new rules for data collection in place, money laundering activities could be actively taken down by reducing the number of VASPs used for sending funds.
The purpose of the Travel Rule is to improve data sharing standards across cryptocurrency exchanges to prevent money laundering through virtual currency platforms. It is called so because the identifying information of both the originator and the beneficiary travel along with the transfers. The changes made to the regulation also helps in enhancing the audit trail when investigating large virtual transactions between e-wallets. Hence, the Travel Rule helps in complying with AML and CFT Standards. 
Compliance Challenges to Firms
The Travel Rule focuses primarily on the better sharing of information between two transacting parties. This is a challenge for VASPs operating in the crypto market due to the relative lack of regulations in the industry. FATF's Travel Rule acts as the cornerstone of compliance obligation for virtual currency exchanges. 
Cryptocurrency transfers often lack proper means of collecting ownership information which makes them fall short of existing privacy laws. It creates the need for developing a reliable AML solution which could meet the expectations of global regulators like the European Union and FATF. 
Apart from maintaining an AML checklist, service providers of virtual assets need to take into account the time and cost required to administer and fulfil the Travel Rule obligations. This way, financial firms and VASPs can provide cost-effective transactions and stay compliant.   
A Landmark in Data Sharing Standards
The Travel Rule presents a new picture of data sharing between the sender and recipient. Online businesses already collect the personally identifiable information (PII) of their prospects through a Know Your Customer (KYC) process. The scenario is different in the case of most virtual currency transfers and information like the name, address, and ID number and the account number are required to validate the user's identity. 
Now, with the Travel Rule, businesses providing virtual asset services are faced with two challenges; data collection and information sharing. Since its advent, the crypto industry has adopted the rule and devised a new set of customer onboarding procedures to validate exchanges. 
Service providers offering encrypted data transfers offer reliable means of gathering user data. These systems work in light of Customer Due Diligence procedures which are essential for identifying the user. VASPs can combine these services with their platforms for better data acquisition and sharing, which aligns with the Travel Rule standards.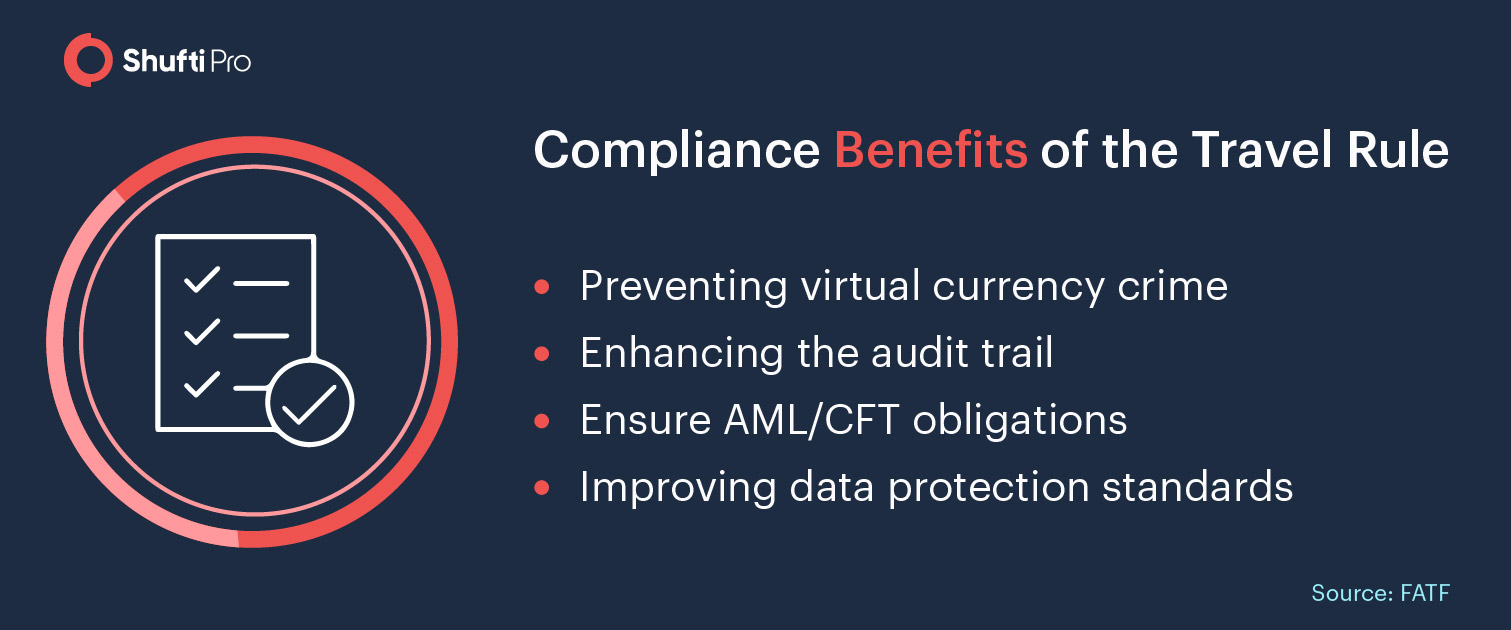 How can Virtual Currency Providers Comply?
Keeping intact customer experience and meeting the regulatory obligations is an ideal solution for the Travel Rule. According to the FATF, below is a list of suggestions for a Travel Rule solution that could help meet requirements of the Recommendation 16:
The solution of a company should be easy to integrate with current

AML/CFT

programs

It should minimize the barriers to adoption and the overall regulatory impact

It should make sure that virtual assets exchanges are done in light of global regulatory standards

The framework should be developed with the idea that it can easily incorporate technology changes in the future, i.e., It should be scalable and maintainable.

It should be publicly available so that VASPs and emerging startups could benefit from it   
To Wrap it up
The Travel Rule is concerned with making crypto and wire transactions secure by targeting their anonymity. It emphasizes on making the information sharing process transparent between parties involved in a virtual currency transaction. Although KYC is an internal process of a business, the travel rule is the other side of the same coin. KYC plays a vital role in successfully complying with the Travel Rule. It provides VASPs with the required information from the users need to verify their identity. 
Shufti Pro's KYC solution can help cryptocurrency businesses comply with FATF's Travel Rule by effectively verifying user identities and sharing relevant information with them. Shufti Pro's facial biometric and document verification backed with Artificial Intelligence can help VASPs to develop a transparent relation with their clients and ensure AML/CFT obligations. 
Have more questions on how Shufti Pro can help you? Share your concerns with our team and get a solution as per your business needs!