BEFORE YOU GO...
Check how Shufti Pro can verify your customers within seconds
Request Demo
No thanks
Financial markets across the globe saw many unpredictable changes due to the pandemic last year. As the world embraced new trends across various industries, the payment ecosystem created new opportunities for businesses, particularly those operating in the digital space. This directly led to the proliferation of e-commerce, emerging and innovative payment authentication solutions, and the evolution of a groundbreaking infrastructure for payment methods.
This blog discusses 5 major payment trends that are revolutionising financial markets including the surge in e-commerce platforms, m-commerce, the changing customer needs for technology-based solutions and touchless payments methods.
Payment Trends Surfacing the Market in 2021
The changing market dynamics over the past few years are a result of the ever-evolving consumer expectations. These changing payments are essential for service providers to understand in order to develop competitive product strategies and business roadmaps. While market competition remains a top priority, verifying the identity during customer onboarding and authenticating them at the time of transactions is equally significant. 
Given the requirements, service providers operating in the commerce sector are developing such solutions that not only meet identity verification needs but offer convenience and transparent communication between the customer and the business. Below are listed payment trends that are transforming the commerce sector in 2021.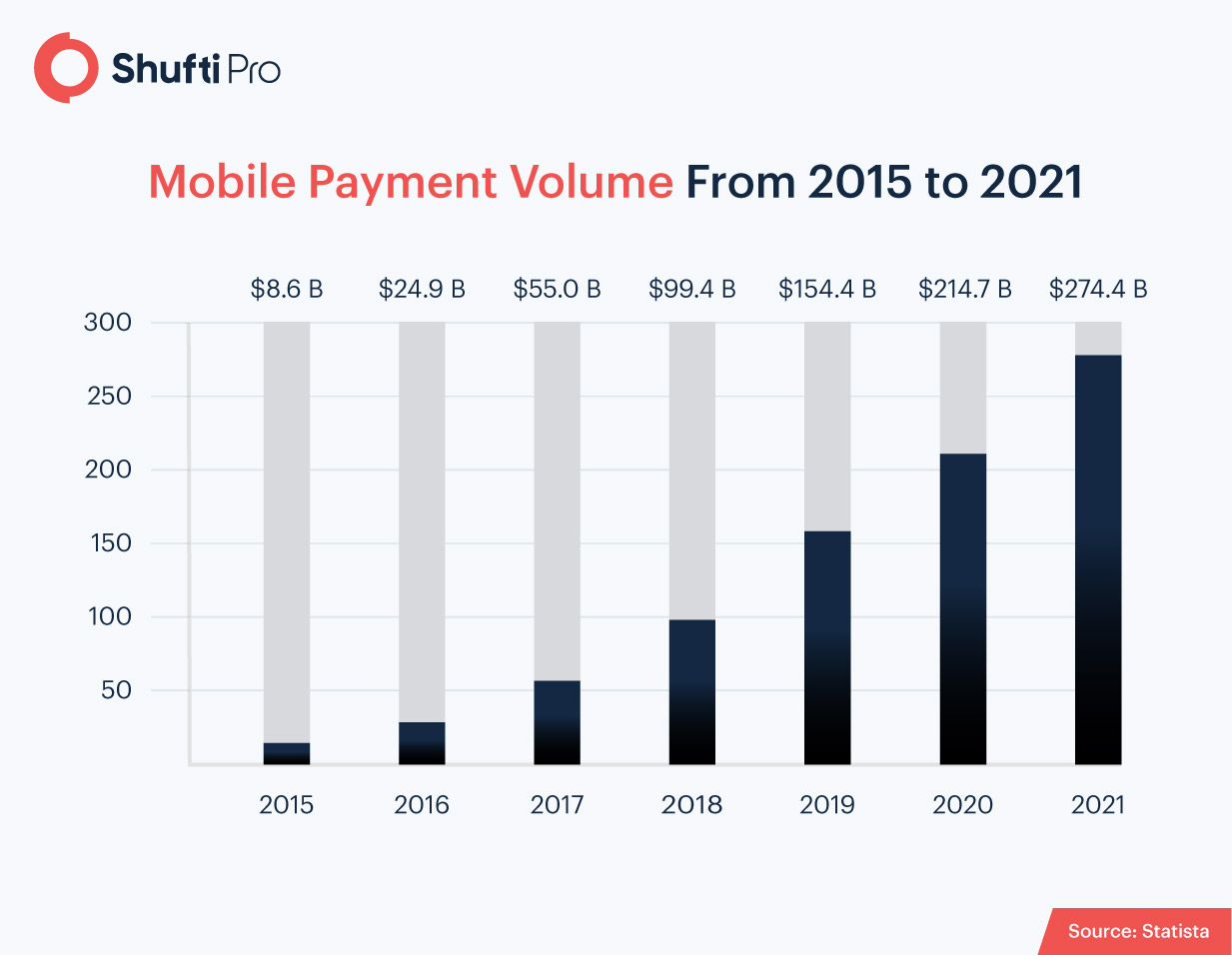 Trend #1 – Contactless Transactions Become Mainstream
In the event of the COVID-19 outbreak in early 2020, people have shifted towards contactless methods, and payment platforms are no exception. The annual report by Global Payments states that around 63% of customers are willing to switch their service provider given they offer contactless transactions.
As a rule of thumb, contactless or touchless payments are made using a smart device (a mobile phone, digital watch, tablet, etc.) powered by Radio Frequency Identification (RFID) technology. Global adoption of smart authentication solutions like Near Field Communication (NFC) has become quite popular with increased levels of consumer acceptance in 2021. That being said, contactless payments will pave the way for on-the-go in-store authentication as well as enable businesses to deliver a seamless cross-channel shopping experience.
Trend #2 – Omni Channel Platforms Create Better Experience
Addressing customer pain points is one mandatory aspect when it comes to delivering effortless business services. The commerce sector is faced with certain challenges like expanding customer touchpoints and adopting measures to streamline the user journey. In this regard, unified commerce technology has emerged as one of the major developments for digital commerce platforms. It allows backend systems to effectively communicate with customer-oriented channels on a single integrated platform, enabling an omnichannel user journey. 
According to the Salesforce Shopping Index, people shifting from traditional retail stores to e-commerce stores has enabled online sales to increase by 71% with a 35% rise in conversion rate in the second quarter of 2020. Quick and reliable payments using QR code authentication are becoming popular, increasing opportunities for omnichannel commerce. In 2021, QR code payments are expected to be integrated with m-commerce and digital service platforms allowing customers to avail effortless and secure services. 
Trend #3 – Embedded Fintech Becomes Popular in Industries
The financial sector remains the most highly regulated across the globe because of the constant influx of monetary activities. Therefore, financial technology (FinTech) service providers need to keep intact KYC and AML obligations that are essential in making the customer onboarding process as per global regulations. Embedded fintech offers easy integration of financial and payment services into digital solutions so that businesses can offer customer-centric commerce. 
It is important to note that when a customer performs a purchase, they expect that the payment process essentially incorporates the user experience as well. This is why businesses are looking forward to combining software and payments – Google Pay and Amazon Pay are fine examples – allowing consumers to pay directly through their phone without the need to carry a credit card or cash with them each time they need to make a purchase.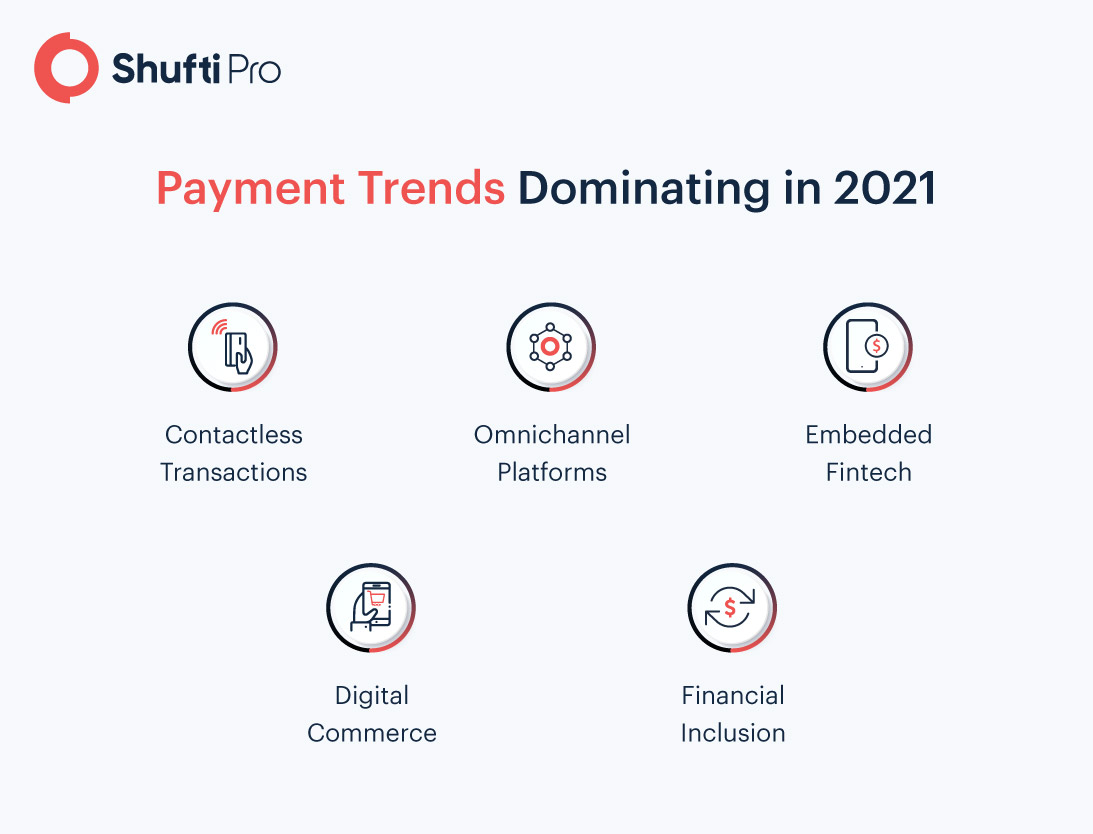 Trend #4 – Technology Trends Enable E-commerce Expansion
Technology is inevitable, and when it comes to the rapidly changing context of financial services, it has become a need of the hour. Cloud computing and effective methods of identity verification are bringing new innovations to the table in terms of both simplified commerce and regulatory compliance. Because of this surge, the market for cloud computing technologies is forecasted to make a revenue of 832 billion USD by 2021, as per Research and Markets.
Most digital commerce solutions are developed using a flexible approach and are easily scalable which makes them high in demand. One of the emerging payment trends in 2021 is the use of open banking through which enterprises are better able to organise and evaluate the financial history of customers. Budget planning software, finance management, and account aggregation and credit risk systems have changed the financial landscape in recent years. Businesses have recognised the worth of technology-driven payment trends critical for their growth which is why they are seeking out cloud-based and open banking solutions in their daily operations. 
Trend#5 – Customer Verification Integral for Payments
While innovative solutions backed by cloud computing offer quick methods for real-time payments, they need to be reliable as well. Biometric authentication tools powered by artificial intelligence offer a robust mechanism to verify if customer identity is legitimate or not, enabling safe and secure transactions. Today, service providers in the market provide easy API integration that allows customers to breeze through identity verification procedures. 
What Shufti Pro Has to Offer?
Shufti Pro is a global IDV provider that offers facial biometric authentication services through which businesses can verify end-users effortlessly. The solution powered by artificial intelligence makes sure facial spoof attacks and impersonation fraud is timely taken down, thereby mitigating identity theft instances, allowing businesses to streamline customer authentication during digital payments. 
Want to know more about face verification for payment platforms?