BEFORE YOU GO...
Check how Shufti Pro can verify your customers within seconds
Request Demo
No thanks
Know Your Customer (KYC) has undergone continuous evolution since its inception. Its purpose is to authenticate customer identities and assess their risk profiles. Over time, KYC has adapted to meet customers' needs, embrace technological advancements, and effectively combat fraudulent activities.
To illustrate this, consider the scenario where customers preferred an online account opening process. In response, banks incorporated KYC procedures into their online platforms and eventually extended them to mobile devices. This was made possible by leveraging innovative technologies allowing customers to digitally submit their government IDs and other necessary documents. As criminals devised new tactics to bypass these security measures, banks introduced selfie verification as a means of liveness detection to counter spoofing and other fraudulent practices. The next phase of digital KYC's evolution involves integrating video into the authentication process.
Traditional KYC vs Video KYC 
Know Your Customer (KYC) procedures were carried out manually, primarily within the domain of financial institutions. For example, when initiating a partnership with a new client, banks would require them to complete forms, scan identity documents, and stay in a waiting period for a response. Whilst certain institutions still employ traditional manual customer verification methods today, many have embraced digital customer verification services.
In contrast to conventional approaches, video verification offers significantly enhanced security and facilitates the detection of potential fraud with greater ease. Customers are no longer obligated to physically visit the premises of the institutions they wish to avail themselves of, as they can complete the entire process remotely from the convenience of their homes or workplaces. Furthermore, video KYC enables substantial time savings, as the entire procedure can be finished within a matter of seconds, yielding instantaneous results. Moreover, video KYC solutions surpass manual KYC in terms of accuracy, benefiting from automated algorithms that possess a level of perception often exceeding human capabilities.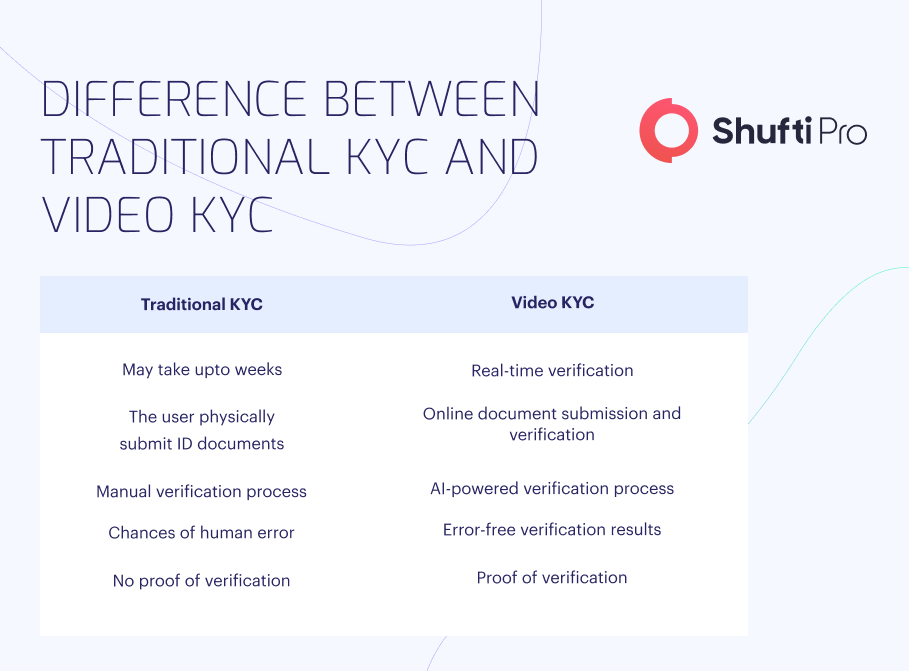 Video KYC in Different Sectors
Video KYC is widely employed in the financial sector, primarily by entities such as banks, lenders, fintech firms, payment processors, credit unions, insurers, and more. This prevalence can be attributed to the stringent KYC obligations imposed on the financial industry as part of Anti-money Laundering (AML) regulations. However, numerous other industries are also subjected to regulations mandating various levels of customer identity verification. For example, the INFORM Consumers Act requires online marketplaces operating within the United States to authenticate sellers' identity and bank details who meet specific criteria. In Utah and Arkansas, recently enacted laws necessitate companies to check the age of individuals seeking to open an account. Likewise, digital health companies, adhering to HIPAA requirements, must confirm the identity of patients before disclosing Protected Health Information (PHI) to them. In each scenario, video KYC can be crucial even if not explicitly mandated by law.
The Legal Requirements for Video KYC
No specific regulation mandates financial institutions to adopt video KYC practices in the United States. However, it is important to note that KYC regulations vary across different countries, such as:
India:

"Section 18 of India's Master Direction on KYC"

permits banks and other financial firms to integrate video KYC, particularly through video KYC interviews.

Spain:

Spain's AML authority, SEPBLAC, authorised video KYC procedures for financial institutions in 2018.

Germany:

Video KYC has been regulated in Germany since 2015, when the Federal financial supervisory authority, BaFin, introduced requirements for video KYC interviews in remote verifications.

France:

The regulations in France now include the obligation to verify the validity of two

identity documents

for individuals undergoing verification. This means that individuals seeking to use financial services or other relevant services must present two distinct documents as proof of identity, including standard documents like passports, driving licenses, ID cards and other things such as resident's cards or health insurance documentation.

European Union:

Individuals seeking a Qualified Electronic Signature (QES) certificate must complete video identification process through face-to-face interaction or video verification.
Therefore, it is crucial to have a comprehensive understanding of the KYC requirements in each jurisdiction where your company operates or provides services. 
Benefits of an Automated Video KYC Solution
Digital video KYC is a sophisticated process offering significant benefits for businesses regarding secure and remote user onboarding. Despite its requirement for more than just standard document and selfie verification, comprehensive digital KYC solutions enable companies to achieve regulatory compliance, protect against fraud, and maintain high conversion rates.
KYC and AML Regulatory Compliance:

Industries operating under regulations like banking must adhere to AML laws. Implementing digital onboarding solutions enables them to effectively manage these requirements in a time- and cost-efficient manner, safeguarding against money laundering, terrorist financing, and potential penalties.

Fraud Protection:

Online businesses operating in sectors like e-commerce, peer-to-peer services, and car sharing witness fraudulent activities. Scammers employ fake documents and stolen identities to gain unauthorised access to such services, posing significant risks. Thus, many businesses rely on video identification solutions to ensure that only genuine and authorised customers can access their services.

Conversion Rate:

Businesses emphasise minimising customer drop-off during the onboarding process. Fortunately,

video KYC

offers a more user-friendly alternative to manual methods. Businesses can strategically select which users undergo video verification based on their risk profile and transaction volumes. This allows them to choose between standard KYC procedures to maximise pass rates or opt for video interview KYC when legal requirements or risks are higher.
How Can Shufti Pro Help?
Shufti Pro offers a robust video KYC solution 
crafted for diverse industries. We strive to instil global trust through our video KYC solution that safeguards your organisation against identity theft, fraud, and various financial crimes. Our video KYC solution offers real-time verification accessible anytime and anywhere. As a result, our customers consistently achieve higher conversion rates and elevated levels of customer satisfaction.
Looking for a customised video KYC verification solution for your business?