BEFORE YOU GO...
Check how Shufti Pro can verify your customers within seconds
Request Demo
No thanks
Digital onboarding these days is getting tougher for firms working and managing their business operations remotely. The question is, why? Over the past few years, the need to authenticate identities has accelerated as criminals and their techniques of conducting identity theft are evolving at an alarming speed. And this might lead businesses to lose their reputation and finances.  In worst cases, they might get penalised with hefty fines for not complying with global KYC & AML regulations. 
However, it can all be prevented if businesses get decisive about implementing video KYC verification techniques while onboarding new customers or employees. 
Let's dive deeper into the topic and learn more about video checks and their application.
Video KYC Verification – A Brief Overview
Video verification, being a quick, convenient, and reliable process, allows companies to verify their customers' identities remotely through a video call. The whole process eliminates the physical presence of the people and makes businesses capable enough to detect potential fraudsters beforehand. 
And observing the situation from customers' eyes, the enhanced quality of the cameras of mobile phones, tablets, and laptops has made it even easier for them to get verified without getting into any sort of irascible process.
Why is it Integral for Businesses to Implement Video KYC Services?
Every business across the globe risks getting netted by money launderers, terrorism financiers, and identity thieves. These types of criminals are evolving in terms of their strategies to torment companies &  individuals financially and ethically. They are smart, intelligent, and equipped with unscrupulous techniques of making a company responsible for not complying with global KYC & AML regulations. Isn't it better to include video verification checks in identity authentication systems rather than facing severe consequences?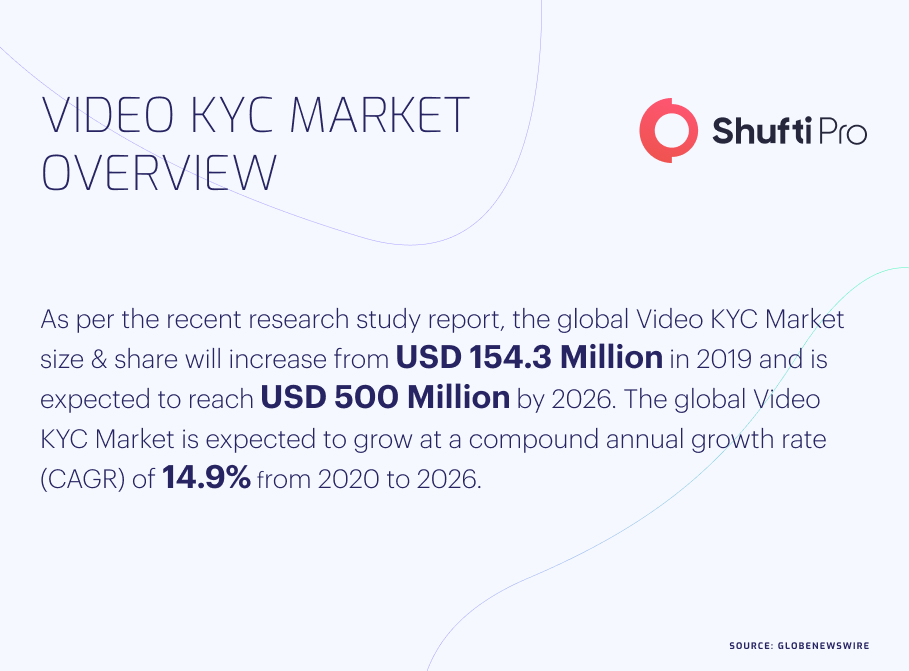 Which Industries Require Video KYC Verification?
No matter in which industry or market a business is operating, criminals are smart enough to create teething troubles for them to ensure risk-free operations. This is why the following are the most targeted industries that are required to acknowledge the essence of using the video KYC process:
Fintech 

Gaming

Banking

Betting Sites

Crypto Oriented Projects

Credit Institutions

Insurance Providers 
KYC Video Verification – How Shufti Make it Happen
Rather than making the customers visit the premises, the whole process of authentication takes place remotely. The following is the process through which a user gets authenticated by the platform they are trying to access. 
Registration
Once a user registers on the platform, a compliance officer gets connected with them through a live video call.
Liveness Detection
Over here, the Video KYC solution will be able to detect the liveness of the customer on the other side with facial recognition techniques.
Document Verification
This step allows the user to show their government-issued ID document in front of the camera in real time. 
Facial Verification
 User's face is matched with the provided ID documents to conclude the process of video verification.
Video KYC Vs. Standard KYC – What Businesses Need to Know
Businesses must be wondering how video KYC can elevate the standards of their authentication systems. Points discussed in the following table might help them understand the difference between the implementation of video verification and the traditional KYC process. 
Video KYC

 

Traditional KYC

 

Reliable and real-time verification

The process might take 7 working days

Online document submission 

Requires physical presence of the user

Error-free and authentic results

Manual verification

Ease in data collection

Chances of human errors
Use Cases of Video KYC Solutions
Video verification is something every business requires. Following are the use cases that can help them further understand how such an inventive feature can help secure and elevate their business operations. 
Onboard Users Remotely
Traditional KYC process requires the physical presence of the user in order to onboard them. And yes, it can get tiresome in most cases. On the other hand, video KYC is something that allows companies to onboard new users digitally via a video call, making the process even more efficient and productive. 
Prevent Potential Fraud
Detecting fraudsters is what companies of this era are concerned about. Video KYC check creates ease in detecting money laundering, identity theft, and terrorist financing while onboarding new users. The real-time video call allows businesses to know their customers' previous records, fetched through their shared ID documents. 
Successful Compliance with Global KYC & AML Regulations
No matter in which country a company is operational, they need to ensure that the businesses comply with the standardised KYC & AML regulations. Video verification helps  businesses to meet those regulations while  assisting to avoid getting penalised with hefty fines. 
Award-Winning & Effective Video KYC Solution
Looking ahead to 2023, companies will become the hub of fraudulent activities if they fail to implement video KYC checks in their authentication system. Criminals are smart and way ahead to take advantage of companies with operational inefficiencies. 
This is where Shufti Pro, an award-winning identity verification solution provider, steps in, the only entity on which businesses should be dependent in order to prevent the aforementioned risks.  Our state-of-the-art video KYC services have served an array of companies across the world and helped them fight fraud & meet compliance at a glance. With an accuracy of 99% and global support in 230+ countries and territories, we are a perfect match for businesses aiming to secure their operation and embrace digitisation.
Still hesitant about making a decision?