BEFORE YOU GO...
Check how Shufti Pro can verify your customers within seconds
Request Demo
No thanks
Various industries throughout the world are being transformed through automation thanks to the ongoing digital revolution. Continuous updates in existing technologies and the development of advanced digital systems for business processes during the Covid-19 period have made AI a prominent tech buzzword. 
Not only have businesses managed to survive the tough challenges brought up by the pandemic, but the AI-driven solutions have also been the reason for improved productivity and accuracy in online operations. However, these automated processes are not risk-free unless fraud prevention measures are incorporated, including KYC, AML screening, and age verification.
What is the difference between AML and KYC?
Know Your Customer (KYC) verifies the identities of customers using their government-issued identity documents. Certain liveness detection checks are performed to prevent spoof attacks. Whereas, Anti-money laundering (AML) solutions allow companies to screen IDs of customers against global watchlists. High-risk individuals are identified in less than a minute. Henceforth, businesses can avoid the onboarding of potential criminals.
Highly Regulated Industries Across the Globe
The regulation of industries is intended to allow secure business and services throughout the world. Some industries are prone to fall victim to scams due to their nature. The stakeholders of such organizations often face adverse consequences such as stolen identities, loss of funds, and reputational damage.
Financial Sector
The technological boom initiated competition between banks, insurance companies, and brokerage firms for automated, convenient financial solutions. Although FinTech has largely automated financial operations and made it easier to perform banking transactions, these technological advancements have also empowered fraudsters. In 2020, a staggering amount of 159.7 million pounds was lost due to online banking frauds. With the elevated customer expectations, businesses are facing the biggest challenges while finding the balance between automated financial services and securing online transactions.
According to the UNODC, almost 2-5% of the global GDP is being laundered through the financial system, which indicates the dire need for AML solutions. CDD (customer due diligence) and AML screening help banks and other financial institutions secure the onboarding of legitimate individuals, which in turn provides a guarantee of safe transactions to their customers. 
Paydoo, an online payment service provider, was having trouble meeting KYC compliance and turned to Shufti Pro for streamlining the identity verification procedure. The founder of Paydoo says, "Thanks to its flexible modular structure, Shufti Pro's features are at the core of our state-of-the-art, proprietary, single-access merchant boarding system. It allows Paydoo to maintain full regulatory compliance by seamlessly identifying and screening our merchants, ensuring seamless and rapid onboarding."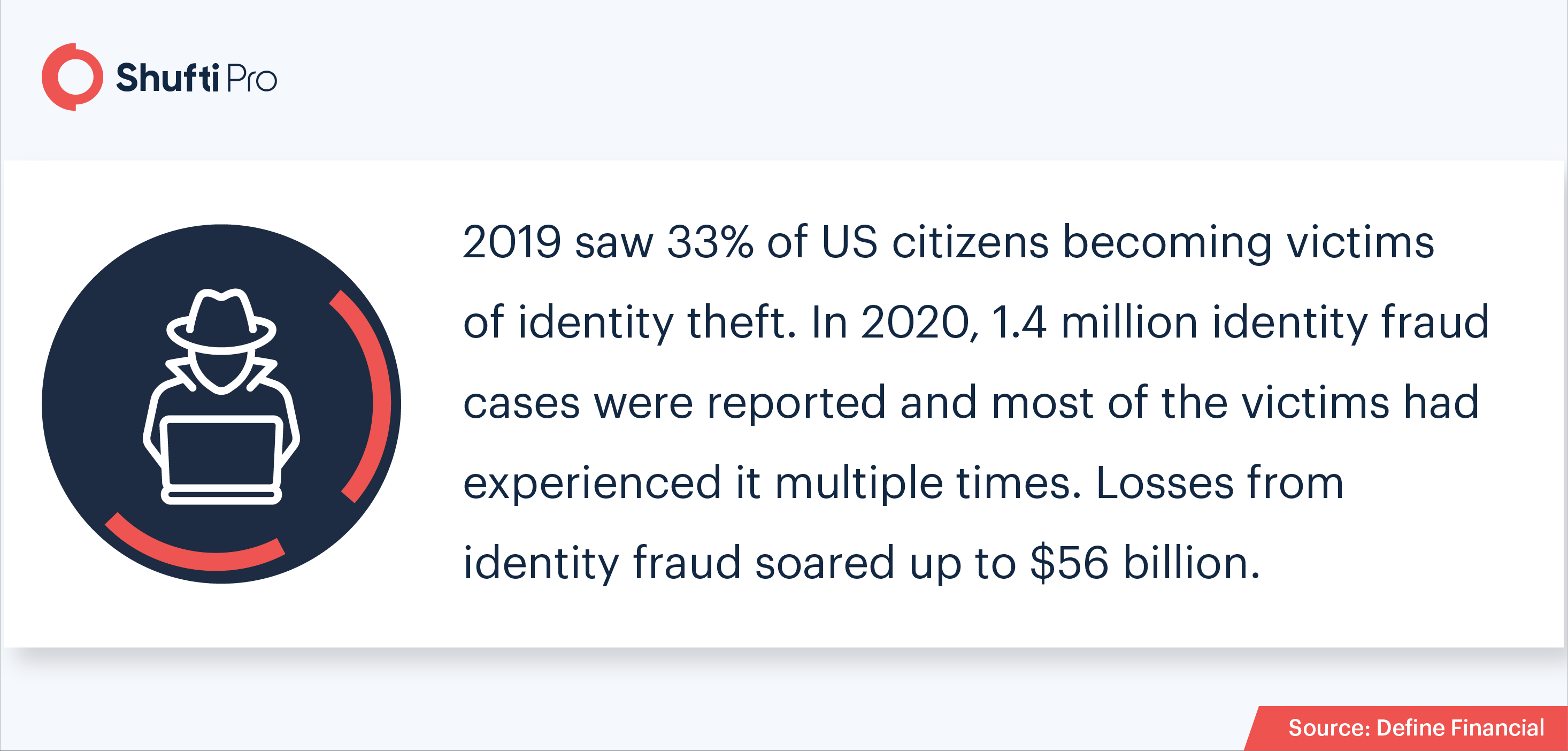 Crowdfunding
Among the common risks that fraudsters pose is crowdfunding, including debt and equity crowdfunding. One of the primary targets of these fraudsters are businesses, where they use various tricks to surpass the strict federal regulations. For instance, scammers create clone firms and operate through websites using registered company names and locations of real businesses. In this way, investors are fooled into believing that the company is legitimate, leading to huge losses. 78 million pounds were reportedly stolen in these kinds of clone firm scams in 2020.
In order to help businesses prevent becoming victims of such scams and losing customer trust, Shufti Pro offers Know Your Business (KYB) solutions to identify and analyze the risk of business entities before initiating collaborations or making investments. Apart from helping companies steer clear of fraud, Shufti Pro provides a convenient implementation of solutions in any type of company. As stated by the CEO of nOs, "nOS aims to provide simplicity in terms of development and interaction for decentralized applications and games. What we noticed with Shufti Pro is that they clearly employ the same philosophy of keeping things simple, for both developers and users alike. Shufti Pro's APIs are easy to use, the platform support is great, and the back-end office is clear and visually pleasing."
Gaming and Gambling
Gaming has emerged in the past decade as a dominant industry with improvements in graphics and the development of faster processors to handle loaded functionalities. However, online gaming is not scam-free, as every 1 in 5 gamers falls victim to fraud involving in-game purchases and identity theft. Shufti Pro's Know Your Player solution is designed to identify players in online gaming to prevent scams. 
Similarly, the gambling sector is vulnerable to fraud due to the online platforms being used for the purpose of transactions and bidding. The absence of identity verification checks and AML screening solutions gives a free hand to scammers in spending their illegally obtained funds. Scammers find the gambling sector an easy target for crimes like money laundering because it's convenient for them to invest money and make it appear legitimate without being tracked.
Suggested Read: Gambling Compliance or Data Protection? The Puzzle is Solved! 
Shufti Pro has helped many gaming platforms in combating crimes like identity theft and money laundering. As co-founder and CEO of Prophet says, "We are using Shufti Pro to fulfill our KYC requirements, including but not limited to age, identity, and document verification. The UK Gambling Commission is quite strict with regard to its KYC regulations and we have even seen new requirements being put into place this year. Thankfully, we were able to verify our users and their backgrounds instantaneously with Shufti Pro's integration, creating a seamless user experience on our end, while allowing us to comply with all regulatory requirements."
Trading and Exchange of Cryptocurrency
Scammers use sophisticated methods to target cryptocurrency exchanges and aim to bypass authorities in order to conceal the origin of their illegally obtained funds. Criminals use relatively unknown cryptocurrency exchanges for making their exchanges and transactions in order to keep their image clean. Shufti Pro helps cryptocurrency exchanges with digital KYC and AML solutions to verify the legitimacy of customers and their past transactions. 
As highlighted by the managing director of TitanFX, "Working with ShuftiPro has provided our company with plenty of useful resources. For our clients, our collaboration with ShuftiPro has provided them with a seamless verification process. As for the company, collaborating with ShuftiPro has greatly reduced the manual work required for customer verification and initial screening without losing high standards of AML/CTF procedures. Furthermore, ShuftiPro's structured and easy-to-use information storage system makes ongoing work with customers much easier."
Educational Sector
Surprisingly, educational institutes are also targeted by financial criminals to hide laundered money. Prominent universities that enroll students from countries around the world are more vulnerable to these kinds of crimes. That being said, there's a high probability that students belong to high-risk jurisdictions. Therefore, the lack of verification measures to check the sources of that money makes it easy to launder money.
Shufti Pro helps overcome these issues in the educational sector, as a review from Shufti Pro's client, BitTiger says, "Shufti Pro offers great identity verification services to meet the needs of BitTiger, for course enrollment. In order to protect the copyright of BitTiger's educational content, we require students to verify their ID to register. Shufti Pro provided customized portals for different courses, which made it convenient for BitTiger to operate with the high volume of customers. "
The Bottom Line
No matter what kind of industry is taken under consideration, compliance with KYC and AML regulations is mandatory. Keeping records of customers and other stakeholders empowers businesses while preventing fraud. Shufti Pro's digital AML & KYC solutions allow companies to comply with all regulatory requirements while helping onboard your customers faster and more efficiently with more accurate results.
Learn more about global KYC/AML screening solutions from the experts!